When it comes to that person on your gift lift that loves cruising, what can you get them? The most obvious answer is a cruise, but that's often way too much money to spend on a single gift. (If you are the interested in buying a cruise for a loved one for Christmas, be sure to read our tips on cruise buying.)
Luckily, there are all sorts of fun gifts for cruise lovers that they will be thrilled to receive. To give you some ideas, we've rounded up a list of fun and unique gifts that anyone who loves to cruise is sure to like.
Note: The links to Amazon used below are affiliate links. Should you make a purchase, we receive a small percentage of the sale at no extra cost to you.
When we found this bracelet, it immediately caught our eye. Featuring a thick nylon band with a metal anchor clasp, it's a cool way to show off your love for the sea. One thing to note is that it runs a little small, so it may not fit larger wrists according to some reviews. $10 on Amazon.
By far the most unique gift idea for a guy who likes to cruise. This pen is made with actual teak decking from the Carnival Triumph. We can't think of a better accessory to give an avid cruiser who wants something a little special for formal night. $106 on Etsy
Sure, you may not be able to use it right away (without being in some cold water), but a mask and snorkel make a great Christmas gift. It's especially helpful if a person is going on a winter cruise to escape the cold. Yes, people can rent gear on their trip, but we'd actually recommend bringing your own equipment.
First, paying to rent a mask and snorkel can be expensive — $10 to $15. But as well, you are using something that others have used before, which is a little weird given that the mask and snorkel go right on your face and mouth. This set is about $15 on Amazon and comes in several colors.
Whether headed to a cruise ship or an airport, it makes things so much easier when your luggage is easy to handle. That's why we like these suitcases. With four wheels, you can push it any direction instead of having to carry it behind you like other two-wheeled models. Plus, for just about $80 you can get two cases (depending on color). They also come in a ton of colors. $80 on Amazon
It's a cute and thoughtful way to remember a special cruise. These maps are personalized based on the actual trip that you've taken. Put your homeport, all your stops, and more to create a one-of-a-kind memory of your trip. Prices vary based on size and type of print. Available on Etsy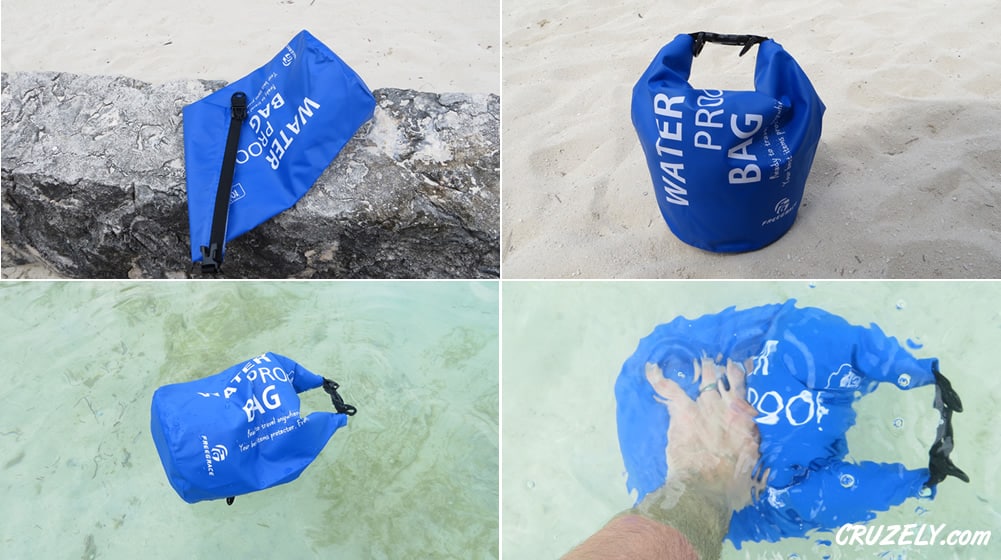 There's always a conundrum when you head out in the water. What do you do with your valuables? That's why we suggest having a drybag. Put your items in the bag, seal, and roll it up and you have a splash-proof container that you can take into the water with you. No more having to worry and keep an eye on your valuables on shore. They also come in practically any color you'd want and with a waterproof phone case.
We recently reviewed three different bags and this one by Freegrace was the clear winner. $19 on Amazon.
Want to remember that special cruise every year? This personalized Christmas ornament is just the thing. Hang it on your tree and you'll always have a cute reminder of the warm breeze in your face during the cold winter season. Measures approximately 3.5 inches in width. $12 on Etsy
When it comes to cameras, many people just use their phones. But phones have definite limitations. A real handheld camera typically offers better resolution and image quality — especially in low light situations. If you are buying for a cruiser, they will appreciate having a camera that can go anywhere they do. So if they are playing with the kids in the water, they don't have to worry if their camera gets a little wet. $449 on Amazon
This is the most intricate ship model we've ever seen and a great display piece for a living room or office. It measures more than three feet long and comes with a display base and name plate. You can even get it with lights inside so that it is illuminated at light. There are several different ships available, including more from Royal Caribbean, as well as Norwegian and Disney, so you can pick your favorite one. $749 on SavyBoat.com
If you want to spend any time on the beach, then you have to get this beach blanket. It's micofiber cloth means that it packs up small and light — saving valuable space. What we like most is the size. It's so much larger than simply laying down a couple of pool towels to keep you off the sand. $25 on Amazon
Whether you are hanging by the pool or don't want to leave your valuables on the beach while taking a dip, a waterproof case is a must-have. Use it to keep your phone, wallet, keys, and anything else dry as a bone so you don't have to worry just because you want to go swimming. You can get two bags for under $10 on Amazon
Ok, flip flops might not be an obvious choice during the cold Christmas months, but these look like they would be the most comfortable flip-flops ever and the textured bottoms are perfect for walking around on slippery poolside decks. Best of all, the reviews for them are outstanding.
Have a couple of towels, a change of clothes, your hat, sunscreen, bottle of water, and a book? Whew! You're going to need somewhere to put all that stuff as you head to the beach or the pool. This oversized mesh bag is perfect. It's lightweight and will dry fast even if it gets a little wet. $15 on Amazon
Maybe it's more of a stocking stuffer than a real gift, but any cruiser will love having a stash of motion sickness medicine before they go on their trip. Best of all, you don't have to spend a lot of money to get them something they will use. Just a few bucks on Amazon
Another stocking stuffer idea, this "before you go" toilet spray is a must-have for anyone taking a cruise. You spray it in the commode in the cabin before you do your business and it helps lock in smells so they don't foul the room. Trust us, if you share a cabin with someone, this stuff should be considered a necessity. $10 on Amazon
Have other Christmas gifts that you think are perfect for cruise lovers? Let us know in the comments below.