Packing for a cruise? Everyone knows to pack the typical items — a swimsuit, a toothbrush, and some comfy sandals. But what about a shoe organizer, a nightlight, and towel clips? (Yes, these are all things that are helpful to bring. See exactly why below.)
Truth is, there are lots of little items that can make your trip go a lot smoother, yet most people don't think about packing them. That's why we've rounded up 15 things you'll want to bring on your next cruise that all cost under $10. That way, you'll have a better cruise without breaking the bank.
Note: The links to Amazon used below are affiliate links. Should you make a purchase, we receive a small percentage of the sale at no extra cost to you.
Outlet Adapter
If you're a cruising veteran, then you know an outlet adapter is one of the most important things to pack. Many cabins have only one plug to power your electric items, so bringing a small adapter to increase the number of outlets is a necessity. We like this compact one that only costs about $6-8.
Cell Phone Dry Case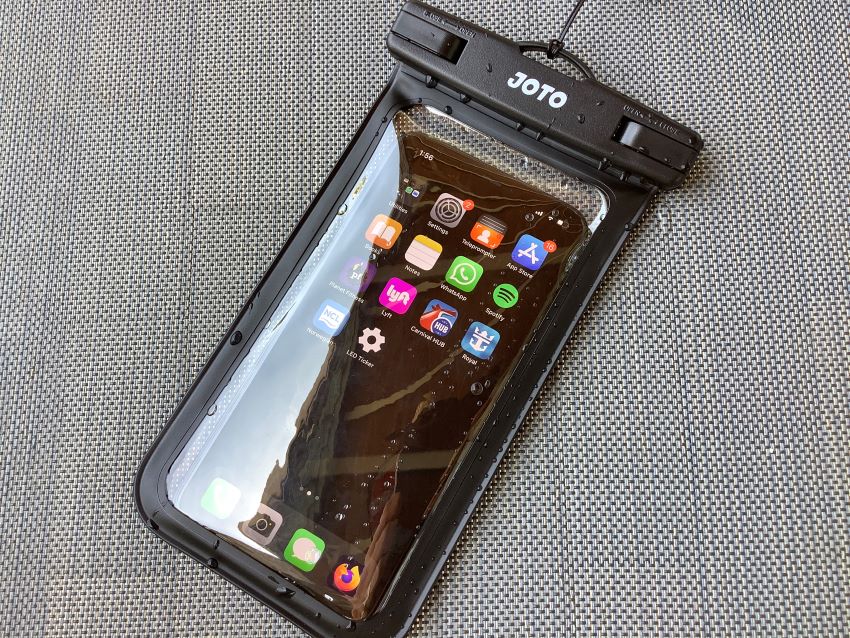 Sure, you used to be able to cruise and leave your cell phone in the cabin. But these days you use everything from the phone's camera to take pictures to downloading cruise line apps that have schedules and maps. That's not to mention using your phone to actually keep in touch. If you want to make sure it stays dry while by the pool or on an excursion, then spending $8 on this one from Amazon is the best investment you can make.
Wrinkle Release Spray

Iron? While on a vacation? Like that's going to happen (they don't even let you have an iron in the cabin anyway). Instead, a cheap bottle of wrinkle-release spray can easily do the trick without the hassle of having to get your clothes ironed by the laundry staff. Best of all, bottles cost only about $6-7 and are small enough to pack on a flight.
Door-Hanging Shoe Organizer
No, you shouldn't bring so many shoes that you need an organizer for them all. That would be way too much. Instead, you can use the pockets to keep items tucked away and neatly organized. Put everything from phones to toiletries to sunscreen and keep it out of your way while knowing exactly where it is. Best of all, it's only $10.
Magnetic Hooks
While you can't tell at first glance, the ceilings of most cruise cabins are made of metal. That makes magnetic hooks really helpful to pack. Put up a couple of these in your cabin and you have a great place to hang swimsuits and towels to dry without having them take up the bathroom.
Ziploc Bags
From packing to keeping things dry, a few Ziploc bags can be a lifesaver. Keep a handful in your luggage and put them to use organizing when you pack. They are great for keeping toiletries separate from other luggage and the gallon-sized bags can keep your dirty socks/underwear from mingling with clean stuff. As well, using a Ziploc to hold your phone and other important items is a quick and easy way to keep them dry.
Lanyard
If you've never been on a cruise, then you might be surprised at how much you use the keycard you are given at the start of your trip. It acts as your room key, but also like a credit card for things purchased on the ship, and a boarding pass when you exit/return to the ship. In other words, you are constantly using your card throughout the trip. Instead of having to dig in pockets, many people bring a cheap lanyard to keep the card convenient. There are a ton of different styles available for less than $10.
Cabin Nightlight
Ever stubbed your toe on a piece of furniture? Then you know why you need a nightlight. Cabins — especially those on the windowless interior of the ship — can get really dark. Combine that with an unfamiliar layout that you aren't used to, and it's a recipe for bumping into things in the middle of the night. A cheap nightlight (these are two for $7) is a must have.
Air Freshener
It should be a rule that before you marry someone, you need to spend a week on a cruise with them. If two people can share a bathroom in a tiny cabin for a week straight, then you know it's true love.
To help out, bring some air freshener with you. Cabins don't have vent fans in the bathroom, so be warned. As an added tip, you can also scout out a public bathroom that's out of the way (for privacy) if you don't want to use the cabin toilet.
Bottle Protector
If you plan to drink on a cruise, we highly recommend that you bring a bottle of wine. It's one of the few beverages that cruise lines will let you bring aboard. This is an easy way to save some cash instead of buying wine at a bar on the ship. If you do pack wine, put it in your carry-on. As well, protect it with something like this $9 bottle protector to keep it from getting accidentally broken during boarding.
Corkscrew
There's nothing worse than bringing a bottle of wine… and forgetting the corkscrew. Having to cut out a cork is no fun and leads to spitting out little bits of it as you sip your wine. Simply throwing a cheap (this one is $7 on Amazon) corkscrew in your luggage right now makes sure you'll have one when it's cruise time.
Towel Clips
Everyone thinks about getting some sun on the deck of a cruise ship, but few people actually think about the reality. Being on a vessel that can cruise 20 mph or more means there's a constant breeze when setting sail. And if you're trying to relax on a deckchair, the wind is going to be whipping at you and your towel. A few towel clips can keep that towel secure so you don't have to fight it while trying to lay back and get some sun. These are about $6-7 for an 8-pack.
Seasickness Medication
A little tip — if the boat gets rocky there are often free seasickness pills at the Guest Services desk. A better tip — you are much better off bringing your own so that you have them at your disposal. Given that a pack only costs a few bucks, it is well worth it to bring them on board with you.
Travel Bottles
Cruise ships are like hotels in that they provide guests with shampoo and soap in the cabin. Still, most of us have particular brands that we like to use. That's why having some travel bottles are good to have. In addition, small bottles make perfect containers for sunscreen so you don't have to carry around a huge bottle when you are in port. This set is just $10.
A Lightweight Bag/Backpack
If you're headed into port, then you won't be going empty handed. From towels to a change of clothes to anything else you might need, the amount of stuff you take into port quickly adds up. Bringing along a lightweight collapsible backpack is a lifesaver. It can fold up to nothing to fit in your luggage but carry plenty when you need it. Best of all, the bag shown above is just $9.
More Cruise Packing Ideas: