Looking for a quick getaway that won't cost you a fortune or burn up all your vacation days, but will still be loads of fun?
That's exactly what we were looking for when we booked a three-day cruise aboard Royal Caribbean's Mariner of the Seas. The cruise, which departed in early October, sailed from Port Canaveral, with a stop in Nassau and then a day at CocoCay.
Two of us stayed in an interior cabin. With gratuities, the total cost of the cruise fare (including port fees and expenses) was only $910. The cruise fare itself (excluding port fees, taxes, and gratuities) was only $658 for two people — or about $110 per person, per day. We were also given a $25 onboard credit.
The Ship
Mariner of the Seas is a Voyager-class ship from Royal Caribbean. Launched in 2002, the 1,020-foot long vessel holds about 3,100 passengers and has 15 passenger decks.
If all that sounds like a lot, it should. Typically older ships — those built over 10 years ago — are smaller with fewer things to do. That's not the case on Mariner. The ship is plenty large and features a ton of bars, restaurants, amenities, and activities.
Atmosphere
While Mariner of the Seas was last refurbished in 2018, we found that it still shows some signs of age. Public areas are modern and updated, including the pool area, restaurants, bars, and lounges. However, we found the decor around the cabins and staterooms to be somewhat dated. The cabin itself was comfortable and serviceable (more below), but definitely was not what you'd expect if you were going to stay at a modern luxury hotel.
Things to Do
If there is one place where Royal Caribbean is head and shoulders above its rivals, it is in the things to do on their ships. With the recent refurbishment of Mariner of the Seas, the ship has an amazing amount of things to do on board, especially for a three-day cruise.
Perhaps the most visible things are what you'll see at the back of the ship even before you board. Royal Caribbean has created an entire outdoor area with an assortment of activities. It includes two waterslides, the Flowrider (surf simulator), Sky Pad (bungee trampoline), the climbing wall, and basketball court.
Of course, you also have all of your classic things to do aboard Royal Caribbean, including the pool, adults-only Solarium, mini-golf, casino, tons of bars, shows, and more. On a three-day cruise, there's little chance you could get bored.
The Cabin
As mentioned above, we booked an interior cabin, which we allowed the cruise line to choose for us (this gave us a cheapest fare possible). We expected a true interior cabin but were surprised to be given a "Promenade View Interior." This room on the sixth deck is technically interior, but has a large bay window that looks out over the main promenade that runs through the middle of the ship.
We'll be honest — the room was comfortable, but wasn't our favorite part of the trip. First, the decor is a bit dated and the room showed some wear and tear. If you're wanting a snazzy cabin, we'd suggest spending a bit more for a nicer room that may be more modern.
Our biggest issue, however, was the noise. The promenade that is just outside the window had loud music each night, often until about midnight. That music would come through the window and thump, keeping us awake. If you're someone who heads to bed before midnight, be warned that the music can keep you up. We'd suggest a different room location.
The room location was perfect for people watching, and it was nice to relax next to the window and see other passengers come and go around the promenade. Just keep in mind that other rooms across the promenade can look into your cabin. We were surprised to see other passengers getting dressed for the evening with their curtains wide open!
For a full tour of Mariner of the Seas, see the video below:
Day 1 (Boarding)
This particular cruise boarded at Cruise Terminal 1 at Port Canaveral. We liked this location as it's separate from the other ships, meaning you don't have to fight a lot of other traffic or loop around the port to find where to be dropped off.
When it comes to boarding, we always choose to board later in the window. When we checked-in online, we selected the 2 p.m. boarding time. At this time we like that most people have already gotten on the ship so there are hardly any lines at security and boarding.
That was exactly the case. We were the only people at security. Meeting with the agent at check-in to show our boarding documents took only about five minutes. From there we boarded right away.
Royal Caribbean now places your room keycard in a sealed envelope at your cabin if you check-in online ahead of time. As promised, we went to the room and had our cards waiting. From there we checked out the cabin, and went to explore the ship and get a feel for the layout before muster drill.
On the first night we took it relatively easy. The Bamboo Room was a new experience for us on Royal Caribbean, so we visited and loved the atmosphere and vibe. It ended up being somewhere we would visit multiple times. We wrote about our experience at The Bamboo Room here.
From there, we had the muster drill, followed by the sailaway party. Given that this was a short trip, it definitely appeared there was a younger and more active crowd on board. The sailaway party was lively with seemingly everyone joining in.
For dinner we simply stopped at the buffet. Having only been on the ship for a few hours, we still wanted to explore instead of being locked down at dinner for an extended period.
If you haven't had the buffet on Royal Caribbean — or any cruise ship — know that it's decent quality, but our opinion is that it's unlikely to "wow" you. It's perfectly fine for a meal here or there, but we think other restaurants on the ship offer better food.
After dinner, we went to check out the new Sky Pad on the ship. You'll know the Sky Pad by the huge sphere on the back of the ship. At night it is lit up in neon, which makes it look even more interesting. Inside are four different trampolines, each with bungee cords and a harness that you wear. The bungees give you the chance to amplify your jump and make you go higher.
In addition to jumping, you can also wear a virtual reality headset to play games while you jump. We jumped while playing a virtual reality soccer game where we blocked balls from going in the net. Your jump lasts about five minutes, which doesn't sound long but is plenty of time and will likely get you working up a sweat.
From there we ended the night with drinks and playing in the casino. Mariner of the Seas has Casino Royale on board, and it's a relatively small but serviceable casino. While all your favorite types of games are there (slots, roulette, blackjack, craps), there aren't a lot of each. Again, for a three-day cruise it is plenty. Longer trips could see you getting bored with the options — especially if you are a slot player.
One thing we noticed is that the craps tables lets you have different odds bets behind the pass line depending on how much you bet. Bet the minimum ($10 on our cruise) and you could only place 1X behind your bet. Betting more allowed you to place up to 3x-4x-5x. It's the first time we've seen this.
After our fill of the casino, we returned to the cabin. As mentioned earlier the music on the promenade was still blaring until about midnight and the sound was heard clearly in the room.
Day 2 (Nassau)
The first port of call on our trip was Nassau. But before we headed into port, we had to try out the two waterslides on the ship — the Typhoon and the Cyclone. Have kids? The minimum height is 48 inches to ride. The maximum weight is 250 pounds for those adults that want to try.
We did both slides multiple times and they are longer than what you'd expect on a cruise ship. In short, they were a blast. Lines were relatively short (we had to wait a couple of minutes each time), but moved quickly. Considering that the slides are free and the line isn't long, they are a great addition to the ship.
After waterslides we changed into dry clothes and headed into Nassau. We first decided to grab some lunch and made our way to Pirate Republic Brewing. This brewpub is just outside the port complex and is about a five-minute walk from the ship.
Once there, our friend tried a flight of beers (he raved about how good they were) with wings, and I had some guacamole. All of it was fantastic and the prices weren't that bad for a touristy spot. Expect to spend about $15 per person for a beer or two and something to eat.
After lunch we decided to head across to Paradise Island to explore Atlantis. To get there we took the ferry boat from the cruise port to Atlantis. It costs $4 per person and gives you a great view of the ships and a bit of local flair sailing on an old boat. We highly recommend using the ferry instead of just taking a cab.
While we had been to Atlantis before, the friend we were traveling with had not. For those of you not familiar, Atlantis is a mega-resort just across from Nassau. While the resort has a ton to do (including a waterpark and beach excursions), we found most things too expensive. Instead, you can just visit some areas of the property free of charge. This includes a few restaurants, see high-end yachts, and the casino.
From there, we walked to the free entrance to Cabbage Beach (detailed instructions are here) before heading back to the ship.
After a much-needed nap, we ate in the main dining room for dinner. We had a New York strip steak, Greek salad, and tres leches for dessert. All three were quite good. In total dinner took about an hour and a half.
Day 3 (CocoCay)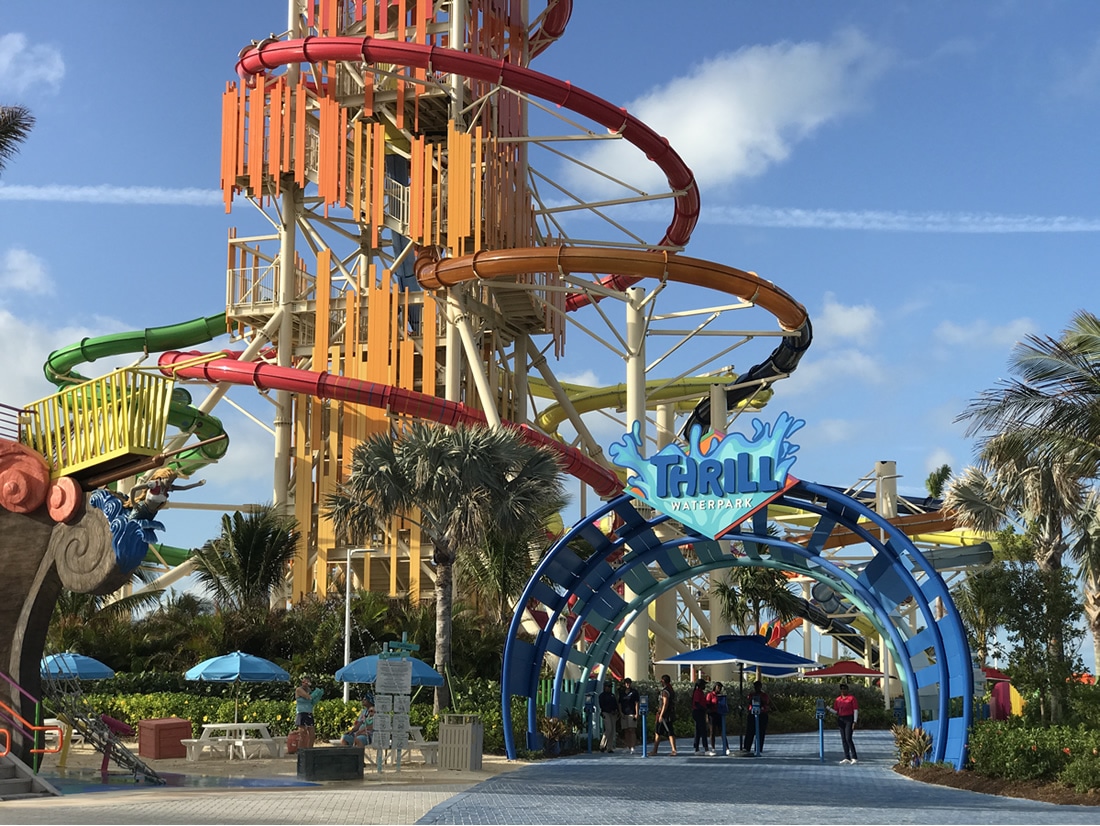 Of course when most people book this trip (including us), the big draw is Perfect Day at CocoCay. Royal Caribbean's $250 million transformation of the private island has been well documented, and we were excited to check it out for ourselves.
Let's just say that it's as good as advertised and maybe even better.
We were among the first off the ship to go explore the island. Mornings on CocoCay are fairly quiet. Crowds start to come later in the day as it warms up and people begin to think about visiting the beach.
We've written quite a bit about CocoCay before. Put simply, we think it's the perfect cruise port for passengers.
Everything you could want in a port of call, including beaches, food, thrills, clear water — and even the largest pool in the Caribbean — are all there for you to enjoy. There's no need to fight through crowds of vendors, deal with taxis or transportation, or have to pay a lot of money to enjoy yourself. Everything you could want is right on the island.
We were especially big fans of Thrill Waterpark (Disclosure: Royal Caribbean provided us with free passes for this trip). It features the tallest waterslide in North America, a wave pool, multiple slides, and even an obstacle course pool. We spent several hours here, riding everything several times. You can read more about Thrill Waterpark here.
What about food? There are a number of free spots to eat on CocoCay and we at a Snack Shack twice in one day because it was so good. In fact, we actually found the food here to be better than what's on the ship.
After spending most of the day at the waterpark, after lunch we headed over to the "Chill Island" section where there are three large beaches to hang out. One of our favorite things is that there are tons of loungers and umbrellas setup at the beaches and they are free to use. Spending the afternoon on the beach with a drink in hand was definitely a highlight of our cruise.
If you plan to visit CocoCay, see our complete guide to the island here.
That evening after returning to the ship we enjoyed some time in Playmakers — the sports bar on the ship — watching the Sunday night NFL game. It's a great place to watch football on a cruise as it became the meetup for fans of all teams. No matter who made a play during the game there was a group who would be cheering, giving it a great atmosphere.
The next morning was disembarkation. Getting off the ship was a breeze, and it took only a few minutes from when they started to let passengers off until we were in the cruise terminal.
One tip is to definitely have a passport. Passengers with passports are quickly scanned via machine and have their photo taken as they leave. This allows them to breeze through immigration without hardly stopping.
Those with birth certificates had to be checked manually. While we have a passport, our friend did not. Standing in line with him took about 30 minutes to be processed before we could leave. It was hard watching everyone else breeze right through while we were stuck in line.
Bottom line: Get a passport.
Overall Thoughts
We think you'd be hard-pressed to find a better quick getaway than this three-day cruise from Royal Caribbean. It meets the right mix of being affordable, convenient, and having a nice lineup of ports of call — including CocoCay.
Yes, in some ways Mariner of the Seas is showing its age, specifically with the cabin decor. That said, most people on such a short cruise will likely be out of the cabin for the majority of the time. Meanwhile, public areas look practically brand-new and well cared for.
There was plenty to do on the ship for three days and in that short time we felt like we never got bored… nor did we feel like we didn't have a chance to do everything.
All said, for less than $1,000, two people we were able to hop on a cruise from Port Canaveral and get away for a few days without missing much back home. It's hard to beat that for a perfect weekend.