As cruise lines return to sailing, they do so while also welcoming exciting new vessels to their fleets. Case in point: Royal Caribbean's Odyssey of the Seas.
Odyssey of the Seas is the final ship in Royal Caribbean's Quantum class. Technically, the ship is in the "Quantum-Ultra" class — incorporating the cruise line's latest and greatest ideas of what a cruise ship can be.
Coming in at 168,000 gross tons and carrying 4,200 passengers at double occupancy, Odyssey isn't the largest vessel in the Royal Caribbean fleet. That goes to the ships like Wonder of the Seas within the Oasis class.
However, for those who may be overwhelmed by the size of the biggest Oasis-class ships, or who love the Royal Caribbean experience and a trip aboard Odyssey of the Seas fits their schedule or budget, then the ship may be a terrific option for their next cruise.
We were invited aboard Odyssey of the Seas for its naming ceremony and "inaugural" cruise. Here is our insight on the ship, including what you can expect, what to do, and things to know about sailing.
Disclosure: Royal Caribbean invited Cruzely aboard a sailing of Odyssey of the Seas at no cost as a press trip. The opinions below are our own.
First Impressions & Ship Highlights
Stepping aboard Odyssey of the Seas for the first time, there are some noticeable differences from other Royal Caribbean ships that we've sailed that make the ship stand out.
Design & Feel
First and foremost was how the cruise ship feels more "boutique" and modern than others. How can a nearly 170,000 ton ship feel boutique?
For one, there are fewer wide open spaces on the ship. If you've sailed Royal Caribbean before, you are likely used to the large Royal Promenade that runs through the middle of the ships. It's wide and airy, with shops and restaurants along the sides.
On Odyssey of the Seas, there is a Royal Esplanade, however, it's a bit smaller with narrower walkways and a more winding path instead of just cutting straight through. The result is a more intimate feel, like a winding street instead of a multi-lane highway.
As well, the ship is also more contemporary in style, as you'd expect from a brand-new vessel. Colors from the interior of the ship to the staterooms are lighter and muted. We felt the colors mixed with the design throughout Odyssey are beautiful, giving the feel of luxury, but still approachable.
Artwork is present throughout the entire ship — a common theme in Royal Caribbean vessels. This includes some spectacular sculptures, including the hanging glass chandelier that descends from Deck 5 down through the main dining room (see above). The two-story sculpture of a cat playing with balls of yarn at the back of the ship near the SeaPlex is also a fun touch.
Activities on the Ship
Of course, entertainment and activities are always a major focus of Royal Caribbean, and that's no different aboard Odyssey of the Seas.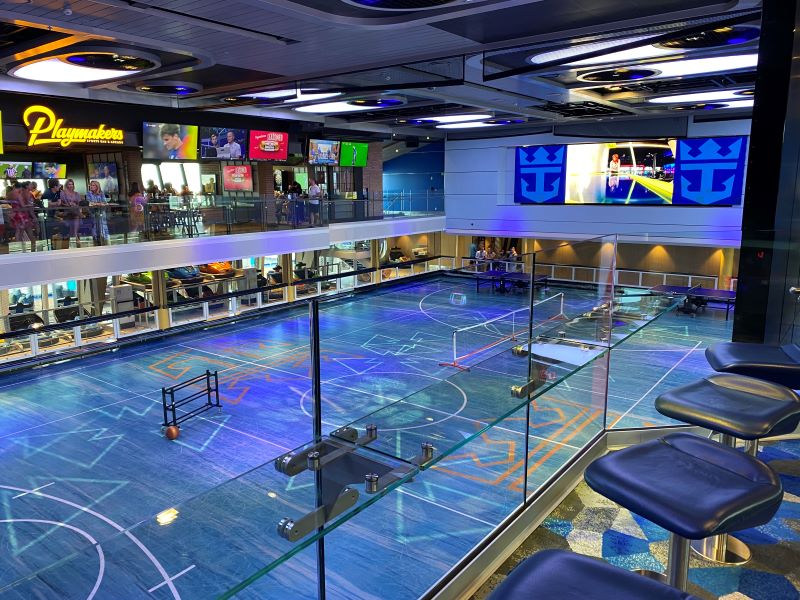 The aforementioned SeaPlex dominates the back of the ship. Inside is a fully enclosed area that houses a basketball court that doubles as the bumper car arena. Circling around the court is an assortment of arcade games and hangout spots for kids. On the upper deck overlooking the court are more games for families or kids to play, along with a Playmakers Sport Bar showing sports from all over the world.
With this setup, mom and dad can have a drink and a bite while also being able to watch the kids play bumper cars, or head to the nearby Zone Zero, which is a virtual reality attraction. Parents can do their thing while the kids play, yet still all be around each other.
Head to the very back of the ship and there's even more to do. Here you'll find the RipCord by iFly — an enclosed skydiving experience — the Flowrider, climbing wall, and the Sky Pad.
If you have older kids, there's no doubt that this area of the ship is where they will want to spend most of their time.
Walk forward on the ship and you'll find the always popular pool deck. There are two separate pool areas in the open air, along with a Splashaway Bay for younger kids. Odyssey also has a gorgeous Solarium, offering a quieter covered spot for adults to lounge in the sun without having to worry about wind or smaller kids.
You'll also see a few other things you don't have on most Royal Caribbean ships.
First are casitas on the pool deck. The small spots provide cover for shade, along with lounge chairs in a more private spot that's still close to the action. There is also the North Star. This viewing pod rises up over the ship, putting you about 300 feet over the water. If you are scared of heights, it might not be for you, but will offer stunning views.
Entertainment During the Cruise
Entertainment extends indoors as well. Of course, there are all the favorites like the casino, theater, nightclubs, Vitality spa, and the Music Hall with live bands. But the real "can't-miss" is the Two70 theater.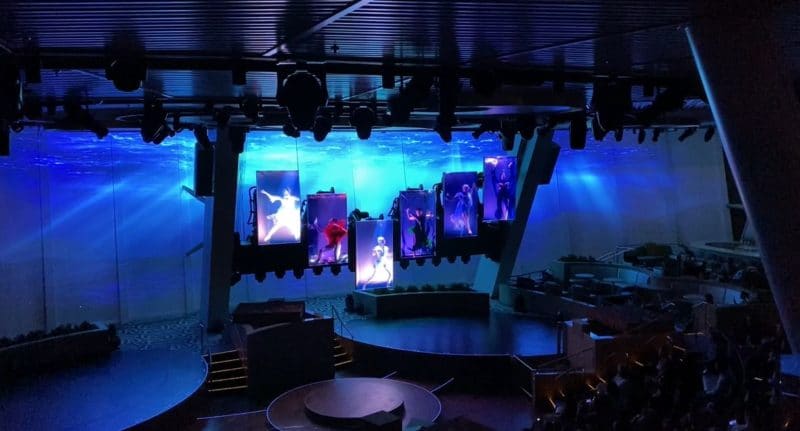 During the day, this spot serves as a two-story lounge area with sweeping views around the back of the ship. There are tables, comfy seating, and even a bar area. During the evening shows, however, it transforms.
Eighteen projectors put up a video backdrop for performances. A multi-dimensional stage rises and falls to provide depth for shows. And six screens, each attached a six-axis robotic arms, rise, fall, tilt and circle to add even more to the show.
During our cruise we watched The Book and were blown away by the performance. Aerialists dropped out of the ceiling. Performers appeared and disappeared into the floor. And it was all accompanied by a multimedia background that we have never seen anything like before.
Food and Beverage
What about food? The lineup includes the latest and greatest from the Royal Caribbean lineup of restaurants.
Starting with the free options, you have the main dining room and Windjammer buffet. There is also El Loco Fresh, serving Mexican food for lunch, The Cafe at Two70, serving small bites. Sorrento's for a slice of pizza and Cafe Promenade also make an appearance. There is also a smaller second buffet at the Solarium Bistro.
As is par for Royal Caribbean, however, there is a strong emphasis on specialty dining. Here you'll find the most options. Choices include Japanese food at Izumi, fine dining at Coastal Kitchen or Chef's Table, eclectic meals at Wonderland, and dinner and a show at Teppanyaki. Grab a steak at Chops Grille, or homestyle Italian at Giovanni's.
Thirsty? You'll find a number of bars around the ship that have become mainstays in the Royal Caribbean fleet, including the Schooner Bar, The Lime and Coconut, and Boleros. Bionic Bar (where robots mix drinks) and Crown and Compass also are on the ship. And if you can't live without your coffee, there is also Starbucks aboard Odyssey of the Seas.
Bottom line: Royal Caribbean is known for packing a lot onto its ships, and Odyssey is no exception. There's a myriad of things to do, places to eat, and all wrapped up in modern style that's fun and inviting, while also feeling a bit upscale.
It's also a bit more contained compared to size of the biggest Royal Caribbean ships, making it ideal for those who are overwhelmed by massive vessels.
Odyssey of the Seas Photo Tour
Want to see what the ship looks like? We've selected a number of images from around Odyssey to give you a sense of what to expect.
What We Liked
So what really stood out to us onboard Odyssey of the Seas? There were several things that jumped out as must-sees aboard the ship.
Ship Decor & Interior Design
From the colors to the styling to the artwork, we loved the decor and design around the ship. Everything was modern, yet approachable and comfortable. Some older ships in the fleet can feel a bit dated in design. That's certainly not the case here. And we also like that in addition to feeling contemporary, it also felt more "adult" in style. While it's definitely made for families, you won't feel like you're on a ship built to cater only to children.
SeaPlex Blending of Space for Families
The SeaPlex at the back of the ship is definitely built for kids, but parents were also considered in the design and it shows. While kids will want to hang out in this area and the rest of the back deck where the climbing wall and Sky Pad are located, there are plenty of spaces for adults to enjoy. There's Playmakers, but also seating overlooking the sport court. So the kids can go play while mom and dad enjoy a drink or a bite to eat, while still being together as a family.
Entertainment Options
Odyssey of the Seas has some fantastic shows that we enjoyed. The Book in Two70 takes full advantage of the technology in the theater to put on a show that's unlike anything we've ever seen. It's a can't miss.
We also watched The Effectors in the main theater. While the main show itself wasn't our favorite, there are some amazing effects that we think you have to see. This includes a moment when dozens of drones fly over the audience in a synchronized display.
What Could Be Improved
We're big fans of Odyssey, but there were some things that we think could have been a little better.
More Open Spaces
On a ship, space is limited, but cruise lines do a good job of still giving a feeling of openness. On Odyssey of the Seas, we thought there could be more open space. For instance, the Royal Esplanade is a bit smaller than we're used to seeing and felt tighter. The pool deck also felt more cramped. Between packing so much on the top of the ship, including casitas, deck chairs, loungers, and more, it just didn't feel as open.
More Included Dining Options
We will always argue for more included options when it comes to dining. On this ship it seemed like for dinner you either had the buffet or dining room. There are other included spots to eat, but they tend to be snacks instead of meals (e.g. Cafe Promenade). For lunch, El Loco Fresh was included, but it closed by dinner time.
Our opinion is that having another included dining option — especially for dinner — would be a nice touch.
Odyssey of the Seas Tips & Things to Know
During our time on the ship, we noticed a few things that could make your trip aboard Odyssey even better. Here's what to know…
Elevators Buttons Are Touchless
One thing that got a lot of people confused — including us — is that the elevator buttons (both in the elevator and to call one) are all touchless. So instead of pushing it with your finger, you simply put your finger close to it and hold it there to select it.
Truth be told, it's a good idea but doesn't always work perfectly. You have to put your finger near it and then pause for a second or two for it to register on the button.
Reserve, Reserve, Reserve
There is plenty to do on Odyssey, but unfortunately, you need to plan ahead for lots of things. Whether due to popularity or for crowd planning purposes, Royal Caribbean requires reservations on things like specialty restaurants and the theaters (including Two70) on the ship. In addition, we noticed that activities like RipCord and the North Star were also regularly full.
(In full disclosure, we were able to snag a seat at Two70 without a reservation, but the daily planner does say they are required.)
The good news? Reservations are easy. You can do it within seconds in the Royal Caribbean app. It's just something you need to remember to do.
Want a Thrill? Check Out the Glass Walk Over Water
If you're scared of heights, then maybe avoid it, but for a quick thrill, head over to the Sky Pad. There's a walkway around the huge ball that juts out over the water. Here the path turns from the deck of the ship to glass panels that allow you to look down and see the ocean 16 decks below. It will definitely get the blood flowing.
Snag an Upper Deck Seat for Two70 Shows
We've mentioned that the shows in Two70 are a can't miss. One tip is to head upstairs to the balcony seating to watch. There's not a bad seat in the house, but in some of the lower seating your view of the stage (which is down below the audience) can be a bit obscured by other people. Instead, the upper seating gets a full view of all parts of the stage without worrying about those in front.
Both North Star and RipCord Have Charges (But North Star Is Free in Port)
Two of the big attractions on the ship are the North Star observation pod and the RipCord skydiving simulator. But there are charges, so be aware. During our cruise, we were told the charge for RipCord by iFly was $49.
For North Star, the pricing works a little differently. Staff told us that if the ship is underway, then there is a $29 charge for a ride. That's because the pod will go out over the side of the ship on a longer ride. But if the ship is in port, then taking a ride is free. The only difference? In port, the staff told us, the pod only goes straight up.
No, That's Not a Real Woman in the Solarium
During our cruise, one moment that made everyone blush was when they walked into the Solarium. There you'll see an ultra-realistic sculpture of a woman in a bathing suit sitting on a float. Until you get right up to it, it's hard to tell if it's an actual person or a fake. The realism is amazing, down to the wrinkles in her feet.
But what might make you blush is the angle she is positioned. Her backside is pointed right toward the entrance of the Solarium. So as you make your way in, you're getting a full view from a very compromising angle.
Casitas Require Reservations
One of the popular additions to Royal Caribbean ships are casitas on the pool deck. They offer a little more space — and shade — compared to the typical lounger. If you want one, then you'll need to head to The Lime & Coconut bar for a reservation. We'd suggest getting there early if you'd like one. There are only a limited number available.
Finally! Plenty of Plug Space
Anyone who has cruised knows that on older ships, plug space is at a premium. That's why we always suggest bringing along an outlet adapter. On Odyssey of the Seas, it's not a bad idea to bring one, but if you don't, you'll be ok. Our cabin had two outlets, plus two USB charging ports. There was a third outlet next to the bed. That should be plenty to get anyone through a weeklong cruise.
Final Thoughts on Odyssey of the Seas
In our opinion, Royal Caribbean has hit another home run with Odyssey of the Seas. The ship is modern, beautiful, and has packed a ton onboard. Whether you are a family sailing with kids or a couple traveling on your honeymoon (or anything in between), we think it would be hard not to enjoy the ship. It offers broad appeal that offers a feel of luxury without feeling stuffy.
We will say that we prefer the Oasis class over this Quantum-Ultra class, simply due to the more space on the ship. Our one real complaint is that the interior promenade and the pool deck could feel more cramped than usual.
That said, we found it to be just a quibble. If you have an upcoming trip aboard Odyssey of the Seas, then you should be excited. If you are trying to determine if you should sail on Odyssey for an upcoming cruise, then we would say it's a definite yes.