There's no question that marijuana is quickly becoming more mainstream. Today dozens of states offer some form of legal weed (meaning medical and/or recreational), while roughly 20 states offer full-blown legalization of the drug.
However, there are still plenty of restrictions on marijuana possession and usage. While it is legal in some states, it's against the law to carry it over state lines from a legal state to a non-legal state. And even places where it is fully legal have rules on how much you can carry and consuming weed in public.
With cruise ships traveling from place to place where laws can be different — but also often being in international waters — that begs the question: Can you bring marijuana on a cruise ship?
Rules Around Marijuana on a Cruise Ship
If you're wondering if you can bring weed with you on a cruise, the answer is no. Even if you are sailing from a state — or country — where marijuana is fully legalized, you can't bring it on a cruise ship. This includes other products such as CBD or 'delta' consumables.
All cruise lines prohibit passengers from bringing weed on a cruise with them. That's because cruise lines departing the United States follow U.S. federal law regarding marijuana. On the federal level, pot is still illegal to possess.
In addition, cruise ships travel from port to port, often visiting different countries with each stop. In these cases, it would be impossible to comply with each country's laws if the cruise line allowed passengers to bring weed on their trip.
As well, there are laws about bringing marijuana into a country, even if it is legal in that nation (e.g. Canada).
In other words, to be on the safe side, cruise lines simply prohibit marijuana altogether.
How to Smoke Marijuana Legally on a Cruise
So if it's prohibited to bring marijuana on a cruise ship, how can you legally smoke it on a cruise?
The only way is by sailing to ports where marijuana is legal and then buying and consuming it while in port.
Many places that are visited by cruise ships are relaxing restrictions on the drug. For example, it is legal in California, Washington, Alaska, New York, Massachusetts and other coastal states. Canada on a whole also has legal marijuana.
Jamaica, a place long known for the ganja culture, has loosened restrictions to where those with a declared medical need for "therapeutic" marijuana can purchase and consume. Even if you don't have an official declaration, the fine for possession of small amounts is relatively low. Mexico is also seemingly in the works toward legal marijuana.
However, most ports accessible from cruises from North America still have laws against the drug.
(Keep in mind that most places have laws against public consumption of marijuana, even if it's legal to buy. It's up to you to be knowledgeable of all local laws before partaking.)
In other words, if you want to smoke legally, then you'll need to visit one of the handful of 'legal' countries or states on your cruise. From there, you'll need to purchase and consume the product off of the ship, and don't try to bring anything back with you.
Legal Dispensaries in Cruise Ports
While you might be disappointed that you can't legally smoke while on a cruise ship, there is some good news.
Many ports where weed is legal are setup to cater to cruise ship guests. For example, Skagway, Alaska, is a popular port for cruises from the West Coast to Alaska. While the town is small (just about 1,000 people), it has a dispensary called the Remedy Shoppe just a few blocks from the cruise port.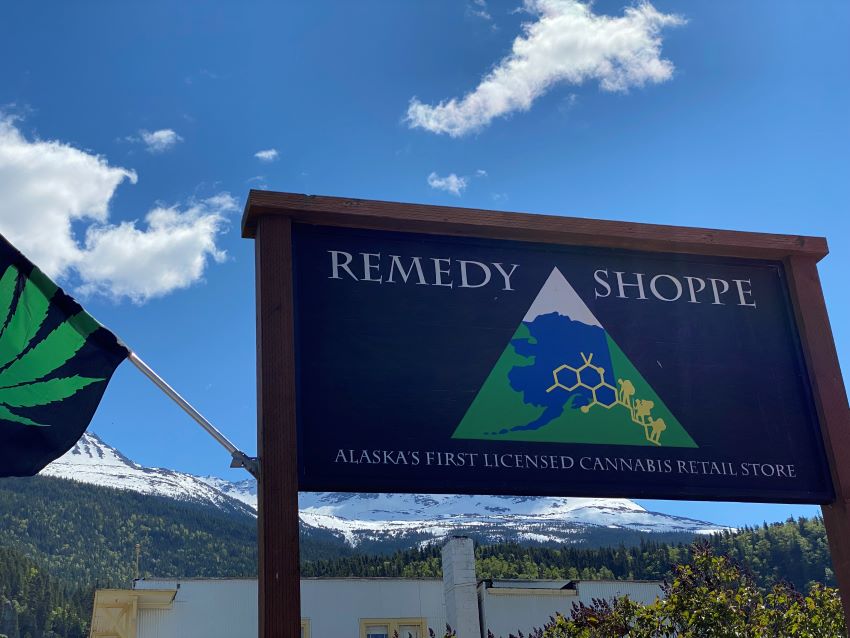 Other ports where pot is legal, including Seattle and Juneau, also offer dispensaries near the cruise port should you want to partake. That means if you want to purchase marijuana (legally!) on your cruise, then you should have ample opportunity to do so.
All you need to do is search for a dispensary on Google before arriving to direct you where to go.
Frequently Asked Questions
Can I smoke legally on the ship if I have a medical license?
As we covered above and in this article, no marijuana is allowed on cruise ships — even if it is for medicinal purposes or legally obtained on shore. That means even if you are docked in a port like Seattle where the drug is legal and you have a license, you aren't allowed to have or consume it while on the ship.
What happens if I'm caught with weed on a cruise?
To be honest, it's not always clear. If in port, you should be subject to local laws. There are stories of local authorities finding drugs on cruise ships and arresting passengers. If in international waters, it will be up to the cruise line on how they choose to pursue the offense.
At the very least, you should expect it to be confiscated and reported to the proper authorities to handle. Carnival makes it clear that bringing it on their ships will mean a $500 fine and "may also result in the disembarkation of all guests in the stateroom."
What if I come back from port while high?
If you get high while in port (legally) and then come back to the ship, then nothing is likely to happen to you unless you are making a disorderly scene. There are no checks to see if passengers are under the influence of drugs and alcohol.
One thing to keep in mind is that passengers undergo security screening (x-ray of personal items and walking through a metal detector) when coming back to the ship. So if you are thinking about bringing it back on with you, think twice.