Wanting to take a cruise, but feeling overwhelmed with actually booking the trip? There's a lot to consider, but don't worry. It's normal to have questions. That's why we'll show you how to do it the right way.
Whereas on a traditional vacation you might book a few nights at a hotel and then fill in the blanks for the rest of the trip later, cruises mean you are booking almost everything for your entire trip in one transaction.
Not only do you have to figure out which cruise line to sail, but also where you'll go, how long you'll cruise, which ship you want, what type of cabin, and even how you'll actually book your trip.
There's a lot that goes into booking your cruise. Let's walk you through everything you need to know.
Starting Your Search for a Cruise
As with most things these days, many people begin their search for a cruise on the Internet. You have dozens of different websites that will help you start on the path of figuring out which trip you are interested in sailing. They generally fall into one of two categories:
Cruise Line Websites
For some, they already know the cruise line that they want to sail. Maybe you've sailed before and are loyal to a brand. Maybe you live near a port that offers service from only one or two different lines. Or maybe you just have a specific cruise line that you want to try out.
In any case, if you already know the line you want to sail, then one of the easiest ways to get started booking your cruise is to visit the cruise line website directly. This includes sites like:
Cruise line websites will offer sailings only from that specific line, narrowing down your choices. Each site will also have filters that you can use to trim the list of available cruises, including departure date, port, length of cruise, and more.
Third-Party Travel Websites
If you aren't sure (or don't care) which cruise line you want to sail, then the best place to start your search for a cruise is with a third-party website.
These sites like Orbitz and AvoyaTravel, have a big advantage over specific cruise line websites. They aggregate all cruises from all the lines. It's a great way to start your hunt for a trip if you're interested in finding the cheapest cruise available and don't care which line you sail.
As well, third-party websites also let you filter down trips by departure port, date of sailing, where you want to sail, and more.
If you don't care or know which cruise line you want to sail, then start with one of these sites.
Read: The Best Websites to Book a Cruise
Travel Agents/Vacation Planners
What if you don't want to find a cruise on your own, or you have a lot of questions? In that case, you can work with an expert. This includes travel agents (who search across cruise lines) and cruise line vacation planners (who work with specific lines).
These services can help you find the perfect cruise at no cost to you. The people filling these roles are experts in cruising and know the ins and outs of what deals are being offered, itineraries, and even the pluses and minuses of certain cabins on the ship. They can also be a direct point of contact should you need to make any changes to your reservation. For some people, having a specific person you can contact is very valuable.
The best way to find an agent or planner is to ask around for recommendations. Friends and family (or even people online) might have someone they recommend that can help you find the right cruise.
Selecting a Cabin Type
In the "old" days of cruising you didn't have many cabin choices. It was usually a room with a window or an interior cabin.
Times have changed. Today you have a full assortment of options. This ranges from everything from interior cabins to oceanview, to balcony cabins, suites, and now many cruise lines are coming out with specialty cabins. These include rooms with different designs than the rest of the ship and perks offered like exclusive areas that only those staying in high-end suites can visit.
Cabin Options
To be sure, the number of options can be overwhelming. However, they usually fit into one of the following categories:
Interior: The most basic cabin on the ship, the interior cabin is set on the inner part of the vessel. That means no windows. The design and layout is usually similar to any other typical room, but the lack of a window or balcony turns some people off. Still, these rooms are the least expensive on the ship, and if you aren't the type to spend a lot of time in the cabin, they can be a good option that saves money.
Oceanview: Just as the name implies, this cabin offers a view of the water via a window. It's slightly more in cost than an interior cabin, but not as expensive as a balcony.
Balcony Cabin: Balcony cabins offer you a small outdoor space (usually not larger than about 25-40 square feet) where you can sit and look out. It's nice having your own private outdoor space, but it's also valuable for being able to get some light and fresh air when you want. Balcony cabins prove popular with most cruisers and are priced higher than interior or oceanview rooms.
Suites: Similar to a balcony cabin, suites offer more space and typically larger balconies. If you're the type that worries about a small cabin size, then a suite might be the thing for you. These days some suites can be massive (even some that are two stories), depending on the specifics of the ship you sail.
Specialty Cabins: Many cruise lines are creating "resorts within a resort" like Norwegian's The Haven or the Havana cabins from Carnival. These are special cabins that offer perks or a different experience than normal rooms. For example, Carnival's Havana cabins are styled in a more tropical theme and offer exclusive access to dedicated pools. These types of cabins aren't available on every ship and what's included will vary.
Think of these rooms as a way to have a boutique cruise experience while still having the advantages of a larger ship.
Picking a Room Location
Where should I book my room on the cruise ship? That's a big question that many people have. Often you can actually save some money by letting the cruise line choose your room for you. Similar to airplane seating, cruise lines charge more if you pick your own room.
Truth is, the vast majority of cabins are perfectly fine. Cruise ships are built so that noise doesn't travel easily between decks or floors. Your chances of being bothered by noise are slim. As well, with so many things to do all over the ship, location isn't as big an issue as you might think. Even so, there are some things to know to keep in mind about choosing your cabin location.
Booking Aft, Forward, or Midship
The first choice you'll face is whether you want to be aft, forward, or in the middle of the ship. The decision rests with where you think you'll spend most of your time and if you worry about having to walk.
If you want to be close to where you'll spend the most time, then you'll need to check out the deck plan of the ship and see what amenities are located where. From there, you can better determine where you want to be on the ship. (Just Google the ship's name + deck plan to see a map of any ship.)
Truth is, activities and amenities are spread around the ship so you'll likely do a bit of walking anyway. For most people, we don't think that choosing front, back, or midship will make that big of a difference in their cruise.
The one way that might change is if you want to get a cabin that's out of the way. Rooms at the very front or very back of the ship will naturally have less foot traffic around them and some people prefer these rooms given there are fewer people around them.
Which Deck to Choose
Modern cruise ships can be up to 20 decks tall. So which deck is best to pick? As a general rule of thumb, we suggest that the higher the deck, the better — especially if you have a balcony cabin where high decks can give you a better view.
Higher decks are also closer to the popular pool deck, where passengers spend a lot of time. That means less waiting on the elevator and fewer flights of stairs to get out in the fresh air on days at sea.
That said, if you would rather be closer to the indoor activities on the ship like dining rooms, promenades, casinos and shopping, these are often on middle decks (usually around decks 5-8, but see the deck plans for your ship). If you prefer to be closer to these, then look for a room that's a deck above these features.
It's ideal to get a spot that's between the middle decks where the indoor activities are located and the higher decks with the pool and outdoor areas so that you're closer to everything.
What Else to Watch For
Here are a few other things to consider when looking at room location.
Special Balcony Cabins: Are you sailing in a balcony or suite? Due to the unique characteristics of each ship, there are some cabins that have larger balconies or are more private. Cabins at the back of the ship can have extended balcony areas. Rooms where the ship's side juts out from the rest of the ship can give you more space as well.
The Deck Above: Take a look at where your cabin is and then check the deck plans for the deck above. Ideally you want to avoid any spots where there will be a lot of foot traffic above your cabin at night. So areas like nightclubs on the ship should be red flags. Staying below these can mean more noise at night when you might be trying to sleep.
Interior Promenade Cabins: One final suggestion is to watch for cabins that look out into interior spaces. For instance, some Royal Caribbean ships have "Promenade View Interior" rooms that offer windows into an open promenade area. These spots are great for people watching, but the promenade can have music playing well into the evening, and the bass can be heard when trying to sleep.
Choosing a Ship to Sail
Since roughly 1990, the average size of a cruise ship has more than doubled. With that growth, ships have gone from a way to get from port to port to becoming a destination in and of themselves.
Today's modern ships are luxurious hotels mixed with amusement parks. They offer shopping, bars, restaurants, entertainment, and more. And there is now a big difference between older ships and the new modern mega ships.
Benefits of Older Ships (built before 2010)
As a general rule of thumb, we prefer newer ships. But that's not to say that older ships don't have their perks.
First and foremost, you'll find cheaper prices on older cruise ships. With all the bells and whistles of a new ship, many passengers seem to opt to book those ships instead, leading to high demand. Meanwhile, cruise lines often lower the prices on older ships. So in many cases you can get largely the same cruise itinerary for less money.
As well, older vessels are usually smaller. If you're the sort of person that would prefer having fewer people on the ship, then this could be a positive for you. A smaller ship also means less walking compared to larger vessels.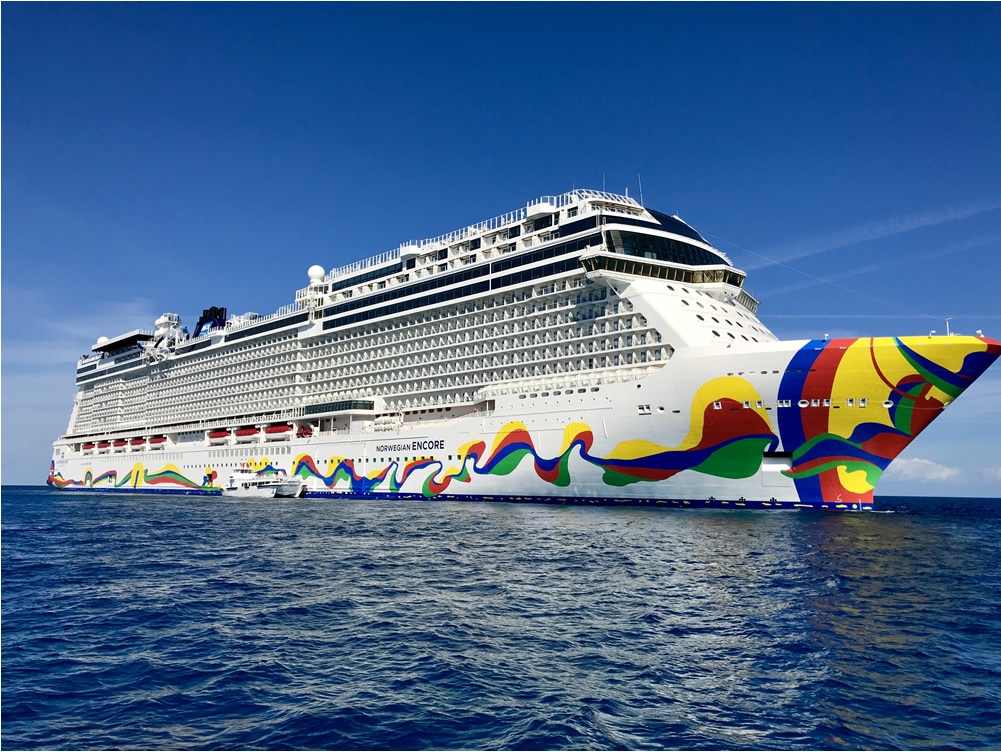 Benefits of Newer Ships (built after 2010)
When it comes to newer ships, you're normally going to get larger vessels. That means lots more space on the ship (though not always more space per passenger), which translates into more of everything. Newer, larger ships will have more restaurants, more things to do, more people, and more spaces for you to enjoy.
The largest and newest ships will also have the latest and greatest features for you to enjoy. For instance, Norwegian's newest ships have the world's only go-kart tracks at sea. Carnival's newest ships have the first at-sea roller coaster.
It's not just amusements, however. Newer ships also have the latest in restaurants, shows, and other perks as well.
Our suggestion is that if you can spring the extra money, we suggest looking toward newer ships when booking your cruise. They simply offer the latest and greatest with more to do. And with cruise ships pushing the envelope of what can be included onboard in recent years, the difference can be dramatic.
Choosing a Departure Port
As cruising has boomed in popularity, the number of ports you can sail from has also increased. With cruises leaving ports from Seattle to New York, literally hundreds of millions of Americans live within a few hours drive of a cruise port.
There are definite advantages to driving to the cruise port. For one, you don't have to book a flight or worry about finding a hotel the night before your cruise (it's always a good idea to book your flight for the day before your cruise leaves).
This can save you a lot of money versus sailing from a port that's much farther away. It's also simply much easier to drive to the port on the day of your cruise and then drive home right after you get back home.
That said, if you have a specific itinerary in mind, or you want the most options on you choice of cruises, then you may want to pick a departure port that's not in your backyard.
Most notable are departure ports in Florida and the Port of Seattle.
Florida is the cruise capital of the world, with the three busiest cruise ports (Miami, Port Everglades, Port Canaveral). Between these ports you can sail any line in America on trips that range from quick trips to The Bahamas to cruises that sail around the world. When it comes to options, you can't beat sailing from Florida.
Seattle is the most popular point for cruises to Alaska, which have soared in popularity in recent years. Since it's located in the far corner of the United States, most people have to budget the extra cost to fly to this port.
While the U.S. is the world's largest cruise market, cruises sail around the world from Europe to Australia to Asia. If you plan to have an itinerary outside of the Caribbean, Bahamas, or Alaska, then you'll need to plan to sail from a foreign port.
Choosing an Itinerary
When it comes to where you can sail on a cruise, there is no limit. If it has a coast, then a cruise ship will go there. That includes everywhere from far-flung ports in Asia to trips just a couple of hundred of miles from the United States in The Bahamas.
That may make choosing an itinerary daunting, however, in practice it's actually fairly simple.
Selecting a Region
The first step is the easiest. It's paring down the region you want to sail. It's pretty clear right from the start if you prefer to do a cruise around the Mediterranean or if you're more interested in going to Alaska. It's the same deciding whether to cruise the Caribbean or an Australian/New Zealand cruise. Before you can book, you need to know roughly where you want to go. For most people, it's something they already know.
Choosing Between Ports
In the United States, trips to the Caribbean and Bahamas are the most popular, followed by Alaskan sailings. There are plenty different itineraries among the trips, with ports mixed and matched to make a number of unique trips.
Frankly, the number of different ports of call can be overwhelming. Even if you read up on each port or ask around on message boards, you still might not be entirely sure where all you want to go. That's because everyone has a different opinion on each port based on their own experience.
Personally, we've sailed tons of trips and found that cruise ports in the Caribbean are often (but not always!) similar. That's why we suggest selecting one or two ports that you know for sure you want to visit and then working from there.
Maybe not every port you visit on a cruise will be your absolute favorite, but by focusing on a couple that you are excited about, it makes picking an itinerary much easier.
Private Islands
These days cruise lines all have their own private island, with most being in The Bahamas. If you are able to book an itinerary to a private island, then we highly recommend it.
These islands are for the enjoyment of cruise passengers only. The cruise lines have taken away many of the headaches that come with other ports of call (such as aggressive vendors and distant beaches) and tailored the entire experience to passengers. If you're wanting the ideal tropical paradise of white-sand beaches and relaxing under an umbrella, private islands are hard to beat.
Best of all? Most itineraries from Florida include a stop a the cruise line's island, no matter which line you sail.
Selecting a Cruise Length
While the classic cruise is a 7-day trip, today you can sail on anything from a three-night getaway to a 180-day around-the-world cruise. The number of options provide another variable in finding the perfect cruise to book as the length of trip has a major impact on your sailing.
Shorter Cruises (6 Nights or Fewer)
Don't have a lot of time or simply want to get away without breaking the bank? There's been a rise in the popularity of shorter cruises. These trips are abundant in the Caribbean and Bahamas, ranging from three to six nights.
The big advantages are that they mean less time off of work and usually have lower fares than longer vacations.
Short cruises also tend to attract a younger crowd. That's not to say it will be nothing but younger passengers, but you should expect the atmosphere to be more lively compared to longer sailings.
Longer Cruises (7 nights or longer)
While seven nights is the most common cruise length, they can extend to almost any length imaginable.
If you have never sailed before and are unsure if cruising is right for you, then we usually suggest looking for shorter trips. They are able to give you a sample of cruising without committing you for an entire week or more.
If you know you want to sail, then many people like longer cruises because they give them the time to actually unwind and get away from it all. Longer cruises also have the advantage of being able to travel farther from the home port, meaning you can visit more far-flung locations.
While short cruises might be a getaway, longer sailings can be more of a vacation.
The crowd on these cruises is often a little older (especially on cruises of longer than a week). Expect a more relaxed vibe. As well, if you want to sail on the newest ships, they usually sail cruises of seven days.
Choosing a Time of Year to Sail
What's the best time to take a cruise? That depends on what you're looking for.
The busiest time to sail is during the summer when school is out and families are on vacation. During this time you'll find ships with more kids on board, as well as higher prices. As well, Alaskan cruises sail a shorter season that lasts from April through October.
During the winter, cruise prices are lower, but the weather in the Caribbean is still wonderful.
Read: What's the Best Month to Cruise? Pros & Cons of Sailing Each Month of the Year
Below is a breakdown of each time of year and its impact on sailing.
January-February: Winter in the United States, but still warm in the Caribbean. Prices are among the lowest of the entire year, making it a great time to sail for cheap and go somewhere warmer.
March: Prices spike with the Spring Break season, but deals can still be found if you look early or late in the month. Expect shorter cruises to have a more party-like atmosphere as younger passengers take advantage of Spring Break.
April-May: Prices usually dip again after Spring Break, making April and May another good time to find some deals. As well, Alaskan cruise season begins to open up and since it is early in the season, fares are reasonable.
June-August: Peak cruise season as more people are traveling. You'll find the highest prices during this time, although prices can start to ease the second half of August. Also be aware that hurricane season is from June-November. Your chances of having a run-in with a hurricane on a cruise are tiny, but they can cause ships to be re-routed and cause havoc with schedules.
September-October: Hurricane season is still active. Prices start to come down from the summer peak as families get back to school and work. This is a good time to find deals while also having warm weather for the length of your cruise.
November-December: Want to get away for the holidays? Cruising is a great way to get away from the cold and to the warm tropics. Prices can be very affordable, outside of the week between Christmas and New Year's.
Often your schedule will dictate when you can sail. The good news is that there is no bad time to cruise. The tropics are warm year-round and weather usually isn't an issue outside of the occasional hurricane that causes disruptions. You'll save money by sailing outside of Spring Break, summer, and Christmas, if you're able.
How to Book and Pay for a Cruise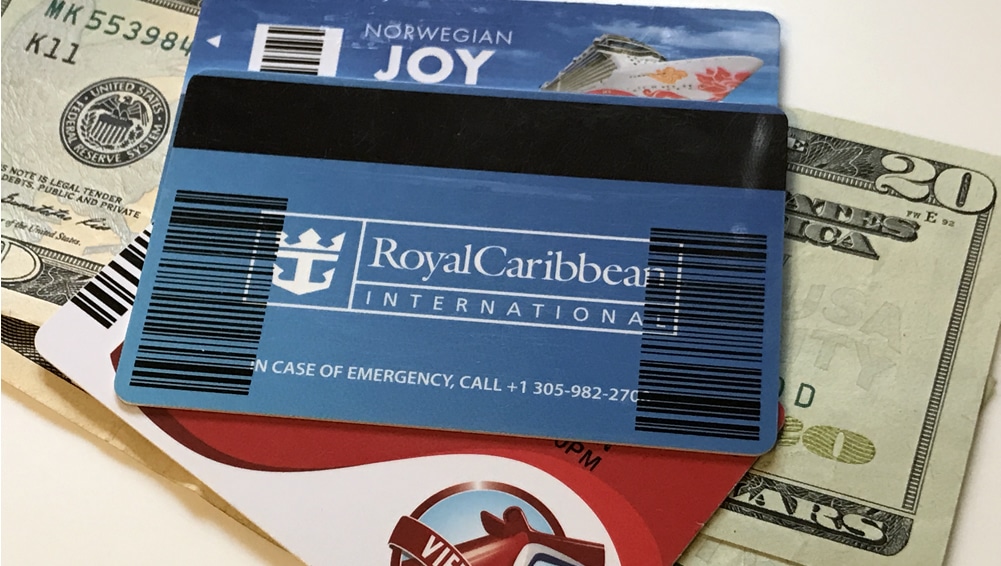 Booking a cruise is surprisingly simple. Once you find the trip you like, you simply pull out your credit card to make a payment and reserve your spot — just like you would booking a flight.
These days, everything can be done online, including picking a cruise and a room.
If you have questions, you can always call the cruise line or your travel provider to have them walk you through the process. Cruise lines can also take your reservation right over the phone.
What You'll Pay
One thing that surprises passengers is that the price of their cruise is often more expensive than they thought it would be at the start of the process. For instance, a cruise might be advertised for $399, but the total price comes out much higher.
That's because advertised cruise fares are per person, for the lowest-cost interior room. However, cruises are sold at double occupancy, so the price doubles right off the bat. As well, any room upgrades like an oceanview or balcony cabin will be higher.
Finally, there are also port fees and taxes. These can add $100-$200 per person on a typical trip.
Bottom line, just be ready for an "out the door" price that's significantly higher than what you might have expected.
Deposits
When booking you might have the option to put down a deposit or pay for the cruise in full. If your cruise departs soon (within 90 days), then payment is usually due in full. Cruises booked farther out can be booked with only a deposit.
If possible, it's best to book with a deposit and then pay off your cruise as slow as allowed. Like airfare, cruise prices can fluctuate. If you buy a cruise and the price drops, then you can often (though not always) give the cruise line a call and get the fare adjusted. The price difference is either refunded to you or sometimes given as onboard credit.
But if you've paid in full, then you lose some leverage in asking for a price break. If you've only paid only a deposit, then you can cancel the booking and then rebook at the lower rate if it makes sense financially.
Often this isn't an issue, but the deposit gives you the most flexibility without putting down as much money.
Gratuities
These days cruise lines charge gratuities (a daily per person fee that's given to the crew) automatically. These charges run about $16-20 per person, per day, depending on the cruise line. You can either opt to include them in your cruise fare when you book or wait and have them charged to your onboard account when you sail.
The choice is yours. It merely comes down to when you want to pay the charges. There's no real advantage or disadvantage to paying them now or waiting.
Other Purchases (Excursions, Specialty Restaurants, Drink Packages, Internet)
The cruise fare is just the start of what you'll spend on your cruise. Most things are extra on the ship, including the shore excursions and drink packages.
If you know that you want to book some of the extras, then it is smart to do it before your cruise sets sail, instead of waiting until after you board. After you book your cruise, you'll be given an online account. Here you can manage your booking, including pre-purchasing extras on the ship.
The advantage is not only are these things already booked when you walk on the ship (meaning you don't have to worry about booking them at the start of your cruise), but cruise lines usually have discounts for buying early. In other words, booking packages early can save you money.
FAQ About Booking a Cruise
What If I Change my Mind About My Cruise?
If you change your mind and decide that the cruise you booked isn't right for you, then you want to make a change as soon as possible.
Cruise lines traditionally have cancellation penalties that get higher the closer you are to sail date. So a cruise that leaves in six months might not have a penalty for cancelling or changing your itinerary, but a cruise leaving in two weeks will forfeit the entire cost for cancelling.
If you know that the cruise you picked isn't right for you, get in touch with the cruise line as soon as you can.
How Can I Book the Best Deal?
Want the best deal? Then you should look for cruises on older ships that depart in off-season months like January, February, October, or November. In general, this is when you'll find lower prices for classic Caribbean cruises.
However, not everyone wants to sail on an older ship or has the flexibility on when they sail. We suggest seeing our 10 Rules for Getting a Cruise Deal for more on how to sail while also saving your money.
What If the Price Goes Down After I Book My Cruise?
No one wants to book a cruise… and then see the price drop right after they book. But like airfare, the prices of cruises can fluctuate.
That's why we suggest checking in every week or two after you book your cruise. If the price falls, don't hesitate to call the cruise line (or whomever you booked through) and ask if they can adjust the price for you. Often they will give you the lower price, making a five-minute phone call worth the trouble.