There's been a big competition between cruise lines over the past decade or so to build new cruise ships that are bigger, better, more fun, and more luxurious than anything that's been seen before. And all the cruise lines are taking part.
From Carnival to Royal Caribbean to Norwegian and others, the "arms race" with cruise ships has become so hot that a new ship seems to set sail at least once a year from each cruise line. Meanwhile, the race shows no signs of slowing down.
In just the past 12 months we've seen a flood of new — and enormous — ships, from Carnival Horizon to Norwegian Bliss to Royal Caribbean's Symphony of the Seas. And those are just the ships that have made their debut. Each of these cruise lines, as well as Disney, have ships on order that are currently under construction to greet new cruise passengers.
Meanwhile, each new ship seems to push the envelope further.
Whether it's the size of Royal Caribbean's newest ships to new features and staterooms on Carnival to the largest ships ever built for Norwegian (oh yeah, there is also a go-kart track onboard), these ships continue to bring a fresh experience to cruising.
And as you might expect, they also see a lot of demand as passengers want to experience the newest and biggest ships. In fact, if you're looking for a deal on a cruise, then one of our best pieces of advice is to look for older ships to sail. Older ships typically see cheaper prices than the newest ships.
Still, there's something special about sailing on the biggest ship in a cruise line's fleet. To give you an idea of what you would pay, we tracked down the prices of cruises for each of the biggest ships on four major cruise lines during peak season.
Royal Caribbean Symphony of the Seas ($3,043)
When it comes to Symphony of the Seas, simply calling the ship "big" is an understatement. The ship launched by Royal Caribbean in 2018 is actually the largest cruise ship in the world, at nearly 1,200 feet and 228,000 gross tons. All told, it can hold nearly 7,000 passengers at full capacity.
Right now the ship sails from Miami, and homeports at Royal Caribbean's new cruise terminal at the port. She sails weeklong trips around the Caribbean and Bahamas, and as you might expect, the prices during peak season can be rather high. The good news? Balcony cabins are only a small bit higher than the prices for an interior cabin.
If you want to sail aboard Symphony of the Seas, we found prices starting at $1,283 per person for an interior cabin on a 7-night trip in July. This specific cruise takes you from Miami to Roatan, Costa Maya, Cozumel, and CocoCay in the Bahamas (the cruise line's private island).
All told, the $1,283 per person "headline" price for an interior cabin turns into a total of $3,043.02 for two people after the taxes, fees, port expenses — and $203 in gratuities — are added in. Keep in mind this doesn't include any drink packages, airfare, or transportation to and from the port.
The good news? On this trip you can sail in a balcony cabin (with a neighborhood view, not oceanview) for just a few bucks more — $3,181.02.
Carnival Horizon ($2,041)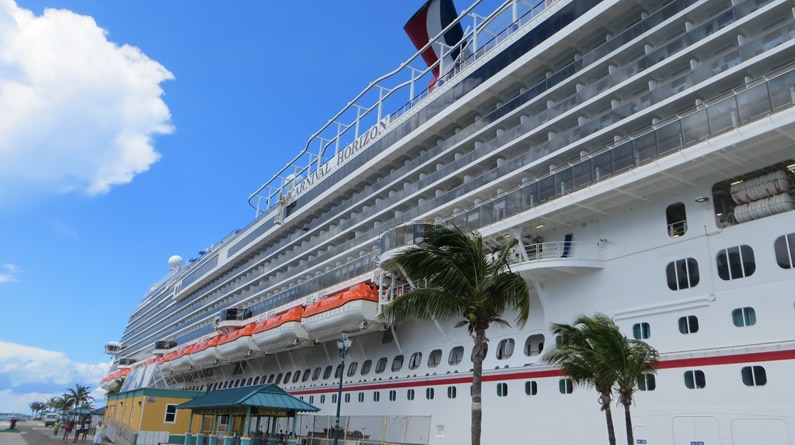 When it comes to the new mega-ships, Carnival Horizon may not be the biggest or most luxurious (Carnival seems to be aiming for that with the new Mardi Gras), however, the ship is a lot of fun. With a relaxed vibe and all of the Carnival favorites like Guy's Burger Joint and the Havana Bar, it's definitely a fleet favorite.
Aboard the ship you have several different room options, thanks to the ship's different "resorts within a resort." For example, Havana rooms located at the back of the ship are themed with a classic tropical vibe and have access to an exclusive pool and deck-area. The Family Harbor section features rooms perfect for families and a lounge only for guests in those cabins. Within the lounge you'll find breakfast in the morning and snacks during the day, along with a place to hang out, play games, and watch movies.
Among the newest ships from major cruise lines, Carnival Horizon offers the lowest rates. The ship sails six and eight-day trips from Miami. During the peak of cruise season you'll pay between $809 (six days) and $1,159 (eight days) for a cruise aboard the ship in an interior cabin.
After accounting for two people, plus the taxes, fees, and gratuities, you'll end up paying $2,040.92 for the cheapest July trip aboard the Horizon. Upgrading to a balcony cabin moves the price to $2,790.92 for the six-day cruise.
Norwegian Bliss ($3,400)
While Norwegian Cruise Lines might not be one of the original lines focused on mega-ships, they are quickly catching up. Case in point is the Norwegian Bliss. The massive ship comes in at 168,000 gross tons, nearly 1,100 feet long and a staggering 20 decks. First in service in 2018, it has set the standard for the rest of Norwegian's fleet.
Why so special? The ship offers a ton of features and amenities you won't find across the fleet. The big news was made by the go-kart track at sea, but other fun things include laser tag, a waterpark, and even a slide that goes out over the side of the ship. As for adults, there is everything from Jimmy Buffett's Margaritaville to observation lounges to a variety of restaurants serving everything from BBQ to Mexican food.
If you want to sail on the Bliss during the peak summer season, be sure to grab a sweater. That's because the ship is setting sail to Alaska, departing Seattle. These trips are traditionally more expensive than similar length Caribbean cruises.
During the month the cheapest interior cabin is $1,349 per person. After including two people, taxes, fees, port expenses and gratuities, that fare comes to a total of $3,400.02. The cheapest balcony cabin on the trip ($2,099 per person) brings the total to $4,900.02.
Disney Fantasy ($5,628)
Disney Cruise Line currently only has four ships sailing, but the line has another three planned or under construction. For now, the newest ship in its fleet is the Disney Fantasy.
Sailing from Port Canaveral (near Orlando), the Fantasy first entered service in 2012. During the high season in July, you can sail on a 7-night trip to Cozumel, Grand Cayman, Jamaica, and Castaway Cay (Disney's private island). Unlike other cruise lines, Disney presents a straightforward upfront price that includes all taxes and fees.
For two people sailing in the least expensive interior cabin, you'll pay $5,627.86 when gratuities are included. Want a balcony cabin? The upgrade will run $6,229.86 for two people. Keep in mind that this price is for two travelers. If you're a family taking a kid or two on your cruise, then the price rises a bit more.
There's no doubt that Disney has a premium price for its cruises. However, the level of service and Disney experience is said to be among the best in the business.
Want to know how to get the best deal on your next cruise? Read our 10 rules for cruise buying.