When night falls on a cruise ship, there's arguably no more popular place to be than in the ship's casino. The atmosphere is buzzing, people are shouting with every win (or groaning with every loss!), and the energy can be off the charts.
It's the place to be in the evening, if you like to gamble. And if you've been to a casino before, then there's a lot that's going to be familiar. But if you've never been to a casino on a cruise ship, then there are some things that will definitely be a little different that you may not notice at first — especially when it comes to the games offered.
The traditional games are all there, including slot machines and blackjack. There are also some things that you wouldn't expect in a casino, including games like the crane machine and coin pusher machines.
To help you get acquainted, let's dive into the games you'll find in a cruise ship casino, and what to know about them.
Slot Machines
If there is a most popular game in a cruise casino, it would be the slot machines, without a doubt. Any ship's casino will be filled with rows of them and during the busy periods in the evenings, you'll find most of them taken up by players.
The games offered are similar to what you'd find in a land-based casino. In fact, many of your favorites are likely to be onboard, including names like Lobstermania, Cleopatra, and Quick Hit. We will say that the large slot machines (e.g. those that are full experience like Wizard of Oz or Monopoly with rumble seats and more) usually aren't found on cruises. We think that's due to the size of the machine that may simply take up too much space on a cruise ship.
Denominations will vary, but penny machines seem to take up the lion's share of what's available. Often you can change the denomination right at the machine. Minimum bets tend to be around $0.40 – $0.50 cents per spin, with the ability to bet several dollars per turn.
Video Poker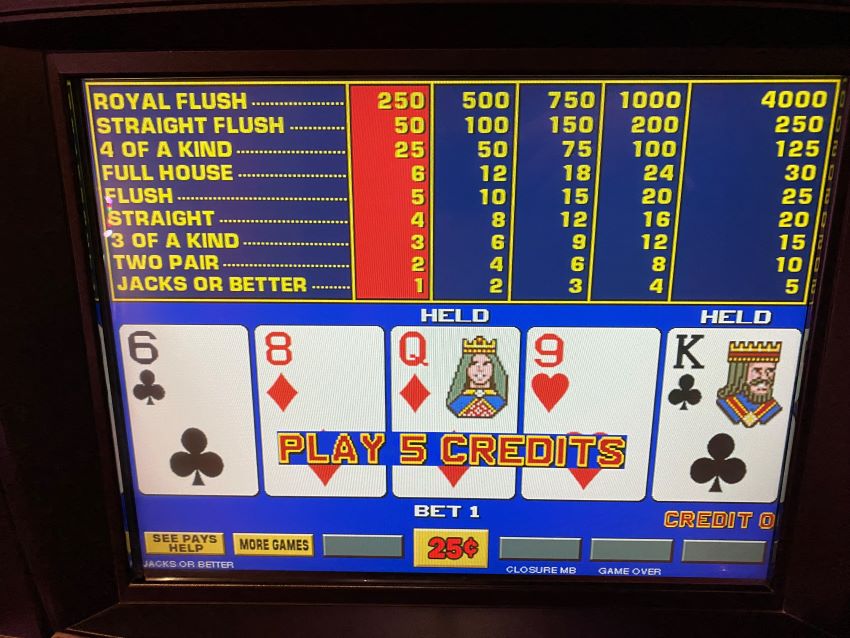 Another machine that you'll find in any cruise casino is video poker. That said, the number of machines and the poker games available are significantly fewer than you might be used to seeing.
In our experience, there is usually a bank or two of the machines, but not much more than that. Denominations are typically $0.25, but some machines may let you change that amount. Jacks or Better is always available, and often you can change the game at the machine. Even so, you may or may not find some of the variations such as Deuces Wild, Bonus Poker, multi-hand machines or machines that play with a multiplier. It will depend on the ship, but just know in general things are more limited.
As for payouts, video poker on a cruise will almost always offer lower pay tables than the optimum "9/6" machines. We find that they usually vary between 6/5 to 7/5, which increases the house's take over the long term.
Roulette
While machines take up the largest portion of the cruise ship casino floor, table games have a healthy showing. That includes roulette, which always seems to be a popular game on the ship.
Cruise ships offer double-zero roulette. There are all your traditional bets, including individual numbers, red/black, even/odd, as well as sections of the board. There is also usually a video board that offers up stats on recent rolls so you can get a feel for how the table has been running.
Minimum bets are usually $5 overall, but may be $10 in some cases.
Blackjack
Blackjack is another popular table game, and in the evenings you'll see these tables plenty busy with players.
The rules are just like you find on land. Games are normally played with multiple decks (though we have seen single-deck games) and allow for doubling down. Traditionally dealers are required to hit on soft 17.
While blackjack payouts will vary based on table minimums, normally you'll find 6:5. Higher limits will see the traditional 3:2 payouts for blackjack.
Minimums normally start at $5 (or $6 to make blackjack payouts easier) and go up from there. You likely won't see minimums higher than $10-$25 on your cruise.
One more thing to note is that a number of the blackjack tables available also have side bet options available if you are so inclined.
Live Poker
Texas Hold 'Em has boomed in popularity over the last decade or two, and that includes on cruise ships. Most cruise ships will have a poker table on the casino floor.
Unlike a typical casino, however, it's not a situation where you can just walk in, sign up and start playing poker. Given the limited number of players on a cruise, games are normally announced ahead of time, not "sit and go."
Keep an eye out on the daily planner for when a game is starting. Then just head down to the casino a little early for details on how to score a seat to play.
Craps
Like to throw dice? Cruise ship casinos all offer at least one craps table and sometimes two. We will say that the tables seem to be fairly slow during the day, but definitely see plenty of action in the evenings. So grab a drink, squeeze into an open spot and make some new friends at the table.
You'll want to check out the table before you play as different ships will have different betting spots that pay differently. For instance, you'll often find the "Big 6 | Big 8" bets. This large area pays you even money if there is a six or an eight rolled on the table. But if you simply "place" the same bet with a dealer, then you'd earn 7-to-6 ($7 on every $6 bet). Casinos place these "Big 6 | Big 8" in order to lure in bets with a higher house edge. Field bets often pay double for both 2 and 12, instead of paying triple for 12.
Odds bets can vary, with many ships allowing only 1X odds with others offering 3X-4X-5X. In general you will find $5 minimums, but don't be surprised if that's slightly higher at $10 as minimums do seem to be creeping up.
Scratch-Offs & Lotto
We've never been to a casino other than a cruise ship that offers its own scratch-off tickets. But sure enough, head to the cashier and you'll see several options for these games to purchase.
Typically there are a handful of tickets available and they are cruise line branded. For instance, we played one game on Carnival that offered prizes of up to $30,000 and/or the chance to instantly win a cruise.
Just like on land, don't expect great odds on these lottery tickets. Still, they are a fun way to play and come in affordable denominations. We bought one for $5.
In addition, many cruise casinos offer lotto-style drawings where you can buy a ticket and win if your numbers match. Look to your daily planner for the drawing times.
Other Games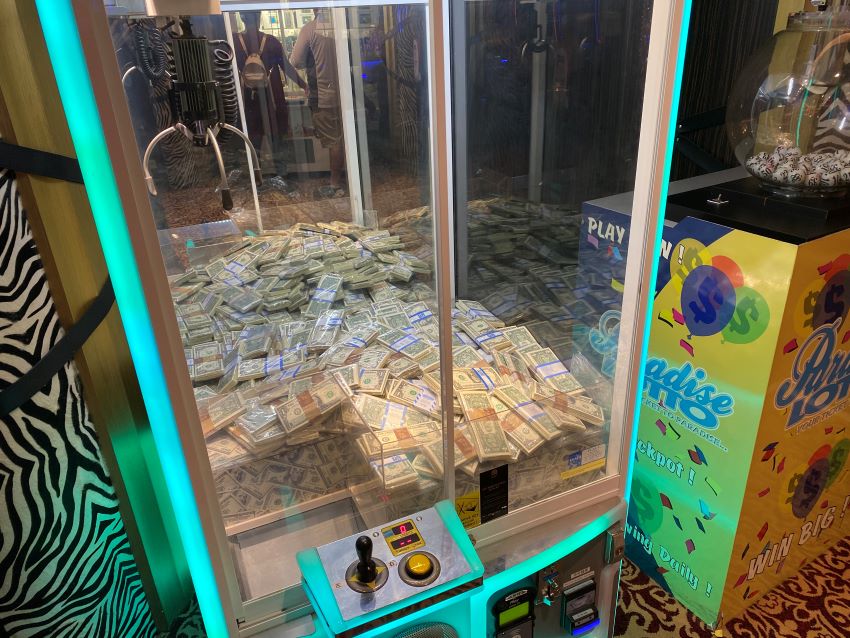 As you can see, cruise casinos have plenty of well-known and favorite games. But there are some others that you should know about that you'll see and typically don't find in land-based casinos.
Crane Machines: Remember those arcade cranes you'd find and try your luck to grab a cute stuffed animal? You'll often find those same machines in a casino, with the chance to grab stacks of cash. There are also other games like the "Keymaster" where you position a key in the hole to win the cash prize.
While these might look like games of skill, it's well-publicized that they can be set to only win sometimes by only allowing enough grip strength to occasionally pick up a bundle of cash. Keep this in mind when playing.
Coin Pushers: Remember the carnival (like the fair, not the cruise line!) that featured tokens you'd drop in to push even more over the edge? Well, they make an appearance on cruise ships only this time using quarters. Drop in a quarter and hopefully you can push more over the edge than you used… along with folded cash and other prizes stacked on top.
These games seem to be extremely popular on ships. One tip is to know that often the landing platforms for the coins have slots in the side of the wall. So not only can coins go over the edge and into your pocket, but they can be pushed to the side where they are no longer in play.
Other Table Games: We mentioned the most popular table games like roulette and blackjack. However, there are likely to be a number of different table games. What's available will vary from ship to ship. We've seen Three Card Poker, Mississippi Stud, Baccarat, and others. The good thing is that cruise ships are great places to learn these sorts of games as minimums are typically low and there are few other players.
More on Cruise Ship Gaming: