After the pool and dining room, arguably the most popular spot on a cruise ship is the casino. Cruise passengers love to gamble and (almost) every ship will have plenty of room dedicated to the casino.
There you'll find a casino that rivals anything you'd find on land, albeit at a smaller scale. Still, you can play the slots, roll the dice, hope for blackjack, bet on black, and even play a few other games you normally don't see in regular casinos.
In fact, we're guessing that anyone who is a fan of casino gambling will feel right at home the moment they step into this spot on the ship. You should know, however, that there are some unique features of cruise casinos that make them a little different than you might be used to seeing.
With that in mind, here are tips you should know for when you play…
Where You'll Find the Casino on the Ship
First thing first, where will you find the casino on the ship? Believe it or not, cruise casinos are almost always located in the same general area, no matter your ship.
Cruise ships typically have three decks in the middle of the vessel (often around decks 5-7 or 6-8) that are public areas with bars, lounges, shops, and yes, the casino. You'll often find the casino located on the bottom of these decks. This way, it's in a place that's easy to get to and right near the flow of traffic, but it's also not right in the middle of everything so the public space completely revolves around gambling.
In other words, it's close, but not too close.
Don't Forget Your Keycard
When you take a cruise, your room keycard is the most important item you can have. It not only opens your cabin, but it also serves as your credit card on the ship. If you want a drink or a souvenir, you simply scan your card and it hits your onboard account.
When it comes to the casino, you need your card, too. It's inserted or tapped against a reader on the machine to track your play. Just like casinos on land, cruise lines offer programs with perks and rewards based on your play (more on that below).
Perhaps more importantly, some lines — notably, Carnival — put your account balance back onto your keycard instead of a printed out voucher at machines. So you put $20 in the machine and cash out with $30, that money is put on your card. You then insert the card in another machine to tap the balance or go to the cashier to be paid out if you are done playing.
Smoking Is Allowed (Some Have Non-Smoking Sections)
Smoking is heavily restricted on a ship due to safety of the ship (fire is a major worry at sea). You can't smoke across the vast majority of places, including your room, public areas and even many outdoor spots.
However, smoking is normally allowed in cruise casinos. Keep this in mind whether you're a smoker or a non-smoker. If you do smoke, it's nice to have a place you can light up. If you don't like it, then unfortunately the spot can smell smoky — especially in the evenings when things get busy.
One bright spot for non-smokers? On newer (and larger) ships, the trend seems to be toward having dedicated non-smoking areas where you can play without the smell.
Don't Expect Great Payouts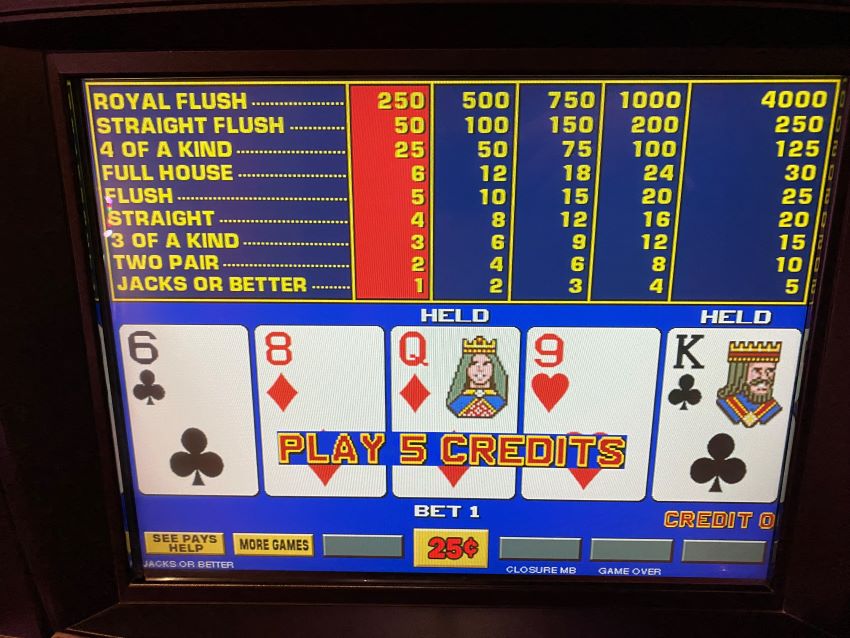 We don't think anyone expects to have an advantage over the house when they step into any casino. But on cruise ships the payouts can make it less in your favor.
For instance, low-limits blackjack generally pays 6-to-5 instead of the customary 3-to-2 (higher limits will find the higher payouts). Craps games often have lower odds bets than what you see normally. Video poker machines will vary but it's seemingly impossible to find the "9/6" machines that provide the least amount of house edge.
These payouts actually are in line with what you might find on land as the trend everywhere seems to be more in the house's favor. Still, keep it in mind when you're playing.
The Casino Is the Most Lively Late-Night Spot on the Cruise
Wondering where the party is on a cruise ship late at night? It's likely the casino. No doubt that there's plenty going on around the ship once the sun goes down. But after dinner and after the evening show, it seems that people flock to the casino to go try their luck.
In fact, it can be so busy that finding a machine is tough (depending on the ship). If you're wondering where people hang out on the ship in the evening, however, this is it.
What to Know About the Unusual Games
Walk in the ship's casino and as mentioned, you'll recognize lots that's familiar. What you'll also notice, however, is that there are a few unusual games. One is the coin-pusher machine, complete with folded cash on top of the coins to entice you to play. Then there are the skill cranes but instead of trying to get a stuffed animal, you're trying to grab a stack of cash. And then there is the Keymaster game where you try to position a key in the slot to unlock the prize.
These games can seem like they are skill. If you position the drop claw just right, you'll win, right? In truth, if they could be won with skill alone, they wouldn't be in a casino. For instance, the skill crane can be adjusted to allow enough power to grab a prize only occasionally. The coin pusher machines usually have side slots (that are harder to see) where coins can go instead of over the front edge.
They are still fun to play, but know they aren't entirely based on skill.
Casino Classes Are Available
Ever wanted to play a game but never knew how? It can be intimidating to learn some games on the fly, especially when there is money on the line. On a cruise, you don't have to. Many ships offer beginner classes for games like blackjack and craps.
Look at the ship's daily planner for times, but it's normally about an hour before the table games open for the day. That means look for them in the mid-morning. These classes allow you to learn the game without risking money in a stress-free environment.
Bar Service Isn't Free (But Drink Packages Work)
A staple of a typical casino is the staff offering drinks while you gamble. That's one difference on a cruise. There, drinks aren't free unless you're playing enough to earn them as a perk. Instead, there may be waitstaff walking by taking drink orders, but you'll be charged menu prices, just as if you had gotten a drink at the bar.
One good thing to know is that if you have a drink package, it will work in the casino just as it does anywhere else on the ship. In that way, you can get what you want to drink without having to pay extra.
Casinos Are Great for Watching Sports
If there is a game that you want to watch, most of the time it won't be shown in your cabin. TV channels are pretty sparse in the room, and major sports stations like ESPN are rarely available.
However, the casino can be a great place to watch. Generally they have a bar with TV sets and offer channels that aren't available elsewhere. So while you might not get the Sunday afternoon football games in your cabin, several can be showing at the bar in the casino. So you can sit, have a drink, and watch the game… or you can gamble while still keeping an eye on the score.
Want to Play for Cheaper? Look for Tournaments
Anyone who has gambled before knows that you don't always get your money's worth. It's not unusual to put $20 in a machine and see it just quickly drain to zero.
If you want a little more play for your money, many cruise casinos offer tournaments for both slots and blackjack. You pay an entry fee and then hope to come out with the highest score to win prizes. Tournaments aren't for everyone's liking, but it is nice to be able to get some play in a casino for a set fee.
Yes, You Can Earn Free Cruises (And Other Perks)
One big draw about casino gambling is earning those perks. Go to Las Vegas and play enough, and you can get meals, show tickets, and even rooms comped. It's not quite the same on cruise ships but you can get things like drinks and free cruises for your play.
For example, Carnival's Players Club offers all sorts of perks for players with enough points in their program. This can include free or discounted cruises, complimentary cabin gifts, free drinks, wi-fi, an exclusive cocktail party, and even its highest-tier loyalty status.
That's one reason why if you play, you want to be sure to keep your keycard inserted to track your play.
The Age Limit to Gamble Is 18 Years Old
If you're under 21 and want to play on your cruise, there's some good news. Unlike casinos in Las Vegas and many other places where you have to be 21 to play, cruise casinos allow you to place a bet as long as you're 18 years old.
Perhaps surprisingly, however, if you want to have a drink while you play, then you have to be 21 years old.
More on Casinos on Cruises: