When it comes to the cruise ship, your cabin is your home away from home. It's where you'll sleep (of course), but it's also where you'll relax, get ready for the day, and it serves as your own little private spot away from the rest of the ship.
But there are a lot of little things that you may not know about a cruise cabin, or things that you should understand in order to make your vacation even better.
Below, we cover every aspect of your room while you sail. If you have even more questions, simply let us know in the comments below.
What Types of Cabins Are There? What Are the Differences?
On a modern cruise ship there is no shortage of different cabin types — especially when you get into high-end suites that can offer all sorts of different features, sizes, and amenities. However, for the most part cabins fall into five categories:
Inside: The lowest-priced cabins on the ship are the inside or interior cabins. These rooms are just what they sound like; they are on the inside of the ship meaning they don't have any windows. While they have everything you need, inside cabins offer a budget-friendly way to get on the cruise ship (and get really dark with the lights out!).
Oceanview: Want to save money but also have a little light and be able to see the scenery? Oceanview cabins offer a room with a window. It can't be opened, but will give you the chance to take in a view and not feel so enclosed while also not breaking the bank.
Balcony: Just as the name implies, with these rooms you get your own little balcony that allows you a spot to sit out, get some fresh air, and have your own private view. For many people a balcony is a must-have, but just know that they are more expensive than lower-tier cabins.
Suites: Suites won't have the largest number of rooms on the ship, but they can have the largest variety. On the largest ships they can span everything from a cabin with a little extra space all the way to massive two-level penthouses on the highest levels of the ship. Expect to spend considerably more for the luxury.
Specialty Cabins: Some cruise lines are offering more and more specialty cabins (such as Carnival's 'Havana' rooms) that fall into one of the categories above, but also have special features or perks. This can range everything from different styles than the rest of the ship to access to special lounges, restaurants, and pools.
How Big Is a Cruise Cabin?
If you're thinking of a big hotel room on the ship, then temper your expectations (unless ponying up for one of the mega-suites on some ships). Rooms will vary in size, but usually they fall in the 160-200 square foot range. A 12'x12′ foot bedroom in your home is under 150 square feet, so it's slightly larger than a normal bedroom.
But in that space you'll have your bed, a sitting area, closet/storage, and the bathroom. Space is used efficiently, and it's plenty of space for two adults for a week. Still, it can feel a bit small if you don't keep the room organized or are in the room for an extended period of time.
How Large Are the Balconies on a Cruise Ship?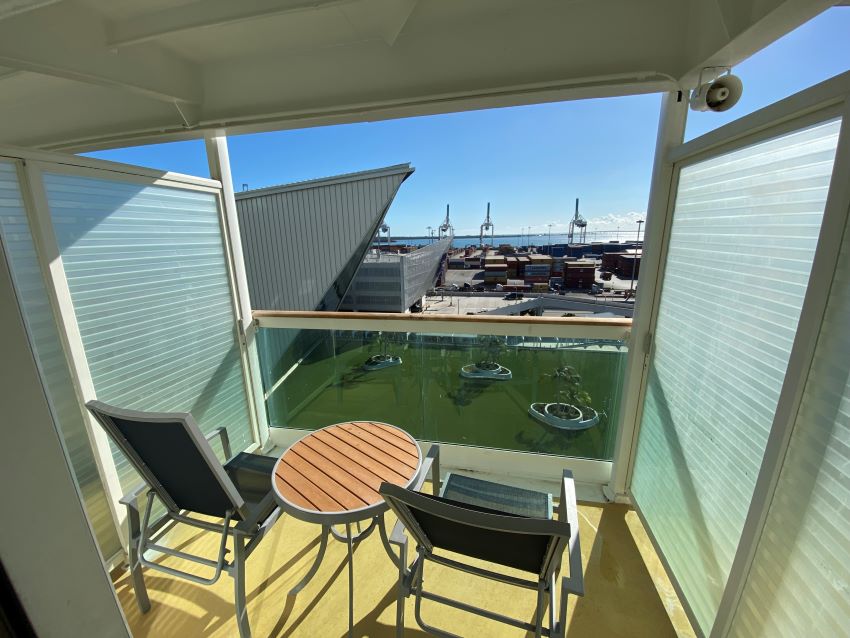 Like cabins, balconies can vary in size. However, most cruise balconies are around 40-60 square feet (roughly 4-6′ x 10′). It's large enough for a couple of chairs and a table, but don't think that you'll have a massive spot to hangout, sunbathe, or do much more than just sit and enjoy the view.
Even so, having this extra space in addition to the enclosed cabin is a nice perk that can make your cabin feel much larger.
How Many People Can Sleep in a Cabin?
Despite the small size, cruise cabins can often sleep three to four people. There are traditionally two twin beds that can be separated or joined together to make one queen bed that sleeps two people.
In addition, sometimes there is a couch that can have the pillows removed to make a flat space to sleep another person. Some cabins have drop-down or fold-down beds to sleep multiple people as well.
Note that just because a cabin can sleep four people doesn't mean it will do so comfortably. In our opinion most traditional cabins have enough space for two adults and one/two kids. If your kids are older or you have more adults, then going with a larger cabin like a suite or booking two rooms might be a better idea.
Do I Have to Sleep in the Same Bed as Someone Else?
If you are traveling with friends and walk into a cabin with one large bed, don't worry. Cruise cabin beds can be separated or joined together. So a couple can have them together while friends traveling can take them apart.
Your cabin attendant can form the beds how you like. Just let them know if it's not in your preferred configuration.
What's the Bathroom Like?
For most people, let's just say their bathroom in the cruise cabin will be… cozy. Bathrooms are small, with a sink and vanity, a toilet, and a shower.
The commode in the cabin is built into the wall (and actually seems to sit an inch or two higher than normal). Instead of a lever you push to flush, there is a button above the toilet for when you're done.
Unless opting for a higher-end suite, there won't be a tub. Instead you'll have a shower (often circular, but not always) with a shower-head wand. Just know that the showers are small. Often you can simply extend your elbows out to your sides and be touching opposite walls of the space.
Within the shower you'll have a dispenser for soap and shampoo. In addition, there is usually a retractable line that extends across the shower where you can hang clothing to dry.
Are There Accessible Cruise Cabins for Handicap/Disabled Passengers?
As you can likely tell, the traditional cruise cabin isn't that accessible. There isn't much room for wheelchairs, there are things like a high threshold to the bathroom, and no grab bars around toilets or in showers.
If you need more accessibility, don't worry. On cruise ships there are a number of accessible cabins that you can book. These rooms are tailor-made for those needing accommodations that fit their needs.
Instead of high thresholds between the bathroom and cabin balcony, there are gentle inclines. Rooms feature more space to maneuver a wheelchair (including a larger balcony), and things like grab bars and shower seats to help passengers with these needs sail comfortably.
Can I Adjust the Temperature in the Room?
Most likely you can adjust your room temperature. Every room your sail will have some sort of thermostat. But to be honest, we're not convinced that all of them actually adjust the temperature.
We've sailed in cabins where you adjust the thermostat and can instantly hear the air kick on. Other rooms we've sailed we have noticed absolutely no correlation between what we place the thermostat on and what the temperature in the room does.
In general, cruise cabins are cool, so you don't have to worry about getting too hot. In our view, we've had issues with the room being too cold for our taste and not being able to warm things up a bit.
Is There a Refrigerator in the Cruise Cabin?
Yes, any cruise cabin will have a fridge in it. Just know that it's more of a cooler than a refrigerator. Don't expect it to get too cold, and it certainly won't freeze anything.
Sometimes the fridge in the room doubles as a stocked mini-bar. These items aren't free and you'll have a price list posted nearby. If you want to use that space to keep items cool, you can let your cabin steward know and they can remove the items to give you space.
Is There a Safe in the Room?
Yes, any cruise cabin you book will have an in-room safe. This is normally in the closet area.
The safe is small, with a footprint about the size of a small laptop computer. Still, it's enough space for things like passports, phones, cash, and cards. The safe is operated with a four-digit code that you create on your own. So you enter any four digits, press "close" or "lock" and your valuables are stored. Enter the code again to open the safe up.
What Amenities Are in a Cruise Cabin?
Your cabin may be small, but it comes with everything that you would need for several days at sea.
We've mentioned the refrigerator and cabin safe. As well, there is a television, an in-room hair dryer, vanity area with desk, outlet(s), and closets with hangers. In the bathroom you'll have soap/shampoo provided, along with a line for drying clothes, and towels.
How Is TV in the Room?
Each cabin will come with a television. On newer ships the TV menus are usually interactive, providing you with a way to explore things going on around the ship, check your onboard account, and even watch pay-per-view movies.
However, when it comes to channel options, there's a lot to be desired. In general, cruise ship cabins have only a handful of channels (around 20 or so). Of those, many will be the cruise line's own channels, which show information about safety on the ship, shopping information for port, and a map of the ship's location.
In addition, there are usually a few channels that show movies throughout the day and then a few regular channels you're used to back home, like HGTV, CNN, Cartoon Network, and the like. There is also usually ESPN, but it's an international version showing sporting events from around the world.
If you have a favorite program that you love to watch each week, chances are you WON'T be able to watch on the ship. Major sporting events (like NFL Sundays) are usually shown.
You can read more about TV on a cruise here.
Who Is the Cabin Steward? What Do They Do?
The first day that you arrive on your cruise, the Cabin Steward should introduce themselves. This person is the housekeeping service, and you'll see them plenty. They typically come twice per day — once in the late morning and once in the evening — to clean, ready your room for the night, and restock anything you might need.
If you need anything, don't hesitate to ask your room steward. From extra towels to separating beds, they can do it all.
Don't need service twice a day (in our opinion, it's too much!)? You can let the steward know or simply hang the "Do Not Disturb" tag on the door.
Is Room Service Available?
Don't feel like changing out of your pajamas for breakfast? Just want to eat a meal without having to fight through other passengers? You'll be happy to know that room service is available for your cabin.
You'll normally find a menu somewhere in the room (check the vanity/desk area) that has the full listing of what's available and the number to call. Room service is available around the clock, but know that there is generally a charge. It's also customary to tip the person bringing the food a few bucks.
When you are done with your meal, you can stack them in the cabin or place them outside your door. Either way, the room steward will take them away for you when done.
How Much Storage Space Is There?
For the size of the cabin, there is lots of storage space. First there are usually large closets that feature shelves, drawers, along with hangers. So no matter if you're wanting to put away folded clothes or hang up nice items so they don't get wrinkled, you'll have a spot.
Then there are other storage spaces, such as under the bed and the vanity. Cruise bed frames are metal and sit up off the floor with lots of empty space underneath. It's the perfect spot to put empty suitcases or other large bulky items so they are completely out of the way.
If you run into a situation where you think your room doesn't have enough storage, chances are you overpacked.
What Should I Bring to Make a Cabin More Comfortable?
Over years of cruising, there are a few cabin items that we've found can make your cruise more comfortable. These items aren't must-haves, but you'll often be happy you brought them.
Outlet Adapter: We all carry a lot of electronics these days, but many ships (especially older ones) may only have one or two outlets to plug things in. That's why we like to bring an outlet adapter that plugs into one spot and provides multiple places to plug in chargers, hair straighteners, and anything else you might need. Just make sure that whatever you bring doesn't have a surge protector as they are not allowed.
Fan: If you're the sort of person that needs airflow or the white noise provided by a fan, then you'll want to pack one. Cabins don't have ceiling fans, and while the air does flow from the vent, it does so pretty soft and quiet. Packing a small fan may make you more comfortable and sleep better.
Shoe Organizer: One great idea is packing a cheap plastic shoe organizer. These can hang over the bathroom door and provide a ton of little pockets to store items. There's lots of storage in a cruise cabin, but an organizer puts all those small items in one place and within easy reach.
Want even more tips on your cabin? Check out our 21+ Best Cruise Cabin Tips, Secrets, & Things to Know.