When you cruise, the vast majority of your time is spent on the ship. Considering that ports of call are stops that usually last about eight hours or so, even three ports of call on a seven-day cruise adds up to just one full 24-hour day where you can get off the ship.
In other words, your cruise ship can make a big difference in the enjoyment of your cruise.
Finding a ship that fits your style can be the difference between a vacation that's pretty good and one that is fantastic.
There are plenty of ways that ships can vary, but perhaps the most noticeable is in their size. Of course, there is a massive difference between small ships that can hold dozens or a few hundred people on a boutique cruise and the large ships on the mass market lines.
But even the ships on the major lines like Carnival, Royal Caribbean, and Norwegian have a big difference between their smallest ships and their biggest one.
Consider Royal Caribbean. The cruise line has the largest ships in the world — its Oasis-class vessels. These ships come in at 225,000 gross tons. At full capacity, they can carry nearly 7,000 passengers.
Within that same fleet, however, the smallest ships — such as Grandeur of the Seas — come in at around 75,000 tons and carry about 2,500 passengers. That's one-third as large as the biggest ships.
So what are the differences between sailing on the largest ships versus smaller vessels in the same fleet?
To be sure, the differences are much more than just the number of people onboard. Here's a better idea of what you can expect sailing a smaller ship on a large cruise line versus a larger one.
Bigger Ships Offer More to Do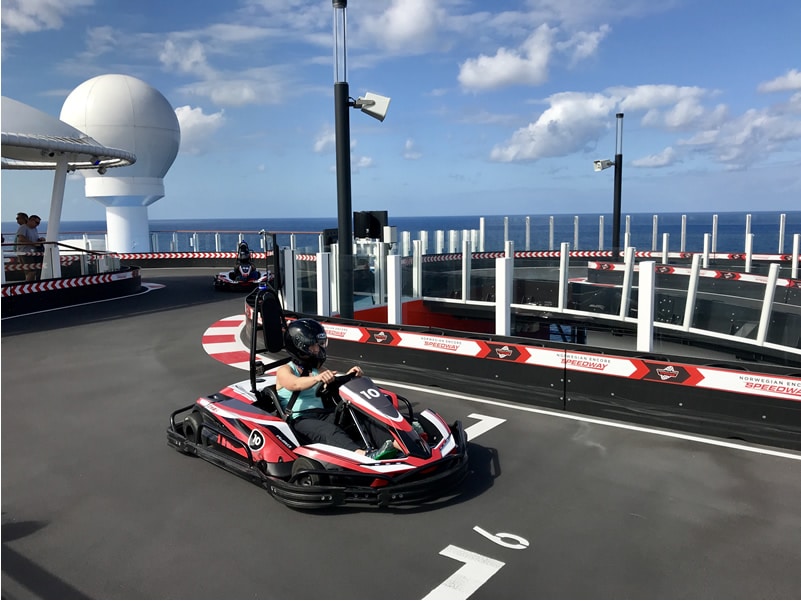 If there is one difference we'd highlight between smaller ships and larger ships, it's that the bigger the ship, the more things there are to do.
As you can imagine, space is limited on a cruise ship. The lines do everything they can to pack as much as possible onboard, but there's only so much room. That's why if you sail larger vessels, you'll find there is way more available to entertain you than on a smaller ship.
For instance, Mardi Gras, Carnival's largest ship, has a roller coaster. Norwegian puts a go-kart track on its largest ships. Royal Caribbean features things like bumper cars and a water theatre on its biggest ships. And it's not just thrill rides. There are simply more attractions of all sorts on bigger ships.
Now for some people, this may not be a big deal. They are on a cruise to relax, not to always be doing something. But for those who always like to be entertained — such as families with kids — then a larger ship with more to do is ideal.
Smaller Ships Tend to Be Older
When it comes to cruise ships, the trend is definitely bigger. In fact, ships built since 2015 are more than twice the size on average of cruise ships built in the 1990s.
So if you are taking a cruise on a major line, then you can expect that any smaller ship you sail will be older than the larger ships of the fleet.
Now, just because a ship is older doesn't mean it is worn out. Cruise lines regularly update and refurbish ships. After all, with thousands of passengers coming and going, it doesn't take long for wear and tear to show without constant upkeep and refurbishing.
Even so, older, smaller ships — even if they are updated — may not have all the latest and greatest things that you might find on larger (and newer ships). For example, Carnival isn't about to put a roller coaster on all its older ships, and there is only so much room for all the restaurants that now fill up the newer vessels.
Larger Ships Can Be More Expensive
There are a number of factors that impact the cost of your cruise… and size may be one of them.
Now cruise lines don't charge so much by the size of the cruise ship that we've seen. But we have seen that newer ships tend to have higher prices than similar trips on older vessels. And since newer ships tend to be larger, then these bigger vessels tend to be more expensive.
For instance, Royal Caribbean has a 7-night cruise in July 2022 from Miami aboard its largest ship, Symphony of the Seas, which is also among the newest in its fleet. The headline fare per person is $1,159. But an 8-night cruise from Miami aboard the smaller (and older) Explorer of the Seas is just $799 during the same time of year.
The trips aren't identical as far as itinerary, but sailing the smaller ship is hundreds cheaper, and you sail for an extra day.
For many people the extra cost is worth it for a bigger and newer ship. However, if you're on a budget, then smaller can save you a decent chunk of money.
Smaller Ships Can Be Less Hectic
Cruise ships have become amusement parks at seas in many ways. There's never a shortage of things to do. However, some people prefer the way cruising used to be where you can disconnect, recharge, and enjoy a slower pace at sea.
To be sure, no matter the size of your ship, you can always find a quiet place to get away from crowds and noise. Having your own balcony cabin is perfect for this.
As well, you'll find quiet public areas around any cruise ship, no matter how large. Mornings around the ship are especially calm.
But in general, the smaller ships can simply feel less hectic throughout the day. They have fewer people and less happening around the entire vessel. That's not to say they are dead, but in our experience, we've felt that smaller ships allow for a more calm atmosphere.
Smaller Ships Can Mean Fewer People on Private Islands
While ships can vary in size, one thing that doesn't change in size are private islands. All the major cruise lines have private islands (see our guide here), including spots like Great Stirrup Cay and CocoCay. These islands are for the exclusive use of cruise passengers, meaning you only share them with the other people on the ship.
Now consider what happens when you reach a private island on a cruise ship with 5,000 other passengers. That's 5,000 people you are sharing a tropical paradise with. But if your ship only carries 2,500 people and stops at the same island, that means there are half as many people with you. So things like fighting for a lounger by the pool or enjoying the beach without someone right next to you is much easier.
There is one caveat. Some islands can play host to more than one ship at a time, so even if your ship is smaller it may not matter if there is another ship visiting at the same time.
Larger Ships Mean More Food Options
What's a cruise without food? To be sure, any trip you take on any ship is going to put a big focus on having good food and a number of places to eat. That said, you'll notice a difference between the smaller ships and larger ones. With more space, cruise lines simply have more room for different restaurants.
Take Mardi Gras — the newest and largest ship from Carnival. On this ship all of the following restaurants are offered:
Carnival Mardi Gras Restaurants (19 options):
Emeril's Bistro 1396
Guy's Pig & Anchor Smokehouse
Carnival Kitchen
Rudi's Seagrill
Big Chicken
Bonsai Teppanyaki
Guy's Burger Joint
BlueIguana Cantina
Cucina del Capitano
JiJi Asian Kitchen
Street Eats
Steakhouse
Main Dining Room
Lido Marketplace
Seafood Shack
Swirls
The Chef's Table
JavaBlue Cafe
Pizzeria del Capitano
Compare that to Carnival Valor, a smaller ship in the fleet:
Carnival Valor Restaurants (13 options):
Guy's Burger Joint
BlueIguana Cantina
Steakhouse
Main Dining Room
Lido Marketplace
Seafood Shack
Pizza Pirate
Swirls
The Chef's Table
Coffee Bar
Mongolian Wok
The Carnival Deli
RedFrog Pub
You can see, small or large, you won't be going hungry while on a cruise. Still, you tend to have more options on bigger ships.
Should You Sail Larger Ships or Smaller Ships?
The good thing about cruising is that there is plenty of choice when you sail. You get to choose what's right for you. It's the same when it comes to larger ships versus smaller ones.
Personally, we enjoy larger ships as they offer more to do while at sea. With so much time spent onboard, we like having plenty to keep us entertained. That said, we've spoken to passengers who do enjoy the more quiet and slower pace seen on smaller vessels.
Given the differences laid out above, you should have a better idea of which size of ship would be a better fit for how you want to enjoy your vacation.
The good news? No matter if you're looking at a large ship or small one, it's hard to go wrong. After all, the experience onboard is similar… and it is a vacation you'll enjoy no matter the size.