Celebrity Cruises also offers a full lineup of drink packages, giving you the ability to pay one set daily price and then have your choice of beverages without worrying about a bill. Drink as much as you want, and you'll know exactly what you'll spend.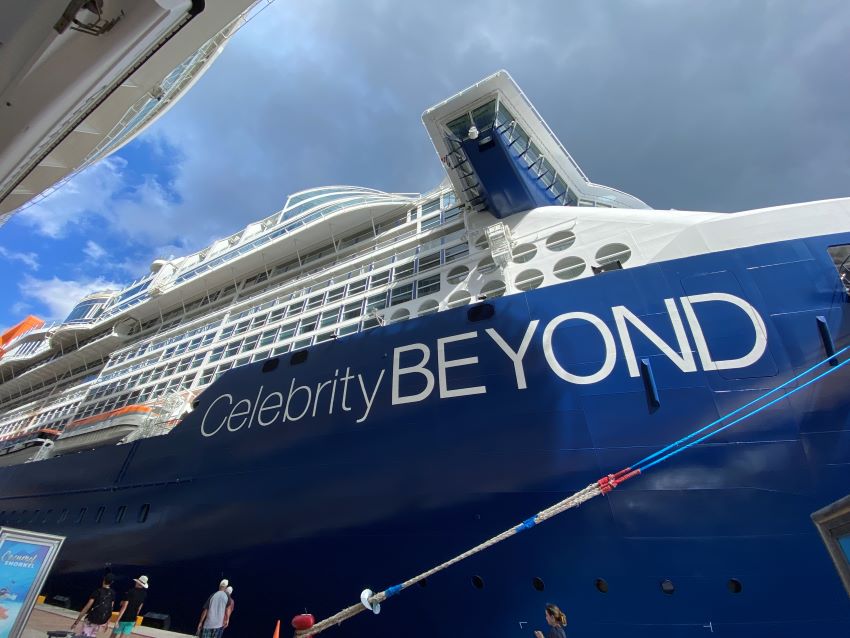 But these packages can be pricey and definitely have some fine print attached that you should know about. So is Celebrity's drink package worth it? We have all the details, including our take on if you should purchase it or not.
What Drink Packages Are Available on Celebrity?
Celebrity offers multiple drink packages that can be tailored to whatever your tastes, from high-end alcoholic beverages to water and soda. So whether you are an adult that wants to let loose, or you are sailing with a kid that wants non-alcoholic drinks, the cruise line has an option.
Classic Drink Package: The basic drink package that offers everything from cocktails to coffee, beers, wine, bottled water, soda, and more. This package limits you to drinks that are $10 per glass or less.
Premium Drink Package: Have higher-end tastes? Or maybe you just want the freedom of more options? In that case, the Premium Drink Package might be for you. It includes drinks up to $17 per glass, giving you everything in the Classic Package, plus much more.
Zero Proof Package: If you want some of the tasty drinks on the ship but aren't an alcohol drinker, then there is the Zero Proof Package. This deal offers premium bottled waters (Evian, San Pellegrino, etc.) specialty coffees and teas, plus zero-proof cocktails, soda, Vitamin Water and bottled teas.
How Much Do Drink Packages Cost?
Following a price increase and some tweaks to the packages in late 2022, Celebrity lists the following prices for each drink package:
Classic Drink Package: $89 per person, per day
Premium Drink Package: $109 per person, per day
Classic Non-Alcoholic Package: $30 per person, per day
Note that these prices are lower than what you will see on the ship. Celebrity offers a discount for booking early, so if you want a drink package, book before you sail.
Is Gratuity Included in the Price?
The prices shown above are before gratuity. There is an automatic 20% "service charge" that is added onto the daily cost.
So the Classic Drink Package at $89 per day actually costs a total of $106.80 per day after this charge. The Premium Drink Package comes out to $130.80 per person, per day.
Does Everyone in the Cabin Have to Purchase the Package if One Person Does?
What do you do if one person wants a drink package but another person doesn't? In that case, Celebrity requires that if one person buys an alcoholic package, then all people in that cabin must buy one as well. This includes non-alcoholic packages for teens traveling with parents.
However, there are some exceptions for kids or those with medical/health reasons for not drinking:
Kids 12 and under: Not required to buy any package
Kids 13-20 (U.S.) or 13-17 (Rest of World): Must purchase Zero Proof Package
Pregnant: Must purchase Zero Proof Package
Medical issue or in recovery: Must purchase Zero Proof Package
What's the Difference Between the Classic and Premium Packages?
As mentioned above, Celebrity offers two different alcoholic packages. The biggest difference between the two is that the Classic package offers drinks up to $10 per glass while the Premium plan offers drinks up to $17 per glass. The Premium package also offers a 20% discount on wine by the bottle compared to 15% for the Classic offer.
In short, you simply have more options with the higher-end Premium package.
Still, that's not to say you'll go thirsty with either package. Here's just a sample of what Celebrity says is included with the lower-priced Classic package:
Vodkas: Tito's, Absolut, New Amsterdam, Smirnoff
Whiskeys: Dewar's White Label, Famous Grouse, Jim Beam, Johnnie Walker Red, Monkey Shoulder, Seagram's VO
Rums: Bacardi, Captain Morgan's, Kraken, Malibu, Myer's, Wray & Nephew
Tequilas: Don Julio Blanco, Teremana Blanco
Beers: Bud, Bud Light, Coors Light, Corona, Franziskaner, Heineken, Kirin, Miller Lite, Michelob Ultra, Morette, Newcastle Brown Ale, Stongbow Cider
In addition, the cruise line says it offers "a large selection of classic cocktails made with Classic Beverage Package spirits."
So if you're just looking for a drink, then the Classic should have you covered. If you have finer tastes or enjoy fancy cocktails, the Premium package is likely a better choice.
What If I Buy a Drink Above the $10/$17 Price Limit?
Say you have the Classic Beverage Package — which only has a $10 per glass limit — but want a drink that costs more.
In that case, Celebrity's policy is that you have to pay for the overage. So if you order a $14 cocktail, then you'll be charged only $4, plus the 20% gratuity on that overage amount.
It's the same situation if you have the higher-priced package and go over the $17 per glass limit.
Can I Share Drinks With the Package?
It is universal across cruise lines — including Celebrity — that sharing is not allowed. This is a reason that cruise lines require all adults to buy the drink package if one person in the cabin does so. That way, there isn't a big worry about sharing.
That said, unless you are blatantly obvious it's not likely that anyone will know if you do share a drink.
How Many Drinks Can I Buy at Once With the Package?
While most people simply order one drink at a time, there are times where you might want to order more. Unfortunately, Celebrity's drink package rules state that you can only order one drink at a time. Extras are charged at the regular menu price. So if you're wanting to get a drink for you and your spouse, you'll both need to order something instead of just one person heading to the bar.
Is There a Limit on How Many Drinks I Can Order in a Day?
No. While some cruise lines have daily limits on the number of drinks you can buy in a 24-hour period with their drink packages, Celebrity specifically says that there is no daily limit on the cruise line.
That said, if you are obviously overserved, then don't be surprised if the crew declines to give you another drink.
Do I Have to Buy the Package For The Entire Cruise?
If you decide that you want to buy a drink package, then you should know that it must be bought for the entire length of the cruise. So on a 7-day cruise, you'll pay the daily charge each day for the entire week.
You can't just pick and choose days to purchase the package.
How Can I Save Money on the Drink Package?
There's no doubt that the drink package can cost a lot of money over the course of your cruise. But there are a few ways that you can save some cash.
First, if you know that you'll want one of the drink packages, then buy it ahead of time. Celebrity prominently displays a notice on its website that "Pre-Cruise Pricing Always Lower Than On Board."
Second, you can potentially save with Celebrity's "All Included" offer. The cruise lines offers two different fares — cruise only and All Included. With the offer, you pay more than the base cruise fare, but gratuities, wi-fi, and a drink package is included. (For most cabins, the Classic Drink Package is included; those cabins in The Retreat receive the Premium Drink Package.)
While you'll want to do the math, this can be a less expensive way to get the drink package. For instance, we priced an 8-night cruise with the All Included package for about $440 more per person over the base cruise fare. The Classic package would cost more than $700 alone for that length of trip (before gratuity).
Is the Celebrity Drink Package Worth It?
There's no argument that the cost of a drink package can be pricey. Over a 7-day trip, the cost of the Classic Drink Package would run $747 with gratuity included. The Premium Drink Package would cost 916.
So is it worth it?
Obviously, the answer is going to depend on the specific person. Are you the sort of person that isn't on vacation unless there is a drink in your hand? Then yes, the drink package is likely going to be worth it.
Or are you the sort of person that may like to let loose for a night or two but then take it easy? In that case, it's likely not. But it's helpful to do the math.
On a cruise ship beers are typically around $7-8 each. Cocktails run around $12-14 each (though Celebrity offers many under the $10 price point for the Classic Drink Package).
For the $89 Classic Drink Package, you have to drink nine $10 cocktails each day to get your money's worth. For the higher-end Premium Drink Package, you'd have to drink eight cocktails priced at $15 each before you come out ahead.
That is a lot, but that figure doesn't include things like bottled waters, coffees, or sodas, which can also add up quickly.
As well, there is something to be said about not having to worry about having to keep tabs on your bar bill during the cruise. Want to try a new drink? There's no risk of not liking it. If that's the case, you can just order something else.
If you are on the fence of being unsure whether the package would be worth it for you or not, remember that the All Included offer may make the choice much easier. With a potentially lower price for the package, it could put the math in your favor.