With its debut in late 2019, Norwegian Encore becomes the latest and greatest ship in the Norwegian fleet.
How big of a deal is the new ship? At nearly 1,100 feet long, 20 decks, and 169,000 gross tons, Encore comes in the top 10 of the largest cruise ships in the world. But that's only the size of the ship.
On board you'll find a stunning number of things to do and experience, ranging from the go-kart track that's more than 1,000 feet long and juts out over the side of the ship to a new gelato shop (Dolce) to tons of eateries, laser tag, virtual reality, a dozen bars and lounges, and a lot more.
With such a big ship — that's also brand new — there's a lot for passengers to know before they even set foot on board. From simple tips like how to get a table without a reservation to the best spots to people watch, we have a number of tips and things to know about Norwegian Encore before you set sail.
The Observation Lounge Makes a Comeback
The Encore is fourth Norwegian ship in the "Breakaway-Plus" class, joining its sister ships Norwegian Joy, Bliss, and Encore. One of the distinguishing features of the Joy, Bliss, and now Encore is the Observation Lounge. What's become a passenger favorite is a two-story windowed lounge with breathtaking views that sweep the entire horizon. Complete with a bar, if you're the sort of person who just wants to soak in the view in a quiet spot — and possibly with your favorite beverage — it doesn't beat the Observation Lounge.
The Race Track is Bigger and Better
By now, the race track on a Norwegian ship is practically a must-have. Norwegian Encore takes the track to the next level. The track snakes back and forth more than 1,100 feet at the top of the ship. In fact, this time the designers even put the track jutting out 13 feet over the side of the ship to allow more space to race. You do have to pay to drive, but it's definitely worth doing at least once to have the experience. Read more about Norwegian's go-kart track here.
Tip: Don't Have a Reservation? Head to the Restaurant Anyway
On Norwegian ships the specialty restaurants like Food Republic, Q Texas Smokehouse, Ocean Blue and others take reservations. If you don't reserve early enough, then the prime times can fill up quickly. That can be disheartening when there is a restaurant you really wanted to eat at and you see that the list is filled up.
If this is the case, don't give up hope just yet. Have a backup plan, but go ahead and head down to the restaurant anyway and see if there is any room to seat you. Sometimes people with reservations don't show or others may finish their meal early, freeing up space. It's worth a shot. At worst, you'll simply have to try for another night. It's also a good idea to try early or late in the evening when fewer people are eating.
The Casino Is Ready for Those Wanting to Try Their Luck
Having a casino on a cruise ship isn't a big deal; every ship under the sun has one. What's different about Norwegian Encore's (and the rest of the Breakaway-Plus ships) is how it's styled. Many cruise casinos are small and seem to be dimly lit, along with low ceilings and lots of machines and tables jammed in. On the Breakaway vessels, however, casinos have moved to being open and airy and even have designated smoking areas so that not everyone has to breathe secondhand smoke. It's a welcome change if you're a casino player.
Have a Beer at The District Brew House
Encore has its own iteration of The District Brew House, which is also on some of its sister ships. What's so special about this spot? Over the past decade or so beer has become a big deal, with craft brews and designer labels becoming insanely popular. The District Brew House is a beer-lover's paradise, with dozens of beers on draft and bottled. Sit, have a brew, hang out with friends… and did we mention the insanely good views of the water from here?
Eat Some "Q" at Q Texas Smokehouse
Now if you're from Texas then BBQ on a cruise ship may either be sacrilege or a welcome taste of home. No matter where you're from though, it's worth a stop to the Q Texas Smokehouse on the Encore. It's a specialty restaurant, so you'll want to make reservations and will have to pay a little extra to eat here. Later in the evening it turns into a honky-tonk with dancing and a band playing.
Grab a Seat in the Atrium to People Watch
Norwegian Encore — like its sister ships — has a large center atrium, including a pass-through that spans three decks. On Deck 6 there is seating where you can have a drink, chat with friends, or just people watch.
What's unique about the atrium is that its location in the center of the ship (and multiple decks) means that it's the heartbeat of the ship.. As well, it's always active and lively, with practically the entire ship passing through at some point or another. That makes it absolutely perfect for people watching.
Brave? Try Riding the Ocean Loops
There are waterslides on cruise ships… and then there is the Ocean Loops. You'll see the slide before you even board as it's hard to miss. It makes a large "figure 8" on the pool deck. But what's so special is that it loops out over the side of the ship. You'll start almost vertically, drop down and then out over the water before making a big loop back onto the ship's deck.
And did we mention that much of the slide is clear so you can see the water below as you sail through?
The ride only lasts a few seconds, but you aren't going to forget it anytime soon.
Take a Dip in the Most Exclusive Cruise Ship Pool at Sea
Most people sailing on the Encore will never see it, but for the exclusive few staying in The Haven, the pool is a can't miss.
For those not familiar, The Haven is Norwegian's "resort within a resort." The area consists of a handful of rooms that leave no expense spared. Huge suites and large balconies are just the start for these rooms. There's also an exclusive restaurant, bar, and the pool that's only for guests staying in The Haven. While Haven guests can enjoy the rest of the ship, other passengers can't enter The Haven.
That means the pool is only for a few rooms, giving you some peace and quiet — and your own space — away from the larger crowds on the mega ship.
Walk The Waterfront on Deck 8
One of the defining features of Breakaway-class ships is what Norwegian calls The Waterfront. Put simply this is a wraparound promenade that encircles about 3/4 of Deck 8. What's nice about it is that unlike the promenade decks on some cruise ships, this one is uncovered and isn't cluttered with things like lifeboats or large beams. The result is a walkway that connects you with sweeping views of the ocean as you sail. It's a great place to start your day with a cup of coffee as you stroll alongside the ocean or to end your day with a walk after dinner.
Eat Outside on The Waterfront with Million-Dollar Views
If a restaurant on land was right on the water with 180-degree unobstructed views of the water, it would likely be the most popular and the most expensive place in town. On Norwegian, nearly all the restaurants and bars on Deck 8 have outdoor seating on The Waterfront.
Now eating outside might seem like a simple thing. But remember there are some big challenges to eating outdoors on a cruise ship. During the day the sun can be brutal if you are in the tropics. And if the ship is underway, then there is a constant breeze. On the Encore, Norwegian has smartly designed outdoor eating areas to take care of these issues while still keeping your view of the open water intact.
Experience Virtual Reality at the Galaxy Pavilion
One of the unique attractions you'll find on newer Norwegian ships like the Encore and the Joy is the Galaxy Pavilion. This spot is a virtual reality arcade where you'll find things like immersive "4-D" video games, racing simulators, and more. Strap on a headset and take a ride on a roller coaster (complete with a moving seat so that you actually feel the drops and climbs) or maybe try walking a balance beam high above the ground below (despite only being about six inches off the floor). If you've never experienced virtual reality games before, this is a can't miss, but keep in mind that it does cost extra.
Tip: Avoid Getting Turned Around — Look at the Fish
Here's a tip if you're sailing on Norwegian Encore or any other ship in the NCL fleet: Look at the floor.
When you leave your cabin and enter the hallway, it can be disorienting. The halls seem to stretch forever, with door after door after door. Without any sort of visual aid, it's hard to tell whether you are going forward or aft.
To help you out, Norwegian put in carpet with lots of little fish on it. If you notice, they all face one direction. The way the fish are facing is forward on the ship. So if you want to head to the bow (front), just walk in the same direction as the fish are "swimming." Want to go aft? Walk against the school of fish.
Get Your Workout In While at Sea
Ships like the Norwegian Encore are great for fitness buffs who don't want to let the fact they are on a cruise get in the way of their workout schedule. The ship has the Pulse Fitness Center on board, located on Deck 16, just off the pool area. Now if you're expecting something like you'd find in a hotel with maybe a few weight machines and a treadmill, reset your expectations. Gyms on these ships are big and roomy with tons of different equipment. They are also ideally placed high on the ship with tons of floor to ceiling windows so that you can have the best view you've ever had when working out.
Don't Miss the Production of Kinky Boots
On each new Norwegian ship there has been a tradition of bringing a hot Broadway-style musical to the stage at sea. For instance, Norwegian Joy has Footloose, which is a huge hit with passengers. For Norwegian Encore, that show is Kinky Boots. The show on Broadway won Tony awards for best musical and best original score and has traveled everywhere from Chicago to Toronto to the West End. Now you can see the Norwegian production on your cruise, and it's free of charge. We highly suggest getting there early as the best seats can fill up fast for these shows.
Go Back in Time (and Music) With the Cavern Club
On the Encore there is another iteration of the Cavern Club, which the ship shares with the Bliss, Epic, and Joy. For those who aren't fully versed on music history, the Cavern Club is the spot in Liverpool, England where The Beatles got their start. On the Norwegian ships its a recreation of the music hall where guests can have a drink and listen to live music. Norwegian even has a Beatles cover band that plays so you can feel like your in England in the 1960s.
Lounge in the Exclusive Vibe Beach Club
If you aren't fortunate enough to book a cabin in The Haven, don't worry. You can still find some exclusivity aboard Norwegian for when the pool deck gets a little too crowded.
The Vibe Beach Club is actually positioned right near the sun decks for The Haven, but it's open to regular passengers. Purchase a day pass at the Guest Services desk and you can enter. The area is adults-only and offers a more refined experience than the crowded pool area. There's a full bar, hot tubs, loungers, even chilled towels and fruit skewers. It's away from the crowds and ideal if you're looking for a more private space to get some sun on those days at sea.
Don't Forget Your Morning Starbucks
Are you the type who likes to start each day with Starbucks? Or maybe you just like to get it as a treat once in a while?
Well, you don't have to go without just because you are on a ship in the middle of the ocean. Norwegian Encore features a full-service Starbucks (not just Starbucks-branded drinks) on Deck 6, near the main atrium. Get your double-mocha soy latte or just a cup of black coffee. It's all here for passengers. Just keep in mind that there are charges for these drinks; Starbucks isn't included in your cruise fare.
Laser Tag Is Back in Action
Laser tag is a unique activity aboard Norwegian that you don't want to miss if you have kids. The theme of the Encore version is Atlantis, complete with a huge serpent and tentacles snaking their way through the open-air outdoor area. You'll find the course at the back of the ship on Deck 18, right near the race track.
Tip: The Free Phone App Is Extremely Helpful
On a big ship like the Encore (20 decks!), it is extremely easy to get lost. There's also a lot going on all around the ship, and knowing what's happening and when is important. To help you out, Norwegian has the Cruise Norwegian app. Download it for free before you get on the ship.
The app is great because it features ship maps, schedules, profiles of restaurants, and even can show your onboard spending (great for budgeting) and information about restaurants and activities. It's extremely useful to have on a mega-ship like the Encore and will help you make the most of your cruise. You can read more about the app here.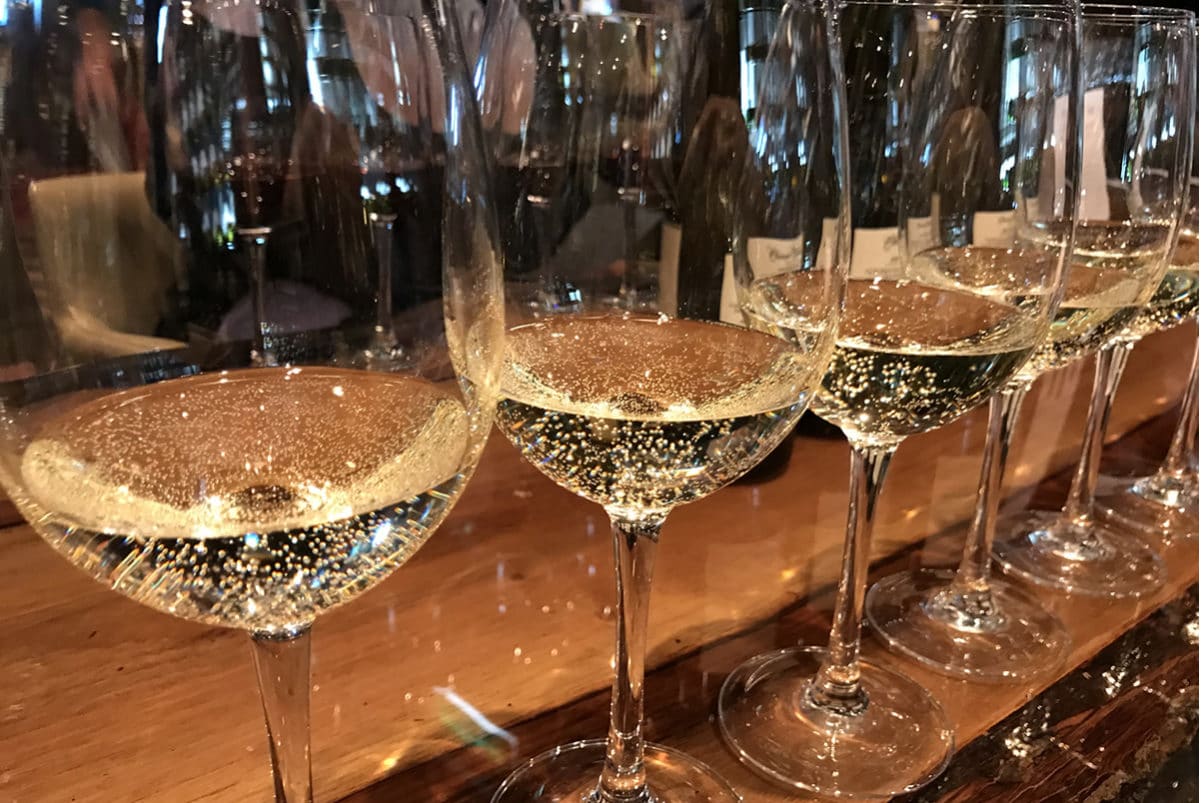 Tip: The Corks & Caps Could Be a Better Deal for a Drink Package
Drink packages are hugely popular on cruise ships, and Norwegian is no exception. The regular package runs $99 per day, plus 20% gratuity. While that's a good deal if you plan to drink quite a bit, it actually may be more than you want to spend… and more package than you need.
The regular drink package covers most beverages on board, including beer, wine, and cocktails. But what if you have simple tastes and don't want a lot of variety? In that case, the Caps & Corks Package may be exactly what you want. It offers up many of the benefits of the traditional drink package, but only offers beer and/or wine. The catch? It's much cheaper — $65 per day plus gratuity. It's not for everyone, but if you are a beer or wine drinker, it may be just the thing.
Have more questions about sailing on the Norwegian Encore? Let us know in the comments below…