One of the big draws to cruising is that it's an affordable vacation. For as little as a few hundred bucks you can get on a ship and sail to some of the most beautiful ports in the world.
The truth is, however, that while there are cheap cruises out there, the costs can actually increase quickly. Between upgrading to nicer cabins, dining in specialty restaurants, sailing when fares are highest, and even buying drinks on your cruise, it's not uncommon for cruises priced at hundreds of dollars turn into trips costing thousands.
The good news? There are simple ways that you can fight back against this price "bloat" and save yourself hundreds of dollars on your trip. From timing when you sail to finding heavily discounted cruises, we've rounded up six techniques you can use to save yourself a boatload of money on your next cruise.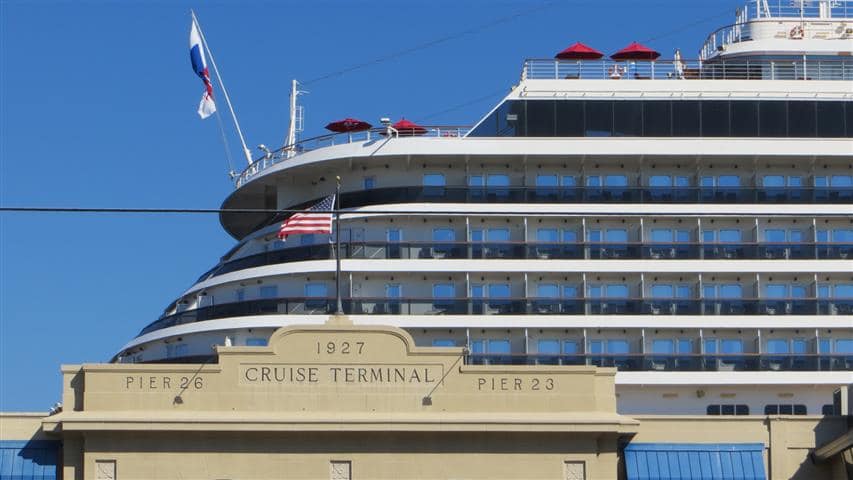 Travel When School Is in Session
By far the biggest factor in how much you spend (or save) on a cruise is the time of year that you sail. In general, you'll pay lots more if you sail when school is out — summer months and during times like Christmas vacation and Spring Break. It's when school is out that families can set sail, meaning there is more demand for the cruise. Of course, higher demand means higher prices.
That's why you'll often pay hundreds of dollars less for the same exact ship and itinerary if you only time your cruise to coincide with school being back in session. You see the largest discounts when families least want to travel, such as just after or before major holidays (the few weeks between Thanksgiving and Christmas are ideal) and right after school goes back into session during the fall.
Look for Unpopular Times to Sail
Similar to sailing when school is in session, you can save some cash by sailing during unpopular times. For instance, if you are headed to Alaska, look at trips that are early or late in the season (such as early May or late August). During these times the weather isn't as warm and many people aren't in summer vacation mode just yet. As a result you can find sharp discounts that can save you a bundle of cash on your trip.
Try to Find "Funny" Cruises
Your classic week long cruise that sails and returns to the same port is popular, but what about a two-day cruise? Or a trip that takes you from a port in Florida, but ends in Europe (you're responsible for getting back home)?
Why would the cruise line offer these trips? They are needed to fit the demands of the ship. For instance, a cruise ship might be changing homeports and arriving at its new home on a Thursday. But if the cruise line wants the ship to sail week-long cruises that depart every Sunday, there's a small window of time when the ship would just be sitting idle. Instead, they would offer a two-day cruise to sync up the schedule.
Because demand isn't as high for one-way or extremely short cruises, you can find some staggering deals. For instance, we've seen transatlantic cruises (which can take up to two weeks) cost just a few hundred bucks. That's cheaper than most seven-day trips.
Book a Cruise on an Older Ship
There's not much arguing that's it's more exciting to sail on a brand-new ship. As larger and more grandiose ships are continually built, it's amazing what sort of features they can pack on a cruise. Of course, just like staying at a nice new hotel, you're going to pay higher prices.
If you want to save hundreds, look for a similar trip on an older ship. True, older ships are usually smaller and don't have the shine and amenities as a brand new cruise liner. On the other hand, they still have many of the favorites, including pool areas and abundant bars. These ships also visit most of the same ports as newer ships (although they might not have the same exact itinerary). Meanwhile, trips on these older vessels can be dramatically cheaper than what you'll pay for the newest ships.
Don't Automatically Buy the Drink Package
Drink packages are inviting. Pay one set price and get all the drinks that you want, without worrying about the bill. And considering that you can drink all you want, it actually seems like a smart way to save money if you plan on getting your fill every day.
That said, you should definitely do the math before buying the packages. In the fine print of these deals, you'll see that you have to purchase the plan for every day of your cruise. That means even if you are in port all day or just don't feel like drinking, you're still paying for the drink package. The result is that you can end up spending more on the drink package than you would purchasing drinks individually in many cases.
If you want to see if a package is right for you, you can estimate the cost with our Drink Package Calculator here.
Know that Small Upgrades Add Up
When you see a fare advertised for a cruise, it's almost always for one person in the lowest-grade cabin. Want a window? That's an upcharge. Want to have a balcony? That's an upcharge. Want a higher floor? That's an upcharge.
But when you book the trip and any upgrades, these charges are usually presented in small amounts, based on the price per person, per day. So a $200 upgrade to a higher-grade room on a seven-day cruise is likely to be marketed as $14 per person, per day. Of course, that sounds a lot more appealing than $200, but be careful. It call ends up costing you the same amount when you have to pay for your trip.
Interested in saving even more during your cruise? Check out our 32 money-saving tips to save on cruising.