Headed on a cruise? Then be prepared to spend money. There's a lot that's included in your fare, but don't think once you've paid for that ticket that you're done spending.
Yes, it is possible to go on a cruise and spend nothing on the ship, but that's not the norm. In fact, according to the financial reports from the major cruise companies, the amount earned from onboard spending is about 35-40% of what's spent in cruise fare.
What you can spend money on during your cruise ranges on everything from drinks to gambling to rides to the port. But there are definitely some things that are worth the extra money out of your pocket and some things that aren't.
Here's what you need to know, starting with things that are definitely worth it…
Specialty Restaurants
When you're on the ship, there are lots of free options on where to eat. The buffet and main dining room are on every ship, along with a mix of casual dining and grab-and-go options across different ships and cruise lines.
In addition, there are specialty restaurants. These are spots that charge extra to eat and aren't included in the cruise fare. Sometimes it's a flat charge to get whatever you want. Other times it's just like a restaurant on land where you are charged by what you order.
It may seem like a bad deal to pay for food on a cruise where there are free options. What we've found, however, is that it's often worth it. That's because the specialty dining offers more unique experiences and food that you won't find elsewhere on the ship.
Instead of having menus that are designed to appeal to everyone like you find in the main dining room, the paid restaurants are usually focused on one kind of food, offering something better than you find in other spots. And since they are paid, the crowds are smaller, and you are able to have more intimate dining instead of heading to a large hall like the buffet.
We'd love for specialty restaurants to be completely free, but for what you get, the extra charge is definitely worth it.
Shore Excursions
Let's face it, shore excursions are expensive. It's not out of the ordinary to spend $100 per person on an excursion. But they also give you the opportunity to do things that you simply can't do back home. And yes, while you can likely find cheaper options through arranging your own tours, in many ports that's difficult to do. Booking the excursion through the cruise line makes everything extremely easy.
So while you might not want to book an excursion for every port of call, booking at least one per cruise is worth the money.
For instance, in Belize you can head from the ship to the ancient ruins of Altun-Ha, followed by a ride back up a jungle river where you can spot monkeys, iguanas, bats, and more. It's absolutely something that you can't do anywhere else, and well worth the price.
One tip — if you are headed to a highly developed port like Cozumel, then you can look online and book directly with tour operators for possibly cheaper prices. But if you're unfamiliar with a port, then the cruise line excursions offer a lot of convenience for the price.
Sailing Newer Ships
When you are booking your trip, you might find that some similar cruises during the same time of year have very different prices. What you'll likely find is the difference is with the ship for each trip. As a rule of thumb, newer, larger ships are priced higher than older, smaller ships.
If you want to save money, then go with the older ship. But if you're wanting to have the most fun on your cruise, then the higher price of a newer ship is worth it.
Over the past couple of decades there has been an arms race in cruising, with much larger ships that pack on more things to do. With that comes more activities, restaurants, and public areas. There is a dramatic difference between the newest ships and ones built around fifteen or twenty years ago. Given that so much of your time is spent on the ship during a cruise, having one with the most space and things to do is ideal.
Balcony Cabins
There's always a big question of if you should book a lower-tier cabin like an interior room or spring for the extra money for a balcony room. If you are cruising for five days or longer, then the extra cost for the balcony room is definitely worth the money.
On shorter cruises you are likely to spend less time in the room as you are out and about exploring the ship and port. In that case, a balcony room is nice, but you don't have to have it. Longer cruises, however, can have more downtime, where you have the ability to relax and enjoy the balcony.
And while the space usually isn't that large, having your own private area with a gorgeous 180-degree view is priceless. There are also other benefits of the balcony, including having natural light and a way to get fresh air into the cabin. Overall, it's something that you likely won't regret splurging to have during your cruise.
Evening Shows
Evening shows on a cruise are free to attend… so what's the point of asking if they are worth it? Well, just because something is free doesn't mean it won't cost you anything. The evening shows are in a primetime slot — usually around 7 p.m. You may have to adjust your dinner schedule to attend or miss out on other things around the ship during the evening.
The good news is that any sacrifice you might have to make regarding your schedule is definitely worth it. Cruise lines continue to compete, coming out with bigger and better shows each year. For instance, Norwegian Cruise Line features some ships with Broadway shows like Kinky Boots. Royal Caribbean's Oasis of the Seas puts on Cats. There are also other programs like comedy shows, juggling acts, and musical performances. That's not to mention the ever-popular game shows.
If you've attended these sorts of performances, then you know they are typically well worth the time.
Letting the Cruise Line Pick Your Cabin
When you're booking your cabin, you're normally given all sorts of options to spend more money. From room upgrades to cabin location to travel insurance, there's no shortage of choices that usually end up in a higher price.
One option, however, is a way to save money. After selecting your cabin type, the cruise line often lets passengers choose whether to select their own room location, or save by letting the cruise line pick the cabin location for you. With this option you can save potentially hundreds of dollars. It's normally well worth the potential savings.
But won't you be stuck with some cabin right next to the elevator? Sure, it's possible. In our personal experience, however, we've never had any complaints choosing this option. Cabins have always been in a good location and at a fare that's considerably less than if we had chosen that specific location ourselves.
Duty-Free Alcohol
People who have never cruised before may be surprised at the amount of shopping there is on a cruise. There are all sorts of shops, and one that's on just about any cruise ship is the duty-free store.
Due to some legal loopholes, cruise ships can sell bottles of alcohol without as many taxes on the purchase as you find on land. As a result, you can save some cash on your purchase. Now, compared to what you'd pay back home, it's not as if you'll save hundreds. But bottles tend to be a few bucks cheaper and in larger quantities (one liter versus 750 milliliters) than back home. So it can be a good deal for restocking your supply while on the cruise.
Just keep in mind there are limits to what you can bring back home before you have to pay a duty.
Drink Packages
For some people, drink packages can be the best deal on the ship. You pay one set price for each day of the cruise, and you can essentially get whatever you want to drink. This includes cocktails, glasses of wine, beer, mocktails, soda, and water.
If you like to have a drink or five while on vacation, then the drink package can be a great deal. It does take several drinks each day to break even, and how many depends on the menu price of what you order.
Still, if you plan to drink several cocktails each day — and don't forget other extras like juice or bottled water that are also normally a charge — then the package can be well worth the money. It's also a benefit that you can try new drinks with the package and not worry if you don't like them. Since you have the package, there is no extra cost in trying a drink.
Three Places to Save Your Money on a Cruise
So what's not worth the extra money? As we said, there is plenty you can spend on the cruise. In our experience, however, some things can cost more than they are worth.
Drink Packages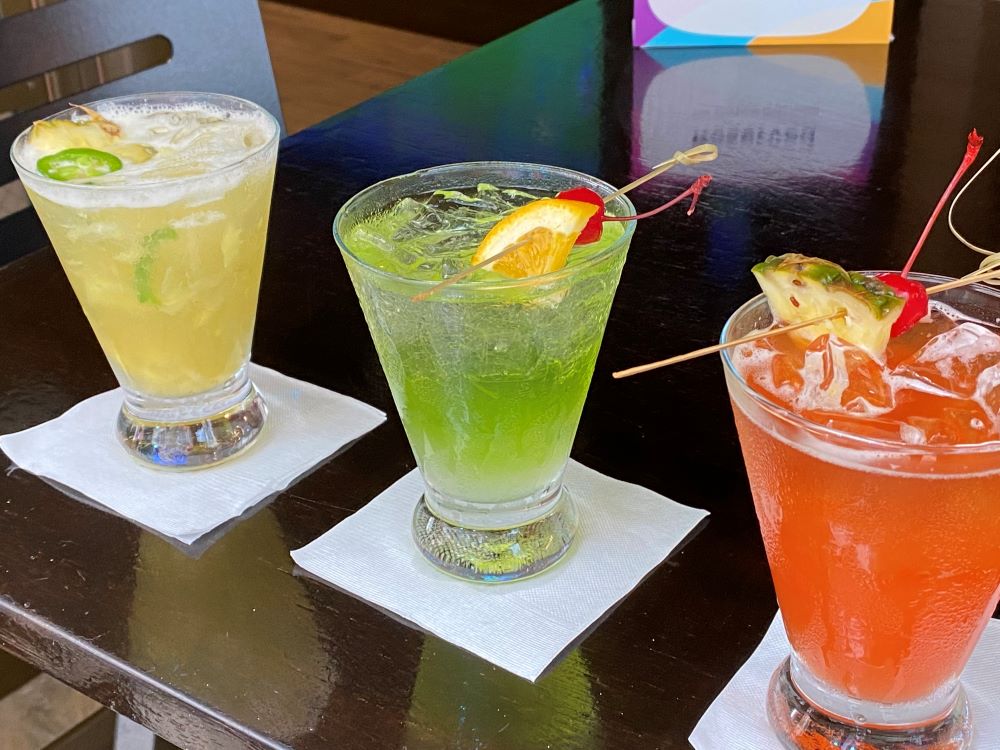 Didn't we just say that drink packages were worth it? For some people they absolutely are worth the money, but certainly not everyone.
With the packages, you have to purchase them for each day of the cruise. So even if you are in port and can't use it, you're still paying for the package. As well, you usually have to buy the package for every adult in the cabin if one person buys it. So a husband and wife will have to buy two packages, even if one person doesn't drink.
On top of all that, you have to get your money's worth each day. If you have a lot of drinks one day and then take it easy the next, you might not come out ahead.
To give you an idea of if the packages are worth it or not, Cruzely has a drink package calculator to help you out. There you can estimate what you'll drink each day to get an idea of the cost with or without the package.
Location Upgrades
Whenever you're booking your cruise, you might be given the option of upgrading your location on the ship. Say you want a balcony cabin. Maybe the room on the seventh deck is included for the price, but it's an extra $10 per day to get a room on the tenth deck. Or maybe a cabin at the back of the ship is included, but a middle or forward cabin is an extra $15 per day.
For these sorts of location upgrades, the benefit of location usually isn't worth the extra cost. Sure, if you are upgrading from Deck 2 to Deck 10, then you might want to spend the money. Being higher up on the ship is generally a better spot to be as you get better views and you are closer to the activities onboard.
But paying to move up only a couple of decks or to be forward or aft doesn't make much sense as it typically doesn't make that much difference in the enjoyment of your cruise.
Cruise Line Shuttles
How are you getting to the port on cruise day? If you're flying into the port city, then you have a number of options, including Uber, a taxi, or a shuttle.
When it comes to shuttles, you'll likely find the shuttles run by the cruise lines aren't worth the money. For instance, Carnival currently charges $18 per person, each way for a ride from Miami International Airport to the Port of Miami. So a couple traveling together would pay $36 to get from the airport to the cruise port — a 15-minute ride.
That same ride costs around $20 with Uber, and that's the price per car, not per person. In addition, with Uber or Lyft, you have the option to head to other places than just the port, like a hotel or a grocery store to pick up any last-minute items. As well, a ride is ready whenever you are, instead of waiting on a set schedule.
If you want to save money and have more flexibility, then skipping the cruise line shuttle is a good idea.