These days, it seems like everyone has an app. From weather to sports scores to stock trading — you can seemingly get any information you need on your phone without visiting a traditional website. Cruising is no different. All the major cruise lines have an app for passengers to download to their phone that has all sorts of useful features to make the cruise more enjoyable.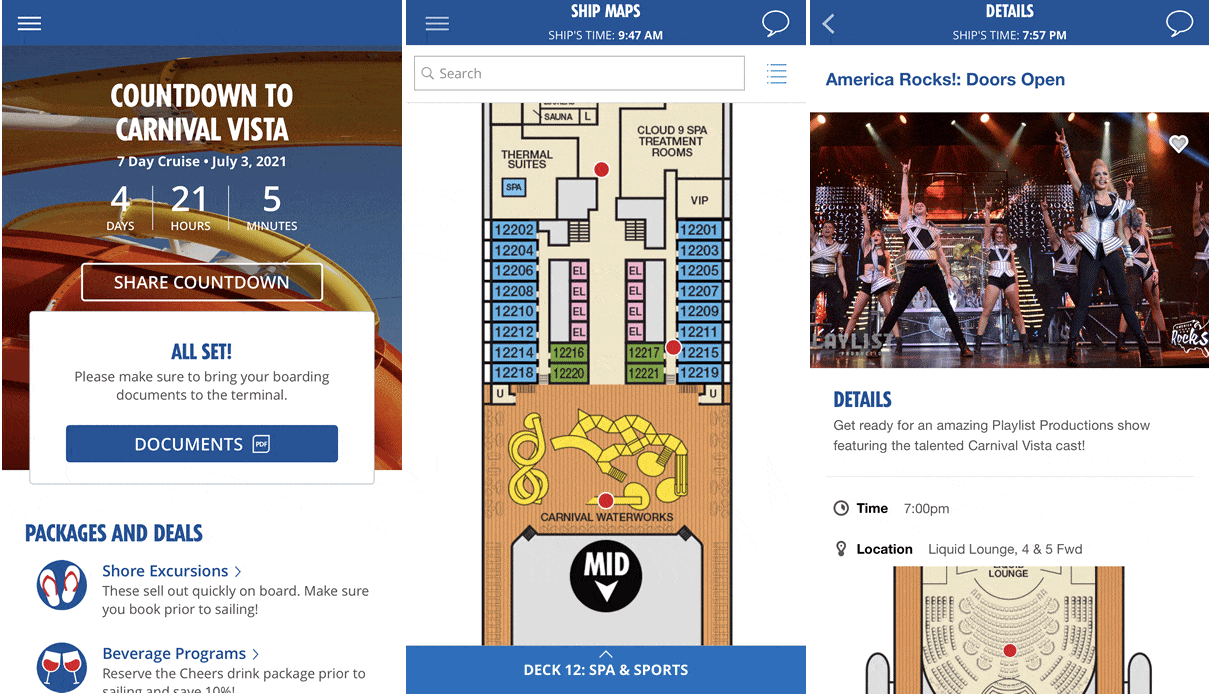 Carnival has an app for its passengers called Carnival HUB. If you haven't already heard about the service, you definitely will once you book your cruise or board the ship. Mentions of the app are everywhere. And with new protocols put in place following the health crisis, its importance is greater than ever.
What is the app? Carnival HUB is designed to be an all-in-one service that gives you everything you need to know about your cruise all in the palm of your hand. From maps of the ship to daily schedules of activities to a chat function — allowing you to stay in touch with other passengers — the app has you covered.
We recently completed a cruise and downloaded the app to put it to the test and review to see if it's worth your time. Here's what we found…
Downloading Carnival HUB
The Carnival HUB app is available for use on Carnival ships for both Apple and Android phones. The app is free, and you can download from the App Store (iPhone) or Google Play Store (Android).
We'd recommend downloading before you get on board the ship. That way it's just one less thing to worry about on cruise day.
When you first download the app, it's hard to see what the big deal is. You simply enter the details of your trip, and it provides you with a countdown timer measuring how much longer you have until you sail. Other than that, there isn't much else to do on the app until you are aboard the ship.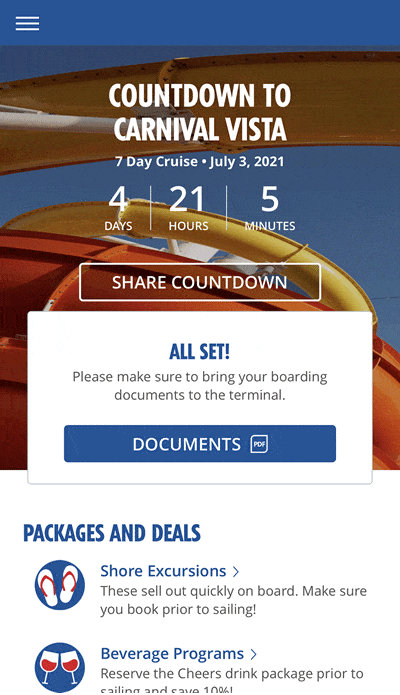 Once you are aboard, however, there's a big change.
On the ship, you'll connect to the ship's wi-fi for the app to run. Don't worry, even though Internet is expensive on a cruise, the app runs for free over the ship's wi-fi. No payment is required.
After setting up a connection, you'll enter your shipboard folio details to sign in, all of which are on your Sail & Sign card you received at check-in. This allows you to log in and connects your onboard account to the app.
Once you are logged in, you can start to see the power of the app. Open up the menu and you can see the complete list of what's available. Here are the items that we think most people will use during the course of a cruise:
Chat
What's Happening (Daily Schedule)
Food & Drinks
Open Times
Ship Maps
Account Summary
Good to Know
Chat on Carnival Hub
Traveling with a family? Then you will likely want to use the chat feature to keep in touch. For $5 per person (for the entire cruise), you can unlock the chat feature. You can make plans to meet or check-in with kids while on the ship. Note that the chat feature works only on the ship as it runs through the ship's wi-fi.
What's Happening (Daily Schedule)
There's always something on the ship from early in the morning into late at night. Every day you are delivered a schedule, but who wants to carry that around with them while they have fun on board? As well, on one of the first cruises back, we weren't even delivered a paper copy of the schedule. Instead, we had to access it via the phone.
You have the entire schedule in the palm of your hand with the Carnival HUB app.
With a few clicks you can see what's going on now, or even later days in your cruise. And if you aren't sure what an event is, you can click it for more details about it.
Food & Drinks
Want to hit up the nearest bar or grab a bite to eat? This section of the app tells you what's open and more information about the restaurant. By the second or third day you will have a good idea of what's available, but it's extremely valuable when you first get on the ship and aren't sure where to go to grab lunch or a fruity cocktail. One thing we liked is having menus available for to check out for restaurants around the ship.
Open Times
Just as you would guess, open times tells you when everything on the ship opens and closes — from the casino to Guest Services to restaurants. What's amazing is that everything is included on the list, and it's updated each day as schedules change due to port days.
Ship Maps
Without a doubt the most valuable reason for downloading the Carnival Hub app is the access to maps. Every single deck is available, and you can quickly switch through them. Every restaurant, bar, or other facility has an icon you can click to get more information about what that spot is on the map. The search features is also helpful if you want to search for a specific spot on the ship instead of looking deck by deck.
Account Summary
If you want to keep an eye on your spending, then you can with the app. A couple of clicks shows you everything you've spent onboard with your Sail & Sign card. You can also look through the spending of other members of your party.
It's a great way to keep an eye on if kids are being responsible in the arcade. Just like a credit card statement, there are details on each transaction, not just an amount spent. Best of all, the summary appears to update in near real-time.
Good to Know
There are tons of little FAQs that many passengers have when on the ship. The "Good to Know" section of the app attempts to answer many of these questions. From dress codes to stateroom calls, dozens of questions are covered.
Virtual Queues & Reservations
In an effort to reduce the number of lines around the ship, Carnival recently introduced "Virtual Queues" to the app. So instead of going to the dining room or to Guest Services to stand around until it's your turn, you can check-in through the app online. Then when it's your turn, a notification will come up alerting you.
As well, you can also select reservation times to eat at specialty restaurants without having to contact the staff.
Booking Excursions
One other thing you can do that's helpful is booking excursions. With the app you can look through all the options, with details and descriptions of each. Find one you like? There is the option to go ahead and book through the app. It's an easy way to save some time versus going down to book with the Shore Excursion desk in the lobby.
How Does the App Work on the Ship?
We've used the app several times before and it's worked flawlessly. On our most recent trip, however, there were some hiccups here and there,. albeit minor. On the first day of the trip we had trouble logging in. It wasn't until later in the day that we were finally able to get access.
Additionally, there is an option to have food delivered to you through the app. That feature kept telling us it was unavailable at the moment no matter when we tried.
Other than that, it was quick and easy to navigate all the features of the program. During our time we featured no crashes or other problems.
In our opinion, Carnival Hub is extremely useful for anyone taking a cruise aboard Carnival. In fact, with the menus and planner, it's practically a necessity. Since it's free (except for $5 if you want to use the chat function), there's no reason not to download the app. You can download here for iPhone or here for Android.
Frequently Asked Questions About Carnival Hub
Do I have to pay for the app?
No. The app is free to download and use. It's a perk for traveling on Carnival and makes it easier to sail by packing a lot of information into your pocket. The only part that is a cost is the messenger service. That costs $5 and lets you message other people on the ship.
Do I have to download it before I get on the ship?
You can download the app after you board, however, we recommend downloading it at home beforehand. Once you are on the ship there is a lot going on. You don't want to spend your time downloading an app on your phone.
Do I have to pay for wi-fi to use the Hub app?
One of the handy things about the app is that while it connects to the ship's Internet service, you don't have to pay for wi-fi to use it. That said, just because you connect through the ship's wi-fi, you won't have access to the regular Internet. If you want to check email or do other things, you have to pay for service.
Have other questions about using the app? Let us know in the comments below.