Do you have a cruise lover in your group of friends or family? Have absolutely no idea what to get them? Don't stress, we have you covered.
We've rounded up a list of awesome gifts that offer up something for everyone. The one thing they all have in common? Anyone who is a fan of cruise ships, the beach, or the water will love these birthday gift ideas.
Note: The links to Amazon used below are affiliate links. Should you make a purchase, we receive a small percentage of the sale at no extra cost to you.
Give the gift of adventure! It's a completely different world under the water and the beauty of snorkeling in tropical waters shouldn't be missed. This set is $23 on Amazon and comes in several colors.
Help them show off their love of cruising with this personalized insulated tumbler. Great for keeping those "boat drinks" cold while sipping next to the pool. It also comes in a ton of different colors to fit anyone's taste. $12.50 on Etsy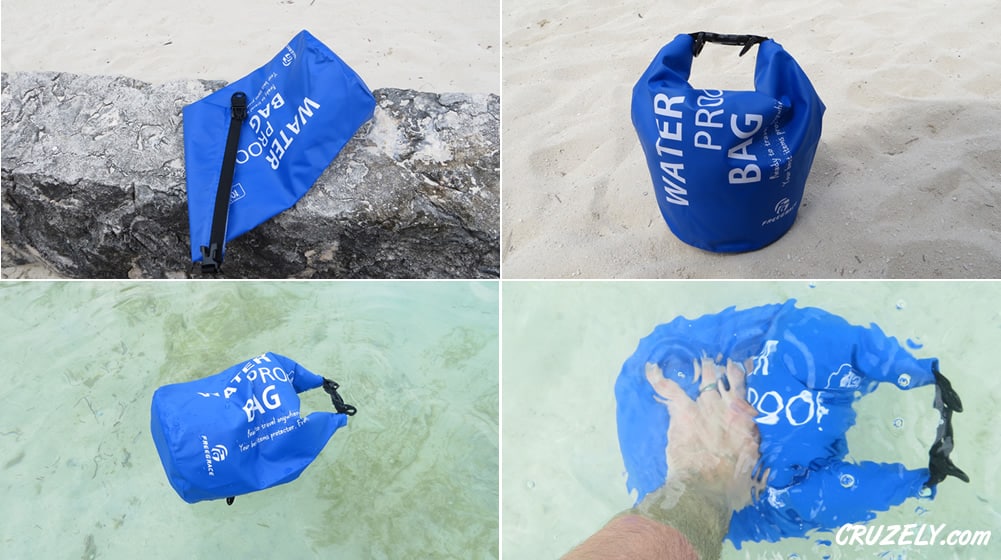 There's always a conundrum when you head out in the water. What do you do with your valuables? That's why we suggest having a drybag. Put your items in the bag, seal, and roll it up and you have a splash-proof container that you can take into the water with you. No more having to worry and keep an eye on your valuables on shore. They also come in practically any color you'd want and with a waterproof phone case.
We recently reviewed three different bags and this one by Freegrace was the clear winner. $19 on Amazon.
By far the most unique gift idea for a guy who likes to cruise. These cufflinks are made with actual teak decking from the Carnival Triumph. We can't think of a better accessory to a gentleman on formal night. $33 on Etsy
Warning — this gift is only for the most dedicated cruisers. It's a handmade replica of a cruise ship, measuring over three feet long. Offers painstaking detail, and a hefty price tag. Still, if you can afford it, this would be a perfect gift for a cruise lover. Several ships available. $419 on Etsy
If you want to spend any time on the beach, then you have to get this beach blanket. It's microfiber cloth means that it packs up small and light — saving valuable space. What we like most is the size. It's so much larger than simply laying down a couple of pool towels to keep you off the sand. $25 on Amazon
Whether you are hanging by the pool or don't want to leave your valuables on the beach while taking a dip, a waterproof case is a must-have. Use it to keep your phone, wallet, keys, and anything else dry as a bone so you don't have to worry just because you want to go swimming. You can get two bags for $20 on Amazon
We all know and love that feeling of the warm salty air that you get when you cruise. This tank top says it all. "Salty Air, Messy Hair, Don't Care." It's a fun way to remember your past trips and put someone in that "cruising" vibe without having to take a trip anywhere. $20 on Etsy
Whether headed to a cruise ship or an airport, it makes things so much easier when your luggage is easy to handle. That's why we like these suitcases. With four wheels, you can push it any direction instead of having to carry it behind you like other two-wheeled models. Plus, for just $80 you can get two cases. They also come in a ton of colors. $80 on Amazon
If you can't take them to the beach… bring the beach to them. This fun shower curtain has a beautiful image of where we wish we all were — a warm, sunny beach. Best of all there are no other tourists around! $38 on Amazon
Do you know someone that loves puzzles? Then they will love this cruise ship puzzle for their birthday! Best of all, once they are finished, they have a cool model that they can display. $15 on Amazon
Yes, you can pack your phone in a dry bag to keep it safe, but then you don't easy access to it. If you want to keep your phone out (for instance, to take photos), then you'll want a waterproof phone case. This particular one has a neckstrap so you don't have to worry about carrying it in your hands. Meanwhile, you can still operate the phone's touchscreen, take photos, text, and more. Click here to read a full review of our test of this case. $8 on Amazon.
Often called the "Holy Grail" of cruising, this guide tells you everything you need to know about cruising. Filled with details, reviews and more about every ship you can imagine, a cruise lover will spend hours pouring over this book. $18 on Amazon
When it comes to cameras, many people just use their phones. But phones have definite limitations. A real handheld camera typically offers better resolution and image quality — especially in low light situations. If you are buying for a cruiser, they will appreciate having a camera that can go anywhere they do. So if they are playing with the kids in the water, they don't have to worry if their camera gets a little wet. $335 on Amazon
If you are buying a birthday gift for someone that likes cruising, then it doesn't get any simpler than buying them a gift card to help them pay for their next trip. Carnival makes it easy to buy, either online or in store. Denominations go anywhere from $100 to $500.
Have more ideas for birthday gifts for cruise lovers? Let us know in the comments.