On May 5, Norwegian Cruise Line Holdings LTD., the parent of Norwegian Cruise Lines, Oceania, and Regent Seven Seas announced plans to issue $1.6 billion worth of stock and notes.
The move to raise cash is another in a series made by cruise lines — including Norwegian — to raise money in order to ride out the current crisis. With no ships sailing, cruise lines are using their reserves without generating much revenue.
At the same time, cancellations have lead to large amounts of refunds for passengers, putting further strains on cruise lines.
As a public company, NCLH must make public disclosures to investors when it does things like issue more stock. These disclosures explain the financial and operational standing of the company, providing some insight into how the business is doing and what it expects in the future.
Norwegian's latest disclosures led to a number of interesting revelations that many people — not just investors — may find interesting.
Half of Customers With Cancelled Cruises Are Opting For Cash Refunds
In response to cancelled cruises, Norwegian is offering affected passengers the option of a 125% cruise credit to use on a future trip, or a 100% refund of what they paid. According to the disclosure, many people are opting for a cash refund.
"As of April 24, 2020, approximately half of the guests who have had their voyages cancelled and who have contacted us have requested cash refunds. There can be no assurance that the percentage of passengers that accept future cruise certificates over cash refunds will remain in this range as the number of cancelled voyages increases."
Norwegian Values Its Private Islands at More than $700 Million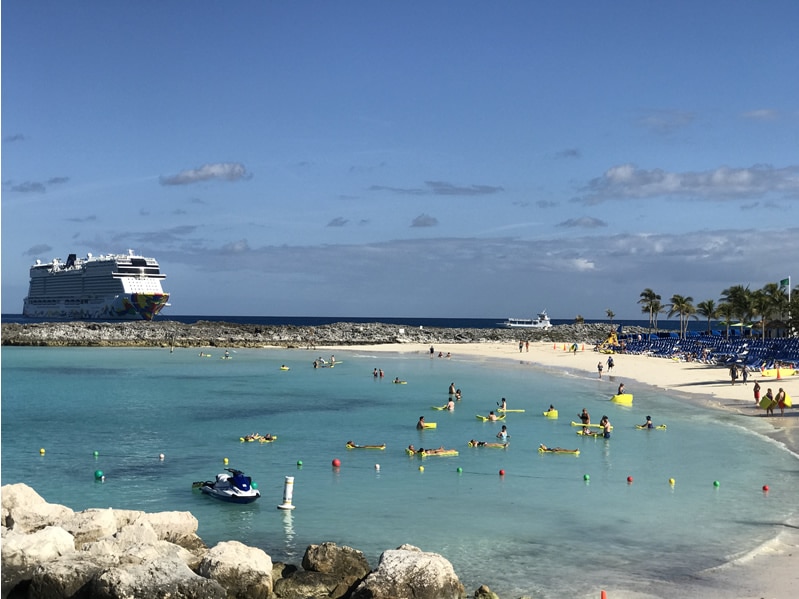 Norwegian has two private islands. One, Great Stirrup Cay, is located in the Bahamas. The other, Harvest Caye, is off the coast of Belize.
Ever wonder how much it would cost to have your own private island in paradise? According to the disclosures filed, Norwegian says the real estate value of the two combined is $260 million. But since the cruise line uses them for business purposes, they value the islands at a much higher price.
To Norwegian, the value of the islands together is $710 million based on the cash flows they are projected to bring. There is no breakdown of which island is worth how much.
Norwegian Mentioned "Substantial Doubt About the Company's Ability to Continue as a Going Concern"
It's a scary thought for investors, or anyone that likes to take a cruise on Norwegian. Could the cruise company go out of business?
In the most recent disclosures, Norwegian said "the suspension of cruise voyages and decline in advanced bookings, as well as debt maturities and other obligations over the next year, have raised substantial doubt about the Company's ability to continue as a going concern, as the Company does not have sufficient liquidity to meet its obligations over the next twelve months, assuming no additional financing or other proactive measures."
While we aren't financial experts, we think at least right now the prospect of bankruptcy is relatively small. The statement mentions the cruise line can't meet its obligations assuming no additional money raised or other steps taken. However, Norwegian is raising more money with this stock and note offering, as well as taking other steps to improve its liquidity.
Of course, with this crisis we've learned that no one knows exactly what might happen.
Short-Term Cruise Demand is Down
It's a no-brainer that demand for cruises would be down, but it's another thing to hear it right from the horse's mouth. In the short-term at least, Norwegian confirmed that bookings are down.
"As of April 24, 2020, advanced bookings for the remainder of 2020 were meaningfully lower than the prior year, with pricing down mid-single digits."
With the prospect of more cruises being cancelled and no one exactly sure when cruises will sail again, it would be surprising if booked cruises weren't sharply lower through the rest of this year.
Medium/Long Term Demand Is Down Slightly
While you'd expect the interest in taking a cruise to be down short-term, what will really impact the cruise lines is how demand for cruises look in the medium and long term. Will people still want to sail?
It appears that demand is down some, but still holding up. In its disclosure, Norwegian said that "booking trends indicate demand for cruise vacations in the medium and longer term, with the booked position for 2021 slightly lower compared to same time last year at pricing that is down mid-single digits versus prior year."
In other words, demand is down but only slightly compared to norms. That's good news considering the headlines and negative press cruise lines have endured.
Expect Delays On New Ships
The "arms race" in building cruise ships has gone on for years. With the long lead time to build a cruise ship, lines have plans in place for a number of new vessels even with the crisis. Norwegian has nine new ships on order, going out to 2027. However, the company says that those new ships are likely to be delayed.
"We expect that the effects of COVID-19 on the shipyards where our ships are under construction (or will be constructed) will result in delays in ship deliveries, which may be prolonged."
Even so, Norwegian still has one of the younger fleets in cruising. Of its 17 ships, seven have been built in the past 10 years.
20% Of Its Shoreside Staff is Furloughed
Layoffs and furloughs have been a dark cloud surrounding this whole crisis and obviously the cruise industry is not immune. Royal Caribbean has furloughed or laid off 20% of its shoreside staff. Norwegian announced it has done the same.
Shoreside employees are those that don't work on ships, but instead work in the cruise line's offices. Their jobs can include everything from planning to procurement to marketing.
At the end of April, Norwegian says they told staff that they were furloughing 20% of their employees. The furlough is scheduled to run from May 1 through July 31. During that time, these employees won't receive wages, but will continue to receive health benefits.
Staff who are kept on will work a shortened week and reduced hours, in line with a 20% cut in salary.
The Majority of Vessels Are Going Into "Cold Layup"
For the first several weeks of the suspension, cruise ships were kept idle, but with lots of staff still onboard. Now that the crisis has continued, however, cruise lines are looking to put the ships in an extended "cold layup."
Cold layup means a reduction in the staff levels needed to operate the ship and is used when the vessel will be out of service for an extended period. While the specifics of which ships are entering this status is unknown, Norwegian has said that many will.
"The majority of the vessels in the Company's fleet are currently transitioning to cold layup, to further reduce operating expenses during the suspension."
According to disclosures, having a ship in cold layup instead of "warm" layup saves about $1.5 million per month, per vessel.
Norwegian Needs $150 Million in Cash Per Month
How much does it cost to run a cruise line… when no one is cruising? For Norwegian Cruise Line Holdings, the amount is significant.
"The Company now estimates its liquidity requirements to be on average in the range of, approximately $110 million to $150 million per month during the suspension of operations…"
That comes out to about $3.5-$5 million per day the company needs just to keep the lights on while it's not cruising. It's little surprise that cruise lines are anxious to get back sailing as soon as it is safe to do so.
The Company Is Tapping A Health Expert to Help It Return Safely
With the recent headlines, the last thing that cruise lines want is for any more outbreaks of COVID-19 on their ships. To help implement new procedures to sail safely and keep passengers healthy, Norwegian is calling on a true expert — Dr. Scott Gottlieb.
Dr. Gottlieb is the former FDA Commissioner, serving from 2017 through 2019. He has also been called the "shadow coronavirus czar" for his outspokenness on battling the illness.
"The Company is consulting with Dr. Scott Gottlieb, former Commissioner of the U.S. Food and Drug Administration and an experienced public health and medical policy expert, as an advisor to provide independent public health counsel as the Company develops the next level of health and safety standards. New health and safety measures will further enhance the Company's already rigorous protocols as it prepares for the resumption of cruise voyage operations."
Norwegian Is Facing Several Lawsuits & Investigations
Several weeks ago allegations came to light that the sales team for Norwegian used questionable tactics to downplay the risk of coronavirus.
This allegedly included a recommendation to tell potential customers worried about the virus that "scientists and medical professionals have confirmed that the warm weather of the spring will be the end of the coronavirus."
Following the allegations, Norwegian is now facing a class action complaint. In response, the company says "we believe that the allegations contained in the complaints are without merit and intend to defend the complaints vigorously. "
Norwegian also mentioned in its disclosure that it is being investigated by the Florida Attorney General, along with attorneys general in other states related to its "marketing to customers during the COVID-19 outbreak."
To read the full disclosure from Norwegian, click here to read it on the SEC's website.