In Singapore, a Royal Caribbean ship on just its third sailing back — and on a cruise to nowhere with limited capacity — reportedly found a case of COVID aboard the ship. (Update: This passenger has now tested negative.)
Weeks ago the first cruise back in the Caribbean — where all passengers were tested before boarding — had multiple COVID cases on the ship.
And in Europe — where cruises have been started and stopped due to restrictions and lockdowns on the continent — a cruise found multiple cases aboard the ship, causing it to end the journey early.
Meanwhile, cases around the world are still at peak, as are deaths from the virus. In the United States alone more than 200,000 new instances are found each day, and about 2,300 American die from the disease daily.
In other words, at no time during this entire pandemic has the situation been worse. And in the middle of that, cruise lines are working with the Centers for Disease Control (CDC) to implement a plan to return back sailing.
If there is any good news, it's that the first doses of one of many potential vaccines have started to go out to the public, and the results are promising. It could be that in a matter of months, millions of people are vaccinated, thereby drastically reducing the impact of the virus.
But it begs the question: Given that multiple ships have seen COVID cases despite only coming back in limited capacity, could it be that cruises from the United States are simply put on hold until the vaccine is widely distributed?
For a number of reasons, it seems possible to us.
Reason #1: The Current Timeline for U.S. Cruises Is Close to the Vaccine Timeline
When cruises were halted back in March 2020, no one would imagine that come 2021 they would still not be sailing from the United States.
For months the CDC had a "No Sail Order" in place that went on top of the voluntary suspension announced by the cruise lines. But that's now changed to a pathway to return to sailing. The framework laid out includes multiple steps that will take months to complete.
For instance, the CDC requires "simulated voyages" before cruises can sail again, with a 30 day notice before they happen. It then requires a cruise line apply for a "Conditional Sailing Certificate" with a 60-day lead time.
Already major cruise lines have pushed their return dates in the United States until at least March 2021 in order to meet with the rules.
Compare that to the anticipated timeline of a vaccine rollout. In the coming days the first vaccine is expected to be approved and going out to higher-risk individuals in the United States. Dr. Scott Gottlieb, the former head of the FDA and a leader of the Healthy Sail Panel, suggested recently that healthy individuals could receive the vaccine by "probably the second quarter of 2021, maybe third quarter, if things go well."
In other words, the current timeline of the cruise lines' return and the rollout of the vaccine are close to matching up already. An extra month or two before cruises return could drastically lower the chances of a case on a ship thanks to more vaccinations.
Reason #2: Issues With Cases Aboard Ships Already
Another reason that it seems possible cruises could return only after a vaccine is widely available? Some of those limited trips that have returned have already seen issues with cases onboard. That's despite drastic new protocols being put in place to combat cases on ships, including mandatory testing before boarding.
To be sure, there haven't been large outbreaks with hundreds or even dozens of people. Even so, cruise ships are under intense scrutiny. Any case is big news.
Most recently, a Royal Caribbean cruise ship sailing a "cruise to nowhere" from Singapore reportedly had a case on the ship on just the third sailing back. (Update: Subsequent tests came back negative.) There have also been cases on a small ship sailing near Barbados, and a ship in Europe.
To be fair, if you get hundreds of people together and test them, it seems likely at least some will be positive for the virus. Even so, the fact that cruises can't completely eliminate cases on ships right now when the number of ships sailing is so few and everyone is on high alert is concerning. It could be that the CDC looks at these cases and decides the risk of sailing is still too great until vaccines are more widely available.
Reason #3: Soaring Cases in the United States
If cruises weren't allowed to sail when there were 20,000 new U.S. COVID cases a day in May, should they be allowed to sail when there are 200,000 daily cases right now?
Since the start of the pandemic, the United States hasn't been able to knock down cases as well as what's seen in other countries. For instance, Italy — which was one of the hardest-hit countries in Europe — had only about 200 cases per day after a first wave. A recent spike sent cases soaring to above 40,000 per day in early November, but they have already dropped by more than half in just weeks.
Meanwhile, U.S. cases continue to rise and are at a new peak. Of course, this could come under control as the illness has shown to come in waves and the initial doses of a vaccine roll out. As of now, however, that's not the case.
With that as a backdrop, we find it hard to believe that the CDC — which has been tough on cruises — would choose to let them sail again with so many cases spreading.
In fact, on the CDC website, it even says of the phased framework to return: "The phases are subject to change based on public health considerations and cruise ship operators' ability to mitigate COVID-19 risk."
Reason #4: Current "Red" Status for Ships
As part of their plan to return to sailing, the CDC keeps tabs on ships carrying crew that plan to sail from the United States. Here, they offer a simple color-coding scheme that determines if crew are allowed to disembark ships and use commercial transport.
Green means everything is good and COVID isn't an issue. Red, however, means there could be sick crewmembers on the ship. Specifically, the CDC lays out the following guidelines for "red" status:
One or more cases of confirmed COVID-19 or COVID-like Illness within the past 28 days, or
Ship received ship-to-ship transfers from a ship that had confirmed COVID-19 or COVID-like illness within the 28 days before the transfer occurred, or
If land-based crew embarked, they were not immediately quarantined for 14 days upon embarking the ship, or
During the past 28 days, the ship missed one or more weekly submission of the EDC form.
The current status of ships is updated once a week. As of now, three of the 38 ships are classified as "red" — and that's without a single passenger aboard.
In other words, even without members of the public sailing, some ships are still having trouble meeting CDC guidelines.
Reason #5: A New Administration's Outlook & CDC Advisories
Finally, one more reason to think its possible cruises may be held until a vaccine is widely available is new leadership.
One of the pillars of the Biden campaign was an emphasis on COVID response. The President-Elect has even aimed for 100 million doses of vaccine within his first 100 days in office.
Given the emphasis on public health, allowing cruise ships to sail again soon seems out of line.
In fact, the CDC currently has a "Level 4" advisory regarding cruise travel:
"CDC recommends that all people avoid travel on cruise ships, including river cruises, worldwide, because the risk of COVID-19 on cruise ships is very high. It is especially important that people with an increased risk of severe illness avoid travel on cruise ships, including river cruises."
Even when the CDC recently extended its "No Sail Order" for October, it was reported that the CDC Director Dr. Robert Redfield wanted to extend the order until at least February but was overruled by the Trump Administration.
With the vaccine distribution on the horizon, it seems possible that an administration focused on public health could require cruises to hold for just a little longer before sailing again.
Cruises Still Months Away… And Questions Remain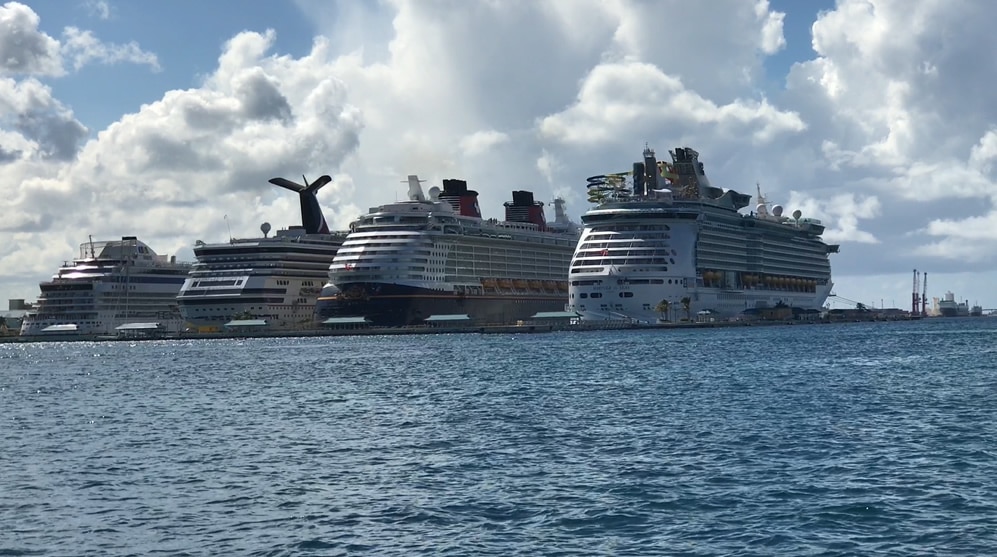 No matter if cruises return to the United States as currently scheduled or later, they are still months away. Norwegian, Carnival, and Royal Caribbean all have suspended sailing through February.
Hopefully, if trips are delayed until a shot is widely available to combat the virus, the extra time would be relatively short.
Of course, it does raise some questions. The biggest is if passengers would be required to have a vaccine to sail.
At this point we won't dive into the legal and ethical implications of the question. Some people may not be able to take the vaccine for certain reasons. Others may worry about its safety.
Still, at least one airline — Australia's Qantas — says it will require passengers to show they've been vaccinated for international flights.
Requiring a vaccine may seem like a drastic measure, but the world has yet to deal with this sort of situation. Even if cruise lines don't require a vaccine, could foreign ports of call? After all, the United States has a much higher number of cases than many surrounding countries, whose healthcare systems aren't as well-equipped to handle a surge that could be brought by foreign visitors.
At this point, this is all unknown. But with any hope in the months ahead we can put this ordeal behind us and get back to sailing.