Headed to the eastern Caribbean on a Carnival or Princess cruise? Chances are that it may include a stop in a port known as Amber Cove.
This port — located about six miles west of Puerto Plata in the Dominican Republic — is a dedicated area for passengers of Carnival Corporation ships. So if you're sailing a Carnival brand and headed to the area, then this is where you'll stop.
You can think of Amber Cove much like a private island, only it is still part of the mainland. But here you'll find all kinds of amenities for cruise passengers, from a pool area to shopping to restaurants. And while it is a jumping off point for seeing Puerto Plata, the truth is that you could spend all day inside the port area if you wanted and have plenty of fun.
So what exactly is there to see, do, and know about Amber Cove? We recently visited to give you all the ins and outs about the spot.
Location & Layout of Amber Cove
First things first, it's nice to get a lay of the land with the port, its location, and what's around.
Amber Cove sits in a small inlet, about 10-15 minutes by taxi from Puerto Plata. Around the port there is very little, although there is a resort right next door. Apart from that, it's largely open space with hills and pastures. As a result, if you want to go anywhere outside the port, you'll need some sort of transportation. Walking outside the port isn't really feasible.
As for the layout of the port area itself, it's fairly easy to navigate. First, your ship will dock at the pier, and then it's a short walk to Amber Cove. You enter through the duty-free store. Once through, straight ahead will be the meeting points for booked shore excursions. To the left are a number of restaurants, shops, and the way to exit the port and grab a taxi. To the right is the "Aqua Zone" that's complete with a huge pool, waterslide, cabanas, and much more (more on this below).
You can get an idea of the layout via the map below:
What Is There to Do at Amber Cove?
This port area is custom made to entertain cruise passengers. In many ways you can think of it as an extension of the cruise ship. Below we cover all the things to do in port. If you plan to go explore nearby Puerto Plata, then we have a complete guide of things to do here.
Shopping
Need a souvenir? Or maybe to pick up something from the pharmacy? Or jewelry? Or alcohol? No matter what's on your shopping list, there will be a store in Amber Cove that sells it. The shopping area takes up one entire side of the port, giving you plenty of options to choose.
Get a Picture in Front of the Ship
As you get off the ship, take a left and then head to the end of the port area. At the far corner of the port is a perfect spot to get a picture in front of your ship. There, you'll find a large display writing out "AMBER COVE!" with a spot in the middle that shows the ship perfectly. Step up and get a souvenir photo to remember your trip.
Grab Something to Eat
Want to eat? Remember that you can just head the short walk back to the ship and eat for free, or you can grab a bite in port. There are a couple of sit-down restaurants serving casual fare. One is right by the pool and the other at the opposite end of the port near the "AMBER COVE!" sign. There's also a Nathan's hot dog trailer by the pool. Just know that unlike some private ports, the food isn't free here. You'll have to pay out of pocket.
Enjoy a Drink (or Three)
What would a Caribbean port be without something to drink? There are bar stations around the pool, as well as the large Coco Cana (a restaurant by the pool with a swim-up bar) serving libations. But perhaps the coolest place to have a drink is Sky Bar — a bar sitting on a hill that overlooks the port and offers cool views of the ship and surrounding area.
Hit the Pool
If you're going to stay in port, then by far the big attraction is the pool area. The pool here is large, with tons of loungers all around. It's broken into different areas that are connected with bridges so even though it can be busy, it can still make the spots seem more private. The main portion of the pool near the swim-up bar gets pretty lively. Head around from there and you can find a calmer vibe.
Try the Waterslide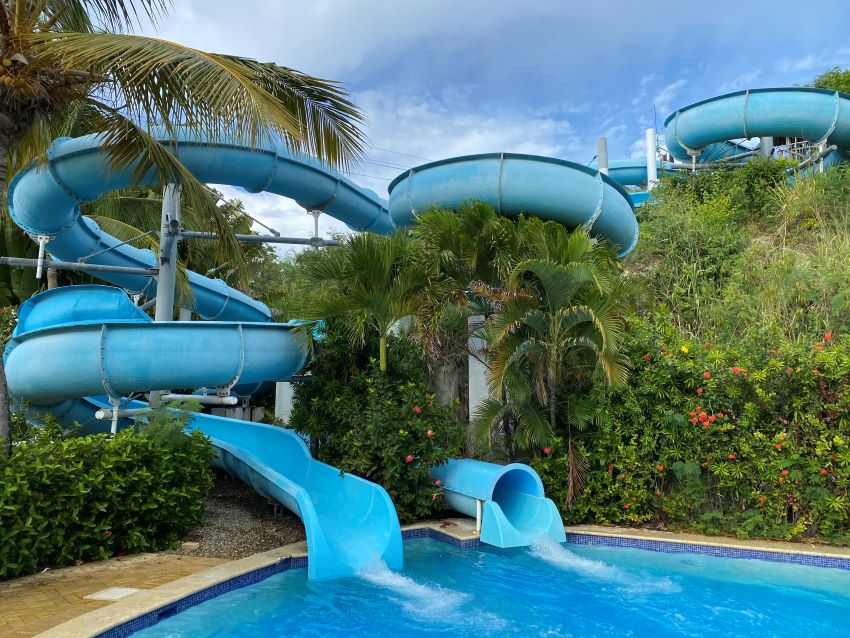 One fun feature is a pair of waterslides that circle around near the edge of the pool. The twin slides spin around several times before dumping you into a dedicated splash pool. The entrance can be a little hidden, but it's along the back of the port area and up a hill. You'll be able to see the slides from the pool — just head over to figure out where to go. There is a 230 pound weight limit, and you must be at least 4 feet tall to ride.
Sail Across the Port on a Zipline
Head to the pool area, and you'll likely hear the zipline before you actually see it. The lengthy run heads straight over the entire pool area, letting out a high-pitched whine as people go over. The cost is $28 for unlimited rides while you are in port.
Live it Up in a Cabana
To be sure the port area can get busy. When we visited, two of Carnival's largest ships were in port, making it crowded. If you want a little more elbow room, then there are cabanas that you rent out. There's a group of them that sit out over the bay and others that sit overlooking the pool. Rates start at $340 per day and most are in this range, except for the Grand Cabana, which runs a pricey $1,170.
Kids Water Park
Are you sailing with little ones (about five years or younger)? If so, then there is a splash area designed for smaller kids. It features a small slide, a tree that sprays water, and a large fish that kids can climb in. If you have kids that aren't ready for the pool, it's a fun spot for them to get wet and enjoy themselves.
Basketball
Feeling a little more active? If you want to shoot some hoops, there is a basketball area. It's located at the far end of the port, past the pool and the kid water park. It's not much — just a hoop and a half-court area, but it's a fun option if you want to do something other than lounge by the pool.
Kayak/Pedal Boat/Paddleboards
If you want to get out on the water, then there are plenty of rentals to choose from. Cruisers visiting Amber Cove have the option of renting kayaks, paddleboards, pedal boats, and more. The fees are a bit steep — starting around $35 per hour — but some of those can be split by multiple people such as the pedal boats that carry four. Half-hour rentals are also available.
Price List for Amber Cove
We've mentioned several things to do that come with an extra charge. Below is the pricing from a recent visit to give you an idea of what things cost.
Tips & Things to Know
Before you visit, there are definitely some things to know about the port that will make your trip go smoother.
Taxis are Expensive
Amber Cove sits about six miles away from Puerto Plata. You'd think that getting back and forth would be cheap, but think again. Taxi rates from the port to town are sky-high, costing $70 round trip according to the rates seen posted. With that in mind, it's likely worth it to book an excursion instead if you want to go to town, which will include transportation.
There's a Charge for Most Extras in the Pool Area
If you want to spend the day at the pool, access is free, as are loungers. Most other things will cost money. Everything from umbrellas to pool floats to lockers cost extra, as do certain "VIP" areas. You can see a list of the charges in the "Price List" section above.
Drink Packages/Wi-Fi Don't Work in Port
While Amber Cove might have the vibe of a private cruise line island, it's actually not. And that means unlike some private islands where drink packages and wi-fi service bought on the ship also extend to the port, it's not the case here. Instead, if you want to drink then you'll have to pay bar prices. And wi-fi service is available in the port area for $8 per day.
Free Wi-Fi at Stores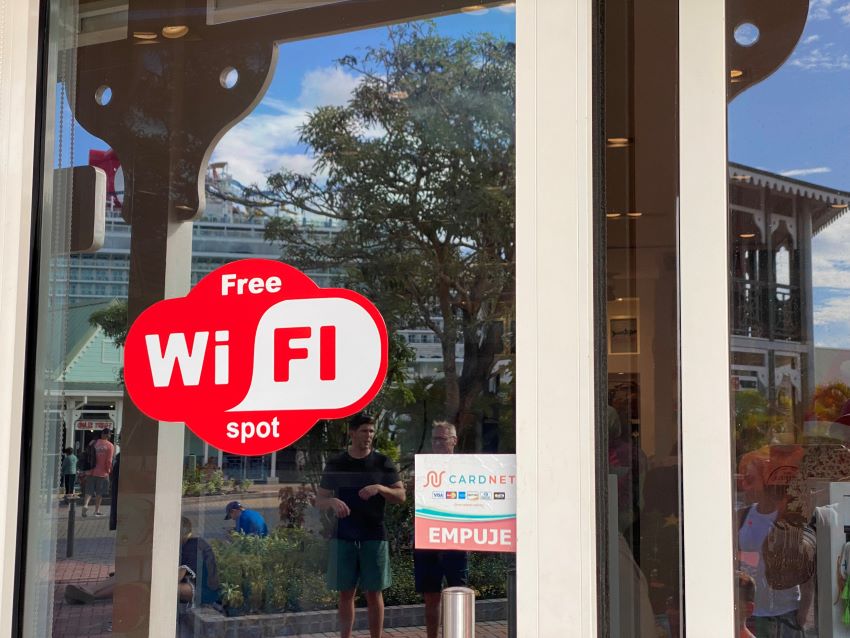 As we just said, the wi-fi from the ship doesn't work in port. And while you can pay the $8 for all-day access while visiting, there is also a free option. Check out the stores in Amber Cove. You'll find that some offer free wi-fi access as an incentive for you to visit the shop. It can give you the opportunity to check in back home if you only need the Internet for a short bit.
Check Out the Sky Bar for Great Views
If you want the best view in Amber Cove, then check out a spot called Sky Bar. It sits at the top of a hill that overlooks the port. You can't miss the large white-roofed structure that's visible from nearly everywhere. Head up here for a tropical drink and a unique spot to relax while in port.
Be Sure to Bring a Towel From the Ship
Spending the day at the pool? If so, you'll want to be sure to bring a beach towel from the ship. All cruise ships offer towels to passengers (typically there is a station by the pool). You can bring these into port with you. There are no towels available in the port, so if you forget yours, then you'll have to air-dry.
Be Early or Be Late to the Pool
Obviously the pool area is a big draw at Amber Cove, and during the peak of the day (between around 11 a.m. – 2 p.m.) it can get pretty crowded if you are in port with large ships. If you are the only ship docked, then it's not as big a deal. But if there are multiple ships, then it's smart to arrive early to stake out a prime spot. As well, going later in the afternoon also sees smaller crowds as many head back to the ship despite all aboard not usually being until the evening.
More on Visiting Amber Cove: