Is your cruise headed to Harvest Caye? If you're headed on a Norwegian cruise to the western Caribbean, chances are good your ship will stop here. If so, you are in for a treat.
The cruise line's private island is one of the nicest in the Caribbean, with a tremendous amount of things to see and do… without having to spend a fortune.
Harvest Caye sits at the southern end of Belize, about 50 miles north of the border between Guatemala and Honduras. And while it is an island, it sits only about a mile from the mainland and roughly five miles from the town of Placencia.

The island itself measures just about a mile long and only about 400 feet wide at most points. In other words, it's easy for most people to walk anywhere on the island in just a few minutes. However, if you just want to hang out under a palm tree or take a dip in the pool, then you can do that too.
Norwegian Cruise Lines spent an enormous amount of time and money to transform the island into a playground for its cruise guests. Here are more details of everything to know about NCL's Harvest Caye, including things to tips, things to know, and what to do…
Map of Harvest Caye
As you can see, just about everything on the island is within a short walk. The main focal points on Harvest Caye is the area around the pool, LandShark Bar & Grill, and the beginning of the beach. Here you'll find the most people while crowds get thinner the farther away from here you get.
The most distinguishable landmark on the island is the lighthouse, which towers over the landscape. The lighthouse is actually the signature of the zipline course that runs across the island. If you decide to do this adventure, you'll get to ride from the lighthouse across the beach (see below).
Other points of interest include the city/shopping area, the wildlife reserve, and the marina.
10 Things to Do on Harvest Caye
For such a small island, there are a surprising number of things to do. As you might expect, most of the activities revolve around the pool and beach, but there is really something for everybody.
Swimming Pool (Free)
Located just as you walk off the ship's pier and in the heart of the island, there is the swimming pool. It's a large resort-style pool with lots of bends and turns, a bridge with waterfall, swim-up bar, a gently-sloping shallow kids area, and hundreds of chairs/umbrellas for you to lounge. The pool is the heartbeat of Harvest Caye, and you'll find the most cruise passengers spending their time here. Private pool cabanas are are available for rent for around $250, but other than that, it's free to use.
Beach (Free)
Across from the pool is a scalloped cove of the beach that runs for hundreds of feet. There are ample lounges and umbrellas, as well as shaded "clamshell" covers that you can rent for $39 for the day. Along the beach there are lifeguards posted, and there are a number of beach games like volleyball and soccer.
The closer you are to the pool (near the start of the beach), the more people you'll find. The crowds thin as you walk down the beach. One more thing, the water isn't the best. Visibility can be iffy, and don't expect the electric blue color you might find elsewhere in the Caribbean.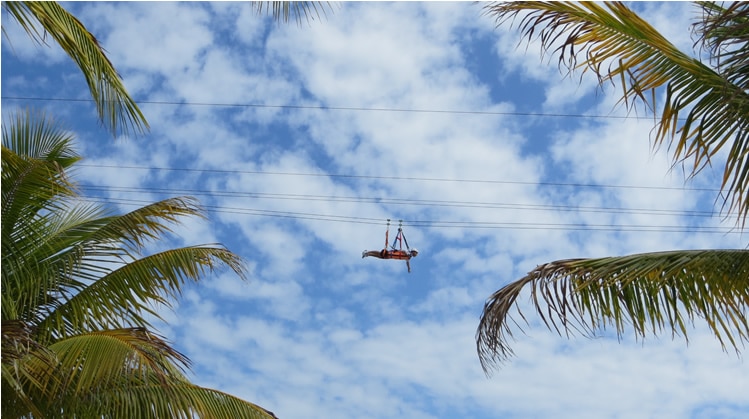 Zipline (Paid)
If there's a signature things to do on Harvest Caye, it has to be the zipline. During our stop people were constantly soaring through the air on the course that zig-zags around the island. The most exciting run goes from the lighthouse, over the beach, and across the water. Person after person flew by on this route… all seeming to have the time of their lives. The zipline costs between $29 to $89, depending on the route you want to take and adult versus child pricing.
Paddleboarding/Kayaking (Paid)
On the backside of the island is a calm area of water that features a number of bends and turns for guests to use stand-up paddleboard or kayaks. The area is roped off from the surrounding water (so you don't have to worry about taking a wrong turn into the open water). It's also a bit out of the way so you can feel like you're out on your own without going far. The cost for renting a kayak or paddleboard is $29.
Ropes Course (Paid)
If you have an older kid or teen, they might be interested in the ropes course. It's basically a multi-story jungle gym. You strap in and climb around different obstacles that are dangling up to 20 feet above the ground. During our trip the zip line was a more popular choice and you could do the ropes course without any wait. It's also affordable at only $19 per person.
Beach Villa (Paid)
Sometimes you just want to relax… in style. There is a section of Harvest Caye's beach that is roped off and available only to guests staying in the handful of private beach villas. Here you have everything you could want, including your own cabana with air conditioning, loungers, daybeds, facilities, and more. The cost is steep — $599 for up to six people. Extra persons are $49 each. Still, if you want to ensure you have your own comfortable spot away from all the other cruise passengers, this is your ticket.
Shopping
If you've never been on a cruise, then you might be surprised at how much shopping is promoted and encouraged on the ship and on shore. Harvest Caye is no different. In the "town" section of the island there are a number of souvenir stands and shops selling everything from small trinkets to bamboo bed sheets. There is even a Harley-Davidson-branded store.
Wildlife Experience (Free)
On Harvest Caye is a small "Wildlife Experience" for guests. Inside there is a butterfly exhibit, a boa constrictor, and two aviaries with a toucan and scarlet macaw. The entire area is free but only takes about five minutes to walk through. If you're looking for a calm shady spot to sit down, it's a great idea to get away from the buzz of the rest of the island.
Kids Splash Area (Free)
If you have smaller kids, check out the splash area. With tons of contraptions spraying water in every direction, it is one of the most impressive splash pads we've seen. Kids are sure to get wet and have a blast without having to worry about the depth of the pool or the ocean's waves at the beach. Best of all, it's free to play.
Off-Island Excursions (Paid)
While you could certainly spend your entire day on the island of Harvest Caye, there are a number of excursions that take you to see the other sights in Belize. Some ideas include river rafting in the jungle, tubing, Mayan ruins, and more. This is also snorkeling and glass-bottom boat tours available near the island as well. If you plan to go on an excursion, expect to spend around $100 per person.
Places to Eat & Drink in Harvest Caye
Of course, a big part of cruise life is the food. Unlike other private islands run by cruise lines, Norwegian doesn't supply food on Harvest Caye. You'll need to bring money and purchase anything you want to eat. You can also head back to the ship for lunch if you don't want to pay.
LandShark Bar & Grill
If you eat on the island, it's a good chance it will be at LandShark. Sitting poolside (there is even a bar that serves you in the pool), the multi-story restaurant is right in the heart of everything. It offers all your favorite drinks, and the food is traditional American fare. There are burgers and baskets, sandwiches, salads, wings, and more. As with all food on the island, the prices are a little high (about $12-18 for an entree), and made higher by a 12.5% tax and a 15% service charge that's tacked onto your bill.
Laughing Bird Bar & Grill
Down the beach from LandShark, the Laughing Bird was another popular spot to sit and have a drink and a bite to eat. It features all your favorite beach drinks (pina coladas, margaritas, etc.) As for food, it's tropical bar eats with some BBQ options, ceviche, burgers, nachos, and chicken baskets.
Horse Eye Jack's
The smallest bar and restaurant on the island, Horse Eye Jack's is also the least busy in our experience. It sits near the end of the island by the private villas. Here you can sit at the bar looking out over the water or even dine with your feet in the sand. The drink menu is as you would expect with everything from soda to beer (including local brews) to rum drinks and more. The food is a mix of burgers and salads, with local snacks like plantains and ceviche.
Manatee Bar
Away from most of the buzz of the pool and beach, the Manatee Bar is a large complex sitting near the marina on the other side of the island. You can find your favorites here, including Belize's own Lighthouse Lager if you want to sample the local brew.
Tips On Visiting Harvest Caye, Belize
If it's your first time to visit the island with Norwegian, then there are some things to know to make your trip more enjoyable.
Bring Cash and/or a Credit Card
We'd suggest bring cash (U.S. dollars are accepted) and leave the credit card on the ship. Either way, just know that your shipboard account doesn't work at restaurants and bars on Harvest Caye, so you can't charge things to the room. Instead, you'll pay for anything you want out of pocket, so be sure to bring some moolah to shop and eat.
The Wildlife Experience is a Great Place to Find Shade
If you want to chill out for a few, there are a number of shady spots to sit for a moment around the island. That said, we found the Wildlife Experience to be the shadiest and there are several benches where you can stop and rest a while. If you are simply wanting to cool off and get out of the sun, there's no better spot.
Take a Picture With the Belize Sign
Located near the marina, the "Belize" sign was installed for an Instagram-worthy spot to take a vacation photo. It's one of the best spots on Harvest Caye to grab a souvenir snapshot, and it's also free. We suggest checking it out after a couple of hours on the island. The line to grab a photo was 20 people deep when we first arrived.
Stake Out a Spot by the Pool Early
If you know you want to hang out by the pool, then we suggest staking out your spot early in the day (when you first arrive). The pool is by far the most popular spot and when we arrived around lunch time every lounger was already claimed, despite us being on a smaller Norwegian ship. Get there early if you want a spot to set your stuff.
The Pool Isn't Heated
The pool is large and inviting, but just know that it's not heated. If you visit during the winter months, it will still be warm enough to swim, but it might be a little bit of a shock when you first get in. As well, the ocean water can be chilly as well. It's still better than trying to stay warm back home!
Lockers Are For Rent
Around the island you'll see several locker stands that have a couple of dozen spots for people to rent. The cost is $5 and you can actually put it on your ship's card (no cash is accepted). For the price you get the use of the locker all day and are given a key to let you access it when you need to do so.
Rides Are Available Up and Down the Pier
To get to Harvest Caye, there's a lengthy walk from the ship down a long pier. If you have mobility issues, don't fret. There are carts that run the length of the pier, picking up and dropping off passengers between the ship and the shore. If you walk the pier, just be sure you stay on your side of the walkway to let the carts pass.
There is a 12.5% Tax and 15% Service Charge at Restaurants
As we mentioned above, food and drink on Harvest Caye is pricey. List prices for most beers are between $6-7. A burger and fries can cost $13-15. On top of that, however, is an additional 12.5% tax and then another 15% for a service charge (in place of a tip). In other words, a $10 cocktail on the menu will actually cost you $12.75 all told.
Go Down the Beach for Smaller Crowds
The area around the pool and the head of the beach can get busy both in people and noise (music by the pool is usually playing). If you want to go somewhere quieter — or just want a beachfront lounger — then just walk down the beach a little bit. Crowds quickly thin and you can find a spot all your own beneath a palm tree.
There's No Wi-Fi (That We Found)
We went in search of wi-fi around the island to see if there were any free services to allow passengers to connect. Searching the pool and area near the LandShark Bar & Grill (the most popular area on the island), we weren't about to find any open connections. If you planned to connect while in port, you might be out of luck.
Coke is Served on Harvest Caye
It may sound silly, but loyal Coca-Cola drinkers don't want Pepsi and vice versa. Pepsi products are served on Norwegian, and if you're a Coke drinker you are out of luck. But on Harvest Caye, Coca-Cola is served in the restaurants. If you're a Coke lover, it's an oasis in a desert of Pepsi. One note — you can't bring the drinks back on board with you, so get your fill while on the island.
Have more questions about Harvest Caye? Let us know in the comments below and we'll do our best to answer them.