If you've never been on a cruise, you might picture a bunch of retirees playing shuffleboard, eating dinner at 4:30, and complaining about the heat.
These days, nothing could be further from the truth.
As cruising becomes more and more popular, the old impressions of cruises being for the "newlywed and the nearly dead" are long gone. Now people of all ages — including college students — enjoy cruises. And why not? They're affordable, fun, and easy.
Where else can you head to the Caribbean for only a few hundred dollars and visit multiple spots while unpacking only one time?
That said, there are some cruises that are definitely better for some crowds than others. While people of all ages cruise, different cruise lines, trip dates and other factors definitely have an impact on the type of crowd that you'll sail with.
We know there is nothing worse than getting onto a cruise expecting a party and being the youngest person on the boat. On the flipside, if you're older and want a relaxing trip, then you don't want to be sailing with a young party crowd.
The good news is that there are different cruises that cater to different groups. To make sure you get booked on the sort of trip you want to go on, we've got some pointers on the best cruises for younger passengers such as young professionals and college students.
If you're looking for the cruises with the youngest (under 30) crowd you can find, then be sure you take these items into account…
Cruise Dates (Spring Break/Summer = Younger)
By far the most important factor in who you will cruise with is when you are setting sail. The rule of thumb is that if you cruise when schools are out, your fellow passengers will be younger. If you're looking for a younger crowd, it's best to look at cruises in March (Spring Break) and early summer (summer break + graduation trips).
If you want to sail with younger passengers, avoid times when school is in session — especially right after school started and no one wants to take time off yet. So cruises during, say, September or January will often have older crowds.
Trip Length (Shorter = Younger)
The rule of thumb is the longer the trip, the older the crowd. Younger cruise passengers tend to take short cruises — 3-5 days. These cruises have more options for departure and are also cheaper, making them perfect for cash-strapped college students or younger adults.
Older passengers with more time for sailing like the week-long cruises, which are also typically more expensive.
The good news is that cruise lines have made a big push into shorter cruises in recent years. Short trips to the Bahamas or Mexico are widely available from multiple ports, often at prices that come to less than $100 per day.
Cruise Lines (Cheaper = Younger)
Want to cruise with a younger crowd? Stick to the less expensive cruise lines. Budgets are a big driver for many younger cruise passengers. That's why the more affordable lines — namely, Carnival — are more likely to have younger crowds like students and young singles. (Don't think, however, that everyone or even the majority will be young.)
If you're not sure if a cruise line is likely to have a younger crowd, simply go to their website. How do they market themselves? Do they show young people having fun, bright colors, and lots of beach shots? Then they are trying to appeal to younger crowds. The cruise lines catering to older crowds tend to have a more formal and luxurious feel to their marketing materials, attracting more wealthy and older passengers.
Carnival is the best for younger crowds. Royal Caribbean is an "in-between" cruise line that draws some college students. Cruise lines like Cunard, Celebrity, and Princess are for older cruisers. And of course, Disney cruises are for families.
But if there is a single line that's made especially for those under 30, it would be Virgin Voyages. The cruise line is adults-only and markets heavily to the Millennial and Generation Z. While the price is a bit more than some lines, the crowd is much more defined than what you see on other cruises.
Destinations (Warmer = Younger)
Don't sail to Alaska or New England if you want to party with a younger crowd.
In general, the farther south a ship's route takes you, the more of a party atmosphere it will have. Younger passengers don't want to put on parkas and drink hot chocolate to go look at whales and mountains. They want to put on bikinis or swim trunks, drink rum runners and hit the beach.
Alaskan or New England cruises will appeal to an older crowd. That doesn't mean every Caribbean trip will have a ship full of college students, but your chances are much, much higher than if you were sailing north.
One spot that sees younger crowds are trips to the west coast and Mexico. According to Cruise Lines International Association (CLIA) — an industry trade group — the average age of trips to this area have the youngest crowds among any destination for North American cruisers.
Newer and Larger Ships (More to Do)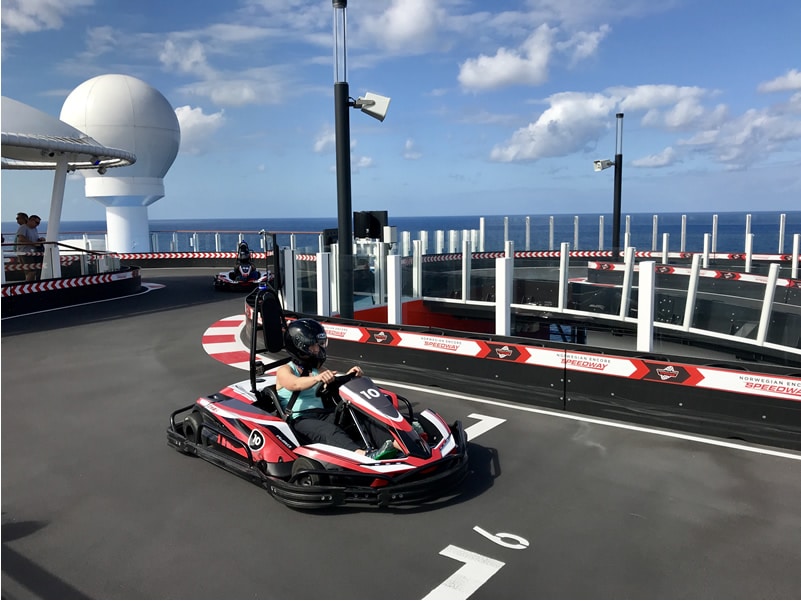 Some people go on cruises just to relax. There is nothing they want more than to sit on a balcony, eat good food, and get some sunshine.
Younger passengers will often want a little more to do on the ship. In that case, it's a good idea to sail on newer and larger ships.
Cruise lines do everything they can to put as much as possible on ships, but size is always a factor. Since newer ships tend to be larger, they can also pack on more to do. As well, new ships have the latest and greatest that a cruise line can offer, such as go-kart tracks on Norwegian Cruise Line and a roller coaster on Carnival.
No cruise will be boring, but having more to do is always nice for younger passengers.
Special Events & Chartered Cruises
You may not realize it, but some companies make a business out of chartering an entire cruise ship, putting on a special event and then selling tickets to sail.
For example, there are poker cruises, clothing optional cruises, and even a New Kids on the Block cruise. Now, not every theme will resonate with everyone. However, if you find a special chartered cruise with a theme you like, then it's likely you're going to be sailing with like-minded cruisers.
In addition, many cruise lines offer sailings with special cruises for one specific trip. Carnival, for instance, has Carnival Live, which features sailings with people like Jim Gaffigan, Tim McGraw and others.
These trips are going to attract different crowds, depending on who the guest is. Look for sailings that have someone that is likely to attract a younger crowd.
The Best Crowds for Young Adults (Bring Friends!)
All this said, the best way to ensure that you are on a cruise with a younger crowd? Bring your own.
Bachelorette parties are popular on shorter cruises. Other times it's just friends getting together to let loose for a few days. No matter, if you're wanting to make sure there are other people on the ship that you'll want to hang out with, then it's the safest best to just bring your own friends.
Looking for an inexpensive cruise to somewhere warm (perfect for college students and young adults), check out our list of Spring Break cruise deals.