Before your cruise can start, you have to get to the port first!
If you're from the Seattle area, that might not be a big deal. But if you are flying into Seattle-Tacoma International Airport, you likely need a little help in navigating from the airport to the cruise port or from an area hotel to the terminal.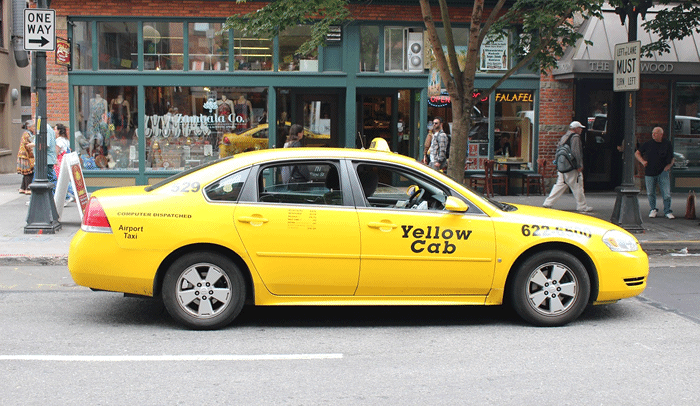 To help you find your way, we've put together this guide of all your options.
If flying in, the airport is about 15 miles south of the cruise ports, which are located in downtown Seattle. The trip is a 20-30 minute ride, depending on traffic. Fortunately, there are plenty of options for reaching the port, even if you don't have a car.
Uber/Lyft (Recommended)
In a tech-hub like Seattle, it's only right that the best way to get to the cruise port is using a rideshare service like Uber or Lyft.
Both Uber and Lyft operate in Seattle, providing a convenient way for people to get from the airport, hotel, — or anywhere else — to the cruise port. The ride-share services will cost an estimated $35-50 from the airport to the cruise terminals.
In addition, since this is a private ride, you can ask your driver to make stops on the way if you forgot anything or want to pick up some snacks before the cruise. As well, if coming from somewhere other than the airport, then it's no problem to catch a ride no matter where you are.
One more thing to keep in mind is that this price is for the car, not per person. So if you are traveling with others, the price per person is pretty low.
For more details on using Uber/Lyft to the Port of Seattle (including price estimates), visit our page on the topic.
Taxis
If you're wanting to take a taxi, it offers one of the easiest ways of getting to the Seattle cruise ports, but we'd still favor using Uber or Lyft over a regular cab. Seattle Yellow Cab is the most visible company in the city and has stands in the Sea-Tac International Airport.
In general, expect to pay $40-60 each way to get to the port for two adults. More than two adults will see a small additional charge, but minors don't count (perfect for a family heading on a cruise).
Seattle Yellow Cab does offer a $40 flat rate from downtown Seattle back to the airport. This zone covers the Pier 66 cruise terminal, however, the Pier 91 terminal is out of the flat-rate zone so it will be slightly higher
Flat-rate taxis are also available, with an ahead-of-time reservation option. These cars are like a cross between traditional cabs and Uber/Lyft. You reserve ahead of time and a car will be sent to meet you. Then you pay a flat-rate for your destination.
Cruise Line Transfers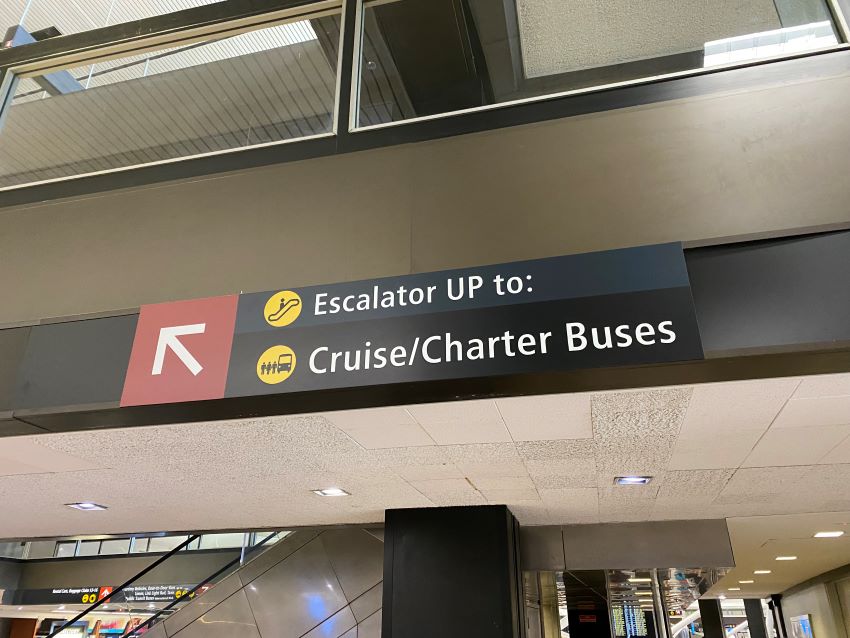 The cruise lines themselves are happy to give you a ride to the port, for a charge. For instance, Carnival offers a round-trip ride for $35 per person, each way. So a couple traveling together would pay around $70 to get to the ship.
While these rides offer some protection and convenience (since they are affiliated with the cruise line, you don't have to worry about missing the ship), they can be quite expensive, especially when traveling with larger groups or families since they are priced per person.
As well, they can be restrictive since they normally operate only for a few hours on the day of the cruise and only go back and forth between the airport and cruise port. If you are arriving a day early or leaving later to give yourself time to explore the city, then the cruise line transfers won't work for you.
For this reason, we suggest using alternative forms of transportation. If you are still interested, here are some recently quoted prices based on cruise lines. Note that you cannot ride on another company's shuttle if you aren't cruising on their ship.
You'll want to call the cruise line directly for the latest price and to book for your cruise, but expect the price to be $30-40 per person, each way.
Hotels With Shuttles (Recommended)
One option you might not think about at first is also one of the easiest. If you plan to stay in Seattle before your cruise, then it's smart to book a hotel that offers transportation to the cruise port.
Many hotels in the area offer shuttle service to the piers as an incentive to book with them. Sometimes it's included as part of a package other times it's an extra fee, but generally very affordable (around $10 per person for hotels close to the ports).
For a list of Seattle hotels with cruise shuttles, see our page here.
Independent Shuttles & Private Car Services
A few shuttle services have popped up in recent years to help you get from the airport to the cruise port. These services offer either private or shared service.
Shuttle Express: Offers dedicated service between the airport and cruise port. Prices per person vary based on the number of people riding. For instance, in our search a private sedan was around $100 total each way for up to three adults, but an SUV (which can carry more passengers) was $130. If traveling with a larger group, this may be one of the more affordable options to get back and forth. If you are staying at a hotel in the area, you can also arrange them to give you a ride there instead.
Premier Airport Shuttle/Capital Aeroporter: Has shared service that costs $36 one-way between the airport and cruise port per person that departs the airport at every half-hour. Private shuttle service is also available, but the cost is considerably higher.
Aces Town Car Service: While not necessarily focused on the cruise niche, Aces offers service from the airport to anywhere in town. Rates run about $100 each way for trips to the ports, for a ride in a private luxury sedan. Larger SUVs are available for more passengers.
Seattle Shuttle: Family-owned and operated shuttle service offering passenger van transportation to the cruise ports or Seattle hotels. If traveling with more people, this might be an option.
Public Transit (Recommended for Pier 66)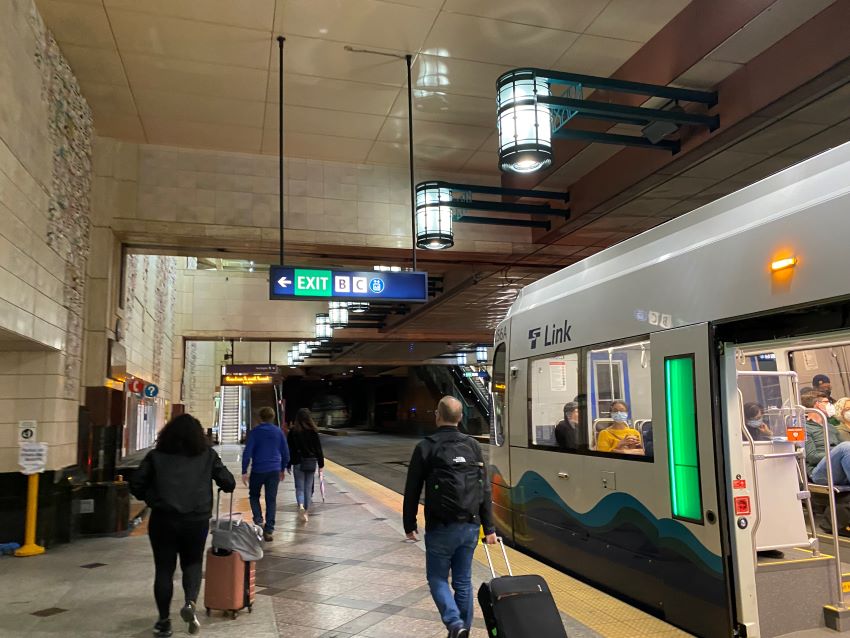 If you're sailing from Pier 66 or simply want to get downtown and save some cash, then the Link Right Rail is a great option.
The light rail runs seven days a week, at all hours except the early morning hours (before 6 a.m.). Trains depart every 6 to 15 minutes, depending on the time of day.
You can catch the light rail at the airport and ride it to the Westlake Station in downtown Seattle. From there, it's a 10-minute walk to the cruise terminal through a touristy part of town. In total, the ride will cost $3 each way and take about an hour.
Headed to Pier 91? It's a little tougher to get there, but still possible. You'll take the Link Light Rail to the Pioneer Square Station, but then transfer to Route 24 or 33, taking it to the Magnolia Bridge & Pier 91 stop. This trip will take you about 75 minutes.
We'd suggest using public transportation from the airport as a great option to Pier 66 for those able to walk a few minutes with luggage. It's inexpensive and relatively straightforward to get there. For passengers heading to Pier 91, we suggest using Uber/Lyft instead as it's more difficult to reach and takes longer.
You can read our complete guide to using public transportation to the Seattle cruise terminal here.
Car Rental
If you want to have a little more freedom to explore, you can always rent a car, giving you the ability to go anywhere you like before or after your cruise. All the major car rental companies are available at the airport, and we've found rates as low as $20 per day.
Of course, if you rent a car you will have to pay to park it at the port once you get there. Seattle port parking runs at least $23-$26 per day.
Frequently Asked Questions
Which way is best to get to the Seattle cruise ports?
If we were flying in and taking a cruise, we'd opt to take a rideshare service like Uber or Lyft to the port if sailing from Pier 91 or riding public transportation is sailing from Pier 66. Uber to Pier 91 is reasonably affordable, quick, and easy to use. Best of all, they offer a direct ride to the terminal without waiting for other people. You can also take them to hotels, landmarks, and other points of interest.
Meanwhile, if sailing from Pier 66, the Link train takes you just a few blocks from the port, and it costs practically nothing to get there.
What's the cheapest way to get to the Port of Seattle?
Trying to save some money? If you don't mind the longer time it might take compared to a car, the Link Light Rail offers the least expensive route to the port. Starting from the airport, the rate is about $3 per person each way. On the downside the trip will take you about 45-60 minutes compared to about 30 minutes via car.
How long does it take to get from the airport to the cruise port?
The length of your ride will depend on the method you use to get there and traffic. Given that many cruises leave on the weekend, traffic should be reasonably light compared to rush hour traffic on a weekday. Most people should expect the ride to take about 30 minutes via car.
More on Cruising From Seattle
Seattle Cruise Parking — Parking at the port? We've got you covered with all your parking options, including costs and discounts.
Dropping Off at the Port — Dropping off passengers? Not sure where to go once you get to the port? We have turn-by-turn directions to find your cruise terminal.
Seattle Cruise Hotels — Getting in late? Leaving early? Simply need a place to rest your head? We've rounded up the options for places to stay near the port.