Until you're actually next to one, it's almost impossible to truly appreciate just how big modern cruise ships are. While just a few decades ago they were relatively modest in size, the average tonnage of a new ship has exploded in recent years.
Compare Royal Caribbean's Oasis-class ships, which are the largest in the world. At nearly 1,200 feet, they are longer than a Ford-class aircraft carrier. At full capacity they can carry nearly 7,000 passengers and another 2,300 crew members.
It's not an exaggeration to say that the biggest ships are floating cities. But have you ever wondered why ships have become so large?
Truth is, there are some major benefits to ships getting larger that benefit both the cruise line and passengers.
Booming Growth in the Size of Ships
Let's start with some idea of how much larger ships have become.
Gone are the days where a cruise ship was designed simply to be the vessel to get you from port to port. Today, the cruise ship is the destination.
For years there's been an arms race when it comes to new ships. The major cruise lines have competed to create ships that not only push their own fleets bigger, but also put them on par with their rivals.
That's continually led larger cruise ships, with a steady increase in average size over time.
Consider that from 1990 until 2000, most new cruise ships built were in the 70,000-80,000 gross ton range. (Gross tonnage is a standard measure of a ship's size.) Since then, the size of ships has soared.
From 2015 until 2020, the average gross tonnage of a new cruise ship from the major cruise lines was 164,000 gross tons — more than twice the size of a ship built during the 1990s.
So why do cruise ships continue to get larger? For cruise companies and passengers, there are a number of benefits to larger cruise ships.
Operating Efficiency
Let's start with operating efficiency. That sounds like a boring thing compared to the fun of a cruise ship, but it's an important reason that ships have gotten so big.
The more efficiently a ship can operate — meaning the less it costs to run per person — the more money the cruise line can make. New — and bigger — ships can cost less to run, especially on a per-person basis.
Royal Caribbean Group on a recent investor call talked about how its "newer, larger ships" can breakeven on cash flow at around 35% capacity while "older, smaller ships" are closer to 50%.
And during the pause in cruising Carnival Corporation — parent of Carnival, Princess, and others — disposed of 19, older and less-efficient ships. In total, the company said these ships were 13% of capacity, but only 3% of operating income.
"Based on the actions taken to date and the scheduled newbuild deliveries through 2022, the company's fleet will be more efficient with a roughly 14% larger average berth size per ship," Carnival said in a financial report.
Being able to sail with more people at once means larger ships offer more to the bottom line.
More Amenities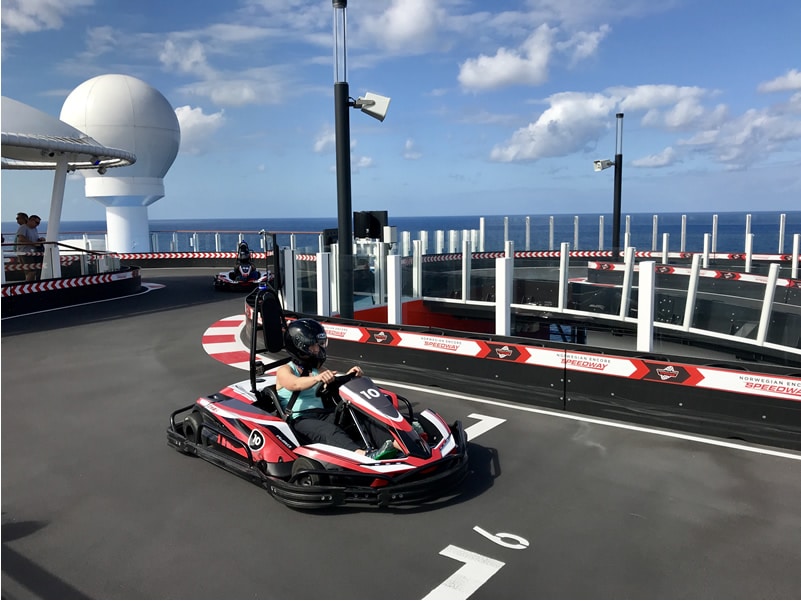 It's not just the cruise lines that get more out of larger ships. There's more for passengers as well. The biggest limitation as to what can go on a cruise ship is size. Bigger ships mean more amenities.
For instance, larger ships have more restaurants. They have more bars, lounges, and event venues. They have more activities and things to do.
You couldn't put a go-kart track on a ship built in 2000, but that's what's available on Norwegian's largest ships. And you couldn't have an actual park in the middle of a ship without taking up valuable real estate on the pool deck. But Oasis-class ships from Royal Caribbean are large enough to have this, as well as massive casinos, pool areas, and more.
It used to be that ships were a place to just get you from port to port. Now the cruise ships are more important than the ports of call for many passengers. And why not? You spend the vast majority of time during your cruise on the ship. Having larger vessels with more things to do is an important part of enjoying the trip.
Broader Appeal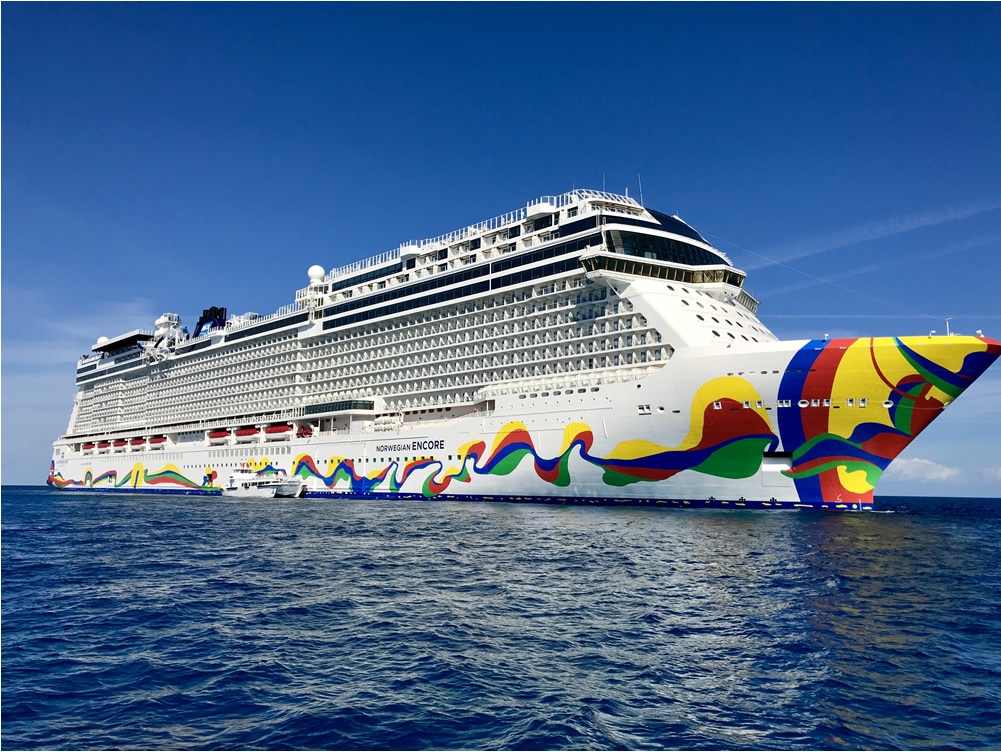 Another reason tied to larger ships with more things to do is broader appeal. In short, the larger the ship, the more things to do. And the more there is to do, the more that mega-ships can appeal to everyone.
If you're a family with children, then you'll love the space dedicated to kid's areas, waterslides, and arcades. What if you're a couple on a honeymoon? Then there are adults-only pools, over-the-top suites, and the spa. For sports fans, large ships can have a sports bar so you don't miss the game. Foodies have plenty of fine dining options. And if you prefer to have more quiet spots, larger ships — despite having more people — also have plenty of spots with thinner crowds.
It doesn't matter if you're eight or eighty, if you can't find something that appeals to you on the largest ships, then that's on you.
Marketing & Headlines
One other benefit of a large ship? Breaking new ground on a cruise ship can mean an enormous amount of free marketing for a cruise line.
The launch of a new, large ship — especially if it pushes the boundaries with what's possible on a cruise — is something that can capture the public's attention and make headlines.
Instead of having to pay for advertising on TV or the Internet, the ships themselves become newsworthy and lead to lots of coverage. That translates into brand awareness, which can in turn lead to more people booking cruises.
While the effect won't last the entire life of the ship, the impact can give a cruise line's marketing a shot in the arm by making waves without having to pay for advertising.
More Revenue for the Cruise Line
Of course, while passengers see cruising as a vacation, it's most definitely a business. And cruise lines wouldn't continue to go bigger with ships if it didn't improve the bottom line.
Pointing to an industry white paper from 2017, Travel Weekly discussed how the biggest new ships are "exponentially more profitable than ships delivered even a decade ago." In addition to economies of scale, the article points to greater potential for onboard revenue from the extra space as generating more money for cruise lines.
In fact, Royal Caribbean Group reported a net yield — a measure of the amount of revenue earned per passenger day — of $187 in 2017. That figure jumped to $209 just two years later. In its 2019 annual report (published before cruising paused), the company said it expected to continue growing its net yield "driven by our new ships, strong demand for our core products and continued growth from our onboard revenue areas."
The Travel Weekly article also noted that at the time of its writing, two-thirds of ships on order were more than 100,000 gross tons.
Will Ships Keep Getting Bigger?
Now, given what's been discussed, you might think that cruise ships will just keep getting bigger. With all the benefits associated with larger ships, why not? However, that doesn't seem to be the case.
Consider that the Oasis of the Seas — the first of the largest Oasis-class vessels built by Royal Caribbean — was built in 2009, more than a decade ago. Oasis has had several sister ships built, including Wonder of the Seas, which barely takes the crown as the world's largest cruise ship in 2022.
However, there hasn't been a significantly larger cruise ship built since. This seems to be the upper limit for how large cruise ships will become, at least for the time being.
As ships get larger, so too do the logistical issues that come with them. Namely, not every port of call can handle the size and scale of the largest vessels.
For example, the Port of Tampa Bay simply can't have the largest cruise ships dock because the height of the Sunshine Skyway Bridge at the entrance to the bay is too low. To sail from New York, Oasis-class ships have to actually lower their smokestacks to get under the Verrazzano-Narrows Bridge.
Galveston — one of the busiest cruise departure ports outside of Florida — will welcome its first Oasis-class ship soon, but has to build a new terminal to accommodate ships of that size.
But while the limit on the size of ships may have maxed out for now, there is still room for more vessels to be built up to current standards. For instance, Carnival just built Mardi Gras, its largest ship at about 180,000 gross tons. The largest ship in the rest of its fleet is under 140,000 gross tons — or about 20% smaller.
It will take time to replace all the older, smaller ships in fleets with larger vessels. But there's no question that the trend definitely is bigger is better.