Even if you're not a fan of cruising, it's likely that you've heard about one certain ship that's set to make its debut soon — Icon of the Seas.
The new ship being built by Royal Caribbean has made plenty of headlines and for good reason. Set to be the largest cruise ship in the world when it sails, Icon of the Seas isn't just big. It also offers a list of new features never before seen, not only with the cruise line, but also anywhere in cruising.
Here's what sets Icon apart from the rest of cruising, and why people can't stop talking about the ship.
It's the (New) World's Largest Cruise Ship
Without a doubt, the top reason the ship is getting so much attention is its massive size. Coming in at 250,800 gross tons, that makes Icon of the Seas the largest cruise ship on the planet. The (now) second-largest ship is Wonder of the Seas, which is about 7% smaller.
Icon will be able to hold 5,610 passengers at double occupancy in its 2,805 cabins. At full capacity, it can hold 7,600 passengers. Add in the crew and that's nearly 10,000 people on board at one time.
Meanwhile, across 20 total decks, 1,200 feet in length, and eight neighborhoods, there's a lot to see and do. This includes waterslides, pools, dozens of places to eat and drink, a legit park, casino and more.
Put simply, no other ship matches the size of Icon. And given Royal Caribbean's reputation for packing on activities and amenities, no other ship will have as much to do.
A Wildly Different Look
It's not just the size of Icon of the Seas that has people talking. Its new look is also something that's unique. Frankly, it looks like no other ship at sea.
Much of that difference is due to the AquaDome and the plumb bow that goes straight down at the front of the ship — two new features not found on other Royal Caribbean vessels.
The AquaDome at the top of the ship sits on top of the bridge almost like a hat. With glass panels that allow in light, the dome takes the location of the Solarium that passengers will know from Oasis-class ships. Inside is a 55-foot waterfall, a stage for aqua shows, and a wraparound lounge with 220-degree views of the ocean.
Even with that excitement inside, we admit that the dome looks a bit bulbous at the front of the ship. Like it or not, it's a feature that definitely makes it clear you're looking at the one and only Icon of the Seas.
Category 6 Waterpark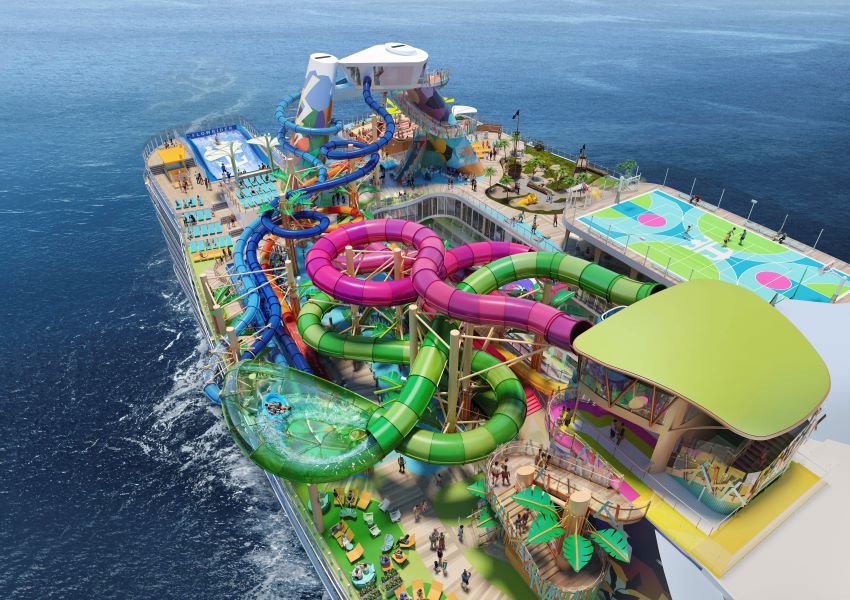 If there is a signature feature that stands out above anything else aboard Icon of the Seas, it has to be the new Category 6 waterpark.
It's usual to have waterslides on a ship. In fact, a new mega-ship without at least a couple would be odd. But it's something altogether to have a full-fledged waterpark. In this case, Royal Caribbean has put six different slides on the ship. This includes everything from raft slides the family can ride to drop slides where the floor pulls out from under you, sending you plummeting.
What's best is that executives have said the waterpark will be included in the cost of the cruise, not an extra cost.
Lots of New Restaurant Options
Food is always a major part of any cruise. And it would make sense that a completely new class of ship would have some new offerings.
Royal Caribbean lists a total of 22 spots to grab a bite to eat. Of course, many of the classic staples on other ships make their way over to Icon. The buffet and dining room are there, as are favorites like El Loco Fresh, Izumi, and Chops Grille. But new spots include Pier 7 for all-day brunch, Surfside Eatery that's designed to be a family friendly dining spot, the AquaDome Market with five different food stands, a milkshake bar (including alcoholic milkshakes), and the eight-course luxury dining spot Empire Supper Club.
Of the restaurants onboard, roughly half are included and the other half have an extra charge.
A New Neighborhood Dedicated to Families With Smaller Kids
Most mass-market cruise lines offer an experience that's family friendly. But when you really think about it, most of the focus is on activities and amenities are made for kids that are a little older. Teenagers will have a blast. Five-year-olds? There's not as much for them.
With Icon of the Seas, Royal Caribbean introduces the new Surfside neighborhood. Located in the split between the two towering decks and closer to the water, this spot is specifically designed for families with smaller kids.
The area has everything from splash pads and pools made for families to family-friendly restaurants and even a carousel. There is even the "Big Shark Block Party" that's a dance party for families with young kids and "Once Upon a Bedtime Story" in the evening to help kids wind down after a long day and get ready for bed.
Of course, there will still be Adventure Ocean for when parents want to drop off the kids to have some adult time.
The $75,000-a-Week Ultimate Family Townhouse (Wow!)
Truth be told, about 99.9% of people that sail on Icon of the Seas will never set foot in one place that's making people talk. With a bigger and better ship comes bigger and better cabin options, and this is one that lives up to its name — The Ultimate Family Townhouse.
This "cabin" spans three decks at the back of the ship. In features not just plenty of elbow room, but a spot to watch movies (complete with popcorn machine), a private entrance to the Surfside area, huge balcony, and even a slide that goes from one level to another for the kids (or adults) who don't want to take the stairs. For a family traveling together, it doesn't get any better.
But in our searches, the price tag ran a cool $75,000 for most weeklong cruises, putting it out of reach for most passengers. Even so, the townhouse is selling well, with the majority of dates booked for 2024.
A Hefty Price Tag to Sail
Cruising is known as being an affordable vacation. Where else can you get room, food, entertainment, and transportation to exotic ports all included in your vacation for an entire week for as little as a few hundred dollars per person in some cases?
While Icon has a lot to offer, a "cheap cruise" doesn't seem to be one of the perks. For instance, price checks we performed in April showed an average fare of $1,884 per person for an interior cabin in 2024. That was more than 80% above the average fare of the same room on Wonder of the Seas, the cruise line's current newest ship.
Despite those prices, there is strong demand. Royal Caribbean had its largest single booking day ever in October 2022 when the ship opened for booking. And then on Black Friday that year, it broke the record again thanks to Icon.
More on Icon of the Seas: