When it comes to planning a family vacation with kids, we think it's hard to beat a cruise.
As parents ourselves, we've taken vacations across the country with a toddler in tow, and nowhere was it as easy and fun as on a ship.
Consider a traditional vacation where the entire family loads up in a car to take a road trip. Or maybe everyone catches a flight to a land-based resort. Not only do you have to deal with the "are you there yet" questions or the "I'm bored" complaints, but if you want the kids to have fun, then the parents usually have to make some sacrifices.
That's not the case when you take a cruise.
Today, cruise ships focus on what they call "multi-generational" travelers. That's just a fancy way of saying they look at how everyone — from kids to adults to seniors — will have a good time on their ships. And with that, the offer a lot to like if you're a parent with kids in tow.
Why Cruises Are Great for Family Travel
So what are the specifics that make a cruise such a great option for kids and families that want to take a cruise? Here are just a few things that are appealing to many…
Everyone Is Together – Of course, the biggest reason to vacation with your family is to spend some quality time together. On a cruise ship, you are all sharing a cabin, have a space where everything you need is within walking distance, and there are tons of entertainment options that appeal to all ages.
Instead of a vacation where everyone is going different directions, you get the chance to reconnect those close bonds with each other.
Everyone Has Something Fun to Do – Take a trip to most resorts and you'll find a separation between what adults want to do and what kids want to do.
Take Disney World — sure the kids love it, but do the parents have fun too? Or think of a resort on land. Maybe Mom and Dad love having restaurants or golf, but how much is there for the kids to do?
On a cruise, there are tons of activities for all ages, and even if they aren't appealing to one person or another, they are still close to each other. So Mom can lay out reading a book while the kids go down waterslides. Or the entire family can take in a show on the ship.
You Can Still Get Time Apart – As a parent, we'll be the first to admit that we love our kids… but having that time apart is also important. All of today's large cruise lines have supervised areas for the kids where parents can drop them off. So Mom and Dad can have a nice dinner while the kids also have fun.
These areas segment out by age, so for instance smaller kids are together playing games while teens might have a dance party.
It's Affordable – One of the biggest reasons that cruises are so great for families is that they can be surprisingly affordable. Anyone with a couple of kids knows how pricey it can be to take that family vacation. Between food, hotels, airfare, tickets, and more, it adds up quickly.
Cruises can be pricey too, but much of what you need is already included in the fare. As well, there are often great deals — including some lines offering free fares for kids — that can drastically cut the price of the trip.
That said, not every cruise line or cruise ship is ideal if you are traveling as a family with children. To help you sort out your options, below we've listed our opinion on the best cruise lines for families.
Any of these lines would be a good option, but we think some are a little better than others…
Our Favorite Cruise Lines for Kids & Families
#1 Royal Caribbean
When it comes to the best cruise line for families, we think Royal Caribbean earns the top mark.
What's so special about Royal Caribbean? First, it starts with their ships.
In our opinion, Royal Caribbean places the most focus on creating bigger and better ships that offer more to do onboard than you'll find with the competition. They continue to innovate and push the boundaries of what you think is possible on a cruise ship.
For example, the Flowrider offers a standing wave so that kids (or adults) can try their hand at surfing on the ship. Other features include ice-skating rinks, the Sky Pad (a bungee trampoline), waterslides, the tallest slide at sea, and more.
They also offer Splashaway Bay, a splash pad-centric waterpark, on many of its ships. This spot is a step above simply having a pool for the kids to swim. These nice thing here is that there is also a separate section where kids in diapers can play in the water as well.
In fact, we've now seen the other cruise lines start to compete with Royal Caribbean by offering more and different things to do — including water features for smaller kids — but this cruise line is still the leader across the fleet.
Meanwhile, Royal Caribbean continues to come out with bigger and better ships that have lots to appeal to adults as well. (Five of the ten largest cruise ships in the world are Royal Caribbean vessels.) The cruise line features plenty of fine dining options for a date night, dancing, adult comedians, shows, and a ton of bar options.
We also have to mention CocoCay, Royal Caribbean's private island. The cruise line recently put $250 million into renovating the entire place, complete with the largest pool in the Caribbean and the tallest waterslide in North America. It's a spot where the entire family can have a great time.
But what we think is most appealing is that the price of Royal Caribbean isn't outrageous, despite offering so much. Rates can run about $1,000 per person for a 7-day cruise aboard its newest and greatest ships during the peak summer months.
Want to sail cheaper? Look for cruises that are during the school year and/or on older ships.
#2 Disney Cruises
It might surprise you that we consider Disney — long known for being family friendly — as our runner-up in the best cruise lines for kids and families.
To be fair, if we were focused only on smaller kids (under 12 years old), then the cruise line might take top honors. It seems to focus more on younger children. But we want to consider the entire family — from small kids to teens to adults. In that case, we think Disney is still great for a family cruise, but comes up just shy of Royal Caribbean.
Above all, Disney is known for a high-level of service on its ships. Parents rave about the care and attention to detail that's shown by staff members.
Of course, the big draw for the kids are experiences with their favorite Disney characters. And as the Disney umbrella has grown, so have the onboard experiences to include themes from Marvel superheroes and Star Wars.
Adults will enjoy that their kids are in good hands with the cruise line's staff and there is also Quiet Cove Pool, which is an adults-only pool area to get some quiet time away from the little ones.
While Disney has a lot to offer, it also has a price tag to match. It's common to find rates for Disney that are twice as much as what you'll find on lines like Royal Caribbean. We think the high cost is a negative for many families.
Even so, we've heard from many that say the extra cost is worth it.
#3 Carnival Cruises
If you're looking at a cruise, then no doubt you've thought about sailing Carnival.
And when it comes to offer a vacation for the entire family, the mega cruise line has two big advantages over its rivals.
First, it is considered the least expensive of the major cruise lines. That means you can often take similar trips to the other cruise lines on our list without spending as much. If you are a family that's on a budget, that could be just the thing you're looking for.
The second advantage Carnival has over its rivals is that it has a larger fleet, so it can sail more ships from more ports. Not only does this help with pricing, but it also means that the cruise line might sail from a port that's closer to you. If the port is within driving distance, that can save you a considerable amount versus flying to the port.
Apart from helping you get the most from your budget, Carnival also wins points for having a casual atmosphere and a focus on all ages. Take food, for example.
Have a picky eater? There is a 24-hour pizza restaurant on Carnival ships, and Guy's Burger Joint serves up juicy burgers that are universally loved. There's no need to have to sit through a fancy formal dinner with the kids if you don't want to.
Carnival also gets high marks for its Camp Ocean kids clubs that allow you to drop off your children while Mom and Dad enjoy some quiet time. You can drop kids off as young as two years old. There is also Circle C and Club O2 for teens.
Where the cruise line could improve are the activities and things to do on board. There are lots of games (mini-golf/ping-pong/sports courts) around the ship, but the excitement isn't quite on the same level as what you'll find on rivals like Royal Caribbean and Norwegian. Smaller kids will like the Dr. Seuss-themed activities on the ships.
In total, Carnival is a great, affordable option for families. It may not have the more "out there" activities just yet, but with the addition of the new Mardi Gras coming soon (with the first roller coaster at sea), that looks to be changing in the future.
#4 MSC Cruises
MSC may not be a household name, but it is growing quickly. The cruise line is the fourth-largest in the world but it is quickly making waves against rivals. For instance, it now owns three of the 10 largest cruise ships in the world and has eight more mega-ships on order.
If you're traveling as a family with kids, one appealing aspect is the MSC offers some of the cheapest rates of any cruise line we've seen. While prices for a week cruise on Royal Caribbean during the peak summer season aboard its biggest ships might be $800-1000 on a per person basis, MSC offers fares in the $500-$750 range for many of its trips during the summer.
There is a definite difference between older and newer ships, with those like MSC Seaside — a ground-breaking new ship that launched a couple of years ago — offering the most for families.
Kids will enjoy the four pools, zipline on the ship, the waterpark (including waterslides that go out over the edge of the ship and a spot for younger kids). There is also a bowling alley and an F1 racing simulator.
However, don't think the ships are kid-focused only. There is still plenty to offer for adults, including the spa, sportsbar, a waterfront boardwalk, and lots of modern/sleek design features to connect you to the ocean and help you relax.
There is also the MSC Yacht Club — an exclusive area and higher-end cabins for those wanting a bit more luxury. MSC Meraviglia even has Cirque du Soleil shows.
Where MSC lacks is that the smaller line has few newer ships (which we recommend more for families), and they sail from a limited number of U.S. ports. While you can catch a Carnival cruise in places like Galveston and New Orleans, MSC currently only sails from Miami, New York, and Tampa.
That said, with the number of new ships coming for MSC in the years ahead, we expect the fleet to offer more options for families in both things to do on the ship and departure ports.
#5 Norwegian Cruise Line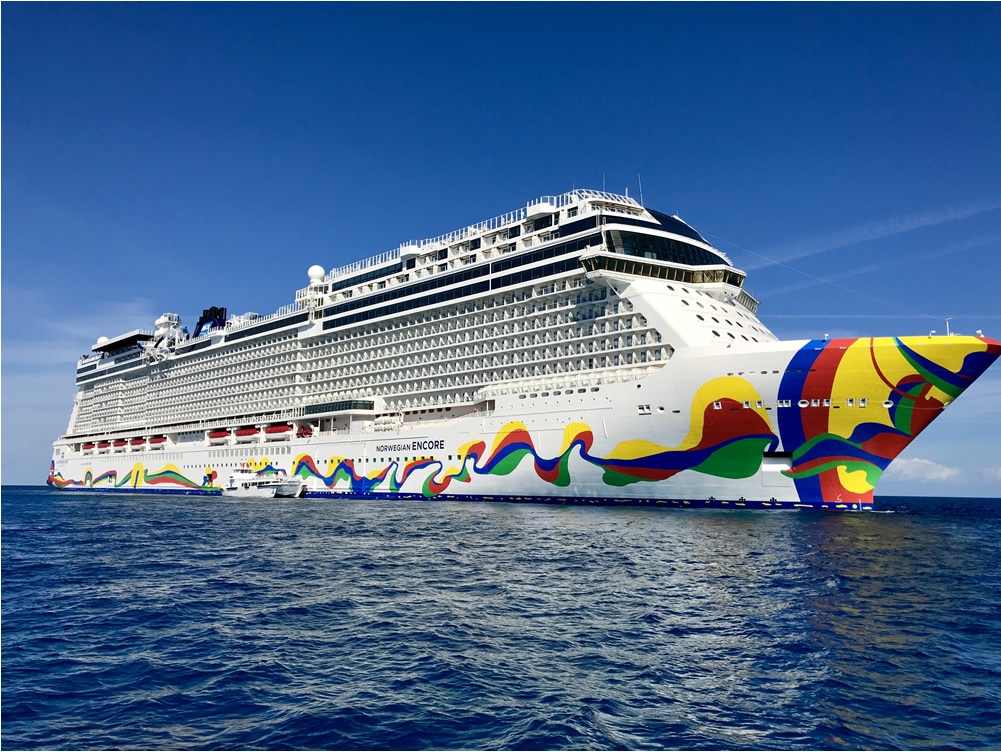 Norwegian is part of what we call the "Big Three" cruise lines, along with rivals Carnival and Royal Caribbean. These lines offer somewhat similar experiences that focus on the entire family, but each does things slightly differently.
In Norwegian's case, the cruise line seems to be moving toward a more "high-end" experience with gorgeous new ships and touches of luxury like the exclusive "Haven" area of the ship. (The Haven is a private "resort within a resort" that features its own pool, restaurant, and more.)
At the same time, however, Norwegian is also moving to offer more for families and kids to do. For instance, it's Breakaway-Plus class ships feature a go-kart track that races around the back of the ship. There is also the Ocean Loops waterslide that juts out over the water and the Galaxy Pavilion — a virtual reality complex with racing, shooting, and adventure games.
In our opinion, there is a big difference between older ships and newer ones, and that's why we recommend the largest and newest ships for families. This includes ships like the Norwegian Encore, Norwegian Joy, Norwegian Escape, and Norwegian Bliss.
That said, while these newer ships have things to do, kids clubs, and more, we've felt that the design and decor skews more toward adult tastes. For instance, there are few casual restaurants that we think parents would want to bring kids to enjoy a meal. Instead, higher-end dining seems to be more in favor.
There also aren't many spots on the newer ships where kids can run around freely, such as a basketball court, climbing wall, or other spaces. There is laser tag and the racetrack, but both cost money to enjoy.
Norwegian is a great cruise line, but when it comes to cruising with kids, we think there are better options available. Even so, your kids will still have fun.
Things to Consider When Picking a Cruise Line & Ship for a Family Cruise
Keeping a few things in mind when searching for the right cruise ship and line can go a long way to finding the perfect trip for your family.
Ship Age – Over the past decade or so, there's been an arms race among the cruise lines to offer bigger and better ships with more things to do. The result is that newer ships have drastically more entertainment options than older ships.
While ships may make a number of port stops, the vast majority of your time is going to be spent on board. That's why we'd suggest the newest ship you can sail on your budget. They are almost always bigger, nicer, and have more for everyone.
What Appeals to Adults – Cruise ships are front and center with their newest features like go-kart tracks, waterslides, and roller coasters. These are great for kids (and kids at heart), but you should also look at what appeals to you as an adult.
Are there restaurants you can't wait to eat? What about shows that are performed on board? Remember, this is a family vacation — not just a kid vacation. Be sure there is plenty for you to enjoy as well.
Pricing – Part of the reality of being a family is that you need to budget. That's where there can be a big difference between cruise lines.
As a rule of thumb, you should anticipate spending about 1/3rd of your cruise fare on items on the ship (ranging from drinks to excursions to souvenirs to gambling, and more). So if you spend $3,000 on the cruise itself, then expect to spend about $1,000 more once onboard.
For the most part the cruise lines offer fares that are close to each other (depending on your specific sailing). The one major outlier we've found is Disney. Just like their resorts on land, Disney charges a premium for a premium product. If budget is a concern, then you likely want to stick to the other large cruise lines.
Things for the Smallest Kids — While cruises have a lot to offer kids, be sure you check into what they have for kids that are under three if you are traveling with a child this young. Because these kids aren't potty-trained, some ships don't have anywhere they can get in the water, while others have play areas designed specifically for kids in swim diapers.
As well, most kids clubs allow you to drop off kids three years or older, but some start at two years. Still other cruise lines have babysitting for the smallest kids, although it's usually a fee.