Note: We were invited to sail upon the Norwegian Encore free of charge on its inaugural sailing. The opinions below are our own.
A full-blown spa retreat complete with saunas, heated lounge chairs, and even a "snow room" designed to improve circulation.
A complete entertainment complex with racing, laser tag, and thrilling waterslides.
A lineup of top restaurants, featuring everything from BBQ and tacos to high-end Italian and seafood dining.
Any one of these on their own would be a reason to book a destination for your next vacation. But Norwegian Encore — the newest ship from Norwegian Cruise Lines — puts all of this (and a whole lot more) into a single ship.
In doing so, they've also put up a high bar in the continual race for bigger and better among cruise ships.
Norwegian Encore Overview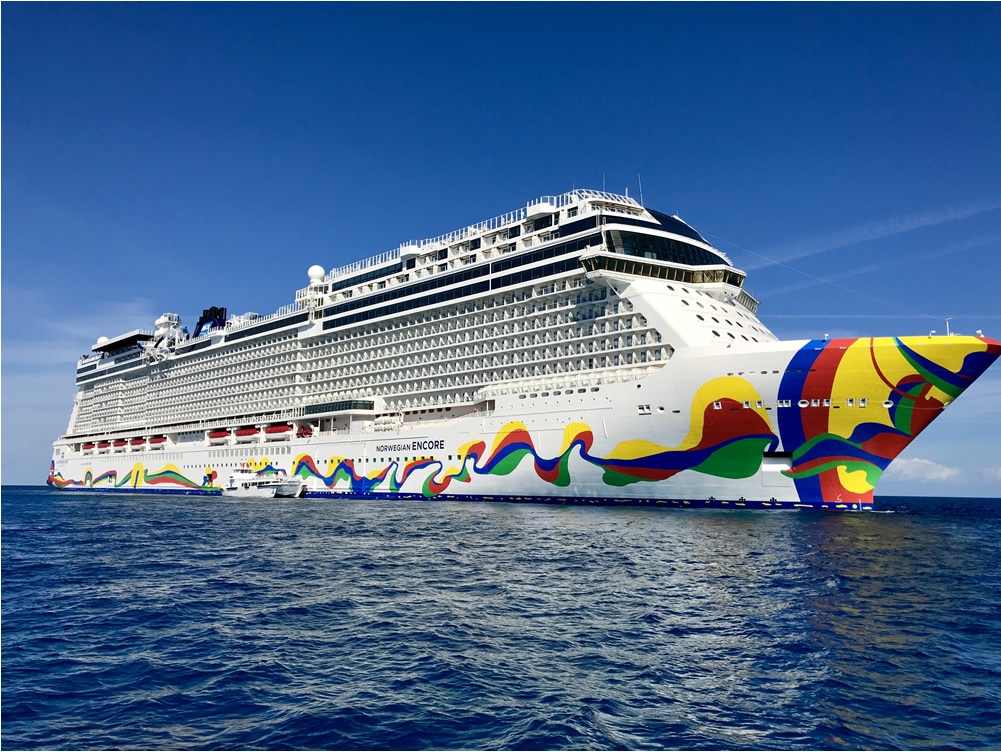 Norwegian Encore is the last of Norwegian's Breakaway-Plus class of ships. Others in her class include Bliss, Joy, and Escape. (We've written about our experience on the Norwegian Joy here.)
If you've sailed these other ships, then the Encore will feel familiar. They offer similar layouts and offer many of the same amenities. That said, the details of each ship are different and sailing on one isn't the exact same as sailing on another.
All told, the Encore comes in at 1,094 feet long and can carry just under 4,000 passengers at double occupancy. With a 167,800 gross tonnage, it is currently the 10th-largest cruise ship in the world.
In fact, the first thing we think you'll notice is the ship's size. Over the course of the years we've seen cruise ships of all sizes — including a number that are larger than the Encore. Even so, the ship is dominating from the dock. Rising to 20 decks, it literally is a skyscraper floating on the water. It dwarfs all but the largest cruise ships when docked alongside.
What's the Atmosphere & Decor Like on the Norwegian Encore?
It's clear that Norwegian is steering toward a higher-end class of ships and that trend continues aboard the Encore. The decor is sleek and modern, akin to a modern Las Vegas hotel.
That atmosphere is anchored by the center atrium. These three decks feature the bulk of the ship's indoor activities, including the casino, restaurants, bars, shops, and the theater.
At the center is a three-deck opening that joins all of the floors together, with a massive centerpiece chandelier. The chandelier hangs down, making a huge statement that this ship has a focus on being more luxurious than some other rival lines such as Carnival or Royal Caribbean.
Throughout the ship are modern colors, design, and touches, from carpeting to lighting to handrails. We especially loved the video walls in the casino area that showed active street scenes of Las Vegas where you could watch the Bellagio fountains spray or scenes of New York where you could watch the city at night.
If you're the sort of person that loves modern design, or think that cruise ships only have tacky, dated decor, then the atmosphere on the Encore will delight you. The ship definitely has a higher-end atmosphere and feel than its rivals and even compared to some other ships in its fleet.
What Is There to Do on the Encore?
We all know that the number of things to do grow each year on cruise ships, and the Encore does its part to keep the trend going.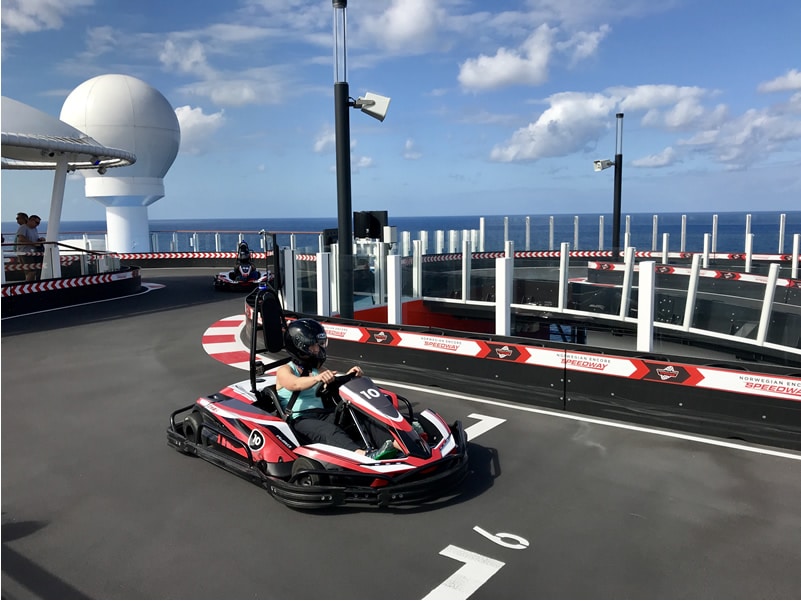 Encore Speedway (Highly Recommended) – Perhaps the most famous aspect of Norwegian's Breakaway-Plus class is the go-kart track that sits on the top of the back deck. It makes another appearance on the Encore and in our opinion was the most fun thing we did during our cruise. We think it's a must-do. The cars may not look like they are going fast, but when you are sitting in them and whipping around corners, they feel extremely quick.
Aqua Racer/Ocean Loops (Highly Recommended) – The Encore has two waterslides. First is the Aqua Racer, a fairly mellow ride that takes you in a tube, twisting and turning around. This ride is perfect for anyone who wants to get wet on a slide without getting too scared.
For those wanting something more extreme, there is Ocean Loops. This extreme slide features a trap door that falls away, sending you sliding down and out over the side of the ship before looping back. The ride is only a few seconds long but is a major adrenaline rush.
Pool Deck — Of course the top of the ship is dominated by the multi-level pool deck. There are two large pools, a kid's splash area, whirlpools, and large video screen. On sea days this spot gets busy, so be sure to grab your chair early. Lifeguards are also on duty, which is a nice feature for those enjoying the pool with kids.
Galaxy Pavilion — Every ship has an arcade, but NCL is the only cruise line that features the Galaxy Pavilion. Focused on virtual reality, you pay for a pass to enjoy all the games you can play. Strap on the headset and you can ride across the terrain in a virtual Jeep with dinosaurs chasing you, race a Ferrari F1 car, or even walk a plank across the top of city buildings to rescue a kitten. New the Encore is an escape room within the Galaxy Pavilion where you try to solve a seagoing mystery to get yourself out.
One thing we must point out is that there were technical problems with some of the games during our visit. Hopefully the kinks will get worked out.
Laser Tag – At the very back of the ship is the open-air laser tag complex, making another appearance on the Encore. This laser tag course is themed as Atlantis, complete with a serpent rising out of the deck. We suggest going at night when the colors of lasers in the game are easier to see. The middle of the day it can be tough to see exactly where you're shooting.
Vibe Beach Club — Pool deck too crowded? Head to Guest Services and see about getting a pass to the Vibe Beach Club. The exclusive area features its own whirlpools and loungers away from the crowds, along with its own bar. There is also a sun deck high above the rest of the ship where you have 360-degree views in loungers.
Observation Lounge – A lounge that wraps around the front of the ship with soaring wraparound views, the Observation Lounge provides stunning views without dealing with the heat, cold, wind, or rain. It stays relatively quiet, making it a great place to sit and have a drink.
What Entertainment/Shows Are On the Encore?
Norwegian has made a mark pushing the envelope on entertainment, bringing Broadway shows to sea.
Kinky Boots (Highly Recommended) – The signature show of the Encore comes from a hugely successful Broadway run to the ship. Kinky Boots is the story of a shoe factory that starts selling wild boots to save the business. Don't think this is some two-bit recreation of the Broadway version. It's the real thing that people pay hundreds of dollars on land to watch.
Choir of Man (Highly Recommended) – An ode to the male camaraderie of life at the pub, the fast-paced show features loads of popular songs, all done by a group of 13 extremely talented performers. It's highly interactive, including inviting the audience up for a beer before the show. This show was a definite highlight of our trip.
Cavern Club – NCL's re-creation of the famous Cavern Club in Liverpool where the Beatles got their start, Cavern Club features a cover band of the most famous group on the planet. Different nights feature different time periods, from the early days to their older works.
Where Can I Eat or Drink on the Ship?
We'll be honest there are so many places to eat and drink on the ship that you can spend an entire week cruise and still not try them all. Below we highlight some of the most interesting and/or unique spots we visited.
Starbucks – There are thousands of Starbucks around the world, but having one on a cruise ship is still pretty special. This isn't some small version of a real store. It's a legit location, complete with holiday-themed cups during our cruise. It's located on Deck 6, near the main lobby of the ship. Head there early as the lines can get pretty long.
Los Lobos – If you love Mexican food, you know that there's been a dearth of options aboard ships. Encore breaks that trend, with Los Lobos. The atmosphere is a little strange for Mexican food as it's dark and more upscale than you'd think, but the food is fantastic. We especially like the tableside guacamole made fresh.
Q Texas Smokehouse – We're Texan, so BBQ has been a go-to all of our life. It also means we have pretty high standards. Having dinner at Q, we weren't expecting much (it is BBQ on a cruise ship, after all) and were pleasantly surprised.
With a sampler of brisket, jalapeno sausage, chicken, and turkey, all were good to great, with the top marks going to the brisket. It would fit in at any of our favorite spots back home.
Sugarcane Mojito Bar (Highly Recommended) – On Deck 8, we suggest at least one stop at the Sugarcane Mojito Bar. They have a number of interesting takes on tropical cocktails, including a jalapeno cucumber mojito that was great. They also have "Pineapple Surplus" — a bottled concoction of pineapple juice and tequila that knocked our socks off. Careful, it can be strong.
Onda by Scarpetta – If you are not a foodie, then you might not realize how big of a deal having a restaurant from Scarpetta is on a cruise ship. They have locations in New York City, Miami, Las Vegas, London, and The Hamptons… and now the Norwegian Encore. The high-end Italian cuisine served at Onda is a must for anyone into fine dining.
Food Republic (Highly Recommended) – If you want something more casual, then Food Republic is the answer. It's high-top seating, with a specialized electronic menu that you order from. The dishes are all relatively small and you order several. The fare is an eclectic spin on Asian food, all served in a fun and relaxed atmosphere.
The District Brew House – Beer lover? Skip all the other bars on the ship and head to the District Brew House. With dozens of beers on tap and dozens more bottled (including a number of local beers to the homeport), you have lots of options to have a drink in a relaxed and casual spot.
Other Restaurants
Garden Cafe (Buffet; free)
The Local (24-hour sit-down eatery; free)
Taste (Main dining room; free)
Savor (Main dining room; free)
The Manhattan Room (Main dining room; free)
Tepppayaki (Hibachi; extra charge)
Ocean Blue (Seafood; extra charge)
The Bake Shop (extra charge)
Dolce Gelato (extra charge)
Cagney's Steakhouse (extra charge)
Le Bistro (French; extra charge)
American Diner (American bar food; extra charge)
Other Bars
Atrium Bar
Mixx Bar
Skyline Bar
The Cellars Wine Bar
Maltings Whiskey Bar
A-List Bar
Observation Lounge
Waves Pool Bar
Surf Pool Bar
Vibe Beach Club Bar
Other Interesting Spots on the Encore
We've covered a lot, but there is still more to know about what all the ship has to offer.
Mandara Spa (Highly Recommended) – To say that the Norwegian Encore puts an emphasis on the spa is an understatement. We were given a tour of the spa, and it's almost unbelievable. From a row of heated relaxation chairs that look out over the water to a salt room, multiple saunas, and even a snow room (an ice-cold chill room with real snow on the floor), it's all here. We were amazed walking through it.
There are also a number of treatments and services including hair cutting, nails, massage, and much, much more.
Kids Clubs/Arcade – Like most cruise ships, Encore features areas where you can drop off the kids to play supervised while you enjoy the ship. There are different spots depending on the age of the kids. There is also an arcade that's a fun time.
The Humidor Cigar Lounge – Want to relax with a cigar? The Humidor offers cigars for sale and a place where you can smoke them without bothering other passengers.
Tips for Sailing on the Norwegian Encore
We have more than 20 tips and things to know about sailing on the Encore here that you don't want to miss. Based on our sailing, here are a few things that can help you have a better cruise…
The Fish Face Forward
As a tool to help you get around the ship, the carpets in the cabin hallways all have little fish on them. Most people don't notice, but these fish all face forward. That way you know which direction you are going as you walk.
Get Reservations Early
Encore has a lot to do on board that, but need to reserve your spot ahead of time. This includes specialty restaurants, the go-kart track, laser tag, and more. If you plan to do any of this, get your reservation in early (you can do so online before you sail). We found that things filled up quickly.
The Arcade Gives a Taste of Virtual Reality
Galaxy Pavilion still has kinks to work out, but it is fun to experience. If you don't want to pay the price to visit, there are some options in the video arcade located on Deck 4. There are a few VR rides here that you can pay for a la carte instead of buying a full pass to the Galaxy Pavilion.
You're Going to Spend More on the Ship
Unfortunately, the days of buying your cruise fare and having everything included are over. Norwegian is especially heavy on the extra charges for things like many restaurants and activities on board. In fact, our research shows that NCL passengers spend more once on board than people sailing on its rivals. Our advice is just mentally prepare yourself to spend more to have the entire experience.
The Observation Lounge Is Great to Relax
Looking for a quiet spot? The Observation Lounge seems like it was built a little too big for its purpose. The result is a beautifully appointed space with lots of elbow room, away from the crowds of the ship. They also serve some breakfast items, there is a bar, and plenty of seating. If you want somewhere just to chill, it's hard to beat.
Overall Thoughts on Sailing Norwegian Encore
Let's get it out of the way — the Norwegian Encore is a beautiful ship that's built to give you an amazing cruise. To us, it met that goal admirably. The entire ship feels like a modern luxury resort, that just happens to be on the water.
We especially loved the design and decor of the ship, which to us felt much nicer than other ships we've been on.
Whether you want to be entertained with a show, relax at the spa, hang out poolside, eat top-notch food, or even drive circles around your racing competition, there's something for you on the ship.
That said, we do think that the ship is ideal for couples or for families with older kids (8+ years). There are options for those with younger children, however, kids will need to be a little older to experience everything the ship has to offer.
There could also be improvements in features like the Galaxy Pavilion, and you should be ready to spend some money once on the ship to enjoy everything. Overall, however, these were smaller quibbles.
Bottom line: If you're looking for a more upscale cruise aboard a beautiful new ship, we think it's hard to beat sailing on Norwegian Encore.
You can see more about the ship's sailings at NCL.com.
Read more tips and things to know about the Encore here.