Traveling on a cruise from the East Coast? If so, then chances are high your trip will include a stop in Nassau in The Bahamas.
Located just about 180 miles to the east of Miami, Nassau still feels a world away. That's because for centuries it was under the rule of the British (it's now an independent Commonwealth), creating a culture and atmosphere that's distinct from the United States, despite the proximity.
These days millions of cruise passengers call on the port each year and it's among the busiest stops in the Caribbean/Bahamas area. Of course, with so many tourists coming each year, Nassau has rolled out the red carpet to give all those cruise passengers something fun to do. No matter what sort of activity appeals to you — from adventures to history to food to gambling — the area has something that you'll love to do.
To give you an idea of what's available for cruise passengers to do on Nassau, we've rounded up dozens of ideas. Keep in mind that these are just a start. If you're looking for more ideas you can check out what excursions are offered through your cruise line.
General Info About Cruising to Nassau
Before we get to the things to do in Nassau in a cruise, it's helpful to get a feel for what to expect.
The cruise port sits on the northern edge of Nassau and can see upwards of five ships in the port at once. So expect the dock to be busy. As well, a new port facility is being built to welcome passengers, so there may be construction underway during your visit.
From the cruise dock you can walk into town and there are a number of things to see an do within walking distance (including the famous Nassau Straw Market and the ferry to Paradise Island).
English is spoken in The Bahamas and U.S. dollars are widely accepted. The map below should give you an idea of the port area and what's nearby:
Try Your Luck at the Atlantis Casino
Dock in Nassau and one of the first things you'll see is the large pink hotel across the water. That's the Atlantis resort — one of the most famous hotels on the planet, complete with a public casino.
Sure there is a casino on the ship, but it's nothing compared to a land-based one. If you want to get your gambling fix, head over to Atlantis. In the complex you'll find a large casino floor with all the games you'd expect — slots, table games, and even a sportsbook. There are also freeplay offers for new players so you can play without spending a fortune.
Take a Walk Down Queen's Staircase
This might be the most photographed spot in Nassau. A set of 66 steps carved by slaves out of solid limestone, it took a staggering 16 years for more than 600 slaves to complete back in the 1700s. Today the staircase is named in honor of Queen Victoria, who abolished slavery during her reign. Take a visit for a classic photo op. It's only about a 10-minute walk from the cruise ship.
Spend the Day in Paradise at Blue Lagoon Island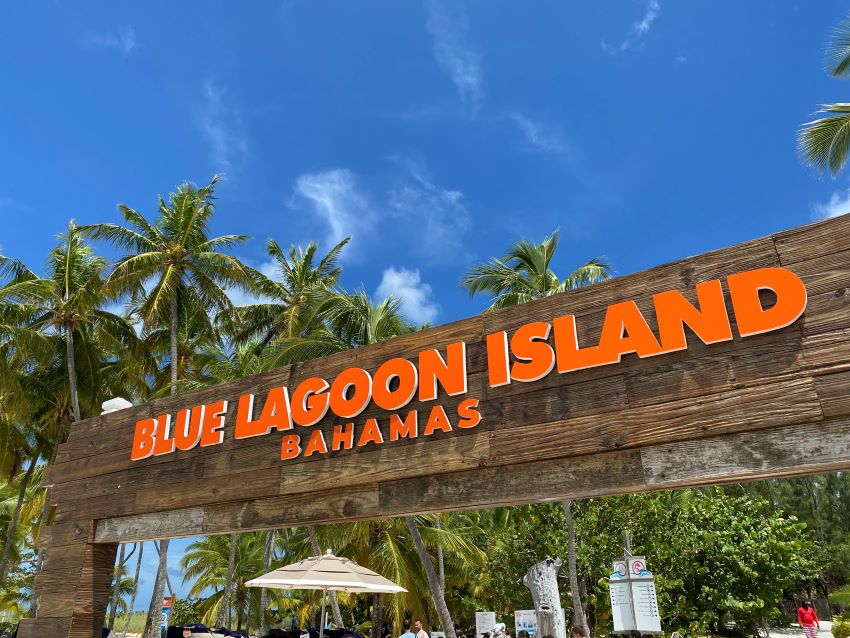 If you're wanting a day at the beach, then Blue Lagoon Island may be just the thing. Just a few miles from the cruise dock, you'll take a scenic ferry ride over. The protected lagoon features pristine beaches with swimming in electric blue water, water sports, swimming with dolphins, sea lion encounters and more. In fact, it feels a world away from Nassau despite being only a short boat ride away. You can book your spot through the cruise line. See our review of the day at Blue Lagoon here.
Go Yacht Spotting
Nassau is a playground for yachters. If you like looking at the boats, head to the Atlantis Marina on Paradise Island. There, located behind the hotel is Paradise Lake, which serves as the marina. You can see some expensive yachts here, and dream about what it's like to own a cruise ship of your own.
Head to Aquaventure Waterpark
If you're traveling with the family, then the kids will want to head to the Aquaventure water park at Atlantis. With waterslides, a river ride and nearly a dozen pools, it's a day's worth of activities and a fun way to spend your time in port. Kids will especially love the water slide that zooms underwater and through the shark pit. There's no other slide like it in the world. Not that space is limited an you'll have to buy a day pass in advance from the Atlantis website.
Head Out on a Powerboat for Adrenaline and Views
Feel the need for a little adventure? Then Powerboat Adventures can give you a thrill with a ride on one of their boats. The speed boats take you on an hour-long trip to remote cays about 40 miles from Nassau. You'll see the famous swimming pigs, have the chance to feed stingrays, and also eat a delicious fresh lunch. It's a bit pricey (more than $250 per person) but it's a lifetime memory. And if you book online you can save 10%.
Have a Drink at the Famous Tiki Bikini Hut
When you think of beach bar, you are likely envisioning something like the Tiki Bikini Hut. The open air bar sits right on the beach just a short walk down from the cruise ship pier. It's got a party vibe with folks playing limbo and hanging out on the beach or playing in the water. Meanwhile the drinks flow freely. If you're looking for a simple way to just hang out for a few hours and enjoy the beach, this is a good bet.
Take a 360 Spin on a Jet Boat
It's a cross between a jet ski and a powerboat. Jet boats can sit about a dozen passengers and take off doing all the moves a jet ski can do. From roaring quickly over the water to insane 360-degree spins, if you have a pulse then your heart will be pumping. Teens and older kids looking from something exciting to do will have a blast skimming over some of the most beautiful water in the world. Check your cruise line's short excursion desk for trips.
Learn About History at the Pirate Museum
The Bahamas has a long history of pirates, going back centuries. If you (or the kiddos in your family) are into pirates, then you'd likely enjoy some time at the Pirate Museum. With displays and exhibits of what it was like to be a pirate, you can learn a lot — and get a break from the heat of Nassau inside the air conditioned building. Be sure to get your picture with your head and hands in the pillory while you're there.
Take a Tour of Fort Charlotte
Nassau also has a lot of history as an important colonial outpost. If you're interested in the city's past, check out a tour of Fort Charlotte. Built around the time of the American Revolutionary War, it was designed to be a defense outpost from the Spanish. Fort Charlotte is the largest on the island and just about a mile from the cruise port. There are also reenactments on Wednesday and Fridays.
Visit Parliament Square
As the capital of The Bahamas, Nassau is like the nation's Washington D.C. You can visit Parliament Square, which houses the House of Assembly and the Senate. It also houses the Supreme Court of the Bahamas. Don't expect anything like the U.S. Capitol. The pink building are much more approachable than their American counterparts.
Enjoy a Beer and a Snack at Pirate Republic Brewing Company
Located just a short walk from the cruise pier, Pirate Republic is a local brewery with a tap room serving up brews as well as awesome snacks. The spot gets great reviews and for good reason. The beer and food are tasty and it's a fun spot to hang out for those that want something a little different than Senor Frog's.
So grab a beer and a burger… or Bahamian conch fritters… or a side of guacamole.
Hit the Beach…And Do Nothing
Want to keep things simple and cheap? Just hit the beach. One of the most famous is Cabbage Beach, just down from Atlantis. There is a public access but you will have to pay for a ride to get there. The sand is sugary white and the water is electric blue. Just be warned that it can get pretty busy on days when lots of ships are in. You'll be able to find a space, but you will have to deal with vendors. (See directions to the beach here.)
Get Out on the Water Aboard a Catamaran
If you're headed to The Bahamas, then you no doubt want to get on the water. What better way than to head out on a catamaran? You can typically book trips through your cruise line. They usually last a half-day and include a chance to snorkel and a lunch.
Relax in Luxury with a Hotel Day Pass
Sometimes you just want to hang out by the pool, eat good food and have a waiter bring you umbrella drinks while you soak up the sun. Luckily, a number of hotels in Nassau will be more than happy to accommodate you. For instance, the Graycliff Hotel provides a day pass with a welcome drink, access to the pool and amenities, and a three-course lunch, as well as towels, changing rooms, and showers. It's an easy way to spend the day while enjoying your time in Nassau.
Get a View Under the Water in a Semi-Submersible
Want to see the beauty under the water in The Bahamas but don't (or can't) want to go snorkeling or diving? Head out on a semi-submersible. These boats offer a comfortable place to sit and see under the waves all without you getting wet. You can book these trips through your cruise line, where it costs about $75 per person for the trip.
Take in Breathtaking Views While Parasailing
As soon as your ship arrive in port, you're likely to see people flying in the sky, suspended by a parachute. Parasailing is a popular sport in Nassau and there are a number of vendors who will give you a ride. We suggest booking through your cruise line and NOT simply finding someone on the beach offering rides for cheap. Your safety is worth the extra money.
Explore Under the Waves with a Snorkeling Tour
As we mentioned you can take a semi-submersible to view under the water. However, it's more exciting to take a snorkeling tour. With abundant wildlife around the island, there is a lot to see and a good guide can take you to the hot spots. As well, you don't have to worry about bringing your own gear. Snorkels, masks, and flotation devices are available on any tour and included with the price you pay.
Party at Senor Frogs
You're on a cruise. Chances are you want to party! If that sounds like fun to you, then you'll be happy to know there is a Senor Frogs within walking distance of the cruise ships. Just hang a right out of the cruise port and walk along the water until you see the bar.
Walk over, enjoy the music, dance, have a drink, have a drink, have a drink, and then when you're ready, you can stroll back to the ship. It doesn't get much more fun than drinking cocktails in The Bahamas… although you might be forgetful after a day here.
Take a Brewery Tour
The Bahamian Brewery offers tours of their state of the art facility where a number of local beers are brewed and bottled. Of course the tours includes the opportunity to taste the local brew, which includes Sands, High Rock, Bush Crack, and Triple B. You can also purchase some in the gift ship to take home with you as a souvenir.
Hit the Casino at Baha Mar
Sure Atlantis will get your attention — after all it sits prominently right by the cruise ports. However, it's another resort that actually has the largest casino on the island. In fact, at 100,000 square feet, it's the largest casino in the Caribbean. Inside you'll find more than 1,100 machines and nearly 120 tables games for you to try your luck. When it comes to gambling in Nassau, it simply doesn't get any bigger.
Take a James Bond Tour
Nassau and James Bond go way back, acting as a backdrop for scenes in Thunderball and more recently Casino Royale. You can still see many of the filming locations today. Not sure where to go? There are websites that track the filming locations of the famous scenes so you can set an itinerary of what you want to see to walk in the footsteps of Bond.
Hit the Links to Get in a Round of Golf
If you are a golfer, then you've come to the right place. There are a number of courses around Nassau where you can squeeze in 18 holes while the ship is in port. What makes it so special is playing golf in one of the most beautiful natural surroundings you can imagine. It's hard not to have a good round (even if your score isn't so hot) when the backdrop is electric blue water. Check out the Ocean Club course or Royal Blue at Baha Mar.
Head to the Spa For a Relaxing Massage
Tired of the go, go, go? How about a nice massage to help you relax? With many people getting off the ship while in port, you will likely find discounts for spa services onboard while the ship is in Nassau. So not only will you pay less, but you'll have a much less hectic environment onboard with the ship much emptier than normal.
Shop 'Till You Drop on Bay Street
Located just a block from the cruise pier is Bay Street. It's a shopping destination with store after store for blocks on end. You can find anything you're looking for when it comes to souvenirs — from t-shirts to diamond rings and everything in between. If the weather is bad when you are in port, this is a good option as the stores have a covered walkway between many of them. There is also the Straw Market, housed indoors with dozens of vendors.
See the Wildlife at Ardastra Gardens & Zoo
Kids and adults will enjoy a trip to Ardastra Gardens. The four-acre lush tropical garden with tons of flora also features a lot of fauna. See flamingos, jaguars, lemurs and more. There is also a petting zoo for the little ones who want to have a hands-on experience they won't soon forget.
Experience Swimming with Dolphins
If you've ever wanted to swim…or paddleboard…or kayak with dolphins, then here is your chance. Head to Atlantis for the opportunity to experience these creatures firsthand in their 14 acre sanctuary. You can also rest easy know that the resort has partnered with a number of universities and is a member of several zoological societies. So you know that the animals are respected and cared for.
Try Your Hand at Rolling Cigars
The Graycliff Cigar Company is located just a few minutes from the cruise pier and gives you the opportunity to tour a real cigar factory. And if you want to try your hand the company also gives cigar rolling lessons where you can roll your own. They will even show you how to properly light and enjoy your cigar once you're done. If you're a fan of a good smoke, this would be the ultimate experience.
Stay on the Ship!
Ok, maybe it's not the most exciting way to spend the day… but it's your vacation. There's absolutely nothing wrong with just hanging out on the ship when stopped in Nassau. It's nice to relax and have fewer people on the ship. Many people use this time to book a spa package to pamper themselves while everyone is away or hang out by the pool with smaller crowds.
More on Visiting Nassau on a Cruise: