Looking for free or cheap things to do during a cruise stop in Nassau? Let's just say you aren't alone.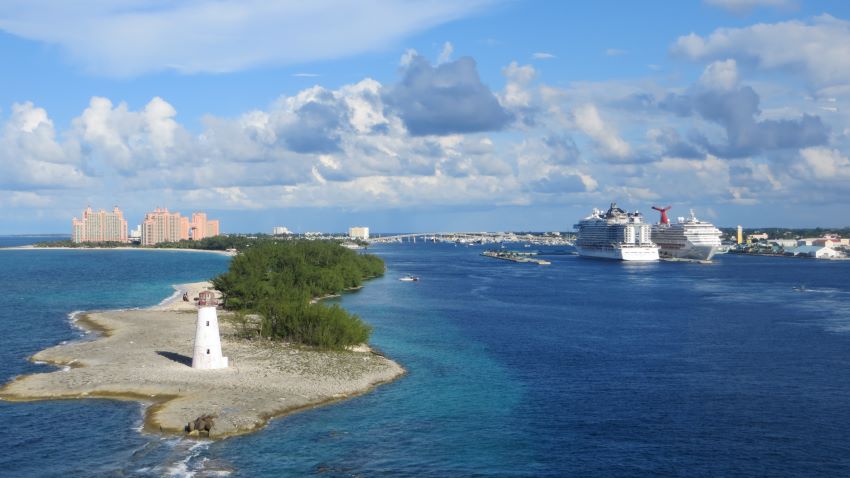 Nassau is one of the most visited ports in this part of the world, and millions of cruise passengers stop here each year. In fact, after a recent $300 million renovation for a new terminal and now six cruise ship berths, more than 30,000 passengers can visit in a single day.
In Nassau there is no shortage of things to do (see our list of 30 things to do here), but what if you want to enjoy your time in port without spending much money?
While many things catering to cruise passengers in the area do cost money, there is still plenty that you can do for cheap… and even free. This way you can come ashore, enjoy The Bahamas, and not hurt your pocket book.
Hit the Water at Cabbage Beach
Of course, when people think of The Bahamas the beach is top of mind. Unlike some other ports, however, there's not a beach right at the ship. Still, you have a couple of options.
One of the most popular is Cabbage Beach. A short ferry ride (around $5 per person) to Paradise Island — the island across from the cruise port where Atlantis sits — gets you there.
Once off the ferry, you'll have a bit of a walk (or you can catch a cab), to get to the beach. But once there, you'll be greeted by white sand and the most electric blue water you've ever seen. The beach is popular, so expect a crowd. You can walk down the beach — away from Atlantis — to get a little more space. There are also vendors if you want a snack or drink. (For directions to Cabbage Beach, see our article here.)
Explore the New $300 Million Cruise Terminal
Nassau just put the finishing touches on a new $300 million cruise terminal, and if you're looking for something affordable to do, it's a good option. The new terminal features exhibits, a museum, amphitheater, shopping, and food/drink options.
If you simply want to get off the ship and stretch your legs a little bit, it's a good spot to explore, people watch, and take in some great views of the cruise ships in port that day without going far.
Get a Picture With the Ship
Want an easy souvenir of your cruise? One of the best is a picture with your ship, and Nassau offers one of the best spots to grab a snapshot.
Once docked, simply head off the ship and walk down the docks until you find the perfect spot. In fact, you'll likely see many other people doing the same. Keep in mind that due to the shape of the berths, your best framed picture might not be a shot right at the ship. Walking down the pier may allow you to get a nice shot with more of the ship in the picture.
Another word of advice — try to get your picture before around mid-day. Since Nassau's port sits east and west, the morning sun hits the ships perfectly to really make the color pop.
Stroll the Famous Bay Street
One nice perk of the Nassau cruise port is that it sits right at the foot of downtown. That puts it within walking distance of a number of things to do and see. Case in point: Bay Street.
Bay Street is just one block from the cruise port and can be thought of as the shopping hub of Nassau. It features a ton of stores in brightly colored buildings that cover everything from Rolex stores to places selling inexpensive t-shirts and souvenirs.
But isn't this article about cheap things to do? Well, we didn't say you had to buy anything. It's fun to simply take in the sights and sounds of The Bahamas, even if you don't buy a fancy new watch.
Visit the Straw Market for Inexpensive Souvenirs
Walk just a short distance west of the cruise port down the street right in front of the terminal (Woodes Rodgers Walk) or Bay Street, and you'll find the Nassau Straw Market. This indoor facility is essentially a covered souvenir market, with tons of stalls selling everything from coffee mugs to t-shirts, earrings to sun hats.
While vendors might accept credit cards, we'd recommend bringing some cash as you shop local.
Visit the National Art Gallery
Want a little culture during your stop in Nassau? Most people think of beers and the beach, but Nassau has a lot to offer beyond that.
The country's National Art Gallery of The Bahamas sits in an 1860s home (Villa Doyle) that's been converted into an exhibition space. The grounds feature an outdoor theater, a sculpture garden, and two stories of Bahamian art displays. (Our favorite is "Crawfish Woman," which is a concrete sculpture of a mix between… well, a crawfish and a woman.)
The gallery is open most days from 10 a.m. to 5 p.m., but is closed Mondays. Sundays open at noon. Admission is $10 for adults. The walk over is about 15-20 minutes from the cruise ship.
Explore Atlantis
When it comes to Nassau, without a doubt the most eye-catching spot is Atlantis. Located across the channel from the main city and sitting on Paradise Island, the hotel dominates the skyline.
The hotel itself is famous, but it's more than just a spot for the affluent to stay while visiting The Bahamas. It's actually an entire resort and complex, with a marina, casino, high-end shopping, restaurants, and even a waterpark. To be sure, if you want to spend money, you can spend… a lot.
But it's also free to go explore some parts of the hotel, including visiting the marina, shops, and casino. It's quite a complex that's impressive with a lot of visitors from the cruise ships.
Learn About the Pirates of Nassau
Nassau's history goes back hundreds of years, and pirates played a big part in its development. The days of piracy are long gone, but the Pirates of Nassau brings the history alive.
Located just a short walk from the ships (and right near the Straw Market on Bay Street), this spot is ideal for those with kids interested in pirates. There are recreations and exhibits that detail pirate life in a fun way, complete with a replica pirate ship.
There is a charge for admission — $13.50 for adults, $6.75 for kids — so while it's not free, it's a relatively inexpensive thing to do near the cruise ships.
Explore Parliament Square
Many people don't realize that Nassau is the capital of The Bahamas. And just a short one-block walk from the cruise terminal is Parliament Square, which acts as the seat of government.
You can go walk the area in just a few minutes, where you'll find Parliament, the Senate, House of Assembly and the Supreme Court.
Don't expect it to look just like Washington, D.C.! The buildings are fairly quaint by American standards, but they are also painted a beautiful pink that matches with the style and attitude of The Bahamas.
Climb the Historic Queen's Staircase
If you look through the excursions offers by the cruise line when visiting Nassau, no doubt you'll notice that many feature a visit to the Queen's Staircase. What's so interesting about some stairs?
Well, this spot was carved out of solid limestone by slaves in the late 1700s. Today the same 66 steps still exist, giving you the ability to literally walk through history. It's part of a larger fort complex (Fort Fincastle) that used to protect the city from pirates.
The walk is a little over a half-mile from the cruise port, so it should only take about 15 minutes. It's also right next to the new U.S. embassy.
Visit Junkanoo Beach
If you're looking for the closest beach to the cruise port, just exit the terminal, turn to the right, and walk about 10 minutes. Around a Hilton and Margaritaville hotel, you'll come to Junkanoo Beach. It's closer and easier to get to than Cabbage Beach, but even so, it likely has fewer people.
The beach itself is gorgeous, and you'll also find a number of small restaurants serving food and drinks, along with vendors offering access to loungers and umbrellas. But if you like, you can just lay down a towel, get some sun, and then go for a dip.
There's also a great view looking back at the cruise ships that makes a good photo.
Take a Rum Tour at the Watlings Distillery
This area of the world is known for its rum, and there's a distillery right in downtown Nassau. The John Watlings Rum Distillery sits about a 15-minute walk from the cruise port.
At the site (the Buena Vista estate), you'll get to experience the spot built in the 1780s that today houses the distillery. There are free tours available of the production process, and there's also a tavern where you can experience the rum in one of the distillery's signature cocktails.
Of course, there are tastings, and if you like there are also bottles you can purchase and take back home with you. It's a real Bahamian experience that you simply can't get anywhere else.
Learn the Story of The Bahamas at the Bahamas Historical Society
There's no shortage of history in The Bahamas, and if you're interested in it, then the spot to go is the Bahamas Historical Society. As the museum says, here you can "learn about our people, culture, crafts and the archaeology and anthropology of The Bahamas." Exhibits include everything from the natives that inhabited before the area was discovered by Europeans through today.
This museum makes a nice stop-off if you're headed to the Queen's Staircase as it's on the way and just minutes from the cruise port.
Map of Things to Do in Nassau
To give you an idea of where things are in relation to the cruise port, use the map below.
More on Visiting Nassau on a Cruise: