Blue Lagoon Island is without a doubt one of the most popular excursions for a cruise ship stopping in Nassau. Located just a few minutes by boat from the cruise port, Blue Lagoon feels a world away. Meanwhile, it offers lots to like, whether you're looking for just a relaxing day at the beach or a day full of water activities, including getting up close with dolphins and sea lions.
In short, no matter what you're looking for, then the excursion could be for you. But is it worth it? And what's it really like? We recently visited to give you a complete review of what you can expect.
Overview of Blue Lagoon Island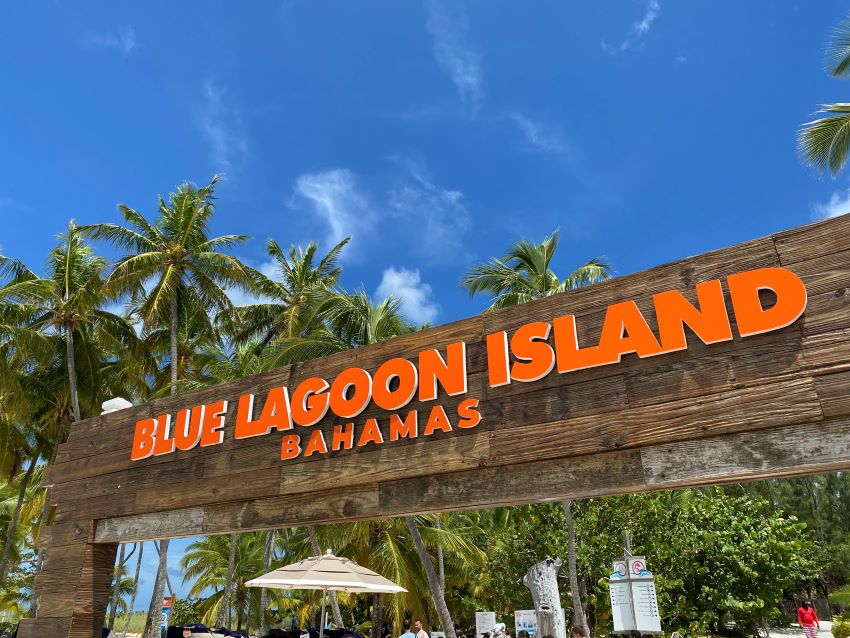 The best way to explain Blue Lagoon Island is that it's like a cruise line's private island, except independent. If you've ever visited a cruise line island, then you know that they pick out a perfect spot with clear water and white sand, and then build out facilities to cater to cruise passengers. That includes things to do, places to eat, and spots to relax.
That's exactly what you can expect from Blue Lagoon, except that it's not the property of any one cruise line. So no matter whether you're sailing Royal Caribbean, Carnival, Norwegian, or any other cruise line, you can visit the island.
The destination is located on Salt Cay — a barrier island that's just northeast of Nassau. In fact, you're only about 4 miles from the cruise ship dock.
When you visit, you'll have any number of packages that you can purchase that include everything from just hanging out on the beach to swimming with dolphins. However, in general, you'll arrive in the morning and spend 5-6 hours on the island at your leisure, eat lunch, and then head back to the ship in the afternoon.
So if you're wanting a beach day, this is among your easiest and best options.
What's Available to Do on Blue Lagoon
We've mentioned that there's a lot to do and see on the island. While it's not on par with a place like Royal Caribbean's CocoCay, the entire family should find something to enjoy.
Note that for excursions, anymore more than hanging out on the beach is going to cost extra. This includes everything from renting a locker to taking a tour to hanging out with the sea lions. So you can book a simple beach day with lunch, or you can opt to include dolphin swims, Segway tours, and more. There is a booth to book anything you need once you arrive to the island.
Beach Day w/Lunch: The most popular (and least expensive option), is to simply have access to the beach. Blue Lagoon is actually located in a cut in the island, which provides a protected beach with water that winds through the area. There are also beaches on the exterior part of the island in the open water. (Price seen: $79 per adult)
Dolphin Swim: Want to swim with dolphins? One side of the park is home to trained dolphins, giving you the ability to hop in and swim with them. It's an experience you can only get a few other places in the Caribbean (Price seen: $299 per adult).
There is also a dolphin "encounter" available, where you don't swim with them, but do get in the water to interact (Price seen: $175 per person). Note that these prices also include the beach day.
Sea Lion Encounter: In addition to dolphins, there are also sea lions that you can visit. In our day there, we simply walked over and watched the sea lions for free. But you can pay to go and get in the water with them to get up close and personal. (Price seen: $199). Note that this price also includes the beach day.
Segway Tour: If you've never ridden a Segway, this is your chance. You can go on a "Segway Safari" tour that takes you all around the island on a guided tour. (Price seen: $50).
Aqua Park: As you arrive at the island, you'll see an area filled with inflatable obstacles, including items that you can climb and jump off of, rafts that you walk over to challenge your balance, and more. This is the Aqua Park and if you have kids, they will likely want to do it. (Price seen: $20)
VIP Areas: While there is lots of beach for everyone to enjoy, sometimes you just want a little more space and fewer people. In that case, there is a VIP upgrade that gives you access to a private areas (including three different beaches) and amenities for a little bit more. Here things are more relaxed and quieter. (Price seen: $65)
Beach Rentals (clamshells, snorkels, towels, lockers, kayaks): In addition to the more notable activities, there are also lots of rentals for a day on the beach. Whether you want snorkel gear, or a locker to put your items in, you can rent anything you need.
Bar Service: What's sitting on a beach without a drink in your hand? There's a bar on the island serving up tropical drinks, so you have have a pina colada while putting your feet in the sand. Prices are in line with what's on the cruise ship. Expect to pay about $10-12 for a cocktail and $6-8 for a beer.
Shifting Tides Restaurant: Most excursions to Blue Lagoon include lunch. In the middle of the island is the Shifting Tides Restaurant. Here, there is a buffet-like spread that's put out with burgers, dogs, chicken, and sides. It's typically included in any excursion you take from the cruise ship.
Review: Our Day at Blue Lagoon Island
During a recent visit to Nassau, we booked a beach day with lunch at Blue Lagoon. So how was it?
The first thing we noticed is that the excursion seemed VERY popular.
Lining up on the pier to board the boat over to the island, there were seemingly dozens — if not hundreds — of passengers lined up. In fact, as the boat arrived at the pier to take us to Blue Lagoon, the first one filled up, meaning we had to wait out in the heat and sun for another boat to arrive.
The ride over was on an open-air powered catamaran. In total, the ride takes about 20-30 minutes and gives you a great view of some of the high-end homes on Paradise Island, along with Atlantis, the hotel that's the most visible landmark in Nassau. (One suggestion is to get a seat on the lower deck to keep out of the sun, if possible.)
Arriving at Blue Lagoon, the boat enters a small cut in the rock among electric blue water. As the boat docks, you get your first view of the area, which is hidden away from the open water.
There, you see how the beach wraps around, and the rock creates a literal lagoon through the middle of the park. If you're someone looking for a beautiful beach, this is it.
You also notice that you're not alone in the park. In fact, during our stay it was not only passengers from our ship visiting, but passengers from all four cruise ships in port were there. The beach area closest to the pier was very busy and you had to wade through a crowd to finally get to the beach.
Stepping onto the island, the first thing we wanted to do was to get our bearings. So we took off on a walk just to see the island and what all is available. There we passed the bar, the rental/booking booth and the restaurant. Music was playing, the crowd was lively, and the atmosphere was definitely upbeat.
One thing we noticed is that it doesn't take long from when you initially get away from the pier that the crowds start to thin out. Even with four different cruise ships in port, there was plenty of room to spread out as you got farther down the beach.
Another thing we noticed is that shade is hard to come by. There are some umbrellas available for you to use, but it's only a few compared to the number of chairs. In fact, we found a quieter part of the beach and simply pulled a chair under a tree to give us some shade.
Heading out into the water, it's hard to explain just how wonderfully clear it is. And because of the lagoon nature, it's always calm even if the water outside the lagoon is more rough. The water never got too deep — no more than about six feet at the deepest point we found — while also offering a gentle slope for smaller kids.
After swimming for a bit, we simply relaxed under the shade, appreciating the chilled vibe that comes when you get away from the larger crowds. If you can't relax in a spot like this where the beach and the water are picture perfect, then that's on you. Then we hit the showers that are available for a quick rinse and decided to explore the other part of the island.
While one side of Blue Lagoon is for relaxing or playing on the beach, the other part is dedicated to the animals. This area had practically nobody in it, giving the vibe that maybe we were in the wrong spot. We did see some folks in the water with dolphins and also made our way to where the sea lions are kept, while seemingly no one was there. It was neat to be able to stand and watch the sea lions play on their own.
From there, we headed to grab a bite to eat for lunch. When you are standing in line at your ship to start the excursion, you're given a wristband, along with a ticket for lunch. When it's time to eat, you head to the restaurant, hand over the ticket and walk in.
While the restaurant has a full menu posted, what was served was a meal-line buffet. So hop in line and choose what you want to eat. Selections were classic buffet/beach food. There were hamburgers and hot dogs, along with grilled chicken, and then sides. Dining is open air in the restaurant.
How was the food? It is what you would expect from a beachy buffet. Certainly adequate and a nice treat when you've spent the morning in the sun and in the water, but nothing you'd write home about.
After lunch, we headed back to our shady spot on the beach for a repeat of the morning, enjoying the gorgeous sand and warm water until the call was made that our boat back to the cruise ship was now boarding. Your colored wristband given during the start of the excursion is your ticket back to the ship and each color band is given a different departure time to spread out the crowds.
By the time our ship was called, passengers from a couple of other ships had already departed, giving the island a bit of a more subdued atmosphere. From there, it was time to board and head back to the ship. By now instead of the buzzing atmosphere of excitement that the boat had when heading out to Blue Lagoon, it was obvious that everyone had been spending a lot of time in the sun and water. In fact, some people even caught a quick nap as we headed back to the port.
Final Thoughts/Is It Worth It?
When you picture visiting The Bahamas, you likely think of a white sand beach and electric blue water. Well, that's exactly what Blue Lagoon Island offers for cruise passengers. As mentioned at the start, we thought of it as a private cruise line island, except it was open to everyone.
In total, we paid $79 for the excursion (but received a $50 discount from the cruise line for a total of $39). For that amount, the excursion lasted about six hours and included lunch.
There are definitely less-expensive ways to enjoy a day at the beach in Nassau, but they also won't have the atmosphere, amenities, and activities that you'll find at Blue Lagoon Island.
Between the swimming area that's protected from the open water, the beach chairs, and facilities like showers/restrooms, there's a lot to like even if you don't opt for the things like the Aqua Park or the animal encounters.
In short, we had a great time at the beach during our day. The beach area could use some more umbrellas and shade, and in general it would be nicer to have a little more space for those days when four or five ships are in port.
Even so, those are smaller issues. If you want to enjoy the atmosphere that comes with a private island like the cruise lines offer, then Blue Lagoon Island will fit the bill in Nassau.