Other than maybe working on a tan, there's not much that is more popular than having a drink or three while on a cruise. Bars are everywhere around the ship, and alcohol is big business.
And while you might think that there isn't much that can trip you up about having a drink on vacation, there are a number of things that you may not know.
From things that can save you serious money on your bar tab to rules around the fine print on those drink packages, here are our best secrets, tips, and things to know about cruises and your favorite alcoholic beverages.
Expect to Pay 'Stadium' Prices for Drinks
If you want to have a beer or a cocktail on your cruise, then be ready to open your wallet. Of course, prices for different drinks will vary. In general, however, we like to say that the cost of drinks are stadium prices. So if you head to a ballgame, then have an idea of what drinks cost on a cruise.
For beers, expect to pay around $7-9 each. Cocktails tend to run about $11-14 each. In other words, it's not cheap. And unlike going to a stadium where you are only there for a few hours, on a cruise ship you are there for days at a time.
Of course, there are drink packages that can help you budget during your cruise, but they can also run up to a healthy bill. In other words, if you want to drink on the ship, then expect to spend some cash.
Discounts for Drink Packages Bought Early
If you plan to drink a good amount and want to save money, then check out the drink packages. You pay one set price for each day and then get to drink what you want without worrying about a bill for each beverage.
If you do want the drink package, then you can save some money by booking it early. Cruise lines will offer early booking discounts when you book ahead. For instance, Carnival offers $5 off the package versus buying onboard. Royal Caribbean charges different prices for the drink package for different cruises, but often the discount for booking ahead can be 20% or more.
So one of the best money-saving tips is to snag that drink package before you get on the ship.
Gratuity Is a Fact of Life
If you ordered a drink at a bar, you might toss a buck or two in the tip jar. On a cruise, it's much more formal.
Whether you order one drink or ten, you'll have a gratuity tacked on to the menu price. This charge is normally 15-20%, depending on the cruise line. For instance, NCL charges 20%. Carnival and Royal Caribbean charge 18%.
So if you walk up to the bar and order a $12 drink, you're actually going to be more than $14 when all is said and done. While the gratuity is automatic, you'll also see a line for additional gratuity. This is optional and you don't have to pay more.
Bars Start Early and Stay Open Late
On land, bars might not open until the afternoon or early evening. On a cruise ship? It's a little different. It's not unusual for some bars to open early in the morning, sometimes as early as 9 a.m.
It certainly won't be all the bars, but you should be able to find a drink to start your day.
As for the evening, bars sometimes don't even list closing hours — they just say they are open until "late." After all, there are no laws regarding bar hours when you're at sea. To be sure, some bars will definitely be closed so if you have a favorite spot, it might not be serving. But there will be some spot where you can get a drink.
You Can Bring Your Own… With Stipulations
If you want to save some money — or you have a favorite brand then you can usually bring on your own wine or champagne. Note that we didn't say beer or liquor.
Most cruise lines allow you to bring on a bottle or wine/champagne per person for you to enjoy in the cabin. It may not be a lot, but given the prices onboard, it will save you a decent amount. It's also nice if you have a favorite brand you want to take.
Unfortunately, the allowance is limited to only wine/champagne. Unfortunately, the cruise lines don't allow you to bring on beer or liquor.
The Low-Down on Sneaking Alcohol
Of course, given the cost and restrictions on alcohol, you might be wondering about sneaking it on with you when you board.
In that case, you should know that cruise lines check your luggage for alcohol when you board. That includes X-raying your bags and often hand-checking any liquids you bring on. For instance, you'll likely see a table with security checking non-alcoholic drinks being brought on. And cruise lines have seen it all — mouthwash bottles, fake sunscreen tubes, you name it.
If you're caught, expect your alcohol to be confiscated and not returned. Still, we have traveled with people that have used collapsible flasks hidden in clothing and snuck on alcohol, so it is possible if you're the sort that doesn't mind taking the risk.
Duty-Free Shopping Doesn't Mean You Can Drink It On the Ship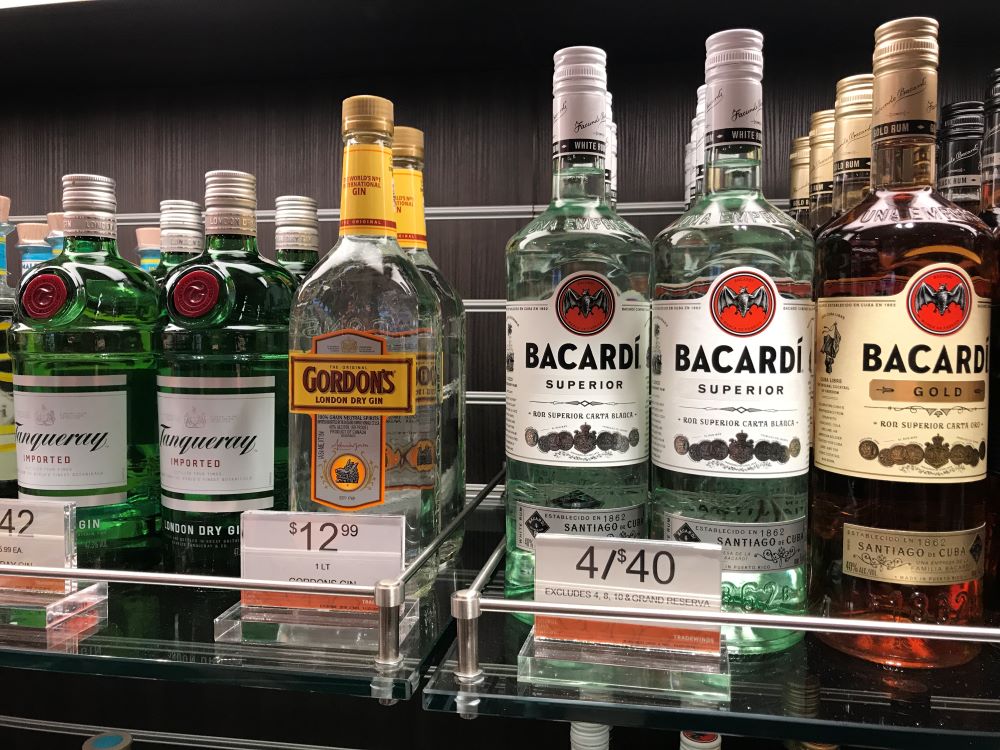 Whenever you walk around the ship, you'll likely pass by the duty-free shop. Every ship has one. Here, you'll find full bottles of alcohol sold at reasonable prices — even less expensive than what you normally see on land since they don't have taxes applied.
It's tempting to think about buying one of these and then drinking for cheap on the ship. But duty-free purchases are actually held until the end of the cruise.
The night before you depart, they are then delivered to your cabin. So technically you could open them up for the last night and go wild, but if you think that you can buy it early in the cruise and then enjoy the liquor, that's not the case.
Loyalty Can Get You Cheaper Drinks
Cruise line loyalty programs — some people are obsessed with their loyalty status while other don't even think twice. But when it comes to drinks, you should know that status can save you money.
If you aren't familiar, the more nights you sail a particular cruise line, the higher loyalty status you earn. And with higher status comes more perks. These can range from everything from priority boarding to free cruises.
But the perks also often include either free or discounted drinks. For example, Royal Caribbean gives drink vouchers to its Diamond level members and above. And even lower-tier members can get 50% coupons off wine and beer.
Drinking in Port Is Cheaper
We've established that drinking on the ship can get expensive. And given how much time you spend on the ship during your cruise, there's not much you can do to escape the prices. But when you are in port, you can take advantage to pay much less.
Ports of call cater to cruise passengers, and in port — especially in the Caribbean — you'll often find bars offering drink specials to get people in the door. So while you might pay $7-9 for a beer on the ship, they can be $3-4 when in port.
If you don't have a drink package, then taking advantage of it can save you serious money if you plan to have more than a drink or two.
Feel Free to Order "Off-Menu"
When you visit different bars around the ship, you'll notice that they often have different atmospheres and vibes. So there might be a sports bar and a pool bar, a wine bar, and more. These different bars will usually have different menus serving up different drinks. So you might have a drink you see on one bar menu that's not featured on another.
Now we think it's fun to try the different drinks at different bars. But if you have a favorite drink that you want, then you should know that the menu is really more of a suggestion. You can definitely order off menu at the bars instead of having to go across the ship to get the drink you saw at one particular spot.
Ports Means Funny Rules Around Drinks
You likely know that the rules around alcohol can be pretty strange on land. Well, those rules extend to cruise ships when they are in a state's or country's waters. It can lead to some strange hoops that cruise lines and passengers have to jump through.
For instance, when you first get on the ship at a port, then you are going to be taxed the local rate on alcoholic beverages that you drink. So it's actually more expensive to drink. And sometimes there are other rules, like in Texas Carnival doesn't offer the use of the drink packages until the start of the second day due to state laws. And in Canada there are restrictions that allow only one bar per deck to be open.
If you are out in the middle of the ocean, then you don't have to worry about the restrictions. But in port, sometimes the rules and regulations can get a little strange.
Free Drink Package? It Might Not Be Completely Free
Drink packages are pretty popular on a cruise. In fact, they are such a big draw that some cruise lines offer them up as a deal sweetener to get you to book. But you need to know the fine print of that deal before you buy.
Norwegian Cruise Line is the biggest example. They offer Free at Sea, which adds in things like wi-fi and the drink package to your booking. But while they say the drink package is free, you do have to pay the gratuity charge you would otherwise pay if you bought the package. It's about $20 per day, per person.
So on a weeklong cruise, that free drink package comes out to about $140 per person. That's not bad, but it's definitely not what many people would consider "free."
More about drinks and cruises: