Royal Caribbean versus Norwegian Cruise Lines. It's a battle that's gone from ships… to cruise terminals… and now to private islands.
These two mass-market lines stand out from the competition by going above and beyond for their guests, including pushing the envelope in what you'd expect from a cruise.
Case in point are two special places in the Bahamas. Royal Caribbean's island, CocoCay (also known as Perfect Day at CocoCay), recently underwent a massive $250 million overhaul to transform the port of call. Today it features sweeping beaches, an enormous freshwater pool, and an entire waterpark on the island.
Norwegian is no slouch with its island, Great Stirrup Cay. Located just a half-mile from CocoCay, Great Stirrup Cay features some of the most beautiful water in the world, beaches that wrap around sheltered coves and tons of activities.
So with two islands that sound very similar — and are located literally within eyesight of each other — what are the differences? And how do you know which destination is better for you?
We've been fortunate enough to visit both private islands recently and wanted to run you through what you can expect on each.
CocoCay has a Pier for Docking
One of the first differences that passengers are going to notice is how you get to each island. CocoCay's renovation included building a pier where the ships now dock. Meanwhile, Norwegian ships anchor offshore of Great Stirrup Cay and passengers use a tender (a smaller boat) to get back and forth from the island.
Why is this a big difference? For most people it's not a big deal as tender boats run constantly throughout the day. For others it's a nice benefit to be able to come and go as you please and easily walk back and forth from CocoCay to the ship, instead of having to wait for the tender to leave.
One benefit of the tender is that it gives you a great unobstructed view of the ship for photos as you cruise toward Great Stirrup Cay.
CocoCay Has a Huge Pool
Oasis Lagoon is the large pool that was recently built for CocoCay. The pool is actually the largest in the region, and has lots of room for everyone. The spot also has an in-the-water bar where you don't even have to dry off to get a drink. There are also loungers all around the pool.
Having a freshwater pool is great for those that have a phobia of the open water (and the creatures that live there). It's also typically warmer in the cooler months than the open ocean as it takes less time to heat up in the sun.
As of now, Great Stirrup Cay doesn't have a pool for its guests.
Great Stirrup Cay Feels More Authentic
In our opinion, we think that Great Stirrup Cay has a more "real" feel. To be sure, it's an island built up by a cruise line. However, with the revamp of CocoCay, we think that island feels more like a theme park.
Great Stirrup Cay has a slower, more relaxed atmosphere and you feel like you're visiting a real island in the Bahamas instead of Disney World.
If you are sailing with kids, they might like that theme park feel better. If you are a couple traveling, then you could like the more authentic feel on your vacation.
CocoCay Has a Waterpark
We've referenced it so far, but the biggest difference between CocoCay and Great Stirrup Cay has to be the Thrill Waterpark.
In the island's renovation, Royal Caribbean put in the park (which requires a paid admission) with a ton of slides, a wave pool, obstacle course, and tons of facilities and lockers. It even includes the tallest waterslide in North America.
This isn't some half-measure park. If this were on land in the United States, it would be a destination itself. Put simply, if you have kids they are going to want to experience Thrill Waterpark.
No word on if Great Stirrup Cay may add something like this to their island in the future, but with CocoCay right next door, it wouldn't surprise us.
Drink Packages Work on Both Islands
It's not a difference, but you should know that drink packages for both the cruise lines work on their respective islands. That's a huge perk that can save you upwards of $100 a day.
Typically drink packages work only on the cruise ship, but you have to pay for them on each day of the cruise. So even if you are in port, you still have to pay for the entire drink package that day — even if you don't use it.
With CocoCay and Great Stirrup Cay, you can use the packages on the island just like you would on the ship. That means you don't have to shell out even more money if you want a margarita while soaking up the sun.
Wi-Fi Works on CocoCay
One of the big improvements to CocoCay is that after the island's renovation the wi-fi on the ship now works on the island as well. If you buy a VOOM Internet package on the ship you can enjoy using it while you are hanging out in the pool, at the waterpark, or on the beach. (And there are lots of places to take pics for social media to post.)
Unfortunately that's not the same Great Stirrup Cay. Even if you have online access on the ship, it doesn't extend to the island. For some people, that may actually be a positive.
Great Stirrup Cay Has the Silver Cove Retreat
One of the new additions to Great Stirrup Cay is the Silver Cove area of the island. This area is exclusive to those guests who rent a villa for their time on the island. It features private access, a villa with bathroom, bedroom, living room, and outdoor area, plus a restaurant only for Silver Cove guests, and a spa.
In short, Norwegian has created a small resort within the island that's perfect for those who want to have a little luxury while also getting away from the larger crowds elsewhere. It also features an exclusive lagoon right out the front door that's the nicest beach on the island.
Lockers Are Available on CocoCay
One of the big questions people have is what to do with your stuff when you hit the beach? For the most part just leaving it by your beach chair is fine, but it's understandable that it makes some people uncomfortable to do this.
On CocoCay, Royal Caribbean has put in lockers for guests to use when they hit the waterpark or other areas of the island. It makes it easy to just put your stuff in and hit the water without having to look over your shoulder.
Unfortunately, we didn't find these lockers on Great Stirrup Cay.
A Tram Runs on CocoCay
Do you have issues walking? There's a lot to see on both islands, but only CocoCay has a tram that runs around the island. Truth be told, you might have to wait a little before it comes as it runs on a circuit, but if you can't easily walk from point to point, then it can be a lifesaver.
Great Stirrup Cay doesn't have the tram system, but the majority of the features of the island are right near the entrance, so you actually don't need to walk far to see pretty much everything.
Worried about getting around both islands? They both have beach wheelchairs that those with mobility issues can sit in to maneuver around the sand without too much trouble.
Great Stirrup Cay Has a Beach Grill
There's not much that beats having a beach cookout. On Great Stirrup Cay, you can scratch that itch. You have a number of food options, including a buffet, food trucks, and even hot dog carts. But the food that steals the show is the beach grilling.
Don't worry about missing it. Around lunchtime you can smell the food cooking around the island. The island features several grill masters cooking jerk chicken on an open-top grill. It's a step above your standard buffet fare and best of all, it's completely free.
CocoCay Seems More Geared Toward Families and Kids
Don't get us wrong. If anyone doesn't have fun on either island, then you need to check if they have a fever. No matter your age, you'll find something that you like to do, even if it is just laying out and working on your tan.
That said, we felt that CocoCay definitely has more things for kids and teens to do. Most notably, the Thrill Waterpark can keep the kids going all day long. Beyond that, there is also the Oasis Lagoon, several water features outside the waterpark, the beach, ziplining, and more.
As we mentioned earlier, CocoCay has more of a theme park that seems a better fit for families with kids.
Great Stirrup Cay Seems to Focus More on Adults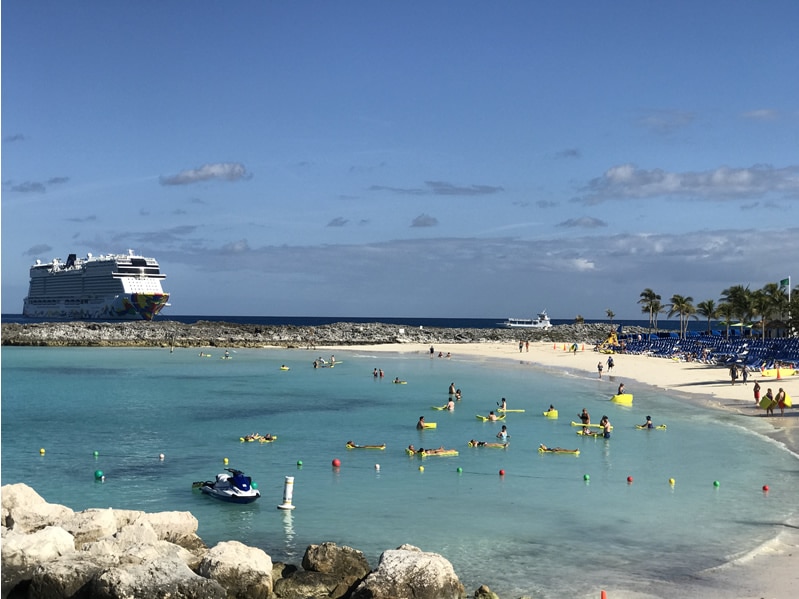 Not interested in a waterpark, but want to relax on a gorgeous beach? Then Great Stirrup Cay is likely better for you. Not only does the island have the luxury of Silver Cove, but the entire atmosphere and energy seem more geared toward relaxation and chilling out than you'll find on CocoCay.
That's not to say that kids won't like it — there is ziplining, the beach, watersports and more — but the slower pace and larger island definitely give Great Stirrup Cay more of a "private tropical island" feel compared to CocoCay.
Which Island Would We Book For Our Cruise?
Having visited both islands, we are in a unique position to be able to judge both based on recent visits. So which would we choose?
We definitely think both are worth visiting and if you have a cruise book to either, you're going to have a blast.
That said, we lean more toward CocoCay. The recent revamp of the island is staggering and there's plenty to keep you entertained for the entire day. Thrill Waterpark is lots of fun, but there's also the pool, the beach, and more.
We also like some of the smaller features like lockers, and that's it's a bit easier to get around thanks to nice wide walkways and being able to get right off the ship at the pier.
That said, if you are the type of person who wants a quieter time or you want to rent a villa, then definitely go with Great Stirrup Cay. Right now it is geared toward a more luxurious day, designed to appeal more to adults in our opinion.
For more on visiting CocoCay, don't miss our guide here. We also have tips and advice on visiting Great Stirrup Cay here.