There's no arguing, cruising is pretty crazy when you think about it.
Where else do you take five thousand people, take them hundreds of miles around in the water on a ship with go-karts, waterslides, and fine dining? And then at the end of the week, pick up a new five thousand people to do it all over again?
The logistics and dynamics of all of that are mind-boggling, and it leads to some very interesting things that you may not realize about cruising, even if you've sailed plenty of times before.
That's not to mention some other interesting things about cruise ships and the industry that most people don't know. With that in mind, here are nearly a dozen insane facts about sailing on a modern ship…
Most Cruise Ships Sail Above 100% Occupancy
Let's begin with something most people don't realize about the occupancy of cruise ships. You likely have seen Internet ads touting unsold last-minute cruise cabins selling for pennies on the dollar. In reality, during normal times (before the health crisis) cruise ships sail full. In fact, they sail above 100% occupancy.
For a ship's occupancy, it's calculated as each cabin times two people. So if there are 2,000 cabins and 4,000 passengers, that's 100% occupancy. But before the pandemic at least, ships sailed well above that level. For instance, Royal Caribbean Group saw a yearly occupancy of 108.1% in 2019. And that's not uncommon. All the major cruise companies have similar figures.
That means at least some cabins had more than two people in them, such as families sailing with kids. In other words, those ships can sail with even more people than you realized.
A New Ship Can Cost More Than $1 Billion
When you get on a new ship, it's no exaggeration that it can feel like a five-star resort that just happens to float. That's because it is. Everything from high-end dining to massive suites are included on a modern ship, not to mention the activities and entertainment on board.
All of that comes with a hefty price tag. Essentially the floor for a new modern cruise ship is $1 billion. Price tags for some of the largest ships are said to be closer to $1.5 billion.
In fact, the cost to even refurbish an older ship to where it's updated and more in line with the newer-built ships can easily run $100-$150 million for a large ship.
The good news is that the lifetime of a ship is measured in decades, meaning that with constant sailing there is plenty of time to recoup that cost, so passengers don't have to pay a fortune to sail.
The Biggest Ships Can Go Through 5,300 Pounds of Bacon in a Single Cruise
The logistics and scale of operating a cruise ship can be mind-boggling. For instance, feeding more than 6,000 passengers for a week on the biggest ships is no small task. It's not just how many meals have to be made, but how much food is consumed.
Royal Caribbean released some statistics about dining for one of its largest ships, Symphony of the Seas. Over the course of a 7-day cruise, passengers on the ship eat 5,300 pounds of bacon. That's more than 750 pounds per day.
It's also in addition to 2,300 pounds of lobster tails, 5,000 dozen eggs, and 20,000 pounds of baked potatoes. The amounts are almost too large to comprehend.
Maybe that's why Symphony of the Seas also has nearly 1,100 members on its culinary staff? That is a small army, all there to feed a small city.
Cruise Ships Continue to Get Larger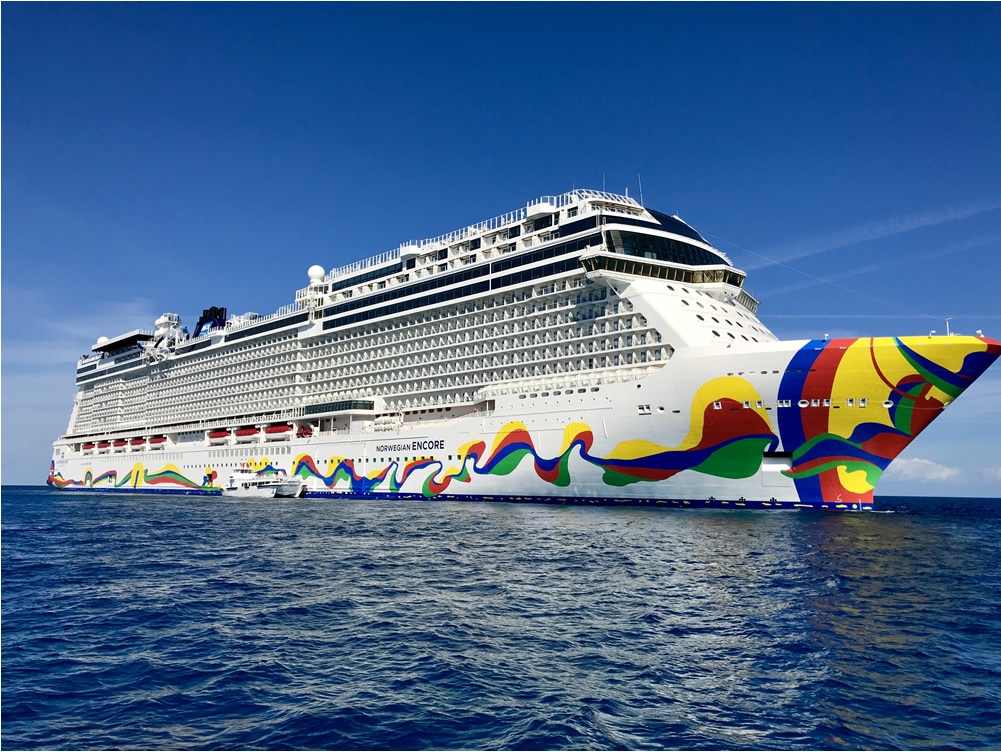 Gone are the days where a cruise ship was designed simply to be the vessel to get you from port to port. Today, the cruise ship is the destination.
For years there has been an arms race when it comes to ships. The major cruise lines — including Carnival, Royal Caribbean, and Norwegian — have competed to create ships that not only push their own fleets bigger, but also put them on par with their rivals.
That's led to the largest cruise ships the world has ever seen… and a steady increase in average size over time.
Consider that from 1990 until 2000, most cruise new ships built were in the 70,000-80,000 gross ton range. But since then the size of ships has soared.
From 2015 until 2021, the average gross tonnage of a new cruise ship from the major cruise lines is 164,000 gross tons — more than twice the size of a ship built during the 1990s.
The Size of the Biggest Ships Peaked in 2009
Given the current trend, you might think that the biggest cruise ships will continue to increase in size in the future. That's likely not the case. There does come a point where size becomes a negative instead of a benefit.
Consider that the Oasis of the Seas — the first of the largest Oasis-class vessels built by Royal Caribbean — was built in 2009, more than a decade ago. Since then, it's had several sister ships built that have been marginally larger at most. However, there hasn't been a significantly larger cruise ship built.
Instead, at least for now, this seems to be the upper limit for how large cruise ships will become. As ships get larger, so too do the logistical issues that come with them. Namely, not every port of call can handle the size and scale of the largest vessels.
In fact, Norwegian's new Prima class ships are actually smaller than its last Breakaway-Plus class.
Most Cruise Lines Are Actually Owned by One of Three Companies
There are tons of cruise lines out there — Carnival, Royal Caribbean, Celebrity, Disney, Norwegian, Princess, and more.
But what most people don't realize is that three large companies dominate the space.
Carnival Corporation is the parent of Carnival Cruise Line, Princess, Holland America Line, AIDA, Costa, Cunard, and more.
Royal Caribbean Group is parent of Royal Caribbean International, Celebrity, and Silversea Cruises.
Norwegian Cruise Line Holdings is owner of Norwegian Cruise Line, Regent Seven Seas, and Oceania.
Just like how many car brands are actually owned by larger companies, it's the same for cruise lines. There are some independent lines out there, but if you are sailing a major line, chances are it's owned by one of these few companies.
Despite Sailing From the U.S., Almost All Cruise Ships Are Foreign-Flagged
It's easy to think of cruise lines as being American. For many, they are led by American executives, they have large shoreside operations in the United States, sail from U.S. ports, and their shares trade on American stock exchanges.
In fact, nearly every major cruise ship is "flagged" in a foreign country. Since ships are international in nature, it makes sense to register them in areas that are most friendly to their needs. This practice is what's known as using a "flag of convenience." It's similar to the way that many corporations in the United States are located in Delaware, despite possibly having limited operations there.
Foreign-flagged vessels from certain countries can hire from less expensive foreign labor pools. According to a report from the U.S. Department of Transportation that explored the costs of operating a foreign-flagged merchant ship versus U.S. merchant ships, the average daily crew cost for U.S.-flagged ships was approximately 5.3 times that of foreign-flagged vessels.
One ship that is U.S. flagged? Norwegian Cruise Line's Pride of America. It sails the Hawaiian islands.
Cruise Ships Can Actually Move Pretty Fast (For Their Size)
Ok, no one would confuse travel by cruise ship with the speed of traveling by plane or jet. But considering that a ship is roughly as long as the Empire State Building is tall and has about as many rooms as The Mirage in Las Vegas, the fact they can move at all is impressive.
But when you add in the top speed, it's mind-blowing. While speeds will vary from ship to ship, the top cruising speed of many ships is around 25 miles per hour. That may not seem like much, but many neighborhoods have speed limits of 25 mph. Next time you see a car drive by, imagine that a cruise ship was gliding by your house instead. Usain Bolt — the fastest man on the planet — reaches a top speed around 27 mph.
And at 25 miles per hour, if a ship were able to sail directly around the equator, it would take just about 40 days to go around the entire planet. That's not bad for being able to carry an entire resort with guests and crew.
There's an Entire World on the Ship You Don't See
On the biggest ships it can take you a couple of days just to explore the areas that are for passengers. But beyond the places that passengers see is an entire other part of the ship that most people will never visit.
While passengers do get to enjoy the biggest and most luxurious spaces, facilities for the crew and ship operations are off-limits. Places like the engine room, navigation bridge, and crew quarters are closed off to guests.
Remember, there are "back of house" operations like the kitchens and laundry rooms, but also cabins, lounges, cafeterias for the thousands of crew members on board, medical facilities, and more. It's an entire world that you just won't get to see, unless you go on one of the behind-the-scenes tours offered on some ships.
Smile! You're Likely on Camera
While they aren't always easy to notice, if you are in any sort of public area, then you can expect that you are on camera.
Cameras are located all around the ship, from hallways to pools decks and more. You don't have to worry about them being in private spots like your balcony, but if you are out and about on the ship, then it's likely you're being recorded.
This isn't just for safety purposes, but it also helps in the health crisis. With the video surveillance, it's much easier to do contact tracing should there be virus cases on the ship. The cruise line can see who someone was around and where they went to be able to test potential close contacts.
There Are Often Hidden Hints That Point Forward
Our last thing that many people don't know isn't a crazy fact about cruise ships, but something that could help you tremendously the next time you sail.
Cruise cabins are situated in long hallways that make it easy to forget which direction you are walking. There are no windows, and it is door after door that all look the same. It is not unusual to walk one way and then realize it is the opposite direction of where you wanted to head.
But many ships put in hidden clues to help you, if you know what to look for.
Norwegian Cruise Line has carpet with little fish in its cabin hallways. The fish are always swimming forward. And on Royal Caribbean, there are door signs with the ship that face forward, or a small arrow pointing forward. And if there is a "wave" sign on the cabin door, like with some older ships, then the peak of the wave is on the forward side.