For many people, it's not a cruise unless they are enjoying themselves with a drink in their hand. After all, what's more relaxing than hanging out poolside with a cold beer or tasty cocktail?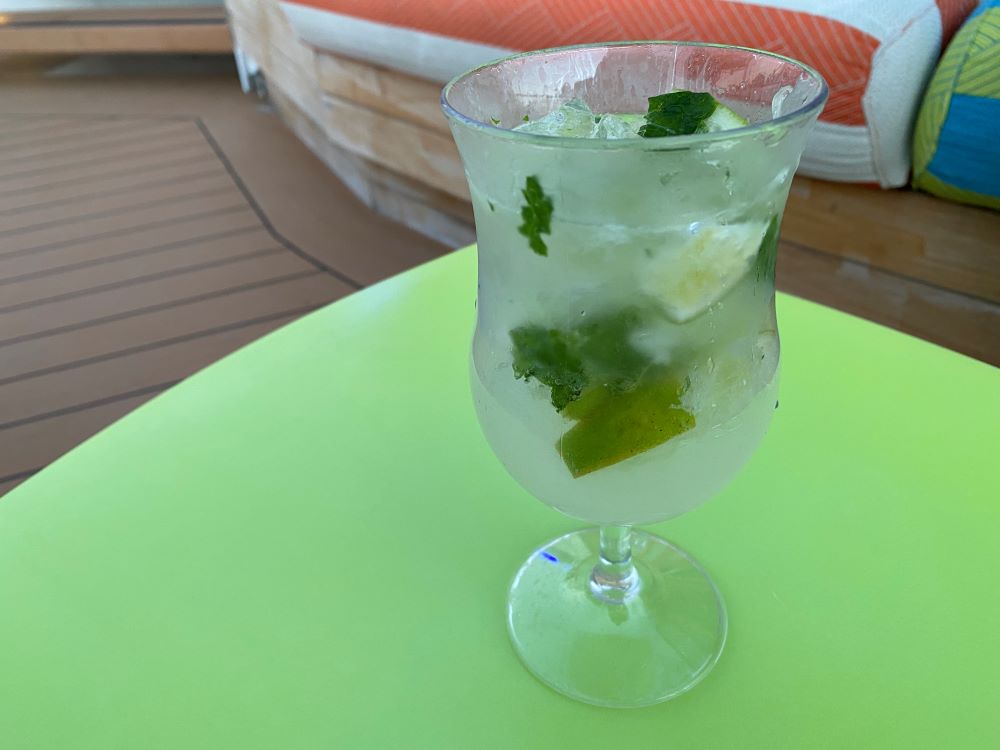 Of course, cruise lines are happy to help. Bars are everywhere on a cruise ship, and the alcohol flows freely. But it's certainly not free. Drinks are big business on a cruise.
So how much will you pay for a drink? What sort of beverages are available? Who can buy a beer or cocktail? These are just a few questions you might have about enjoying alcohol on a cruise. We answer them all (plus roughly a dozen more) for you below.
How much does beer cost on a cruise?
Looking for a brew? Cruise ships will have tons of options, including some like Carnival that even brew their own beer to sell. But if it's a large, nationally known beer, it's likely to be on the ship… along with some other options like local beers. Norwegian Cruise Line even has some ships with dozens of beers on tap.
In general, expect prices to be in the $7-9 range, before gratuity. With gratuity, expect to spend about $8-10.50 per beer.
As an example, below is a list of prices and beers from a recent Royal Caribbean cruise. Keep in mind these prices are before gratuity is added on.
Amstel Light $7.49
Blue Moon $7.49
Bud Light $7.49
Budweiser $7.49
Coors Light $7.49
Corona $7.49
Dos Equis $7.49
Daura Damm $7.49
Heineken $7.49
Michelob Ultra $7.49
Miller Light $7.49
Paulaner Weiss $7.49
Stella Artois $7.49
Red Stripe (473 ml) $7.99
Foster's Oil Can (750 ml) $9.50
Other cruise lines might have prices that are slightly higher or lower but this is a good ballpark. As well, options will vary by cruise line and even from bar to bar on some ships.
How much do cocktails cost on the ship?
Perhaps nothing is as iconic on a cruise ship as sipping a delicious cocktail with an umbrella in it. And cruise lines are happy to oblige. Not only can you get classics like Rum Runners, Margaritas, and Mai Tais, but cruise lines are constantly introducing unique cocktails that you won't find anywhere else.
In other words, even if you aren't a big cocktail drinker, there's likely to be something that you'll want to sip.
The downside? You definitely have to pay for it. Prices for cocktails on cruise ships usually run about $10-14 per drink, before gratuity. So expect to spend about $12 to $16.50 per beverage when gratuity is added.
Here is a sample menu from a recent Carnival cruise to give you an idea of what's offered. Just like different restaurants, different bars on the ship will have different drink options: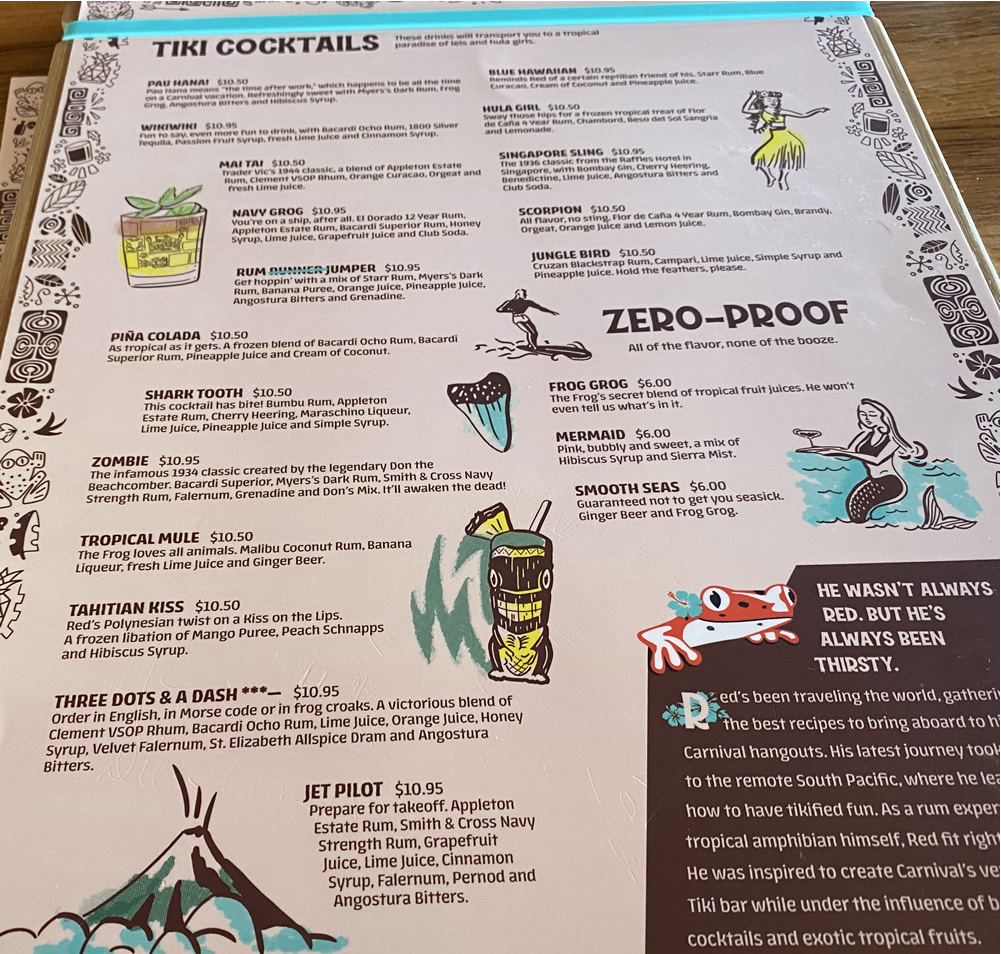 What should I know about drink packages?
As you can see, the price of alcohol on the ship can be expensive. If you're looking to save money, the cruise line offer drink packages. These packages offer up all you want for one price. So, for example, a cruise line like Carnival will charge about $55 per day for a package, and for that amount you can simply grab a drink when you're ready.
Drink packages can be a considerable cost, but make the budgeting much easier.
Before you buy a package, however, there are lots of things to know. For example, if one adult in the cabin buys the package, then all adults normally have to purchase it as well. And if you purchase, you have to buy the package for every day of the cruise.
For a full breakdown, read our guide to cruise line drink packages here.
Is gratuity included on drinks?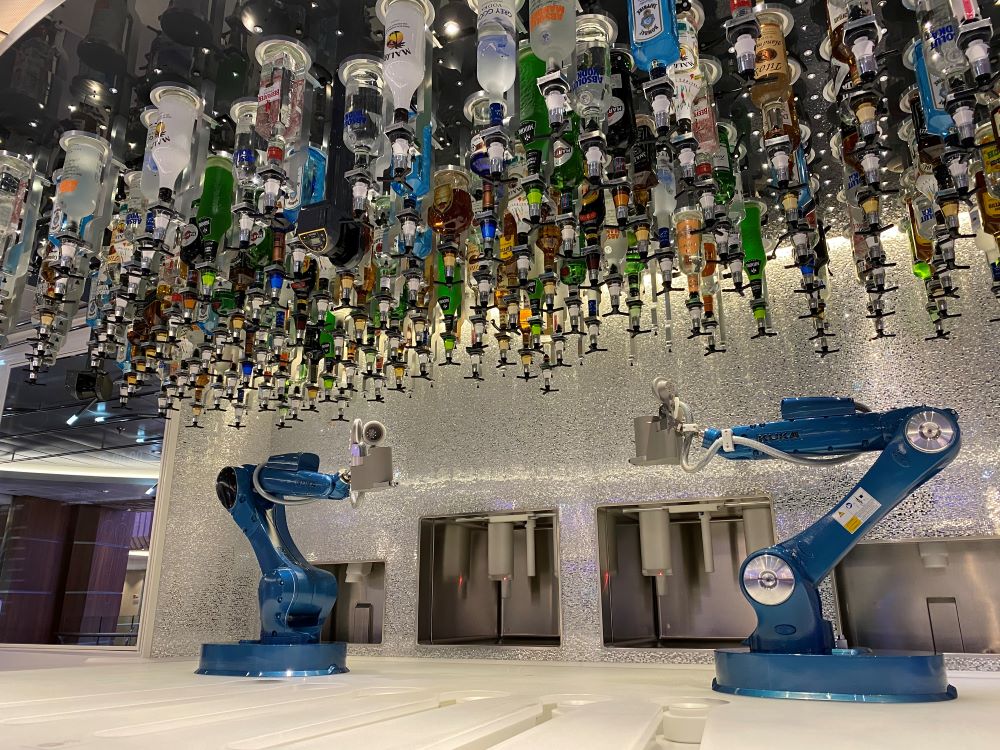 If you have a drink package, then you don't have to worry about gratuity being added when you get something from a bar. The gratuity is instead added onto the daily cost of the package. So a $70 per day drink package will have an 18-20% gratuity charge (the amount varies by cruise line) and actually costs you closer to $85 per day. But when you get a drink, you won't see any additional charges, for the drink or gratuity.
However, if purchasing a drink without the package, then you will be charged an additional gratuity on the menu price. As just mentioned, this amount varies by cruise line but is normally 18-20%.
So a $10 drink on the menu will actually end up being about $12. An $8 beer would be closer to $10.
One thing to know is that while this gratuity is charged automatically, when you sign the receipt you'll see a line for an additional tip. You aren't required or expected to add more unless you want to do so.
What's the drinking age on a cruise ship?
With cruise ships there are some unique situations that you don't find with other vacations. For instance, while docked in a country, the ship is bound to the laws of that nation. But when outside their waters, they are not. And then, a ship might visit three or four different countries with different laws during the same cruise.
To keep things simple, ships sailing from the United States have a drinking age of 21 years old. Ships sailing from points in Europe, Asia, and Australia typically have a drinking age of 18 years old.
But local laws in places your ship will visit might have different drinking ages. In some cases, it may be legal for someone to drink in port, but not allowed on the cruise ship. For instance, Mexico and The Bahamas have an 18 year drinking age, but ships departing the United States have a 21 year age minimum.
For more on cruises and drinking ages, you can see our article here.
How do I buy drinks on the ship?
Put that wallet away. To buy drinks on the ship you don't need cash or a credit card. In most cases you simply hand over your room keycard, which acts as a charge card for your onboard account. (Sometimes you simply give your room number and the staff charges your account that way.)
Once charged, you'll be presented a receipt to sign for your drink.
Have a drink package? Don't worry, the bar staff will know when your card is swiped that you have the package. You won't be charged for the beverage.
Is there a limit to how much I can drink?
There are no set limits on how much you can drink. One exception is that Carnival does limit those with drink packages to 15 alcoholic beverages per day. (It's not clear if that limit applies to those without the package.)
Still, for the most part you aren't under any clearly defined limit. That said, don't expect to continue to be served if you are showing signs of dangerous levels of intoxication. The cruise lines want you to relax, enjoy yourself, and have a good time, but not at the expense of your health or the well-being of other passengers.
What brands of alcohol are available?
There is seemingly an endless number of options when it comes to alcohol brands on a cruise ship. In fact, there are bound to be brands you've never tasted or even heard of before, in addition to well-known names.
So will your favorite brand of beer, wine, or liquor be served? That depends.
If your favorite is a popular brand with national presence, then you can expect it to be on the ship. If it's a lesser-known or regional brand, then the chances are much lower.
For instance, if you're from Texas then Shiner Bock is a well-known beer brand and served just about anywhere in the state… but not nationally. We have yet to see the brand on a cruise ship unless sailing from Texas.
Major brands of alcohol like Tito's, Jack Daniel's, Crown Royal, Maker's Mark are all widely available. In addition, you will definitely find some lesser-known options as well, but not all.
What time do the bars open and close?
"Cruise time" is a little different from regular time. So if you're wanting a drink in the morning, that's no issue. Individual bar schedules will vary, but apart from very late night/early morning (e.g. 3-8 a.m.) you should be able to find somewhere serving, though it may only be one or two spots.
For instance, below is the bar schedule for MSC during a recent cruise:
Can I take my drink anywhere around the ship?
Yes. At first it can seem a little weird walking from a restaurant to the casino to the pool all while carrying a drink in your hand. For those of us used to laws surrounding public display of open containers, it feels unnatural. On a cruise ship, it's completely ok and commonplace.
Drinks can be taken with you anywhere around the ship. So grab a drink and head to a show, dinner, the pool, casino, or just back to the cabin.
Can I order two drinks/doubles?
Sure, although some lines have rules if you have the drink package. If you don't have the package, then it's not a big deal to order multiple drinks at once. In fact, cruise lines often have beer buckets that you can purchase that have 4-6 beers.
Want a drink for you and a friend? Want a double? Just order it, it's no issue at all.
If you have the drink package, however, then things get a little more complicated. Since these packages are for individuals and not meant to be shared, there are rules that limit the ability to order multiple drinks. For example, Carnival's package doesn't allow double shots and you can only purchase one drink at a time, with a five-minute waiting period between drinks.
Is There a Mini-Bar in the Cabin?
Often, but not always. Every cabin will have a small refrigerator, which often doubles as a mini-bar with a number of beers, liquors, sodas, and waters. (We have been on cruises where the refrigerator is empty.)
Want something to drink? Help yourself, but just know you'll be charged. The menu prices are typically posted on the fridge or nearby. Even if you have a drink package, mini-bar items are excluded.
Can I bring alcohol onboard?
You can't bring most alcohol onto the ship for drinking during your cruise. So if you wanted to bring a bottle of rum or a 12-pack of beer from home to enjoy while sailing, that's not allowed. Cruise lines expect you to purchase their bar offerings. They do, however allow you to bring on a bottle of wine or champagne.
If you are in port and find a bottle of something that you want, then you can also buy it and bring it home with you. So if you visit Mexico and pick up a bottle of tequila, you can bring it back with you as you board the ship.
The difference? When you return to the ship the bottle will be taken from you and placed in storage. It will then be returned to you the last night of the cruise to take home. So don't think you're going to be able to enjoy it while sailing.
One other thing to note is that some lines — including Carnival and Royal Caribbean — do allow you to bring on some non-alcoholic beverages like sodas and waters. You can find more details here.
Can I buy duty-free alcohol on the ship to mix drinks?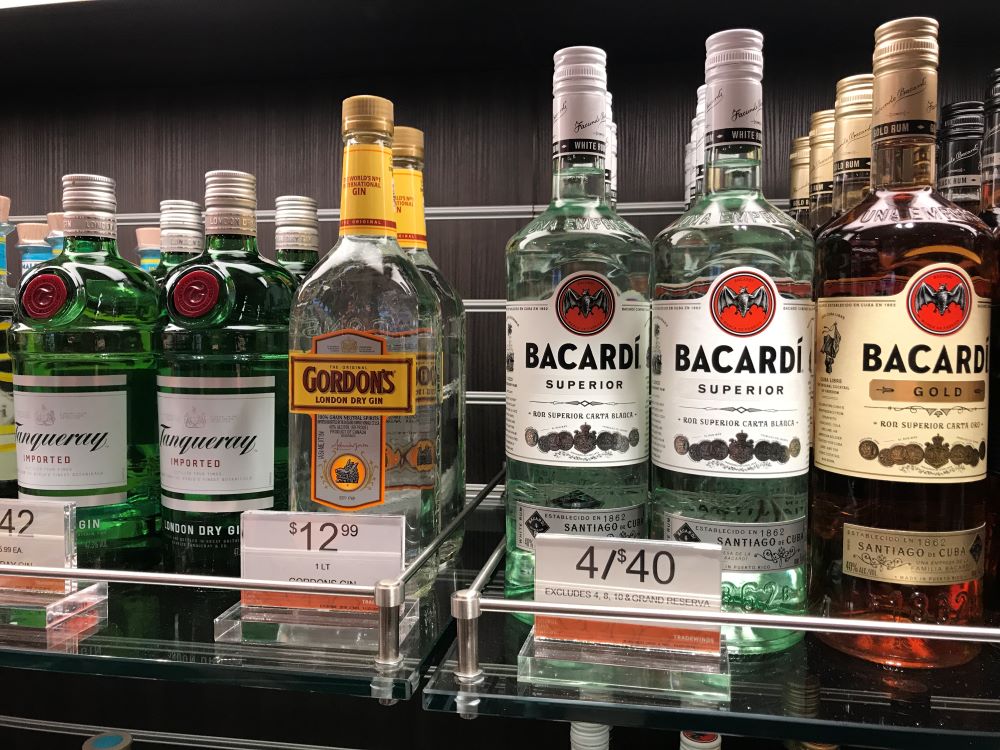 Step on a cruise ship (or head out into port), and you'll see lots of opportunity for duty-free shopping. Cigarettes and alcohol are the big sellers, and the prices are good for what's offered.
You might have the idea to bring on mixers and then buy a bottle from the duty-free shop to enjoy on your cruise. Unfortunately, that's not allowed.
When buying from a duty-free shop, your bottles will be packaged and then stored by the staff until the last day of your cruise. They will then be delivered to your cabin on the last night to take with you as you get off the ship.
What happens if I sneak alcohol onto a cruise?
Given the price of drinks on the ship, you wouldn't be alone in wondering about sneaking drinks on with you in your luggage as you board.
It's relatively common that people try this trick. In fact, when boarding you'll likely find several people having bottles of liquid being closely examined by the security staff during boarding.
In other words, security is on the lookout for smuggled booze. If found, expect it to be removed and likely destroyed. If put it in your checked luggage, you might be called down to retrieve your bag.
The terms and conditions of sailing may give the cruise line the right to not allow you to board if found trying to sneak on alcohol, however, we've personally never heard of that happening.
Still, it could lead to some awkward conversations — and losing your alcohol — should you be caught trying to sneak it onto the ship.
How can I save money on drinks?
There's no question that it can be expensive to drink on a cruise ship. But there are ways that you can drink for less money. Here are a few tips:
Drink in port instead: Ports of call offer a chance to save money on drinks. Many areas near where the ship docks will have cheap(er) drink specials designed to attract the business of cruise passengers. By heading off the ship you can save money versus drinking on the ship.
Look for sales: If you do plan to drink on the ship, be sure to keep an eye out for drink specials. They will often be mentioned in the daily planner that's delivered to your room each night. Maybe it's a happy hour at a certain bar or certain drinks that have a discount.
Do the math on drink packages: If you're a big drinker, then drink packages can save you tons. These packages are also expensive, so if you don't get your money's worth, then you could end up spending more than you would otherwise. To help you do the math before buying, check out our drink package calculator here.
More about drinking on a cruise: