When will cruise ships resume sailing? As we explain below, our opinion right now is that it won't be until August… and possibly later.
When will cruises set sail again after the current crisis?
To be sure, at the moment there are much bigger issues at hand for many people than taking a cruise. But over time we will get through the outbreak and life — which has been so disrupted over the past couple of months — will at least start to look more recognizable.
People will want to get back to work, eat at restaurants, and enjoy one another's company. And after all of this, who wouldn't be thinking about a vacation?
But if you are wanting to go on a cruise, then we think you'll have to wait a little longer than you might expect.
Cruises Cancelled in March… When Do They Resume?
The cruise industry made a historic move in mid-March. The industry — including all the big names like Carnival, Royal Caribbean, and Norwegian — suspended new sailings. Never before had such an action been undertaken.
Originally, the pause was slated for roughly 30 days, with ships returning to service in mid-April.
This was a good idea. With cruise ships and coronavirus already in the headlines, more ships with outbreaks was bad news that cruise lines didn't need.
Unfortunately for everyone involved, the suspension applied to new sailings. Cruises that were already ongoing — including some lengthy trips of several weeks — kept sailing. That's why we've continued to see ships hit with illness, even after the suspension.
That has meant more negative headlines for cruising.
Meanwhile, the original dates set by cruise lines to return in mid-April have also been extended. Each cruise line is different, but as of now, most have "return-to-sailing" dates set for mid-May. (Update: Those suspensions have now been pushed to June/July for major cruise lines.)
But is that realistic? Given what we've seen, it doesn't seem so.
In fact, we think it will be August or later before ships resume sailing, even in a limited capacity.
Why It Could Be Months Before Cruises Sail Again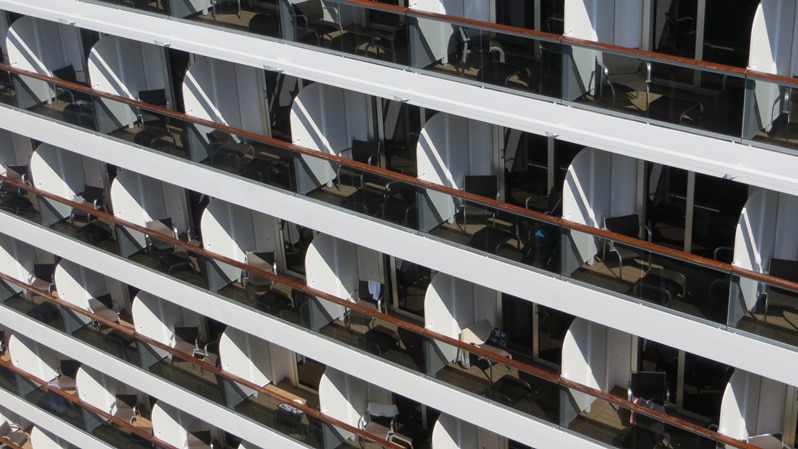 So if cruise lines have suspended sailing until mid-May (now June/July), why do we think it's going to be much longer before they sail?
First, while it appears the growth of the outbreak is slowing in many places, cases have yet to hit a global peak and are still growing. According to tracking site Covidly.com, there were 1.2 million active cases worldwide as of today. That includes 93,000 new cases over the past 24 hours.
In other words, the outbreak shows there might be light at the end of the tunnel, but we are still very much in the middle of the storm. In fact, there are now 18 times as many confirmed active cases of the virus as when cruise lines stopped sailing in March.
Second, while there does seem to be some reduction in the growth rate, that's come at a big price. The slower growth rates appears to be because of the drastic actions taken around the world with people staying home and social distancing.
Orders around the United States and the world have kept interactions between people reduced. But many of these orders don't have set end dates and could last for weeks — well past the current planned return dates for cruise lines.
Obviously it's a challenge for cruise lines to sail with millions around the country — and the world — ordered to stay at home.
Finally, even after there is a peak in cases, it's still a long road to full recovery.
South Korea has been the gold standard when it comes to responding to the outbreak. In total, the country has seen about 10,500 cases so far. But the number of active cases peaked on March 11 at 7,470 — a drop in the bucket compared to what we've seen in Europe and the United States.
Despite being a month past its peak in cases, there are still about 3,000 people still sick in South Korea. In other words, it's taken a month to get the outbreak numbers cut in half. At this rate, it would take another month to get that figure down to zero.
In other words, for the country that's shown the best response to the outbreak, it looks like it will take three whole months to recover from when the outbreak started.
It's likely other countries are going to have an even longer timeline.
CDC "No-Sail Order" Points to Longer Recovery
For the United States — the world's largest cruise market — it's been a little over a month since the outbreak started, and the country has yet to see our peak in active cases.
At this point, it's a near certainty that getting over this will take longer than the estimated three months in South Korea.
Meanwhile, the CDC modified a "No Sail Order" that ceases operations of cruise ships in the U.S. until one of the following three things happens:
The declaration of coronavirus as a public health emergency expires
The CDC Director changes the order based on public health or other considerations
100 days from the date of publication in the Federal Register.
That 100-day timeline would put us in late July. Even so, it's not set in stone and could be extended.
Given the outbreak, it's likely that the last part of society to open back up will be anything that puts lots of people in close proximity, such as sporting events… and yes, cruising.
That's why we think cruises won't resume until August at the earliest, but returning even later is still in the cards.
Even then, the return of cruising might look a bit different for at least several months.
How Cruising Might Come Back
A big question is how is cruising going to work when it does resume. It's unlikely that one day there will be no cruises and the next day the entire fleet get back to sailing like normal.
For one, it's possible that between a recession with major job losses and fears of getting sick, demand for cruises will be lower.
According to some analysts, some lines could "lay up 10-20% of some fleets this year."
At the same time, with cruise ships being at the forefront of the headlines surrounding the virus, it could be that some ports of call have their own restrictions on ships docking. For instance, Canada isn't allowing cruise ships until July 1 at the earliest. Other ports have also denied access to ships in the past few weeks.
That's why even when cruise ships start back sailing, it could look different at first.
Shorter sailings may be more frequent as they are less expensive in an economic downturn. Shorter cruises could also put passengers at ease that want to cruise but are worried about spending too long on a ship with the outbreak still on their minds.
As well, instead of longer trips that travel to several different ports, you might find more cruises that head to a single country, or go to a cruise line's private island and back home.
This not only reduces the chances of a port of call refusing a cruise ship, but it also would make the illness much easier to track should an outbreak occur.
Whether cruises get back to sailing in mid-May, or it takes until later in the summer, or beyond, one thing is sure. The industry is sure to look different coming out of this crisis than it did going in.
And while no one can know at this point the exact date that cruises might sail again, there's plenty of reason to think they may not return for months.