In many ways the past year has flown by. In other ways, it's been a slow crawl. But now we are at the one-year mark since cruises were originally suspended in March 2020.
The impact of the pandemic made its presence felt in cruising weeks before, and likely will continue to be felt for years to come. Everything — from how passengers board to how they eat to how they enjoy a port of call — looks to change, at least in the near future.
So how did we get to this point? With the anniversary of the suspension of sailing, we decided to take a look back at how the health crisis unfolded in cruising to remember exactly how the industry navigated a (hopefully) once-in-a-lifetime situation.
Timeline of the 2020-2021 Cruise Suspension
December 31, 2019: The World Health Organization's Chinese office is informed that cases of pneumonia were detected in Wuhan, China. As of early January, 44 cases are reported, with links to a market in the city. At the time, the WHO says that there is no "significant human-to-human transmission" based on the early information.
January 20, 2020: Princess Cruises' Diamond Princess departs Yokohama, Japan. Later, a passenger from Hong Kong that traveled for five days aboard the ship disembarks in Hong Kong on January 25. On February 1, this person tests positive for coronavirus.
The cruise, with 2,666 guests and 1,045 crew onboard, returns to Yokohama.
February 4, 2020: After arriving back in Japan, the next cruise aboard the Diamond Princess is cancelled, and virus tests are conducted. Of these tests, 10 people test positive for coronavirus. The positive cases will be transported to local hospitals and the rest of the ship is under quarantine. In the coming days, dozens more people onboard will test positive, with eventually around 700 cases on the ship. The outbreak generates significant media attention around the world.
It will take until February 27 before all guests are confirmed as disembarked.
March 8, 2020: Cruise Lines International Association (CLIA) — an industry trade group representing nearly every cruise line — announces enhanced screening measures for its members. This includes denying passengers who had recently traveled from then-hotspots like South Korea, Iran, and China, and denying boarding to those who had direct contact with anyone potentially with COVID.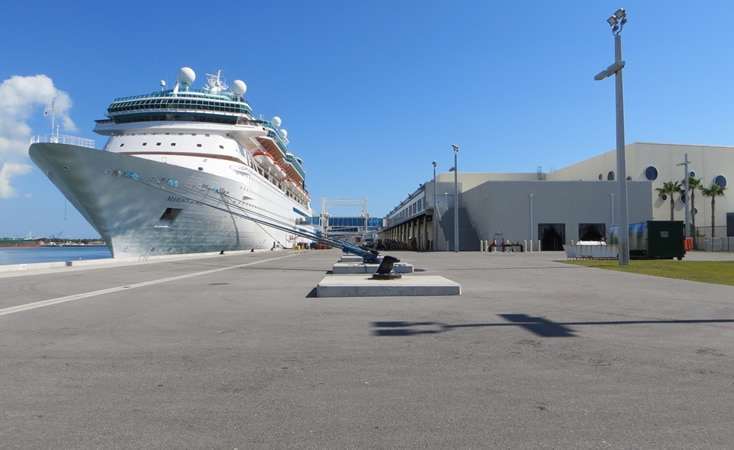 March 14, 2020: While some lines had already made a move to suspend cruises in the face of a rising pandemic, CLIA announces that starting on March 14, 2020, its members will voluntarily halt cruises from the United States for 30 days. This comes as more ships continue to be associated with COVID cases.
The ships already at sea have various return dates, with some weeks into the future.
On the same day, the U.S. Centers for Disease Control issues a "No Sail Oder."
At the time of the stoppage, there have been approximately 160,000 confirmed cases globally, according to Johns Hopkins.
April 9, 2020: After nearly a month since the pause of cruises, the CDC renews its "No Sail Order" for the first of several times, effective April 15. This time the order is updated to be in effect until COVID is no longer a public health emergency, the CDC Director rescinds the order, or 100 days from when it went into effect.
April 22, 2020: Despite the pause in cruising, some ships that were already underway continued at sea. According to CNN, the last ship from a major cruise company — Costa Deliziosa — debarks its passengers in Italy to mark the end of its around-the-world cruise that started in January. There are no reports of the virus on the ship.
Thousands of crew members are still onboard ships around the world, as the repatriation process for many cruise lines is hindered by changing travel rules to curb the spread of the virus.
As of late April, there are about 85,000 new cases seen around the world each day.
The Miami Herald reports that roughly 4,000 cases were linked to cruise ships during the crisis, with approximately 90 ships around the world impacted.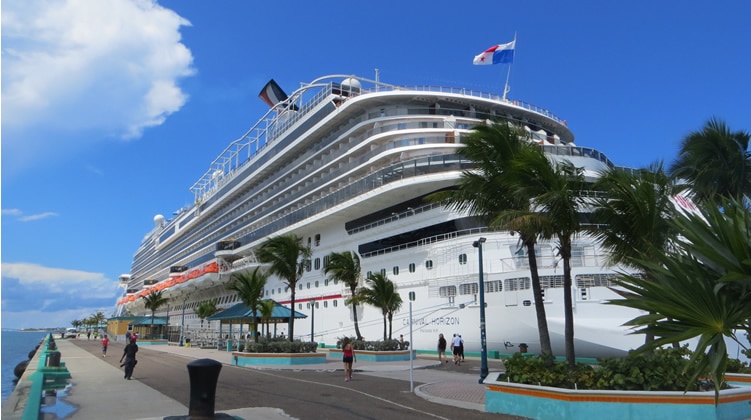 April 29, 2020: Carnival Cruise Line announces that 18 of its ships will meet to shuttle crew to nine vessels that will then sail around the world to repatriate more than 10,000 staff still onboard its ships. The measure is needed due to air travel restrictions around the world. Before the pause, Carnival says it had nearly 29,000 crew members on its ships.
July 6, 2020: Royal Caribbean Group and Norwegian Cruise Line Holdings Ltd. announce they've partnered to create the "Healthy Sail Panel." This group of experts, led by former Secretary of Health and Human Services Mike Leavitt and former FDA Commissioner Dr. Scott Gottlieb is tasked with coming up with recommendations on how to improve the safety of cruising when it comes to COVID-19. Its work will be open to others — including rival cruise lines — to adopt.
July 16, 2020: The CDC extends the "No Sail Order" again. This time the order is good until September 30, 2020.
July 25, 2020: Following a "second wave" of COVID in the United States, the average of daily new cases reaches a peak of 70,617 in the country, according to Worldometers. From there, the daily average will start to decline until mid-September, when a third — and even larger — wave of cases hits the U.S.
September 21, 2020: The Healthy Sail Panel releases its recommendations for the return of sailing. The 74 "best practices" lay out changes on every facet of cruising, alerting everyone that the experience will be different whenever cruises do return.
Among the recommendations are testing of all passengers for COVID before boarding, temperature checks, mask wearing, social distancing, touchless check-in, and enhanced sanitation. Other changes include upgrading HVAC systems, contact tracing on the ship, and cabins set aside for isolation and quarantine space.
September 30, 2020: The CDC extends the "No Sail Order" for what will be the final time. There are reports that the CDC Director wanted to extend the order further in the future, but was overruled. The order is extended just a month, from September 30 to October 31, 2020.
October 16, 2020: According to a report from USAToday, eight passengers who traveled aboard a cruise ship in Europe (where limited voyages had returned), test positive for COVID. New policies put in place seem to have limited the spread as testing and contact tracing were performed.
October 30, 2020: After more than seven months in place, the CDC "No Sail Order" is lifted and replaced with a "Framework for Conditional Sailing." This new order provides a roadmap for cruises to return by laying out several steps they must complete.
The framework requires cruise lines to implement new procedures, including undergoing simulated voyages to test new protocols, applying for a "Conditional Sailing Certificate" before cruising, and having agreements in place with ports and local health authorities.
There is no date as to when cruises can return to sailing, but instead the CDC says "these phases will be further determined based on public health considerations including the trajectory of COVID-19 transmission…"
December 11, 2020: After months of testing, the first COVID-19 vaccine is approved by the FDA for emergency use authorization. The vaccine from Pfizer is approved for use in those 16 years or older. Trials demonstrate it is 95% effective.
Just a week later, a second vaccine from Moderna is approved for those 18 years or older. Its trials show a 94% efficacy after the second dose.
The vaccines start rolling out to the most at-risk Americans almost immediately.
January 11, 2021: The 7-day average for daily cases in the United States peaks at more than 255,000 — up from about 40,000 cases just months earlier. This level is considerably higher than previous peaks seen in April and July.
In the weeks ahead, however, the number of cases drops sharply. Just two months after hitting a peak, the average number of daily cases hits below 60,000.
February 4, 2021: The Canadian government announces an extension of a ban on large cruise ships from sailing in its waters. This ban is in place until February 28, 2022.
While there is optimism that cruise ships will return to sailing from the United States in 2021, the Canadian ban marks a major hurdle to the Alaskan cruise season. Since foreign-flagged cruise ships sailing from the United States must make a stop in another country, it appears the Alaskan season is cancelled given that ships can't port in Canada. There is still some hope, however, that a solution might be found for the impasse.
March 1, 2021: In a first from a major cruise line, Royal Caribbean announces that its newest ship — Odyssey of the Seas — will sail "fully vaccinated" cruises from Israel, starting in May. These cruises will have both passengers and crew vaccinated against COVID. Royal Caribbean refers to the ship as the "first 'Green Island' at sea."
March 9, 2021: With the rollout of two multi-dose vaccines and a single shot vaccine from Johnson and Johnson, the average daily rate of doses reaches more than 2.1 million.
In roughly three months since the first vaccine was approved, nearly 20% of Americans have at least one dose, and that figure is higher when only adults are considered (the vaccine is not currently approved for children). Around 10% of the population is fully vaccinated.
Today: Cruises continue to be on hold, but there are signs of hope. Cruise lines have said they hope for updates from the CDC in the near future regarding instructions for the framework to return. Meanwhile, many lines have expressed optimism that there is a light at the end of the tunnel.
Major cruise lines like Carnival, Royal Caribbean, and Norwegian have tentative return dates for June. It has yet to be seen if those dates will need to be pushed back once again.
One thing that doesn't seem to be an issue is demand. Investor calls have repeatedly mentioned pent-up demand, with one line — Oceania — saying it set a single-day record for bookings recently.
As vaccines continue to be distributed and cases continue to fall, there's hope that cruising will return sooner rather than later.