This morning Norwegian Cruise Line Holdings Ltd. — parent of NCL, Oceania, and Regent Seven Seas Cruises — announced yet another delay in returning as the pandemic continues to rage. The company pushed its anticipated return date back another month, cancelling cruises through April 30, 2021 for all of its cruise lines.
Given that the company paused cruises in mid-March 2020, Norwegian is now looking at a pause of well over a year before it returns, and there is always the possibility of further delays.
While the move is newsworthy, it shouldn't come as a surprise. Rival Royal Caribbean Group has also paused its sailings from the United States through April.
In the past the major cruise companies have typically followed similar timelines for cancellations and anticipated return dates. As well, Norwegian and Royal Caribbean have also worked in tandem to implement new health and safety measures for whenever cruising does return. It's reasonable that they would see similar return dates.
Cruise lines were given a roadmap to return to sailing when the CDC lifted its "No Sail Order" in late October, replacing it with a framework of steps to be taken to sail again from the United States. However, since then the progress of a return appears to have been stalled.
For example, one major step is that cruise lines must sail simulated voyages with volunteers to put in place and test new protocols. To date, we know of no cruise line that has scheduled — much less sailed — one of these voyages.
Comments from Carnival CEO Arnold Donald gave the impression that his company was waiting on further instruction from the CDC. In other words, the delay appears to stem from the CDC, not the cruise lines.
It makes sense that the CDC would be methodical in any return of cruising. The agency has been particularly blunt on the safety of cruising during a pandemic, pointing out statistics that the virus spreads easily on a ship. At the same time, the number of cases in the United States continues to be high.
The good news is that the rollout of a vaccine is finally progressing in the U.S., with some days seeing more than a million people receiving doses. By the end of April — Norwegian's anticipated return date — there is the possibility that more than 100 million Americans could have received at least one dose of the vaccine, putting a major dent in the number of cases.
As we've covered here, it's now our belief that cruises won't return until the vaccine is widely available.
Will Carnival Follow Suit and Push Their Return Back?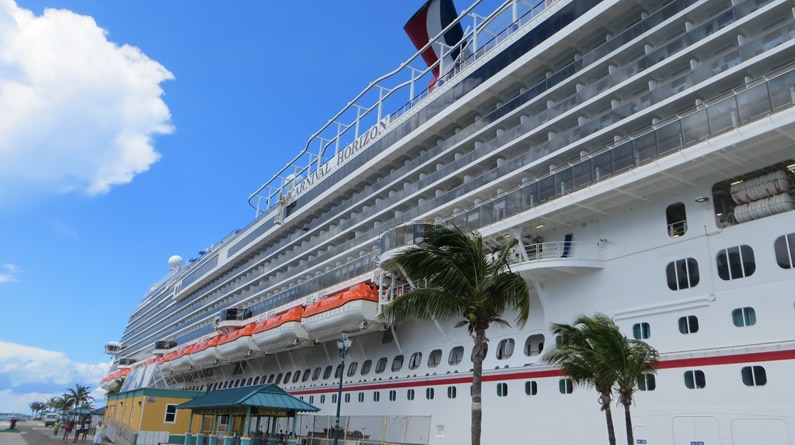 As mentioned earlier, Norwegian and Royal Caribbean have both now cancelled cruises through April, with an anticipated return in May. Among the big three cruise companies, Carnival Corporation is now an outlier with cruises cancelled only through March 2021.
So will Carnival return earlier than its rivals, or will it also push cruises back?
At this time, we believe Carnival is likely to announce a further extension of its suspension, for a couple of reasons.
First, in the past the three major cruise companies have all moved their return dates independently of each other, but seem to all settle on similar dates.
For instance, in early November, all of them cancelled cruises through the end of 2020. Then they all cancelled through the end of March. So history suggests Carnival is likely to push back its return date too. It's hard to imagine that two major companies would get back to sailing a month later than their largest rival.
Second, is the timeline from the CDC framework. As we've covered multiple times on Cruzely, the CDC laid out several steps in a return to cruising, and these steps have specific lead times in between them.
For example, before a cruise line can sail a simulated voyage, they must provide 30-days notice to the CDC. And after the simulated voyage, there must be at least 60-days before the anticipated sail date when applying for a certificate to sail.
In other words, there is at least a 90-day window at minimum that cruise lines face between when they plan a simulated voyage and when they actually set sail with paying passengers.
Ninety days from today is April 19, 2021. It appears at a minimum that at least the first half of April is out of the question for cruises unless the CDC relaxes its requirements.