Call it drama on the high seas. Over the past two weeks, the cruise industry has taken a noticeably sharper tone in calling for the CDC to open up sailing again from the United States.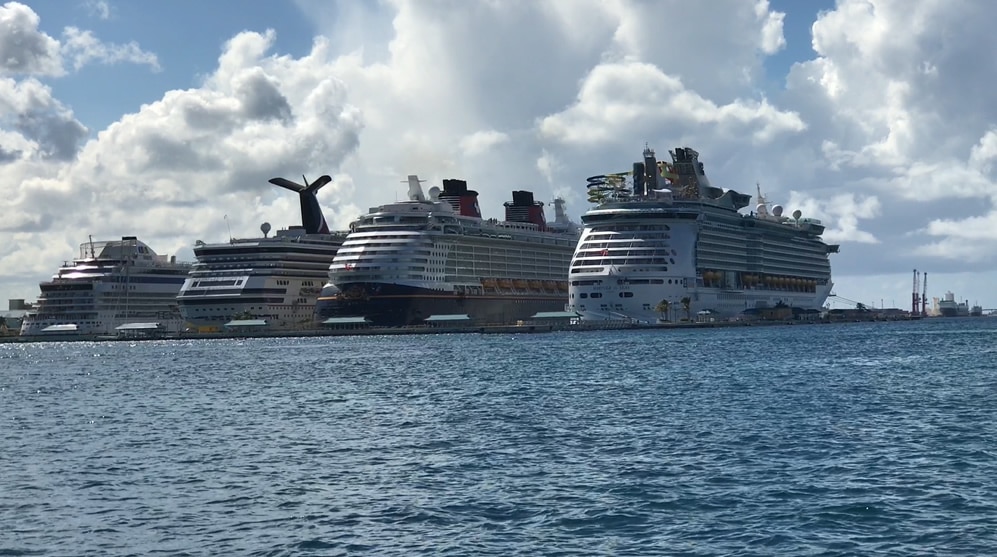 The health agency, which issued a "No Sail Order" back in March 2020, has left cruise lines and passengers (along with the tourist industry that depends on them) in limbo regarding when cruises can return. That order was lifted and replaced nearly six months ago with a framework to return to cruising. Since then, however, there's been little headway.
While cases have fallen sharply and more than a hundred million Americans have received a vaccine dose, cruises continue to be paused.
In response, the industry has started to push back against the agency, calling for new rules in light of vaccines and a return to sailing this summer. A new tone from the industry is unlike anything seen since cruises were suspended more than a year ago.
Early Signs of Pushback and Lifting Conditional Sail Order
One of the first signs of unrest came in a video from Royal Caribbean Group CEO Richard Fain. In this video, Fain covered the latest on a return to cruising, covering points about vaccines and his company's safety record in places around the world where cruises have returned.
He also addressed the CDC's framework:
"Last October, preparing for resumption of service based on extensive protocols made good sense. But today, a vaccine approach makes more sense than this old protocol based approach."
"We don't know what the CDC is contemplating to address this very different set of circumstances. But just as they and other public health officials are doing elsewhere, we expect they will all adjust to the changes that have been and are taking place today. The Conditional Sail Order was a very positive step at the time, but that time has passed."
Notably, Royal Caribbean has also announced that it will sail fully vaccinated cruises from Nassau and Bermuda since it can't sail from the United States at this time.
Cruise Industry Starts Using Stronger Language
Days later, Cruise Lines International Association (CLIA) released a strong statement on behalf of its members, which represent about 95% of ocean-going cruise capacity. In that statement, the group decried that since the framework was introduced, there had been no further instruction from the CDC.
"The CSO (Conditional Sail Order) was issued last October, but since then the CDC has not released any further guidance, as called for in the CSO, to support the resumption of U.S. cruise operations," the statement from CLIA said.
"The lack of any action by the CDC has effectively banned all sailings in the largest cruise market in the world. Cruising is the only sector of the U.S. economy that remains prohibited, even as most others have opened or continued to operate throughout the pandemic."
They also went on to highlight that roughly 400,000 passengers have sailed in other parts of the world, with fewer than 50 cases of COVID found thanks to new protocols. As well, the group pointed out that the framework to return to sailing makes no mention of vaccines, which the industry sees as a valuable tool.
Soon after, Florida Governor Ron DeSantis, along with other officials and cruise executives, held a meeting at Port Canaveral also calling on the CDC to let ships sail again in the summer.
"We were working last year to try to get them sailing by now and, for whatever reason, the CDC wouldn't go there," DeSantis said. "But we're looking at making sure all these ships can sail in the summer. It's really, really important."
New CDC Instructions Cause Further Rift
Soon after, the CDC did finally offer up more instructions on returning to sailing. In a lengthy set of technical instructions, the agency detailed what's needed in agreements between cruise lines, ports, and health authorities as a next step in returning.
Far short of lifting the Conditional Sail Order or providing a concrete timeline for return, the detailed instructions seemed to some members of the cruise industry as too little progress.
Soon after, Port Canaveral CEO Captain John Murray responded sharply, saying:
"For a year now, we have been working closely with our cruise partners and directly with the CDC to find a way forward for the return of cruising from Port Canaveral. Just today CDC announced vaccinated Americans could safely travel internationally. We're disappointed that this guidance for the cruise industry appears to be nothing more than an incremental step in a far-reaching process to resume passenger sailings in the U.S. with no definitive or target start date."
According to Cruise Industry News, Port of Galveston CEO Rodger Rees also asked the CDC to lift its order following the release of the instructions:
"This multi-billion-dollar industry is the only industry prohibited by the federal government from operating, even as other sectors of travel, tourism, and hospitality have opened or continued to operate throughout the pandemic," Rees reportedly said. "With hundreds of thousands of U.S. jobs at stake, a resumption of cruising with appropriate measures is critical to putting people back to work and fueling a strong economic recovery."
More Calls for a Lift of the Order and a Return to Sailing in July
As cases drop and vaccines roll out by the millions, the pressure from the industry shows no signs of letting up.
On Monday, Norwegian Cruise Line Holdings Ltd. CEO Frank Del Rio sent a letter to the CDC Director outlining his company's plan to return to sailing. He also requested to start phased sailing starting July 4, 2021.
This letter outlined a number of steps Norwegian plans to take, including requiring passengers and crew be vaccinated, incorporating new health protocols like universal testing, and sailing at reduced capacity.
"We trust that you will agree that our protocols extend well beyond the protocols of other travel, leisure and hospitality sectors, all of which have already reopened, including hotels and resorts, casinos, restaurants, sporting venues, theme parks and airlines," Del Rio said in the letter.
"We believe that a cruise ship with a fully vaccinated population when combined with the virus protection defenses provided by the HSP (Healthy Sail Panel) protocols is one of the safest vacation options available."
The letter was also sent to the White House Chief of Staff, Florida Governor DeSantis, Florida's senators and a number of representatives.
Following that letter, CLIA released another press release, again calling for a lifting of the CDC's Conditional Sailing Order.
"We share the priority of the Biden Administration to control the virus — and commend the significant advancements made in the US that are a model for others," the letter stated.
"We also respect the authority of the CDC to implement measures in the interest of public health. However, the additional cruise industry instructions issued April 2nd by the Centers for Disease Control (CDC) under the Framework for Conditional Sailing (CSO) are disappointing. The new requirements are unduly burdensome, largely unworkable, and seem to reflect a zero-risk objective rather than the mitigation approach to COVID that is the basis for every other US sector of our society."
"CLIA urges the Administration to consider the ample evidence that supports lifting the CSO this month to allow for the planning of a controlled return to service this summer."
Will This Pressure Lead to a Cruise Comeback?
Over the past two weeks, there's been a much more direct tone from the cruise industry — from executives to port officials and even political leaders — in calling on the CDC to change its position regarding cruising.
And on many arguments, the industry make strong points. Cruises that have returned so far see few cases (about a 0.01% rate), and that's before vaccines have been distributed. Vaccines continue make a big difference in the health crisis. And while theme parks, airplanes, casinos, and sporting events are all opened at least in some capacity, cruise lines remain shuttered, despite offering universal testing before boarding and vaccination requirements.
If this pressure will allow cruises to return this summer remains to be seen. One thing is certain. If there is going to be a summer cruise season, then lines will need to know soon to start planning. Cruise executives have said they need around 90 days to get a ship ready to sail.