For passengers, cruise lines are all about relaxing, having fun, and enjoying a memorable vacation. But for cruise companies and investors, it's big business.
Each year cruise lines take in billions of dollars in revenue and rake in billions in profit, all in the course of providing passengers with a great time.
But to bring in all that money takes an army of workers, enormous sums spent on the latest and greatest ships, and an array of suppliers. In fact, the logistics of providing you an easy vacation are amazingly complex.
The end goal of all those people and all that work, however, is a hefty profit, as you'll see. As well, with the unprecedented impact that the health crisis has had on cruising, it can also lead to staggering losses.
If you've ever been curious about just how much money the major cruise lines make — and details on where it all goes, keep reading.
Peeking Into the Financials of Cruising
So how can we know how much money cruises make? Many of the cruise lines are actually owned by public companies. These public companies report regular quarterly and yearly financial figures to investors that give a look into their operations.
Now, not every cruise line is owned by a public company. However, most of them are. This includes:
Carnival Corporation (CCL):
Carnival Cruise Line
Princess Cruise Line
Holland America
Seabourn
Cunard
AIDA
Costa
P&O Cruises (UK)
P&O Cruises (Australia)
Royal Caribbean Group (RCL):
Royal Caribbean
Celebrity
Azamara
Silversea
TUI (Partial)
Norwegian Cruise Line Holdings Ltd. (NCLH):
Norwegian Cruise Line
Oceania Cruises
Regent Seven Seas
Combined, these three companies give us insight into hundreds of cruise ships and more than a dozen different cruise lines. However, data is delivered for the company as a whole — not the individual cruise lines. Therefore, we can see how much Carnival Corporation earns as a whole, but not just Carnival Cruise Line, for example.
Even so, we can see interesting figures about how much these companies earn from their business.
Revenue: Where Cruise Lines Make Money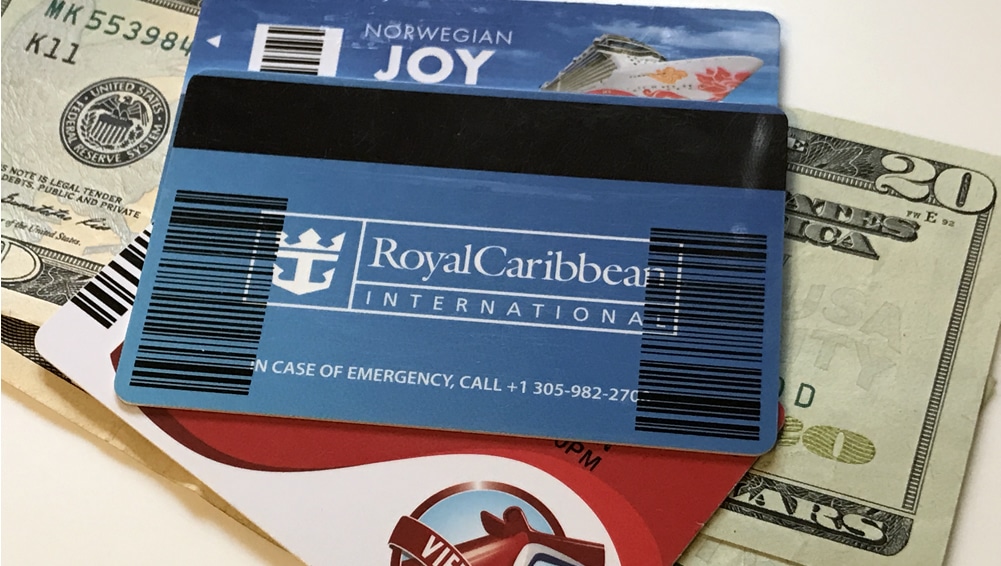 How do cruise lines make money? That's fairly obvious: when a passenger books a cruise, they pay a cruise fare that goes to the line. While this is where the bulk of money it made, cruises have expanded their business to include other sources as well.
Passenger Ticket Revenue
As you'd expect, ticket revenue makes up the biggest portion of where the cruise companies earn money. According to financial reports, about 70% of the money they take in comes from this source.
Ticket revenue comes with some obligations, however. This includes providing a passenger with a cabin, taking them on the sailing, entertainment, food, and more. For that reason, the money isn't actually earned (or "recognized") by the company when you pay it. Instead, it is held and considered earned either after each day of the cruise you take or at the end of the trip, depending on the company.
Over the years (until 2020), passenger ticket revenue continued to increase as more ships were built and numbers of passengers sailing soared.
Onboard Spending
Seasoned cruise passengers know that when you purchase your cruise fare, it's just part of what you spend. Another significant chunk is spent on the ship, which is known as onboard spending.
Want a cocktail on the ship? It's going to cost you. The same goes for specialty restaurants, souvenirs, gambling, wi-fi access, and photos taken by the ship's crew.
In 2019 — the last full year of sailing — the average passenger spent between $65-95 per day on the ship, depending on the company. For the cruise lines, this adds up to billions of dollars in spending in addition to what's made from cruise fare.
Below, we've listed the revenue figures for each of the major cruise companies for the past several years:
Where Money Is Spent by Cruise Lines
Anyone knows that it costs money to make money, and that definitely holds true in cruising. While the cruise lines take in billions in cruise fare and onboard spending, they also spend billions to provide that service.
Cruise Operating Expenses
The largest portion of expenses — typically more than half of revenue — are tied to operating costs to provide the cruise. This figure includes commissions paid to travel agents, costs to run the ship, employee payroll on the ship, food, fuel, repairs, and maintenance.
As you can imagine, these costs add up quickly. It's not cheap to feed thousands of passengers, fuel a 150,000 gross ton cruise ship, or pay thousands of ship employees. Taken together, the operating expenses run about 55-60% of revenue for the cruise companies.
Other Operating Expenses
Of course there are more costs in running a cruise line than just running the ship. Not only are there lots of shoreside employees that run the broader business, but marketing expenses are also a factor. That ad campaigns you see online, on TV, and in person don't come cheap.
In addition, there are depreciation and amortization expenses. With a business that features cruise ships that can cost a billion dollars, these expenses can be considerable.
Other Expenses
Finally, cruise companies have a few expenses that are considered outside their scope of running the cruise line. This is often referred to as "other" expenses or "non-operating" expenses.
While a few things can call into this category, the biggest driver is net interest expense.
Below, we've highlighted the expenses reported by the cruise companies on their 2019 financial reports, which gives you an idea of where the money goes during a normal sailing year:
How Much Profit Cruise Lines Make Per Year
While the costs to run a cruise line are large, the companies come out ahead during normal times. In fact, the profits for Carnival Corporation and Royal Caribbean reach well into the billions of dollars, which Norwegian Cruise Line Holdings Ltd. just below that benchmark.
In 2019, Carnival Corporation earned $2.99 billion in net income. Royal Caribbean Group earned $1.91 billion. Norwegian earned $930 million.
How Much Profit Cruise Lines Make Per Day
Ever wonder how much a cruise line profits each day?
Taking these annual figures and dividing by 365 comes out to net income of $8.2 million per day for Carnival, $5.2 million for Royal Caribbean, and $2.5 million for Norwegian per day, respectively. And as the popularity of cruising has grown, so have these figures.
How Much Cruise Lines Make Per Passenger
In addition to figures about revenue, expenses, and profit, cruise companies also release data regarding the number of passengers carried. Each year, the companies carry millions of people. So how much do they make per passenger?
Based on the 2019 reports, in a typical year Carnival Corporation earns a net income of $232 per passenger. That's the lowest of the major companies. Royal Caribbean sees $291 per passenger. Norwegian Cruise Line Holdings Ltd. profits the most on a per-passenger basis, earning $345.
Of course, these figures are just averages across all lines. The amount made per passenger will vary widely depending on the cruise line, cabin selection, onboard spending, and more.
How Much Cruise Lines Lost in 2020
With the health crisis, 2020 will go down as the hardest year in history for the cruise industry. Even into 2021, cruise lines are yet to be back on track.
So just how bad was 2020 for cruising? In addition to the suspension of sailing and taking on billions in debt and new equity, the cruise companies saw billions of dollars in losses. With no revenue for most of the year, combined with the costs of repatriating crew and keeping ships at sea with no passengers, the losses were staggering.
Will 2021 and Beyond Be a Return to Normal for Cruise Lines?
In the latter half of 2020, a handful of cruise ships did began sailing again, with more coming online in the first half of 2021. However, the industry as a whole is still far from normal. In a recent press release, Cruise Lines International Association said that roughly 400,000 passengers had set sail following the suspension of cruising back in March 2020. For reference, nearly 30 million sailed in 2019.
In other words, even as cruises continue to return, the industry is still far off the mark of where it was before the crisis.