Cruise Terminal 10 at the Port of Galveston marks the biggest leap in cruising from the island since it became a regular departure point roughly two decades ago.
Through a $125 million partnership between the port and Royal Caribbean, the state of the art terminal opened in late 2022 to much fanfare. And it's easy to understand why. On its own the terminal is open, airy, and beautifully designed. It marks a great way to start your cruise. But compare Cruise Terminal 10 to the other two terminals in Galveston, and the difference is even more impressive.
Add to that the fact that with the new dedicated Royal Caribbean terminal the cruise line placed its largest class of ships on the island. The Oasis-class vessels aren't just larger (holding upwards of 6,000 passengers at double occupancy). They offer an experience that's unrivaled in the amount of things you can see, do, and experience onboard. Whether you want to zipline across a cruise ship or just take a quiet stroll in a lush, green park, it's possible on these ships.
All this is to say that Cruise Terminal 10 is without a doubt a major addition to Galveston cruising. But with the new terminal also come a lot of new changes, including everything from the terminal location to where to park. For everything to know, we have you covered.
Cruise Terminal 10 Location
The first thing that you should know — especially if you've sailed from Galveston before — is that the terminal is not located right next to the older cruise terminals. So if you've sailed on a Royal Caribbean cruise in the old terminal, you'll need to go to a different spot.
Cruise Terminal 10 sits about a mile east of the other terminals. The entrance is at the intersection of Harborside Drive and Royal Caribbean Way (which is 14th Street south of Harborside).
If driving to the port, the address to use is 1152 Royal Caribbean Way. For other transportation options to Cruise Terminal 10, you can see our Galveston transportation page here.
Cruise Terminal 10 Photo Tour
If you've sailed from Galveston before but not Cruise Terminal 10, then prepared to be wowed.
The first thing that you'll notice is the large blue façade with the massive Royal Caribbean logo sitting proudly at the center. On either side of the main terminal building are luggage drop-off areas and plenty of space to pull up and drop off passengers or baggage.
Step inside the main terminal doors and you're greeted by a large open atrium. At the center is another Royal Caribbean logo, flanked on either side by two massive video boards showing videos to get you excited about the cruise.
But the real centerpiece of this entrance are the two massive propellers suspended from the ceiling. (We don't blame you if you're a little hesitant to walk directly beneath them!)
On either side of the entrance is a stairway and escalators to the check-in area. Head up and you'll reach the second floor of the terminal that leads to boarding the ship.
Once on the check-in level, you'll be guided to an agent that will confirm your details, check any required documents and get your ready to board. From there, it's a quick pass through security, and then you're on your way to the ship.
This embarkation hall is open and airy, with tons of seating just in case the ship isn't ready for passengers just yet. Continue down the walkway and you'll get your first glimpse of the ship. But before you head down the gangway to board, be sure to check out the "Galveston Beach Trio."
This art installation of a band composed of a pelican, sea turtle, and crab is a great spot to grab a quick photo before you start your cruise.
Parking at Cruise Terminal 10
Driving in for your cruise? Then you'll need a place to park your car. Galveston is known for having a number of parking options — including lots of independent lots that can help save you money.
In this case you can park at an independent lot, which can then shuttle you to the cruise port. However, the most convenient option will be parking at the on-site lots at the terminal that are operated by the Port of Galveston.
Along with the cruise terminal, four different parking lots were built that put you a short distance from the ship. The lots then offer a short shuttle over to the terminal or you can just walk. Each lot is close enough that walking is extremely easy. As well, there are newly constructed covered walkways between the lots and the terminal.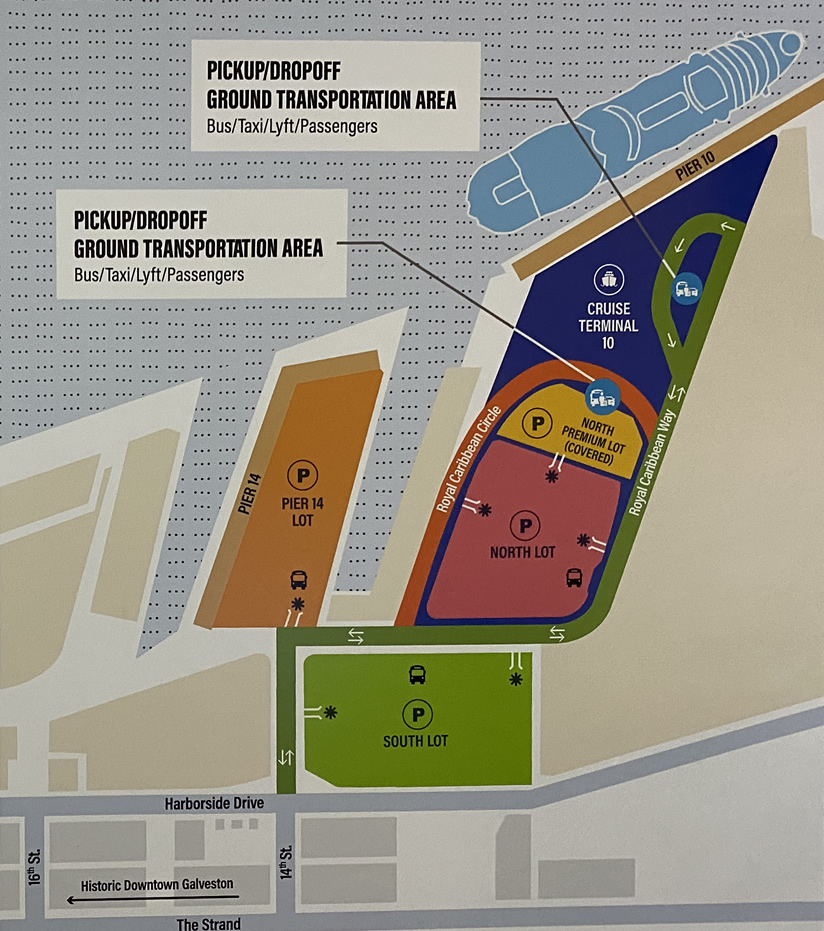 The parking options at the terminal include:
Pier 14 Lot (Orange): $20 per day
South Lot (Green): $20 per day
North Lot (Pink): $22 per day
North Premium Lot (Yellow; Covered): $27 per day
All prices will have taxes and fees in addition. For example, parking at the Pier 14 Lot runs $153.55 for a one-week cruise. Major cards are accepted, but cash is not. If there is a certain lot that you want to park, it's a good idea to reserve online ahead of time through the Port of Galveston to ensure that you get a space.
Want to save some money? You can find less expensive Galveston cruise parking elsewhere, but just keep in mind it may take longer to shuttle between the ship and your parking given the location of the terminal.
Picking Up/Dropping Off at the Terminal (Including Luggage)
Dropping off someone at the terminal? Or maybe you just want to unload those heavy suitcases before you park. Either way, it's easy at the new terminal.
In this case, you'll enter the terminal area at the intersection of Harborside and 14th Street/Royal Caribbean Way. Then, you can follow Royal Caribbean Way to Royal Caribbean Circle (and just follow the signage to the terminal). This will lead you right to the front of the terminal where you will see the large area for luggage drop-off. You can also drop passengers here.
There is also a second spot to drop passengers and luggage if you simply follow Royal Caribbean Way around the right side of the terminal. There you'll find a loop that allows you to drop off and then head back toward the exit of the terminal area.
Transportation From the Terminal
Need a ride from the terminal back home or to the airport? In that case, just like with dropping off, there are two different areas for pick-up. You'll just need to communicate with your ride where to meet.
First there is the area right in front of the terminal entrance. This spot has numbered stations that should help you identify where you will be picked up.
The other area is on the east side of the terminal where larger shuttle buses park to shuttle passengers, but there are also lanes for picking up similar to what you see at an airport.
Need a taxi? During our cruise we saw a taxi stand with waiting cabs on Royal Caribbean Way, in between the North Lot and South Lot.
Interested in a rideshare? You should know that Lyft is allowed to pick up at the terminal, but Uber is not. If you want, you can walk outside of the terminal area to catch an Uber.
More on Sailing from Galveston: