Never heard of the Alchemy Bar aboard Carnival's ships? It's a cocktail bar hosted by "mixologists." The bar offers up tasty concoctions that seem more at place in a trendy 1920s New York bar than on a cruise ship. It's not meant to be a party atmosphere filled with beachy drinks but a classy place to experiment with different flavors in a warm, comfortable setting.
Meanwhile, you won't find your typical Bud Light or margarita on the menu. Instead, get your tastebuds ready for drinks like a mojito martini or a peach cosmopolitan. Alchemy Bar is most definitely a place that you should expect to sit and relax for a bit — not just grab a drink to take to the pool.
To help get you ready for your next cruise, we've got the entire Alchemy Bar menu and prices below.
Left side of menu
Selected mood enhancers from our mixologist. As if cruising didn't make you happy enough. | $10.95
Passion Potions
Martini Seduction
Grey Goose L'Orange Vodka, red passion fruit nectar, freshly squeezed lime juice, and a hint of orange. Try not to swoon.
French Kiss
You may fall in love with this. Absolut Vanilia Vodka, Chambord, Domaine Chandon Sparkling Wine and a touch of fresh lime.
The Deal Closer
Absolut Vanilia Vodka, Disaronno Amaretto, Irish Cream and chocolate liqueur, The best advice this side of Dr. Whoever.
Energizing Elixirs
Revved Up Mojito Martini
Rev it up with Bombay Sapphire Gin, Dry Vermouth, simple syrup, freshly squeezed lime juice and mint leaves.
The Perfect Storm
Ready for an invigorating boost? Bacardi Oakheart Spiced Rum, Bacardi Rum, strawberry puree, a hint of rosemary sprig and fresh lime.
Spicy Chipotle Pineapple Martini
Prepared with Belvedere Vodka, chipotle pineapple syrup, pineapple juice, simple syrup and mint leaves.
Fountain of Youth
Forty is the New Twenty
A martini tastefully prepared for the young… and the young at heart. Pama Pomegranate Liqueur, Grey Goose Vodka, cranberry juice and citrus.
Cucumber Sunrise
Belvedere Vodka, watermelon nectar, muddled cucumber, fresh squeezed lime juice and a splash of orange juice. Light and delicious.
The Youthful & Bold Beritini
Buck the currents of time with Grey Goose Cherry Noir Vodka, St. Germain Elderflower Liqueur, strawberries, fresh lime juice and a splash of soda complete this martini to enliven the throes of youth.
The Antioxidant
Rejuvenate with Belvedere Grapefruit Vodka, Aperol, tangerine, fresh lime juice and a dash of orange juice.
Right side of menu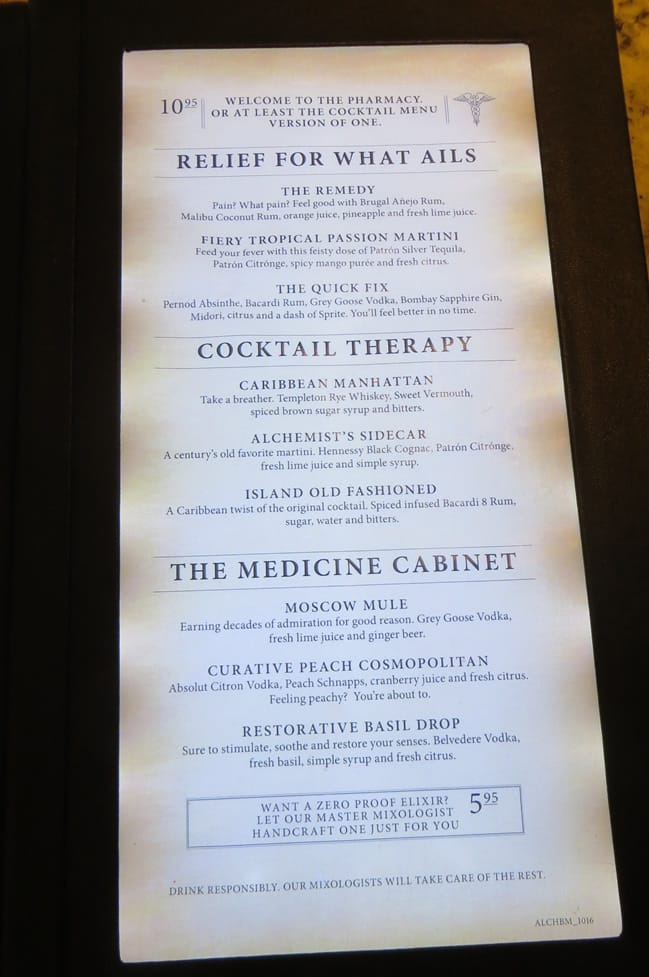 $10.95 | Welcome to the pharmacy. Or at least the cocktail menu version of one.
Relief For What Ails
The Remedy
Pain? What pain? Feel good with Brugal Anejo Rum, Malibu Coconut Rum, orange juice, pineapple and fresh lime juice.
Fiery Tropical Passion Martini
Feed your fever with this feisty dose of Patron Silver Tequila, Patron Citronge, spicy mango puree and fresh citrus.
The Quick Fix
Pernod Absinthe, Bacardi Rum, Grey Goose Vodka, Bombay Sapphire Gin, Midori, citrus and a dash of Sprite. You'll feel better in no time.
Cocktail Therapy
Caribbean Manhattan
Take a breather. Templeton Rye Whiskey, Sweet Vermouth, spiced brown sugar syrup and bitters.
Alchemist's Sidecar
A century's old favorite martini. Hennessy Black Cognac, Patron Citronge, fresh lime juice and simple syrup.
Island Old Fashioned
A Caribbean twist of the original cocktail. Spiced infused Bacardi 8 Rum, sugar, water and bitters.
The Medicine Cabinet
Moscow Mule
Earning decades of admiration for good reason. Grey Goose Vodka, fresh lime juice and ginger beer.
Curative Peach Cosmopolitan
Absolut Citron Vodka, Peach Schnapps, cranberry juice, and fresh citrus. Feeling peachy? You're about to.
Restorative Basil Drop
Sure to stimulate, soothe and restore your senses. Belvedere Vodka, fresh basil, simple syrup and fresh citrus.
Want a zero proof elixir? Let our master mixologist handcraft one just for you | $5.95
Drink responsibly. Our mixologists will take care of the rest.