Cancelled cruises have become a regular occurrence. Since the entire industry shut down in March for 30 days, that suspension has been extended again and again.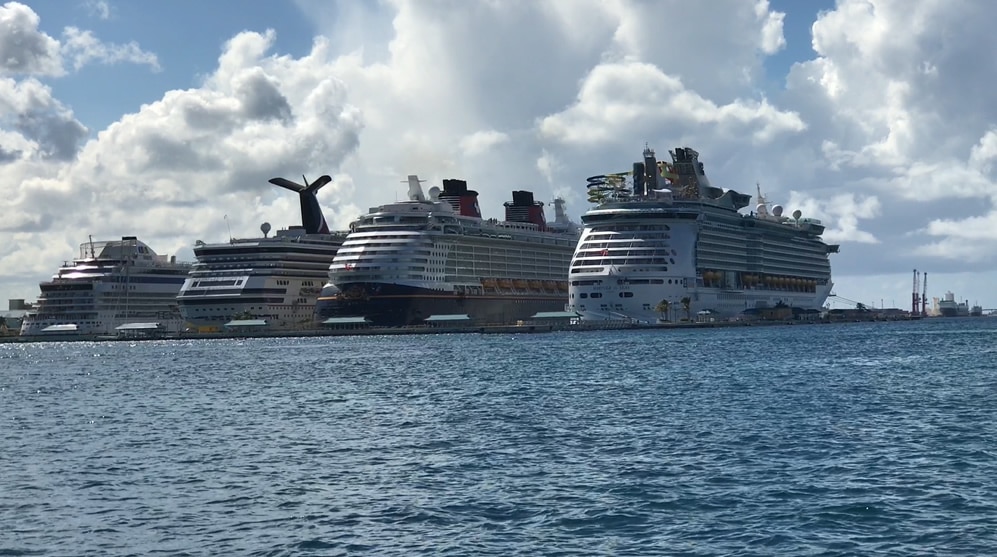 Today the suspension has passed more than 100 days, and many cruise lines don't have plans to return for at least another 90 days.
Of course, that's led to a tidal wave of cancelled cruises, impacting millions of passengers' trips.
In response to these cancellations, cruise lines have had to offer an unprecedented number of refunds. As an incentive to keep from losing as much business, cruise lines have made another move — giving passengers a choice on how they are compensated.
All the major cruise lines are offering passengers with cancelled cruises the choice of either a full refund or a cruise credit worth more than the value of what they paid (Carnival is offering onboard credit instead).
So which should you opt for? Should you get the cash refund… or go for the cruise credit that would extend your money even further?
Understanding How the Future Cruise Credit Offers Work
Before getting too far, it's important that you understand how the offers work. While it seems straightforward, there is some fine print that can cause confusion.
First, you should understand the choice offered by your cruise line. Each line has their own offer to their cancelled passengers; it is not the same across the industry.
Carnival: On Carnival, you have the choice of a 100% refund, or a 100% future cruise credit. As a sweetener to entice you to take the cruise credit, you will also receive free onboard credit to use on your re-booked cruise. If your original cruise was five days or fewer, this credit is $300. If it was six days or more, then the credit is $600. Note that this onboard credit is per cabin, not per guest.
Royal Caribbean: If your cruise was cancelled aboard Royal Caribbean, then you have the choice of a refund, or a future cruise credit worth 125% of what you paid for cruise fare. So if you paid $1,000 in cruise fare, then you will get $1,250 to put toward a future cruise.
Norwegian: NCL is offering the choice of either a full cash refund or a 125% cruise credit for another booking if your trip was cancelled.
Other cruise lines are offering the choice of similar "125%" in cruise credit or full cash refunds if you want your money back.
Second, if you opt for the credit, you will get some of what you paid refunded anyway.
When you book a cruise, there are actually a number of different things that go into the total price you pay. The largest chunk of what you pay is the cruise fare. But there are also port fees and taxes, and extras like pre-paid gratuities, trip insurance, specialty dining or wi-fi packages you might have booked.
Everything other than the actual cruise fare you booked will be refunded to the method of payment. So if your cruise fare was $1,200 but there was also $350 in taxes, port fees, and gratuities, you'll get the $350 refunded, but then you'll get the $1,200 (plus any bonus) as a cruise credit.
Third, there are specific date rules for re-booking.
Your cruise credit isn't valid forever. For example, NCL requires that passengers use their credit to book within one year of the issue date, on a sailing before 2022.
In other words, you have to use it or lose it, but you do have a considerable amount of time before making a choice.
What to Consider When Choosing a Refund or Credit
Obviously the simplest thing you can do is to opt for a cash refund. While there have been reports of slow refunds, getting what you paid back keeps things easy. If you decide you want to book another trip, you can do so, or you can simply pocket the money at a time when a little extra cash never hurts.
That's why the cruise lines have sweetened the cruise credit offer. If you could get back a refund or the same amount as a cruise credit, everyone would opt for a cash refund.
Instead, it's a tougher decision. Currently cruise lines report about half of passengers opt for a refund and half choose the higher cruise credit instead.
The choice really comes down to your preferences…
Do You Need the Money?
When you booked your cancelled cruise, it's possible you were in a different financial situation than you are today. As well, many people pay their cruise off slowly in smaller bits, instead of all at once. In that way, opting for the refund is like getting a tax return. It's your money, but getting that nice chunk of cash back at once can really help.
If you're in a situation where the refund can make a difference in paying the bills, then we'd suggest opting for a refund. If having your money tied up isn't that big an issue, then opting for the credit can earn you some extra money on what you've already paid for your vacation.
Are You Comfortable Cruising in the Future?
The health crisis has dramatically altered day-to-day life, and there will be changes when cruises do return. With everything that's gone on, it's likely that some people won't be comfortable on a cruise ship for some time.
Obviously if you think you won't feel safe going on a cruise, then choosing the cash refund makes more sense. There's no sense in going on a relaxing vacation if you're going to be constantly worried. If, however, you have no issue heading to sea whenever cruises do return, then the credit is a better deal.
Do You Have Faith in the Company?
At this time, the major cruise lines don't appear to be in danger of going out of business. But as we've seen with this crisis, however, anything can happen.
Since the shutdown began, cruise lines have borrowed and raised billions of dollars to meet their obligations until cruises sail again. At this time they have said they can last for many more months without sailing.
Still, if you are worried about cruise lines going bankrupt should the suspension continue to drag on, it makes more sense to get your refund now.
Be Ready for the Potential of More Complications With a Credit
The draw for a 125% cruise credit or hundreds of dollars in onboard credit is strong, but it might come with a few more headaches.
When you opt for a refund, you should get your money back relatively soon. Royal Caribbean says the refund will take up to 45 days after it is requested. Once you receive the money, then you are done.
With the credit, there are a few hurdles. First, you may have to wait for the credit to be applied to your account before you can re-book. When you do receive your credit, you might have to call the cruise line to re-book a cruise, instead of simply doing it online. This is what we've personally had to do with a credit from one cruise line. Some other lines do offer online booking.
Finally, with the credit there seems to be more chances of something going wrong or being incorrect with the transaction (we've personally had this issue). You'll want to stay on top of what you are owed and make sure that the credit is applied correctly.
For many people everything will work smoothly, but there is no doubt having the credit adds more complexity to the entire transaction.
So Should You Take the Refund or the Credit?
So what is our suggestion for the cash refund versus the higher-value credit? As you can tell from the fact that about half of passengers opt for a refund and half opt for the credit, it's not cut and dry one way or the other.
Our opinion is that if you love to cruise and know that you will definitely sail again, then the credit offers a great deal, albeit with some hurdles you might have to jump through regarding booking. It's still worth it in our eyes.
If, however, you aren't sure about cruising anytime soon, then opt for the cash refund. It makes things relatively simple in that there are no dates to follow for your re-booking and if things continue to worsen for the health crisis, you'll already have your cash in hand.
More on the return to sailing: