Think the world has been turned upside down due to COVID-19? Wait until you get on your next cruise…
Cruising has been at the forefront of industries hit by the crisis. A recent announcement that they won't return until mid-September — at the earliest — means the entire industry will have been on hold for at least six months.
But if you thought that once cruises set back to sailing everything would be back to normal, think again.
Cruise lines are going to go out of their way to keep passengers healthy on their vacation. Not only do they need to assure the CDC that their policies will keep people safe, but cruise lines will also be under tremendous scrutiny from the public and the media. Even one outbreak tied to a cruise is going to be a big story.
What those changes will be, however, has been subject to speculation. That is until now. While cruises won't sail for months, cruise lines are announcing the steps they are taking to keep ships safe. Specifically, Norwegian Cruise Lines, MSC Cruises, Virgin Voyages, and Bahamas Paradise Cruise Line have all announced many of the changes they are making.
While many of these changes are in line with what you might expect, there are some more dramatic changes that will have an impact on your cruise.
Here's what's known so far…
Lots More Sanitation
It shouldn't be a surprise that cruise lines are planning to increase the amount of sanitation on the ship. Increased cleaning in public areas is a basic first step to keeping passengers healthy.
With thousands of people on a ship, the public areas like elevators, bars, restaurants, lounges, and staircases are all frequent touch points that have many people passing through around the clock.
Norwegian has said it will have "continuous disinfection of public areas and high traffic touch points." MSC says it will have "key areas, which include public venues and toilets, sanitised hourly."
Virgin Voyages has simply said areas will be "disinfected on a frequent basis so that you don't have to worry before touching a door handle or elevator button when you're with us." And Bahamas Paradise Cruise Line plans to clean public areas from 2-10 times per day, depending on the location.
Air Filtration Across the Ship
This pandemic has made us all highly aware of the air around us. Avoiding indoor spaces is now common, instead, many opt for outdoor venues where there is fresh air.
Of course, if you are on a cruise ship, avoiding being inside is impossible. After all, you can't sleep for the night on the pool deck. That's why cruise ships are moving to more filtration for the air streamed throughout the ship.
Virgin Voyages, for example, has said it will use a purification system to kill 99.9% of viruses for all the air around the ship. Norwegian announced it will use medical-grade air filters across its fleet to remove 99.95% of airborne pathogens. That should help you to breathe easier.
Stateroom Fogging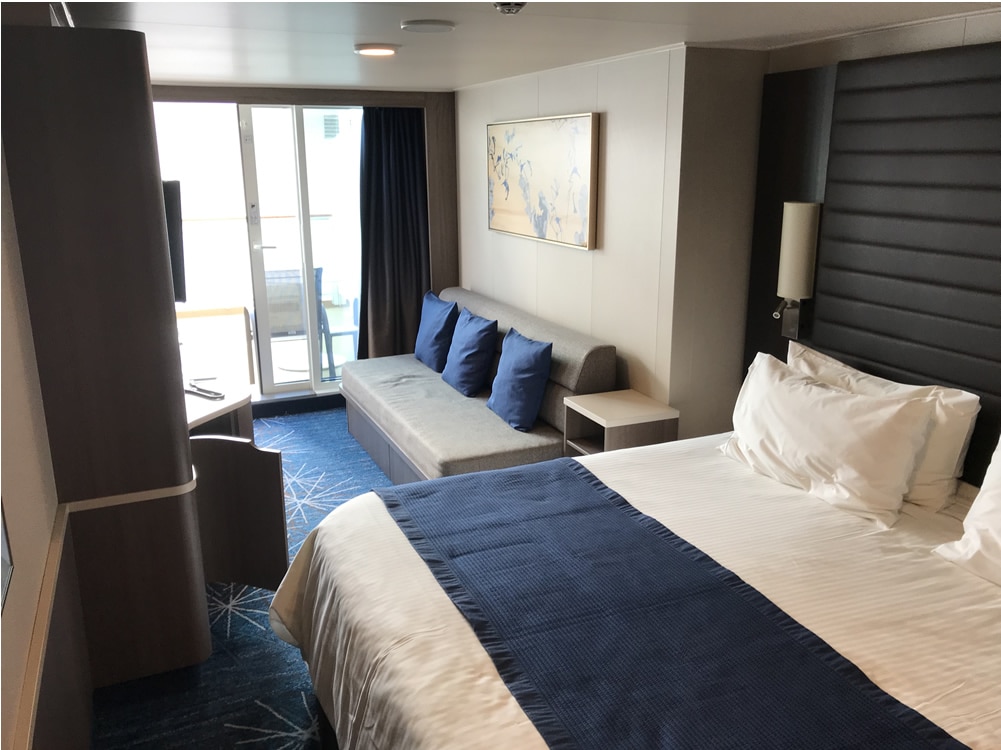 Staterooms on a ship are your home for the cruise. It's where you sleep, relax, and even use the restroom. In other words, there are lots of surfaces that will be touched by whoever is staying in there and lots of spaces for germs to hide.
To combat this, one change that's being seen is stateroom fogging. Instead of having to wipe down every surface in every room, fogging all rooms will help to better disinfect them more thoroughly. Multiple cruise lines plan to implement this fogging practice to clean rooms.
NCL has said they will fog staterooms and public areas with hypochlorous acid, a weak acid that forms when chlorine is dissolved in water. Bahamas Paradise Cruise Line will fog both hallways and staterooms.
No Self-Serve Food
The self-serve buffet has been a long staple of cruising, but it's going away for at least a little while.
Buffets have an issue with many passengers being in close proximity to each other as they stand in line to get food and also having lots of touch points. For instance, a pair of tongs can be picked up and put down by dozens, if not hundreds of passengers in a single mealtime.
That's why the buffet is going bye-bye.
While Virgin Voyages already planned to do away with the buffet on its ships before the pandemic even started, Norwegian has announced their buffets will now be full-service, with guests being served by the staff. Even Royal Caribbean, which hasn't made an official announcement, has hinted that buffets will change.
Frequent Temperature Checks
One of the symptoms of COVID-19 is a high temperature. That's why cruise lines are planning to have temperature checks before you even get on the ship.
How exactly temperatures are taken is still to be seen.
Virgin has said they will have thermal cameras in terminals and on the ship. MSC Cruises says they will use "mandatory non-touch thermal scans" prior to embarkation.
NCL has simply said the checks will be touchless. However, they did describe some detail that explains when these checks will occur. Specifically, the cruise line has said passengers will have temperature checks occur:
Prior to embarkation
Upon returning to the ship from a port of call
Prior to all meals in dining venues
Prior to all activities in public venues
Prior to disembarkation
That means passengers will be checked multiple times per day during their cruise.
Staggered Embarkation & Online Check-In
Get ready for having a specific time to arrive at the port… and to check in online before you cruise. Some cruise lines like Carnival implemented staggered and online check-in years ago, but expect it to be the rule going forward.
Traditional check-in and boarding leads to big crowds clumped together and interaction with an agent to get your room keys.
Instead, online check-in and staggered embarkation have been announced as a major change across cruise lines. This will help to spread crowds out throughout the entire boarding window where distancing can be better implemented. Passengers will be able to check-in online and have their room keys in an envelope at their cabin door instead of meeting with an agent.
Reduced Capacity On the Ship
How do you enforce social distancing on a cruise ship when thousands of people are free to go wherever they want? One of the easiest ways is to reduce the number of passengers on the ship.
It's a drastic move, but it's one that cruise lines are implementing. Bahamas Paradise Cruise Line is reducing capacity by a staggering 40%. Virgin Voyages has said that it will be "managing personal space by significantly reducing our overall ship capacity for our start-up sailing period." There was no specific number given for how much capacity will be cut.
This move is likely to have a major impact on the financials of sailing. If cruises can return and prove that they sail safely, expect full capacity to come back quickly.
Onboard COVID Testing
Getting tested for COVID-19 on a cruise ship? Unthinkable just a few months ago, it could happen. In fact, it could be that everyone sailing is tested before they board.
First, Norwegian and Virgin have both said they will have testing kits on their ships. Virgin Voyages has gone so far to say "basic COVID-19 testing and any cold or flu-like symptom health screenings are free of charge on board."
But those screenings might go even further. Virgin has stated plainly that its eventual goal is to "find a reliable, quick and simple test, that will enable us to ensure only those who test negative for COVID-19 are allowed to board."
In other words, it sounds like the cruise line wants to test everyone for the virus before they get on the ship. Frankly, we can't think of a better way to ensure the health of passengers and crew.
Even so, this is still a goal and not official policy just yet. Still, don't be surprised if eventually all passengers are tested before sailing.