Want to watch Netflix while you take your cruise? You're not alone, and the good news is that if you want to binge your favorite show while in the middle of the ocean… it's possible.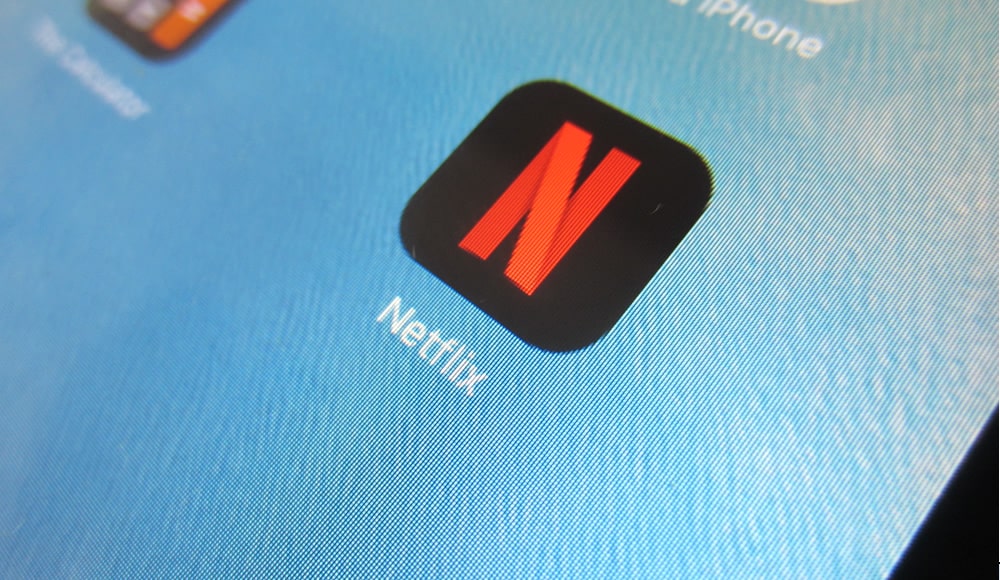 The funny thing is, you could watch every cruise commercial ever made and you'd never see it. You would see families on the pool deck… people chowing down in the main dining room… and kids building sandcastles on the beach.
What you never see is people just relaxing in the cabin, watching TV. And while we feel a little guilty to admit it, one of favorite things to do on a cruise is put our feet up and watch the tube after a long day of being out and about in the sun. It's relaxing, and a perfect way to unwind.
Like many people, Netflix is a staple of our streaming. We love that we can take it anywhere on our laptop or iPad — watching on the road, in bed, or just sitting on the couch.
Of course, where the love of cruising and the love of Netflix intersect, there is an important question. Can you watch Netflix on a cruise?
Just a few years ago, the answer was no. Today, however, you CAN watch Netflix on a cruise, although it sometimes takes some planning ahead.
Option #1: Downloading Netflix Shows for Viewing on a Cruise
By far the simplest way to watch your favorite shows is to download them before you get on the ship.
Netflix has a ton of programming that you can download and then watch later, with or without an internet connection. This is the absolute best way to make sure you can watch your show while you are in the middle of the ocean.
When you download your shows beforehand, you don't have to worry about the speed or strength of your Internet connection on the ship — which can sometimes be spotty. As well, you don't have to pay for wi-fi, which can be expensive on a cruise.
The downside is that not every show in the Netflix library is available for download. If you have a show you're in the middle of watching, you might not be able to watch this way.
As well, if you don't know what you want to watch before you get onboard, then you'll need to have a wi-fi connection on the ship to browse titles.
Option #2: Streaming Netflix on Your Cruise
Can you stream Netflix at sea? The answer is maybe, depending on your cruise line.
First things first, if you want to stream Netflix, you'll need to purchase an wi-fi access on the cruise. Wi-fi Internet is available on every major cruise ship.
Service usually ranges from lower-priced packages that allow you to access the web at slower speeds or only access select websites, up to higher-priced packages that gives you the fastest speeds and access to (nearly) everything. You'll need to have the fastest service available in order to stream programs.
While prices will vary, you can expect to pay $15-30 per day for access to the highest-level of service, depending on your cruise line.
Even with Internet, however, there is no guarantee that you'll be able to stream Netflix.
Some cruise lines or ships don't allow passengers to stream at all, on any plan given the amount of bandwidth it requires. However, that's fast becoming a thing of the past. In general, you can expect streaming to be allowed if you purchase the top-tier wi-fi package.
But even though Netflix is largely allowed, it's no guarantee that it will work well. While the technology has advanced, Internet on a cruise can still be spotty. Given the connection needed, you might find the picture fuzzy, or simply not able to stream at times. We've found that wi-fi connections on ships are typically around 3-5 Mbps — near the minimum required to stream Netflix in HD. (The speed, however, can vary from below 1 Mbps to more than 10 Mbps.)
That's why the best suggestion is to download your show ahead of time if possible.
We've outlined the policies for the biggest cruise lines below.
Can I Watch Netflix on Carnival?
Yes, while Carnival used to only allow Netflix streaming on select ships, it is now available fleetwide. According to Carnival's website, it's highest-tier plan:
"Does not support video and music streaming (i.e. Hulu, Spotify, Pandora); Netflix can be viewed through your Netflix account/app."
To access your account and watch at sea, you must purchase the "Premium Wi-Fi Plan" while you sail. This runs $19-22 per day, depending on if you purchase before your cruise (cheaper) or onboard (more expensive).
Can I Watch Netflix on Royal Caribbean?
Yes. Royal Caribbean offers VOOM, which it claims is the fastest Internet at sea. Even so, you'll have to purchase the upgraded "Surf + Stream" package (prices vary, recently seen around $20 per day). This package is available across the fleet.
Once purchased, you can watch your shows when you want. Just know that despite being fast for Internet on a cruise ship, VOOM can still sometimes have slower periods where your picture might not be in high-definition.
Can I Watch Netflix on Norwegian Cruise Lines?
Yes. Norwegian offers high-speed Internet access onboard that allows you to stream. You'll need to purchase the "Unlimited Premium Wi-Fi Package," which runs $40 per day.
This package gives you access to Netflix and other streaming services. The less expensive "Unlimited Wi-Fi Package" does not enable streaming on the cruise.
Using Netflix's Service Abroad
There is one hang-up to watching Netflix on the ship that we aren't sure how will be resolved. Your account will be linked to the place where you live. So if you are in the United States, you will use the U.S. version of the program, which has access to the content available in America.
However, you might experience Netflix thinking you are in a different country based on the ship's wi-fi service. In that case, you could experience a difference in the content available.
Here's the official word from Netflix on using its service abroad:
"When watching outside of the country you signed up for Netflix in, you might experience small differences to:
"Selection of TV shows and movies: Choices for streaming and downloading (including audio/subtitle options) vary by country. Also, My List and Continue Watching titles may not be available."
That said, we've personally used Netflix on cruises and never experienced an issue that we've noticed.
Helpful Hint: Bring Your Own Device
One thing that we haven't explicitly mentioned is that you should bring your own device to watch your shows. Every cabin will have its own TV, but we have yet to see any "smart" TVs that have Netflix (or any other streaming service) built in. Instead, it's just a handful of channels that you can watch. See our cruise TV channel lineups here.
To binge your shows, you'll want to have the Netflix app on your phone, tablet, or computer. Also keep in mind that TVs on cruise ships usually have their input ports disabled, so you normally aren't able to broadcast your show onto the cabin television.
The bottom line? Yes, one way or another you should be able to watch Netflix on your cruise, although it might not always be perfect. We'd suggest finding titles to download before you sail. These allow you to watch without an Internet connection.
Beyond that, cruise lines offer high-speed wi-fi that can allow you to watch in many cases. It is just more expensive and less reliable to watch this way.