Who doesn't want a good deal on a cruise?
Truth is that these days you can spend as much as you want to set sail. Between suites, fancy new ships, and all the things to spend money on once you're actually on the ship, it's easy to spend thousands on your vacation.
But you don't have to. If you want, there are ways that you can sail drastically cheaper.
With thousands of cruises sailing each year and thousands of cabins on each one of those if you are smart you can find cabins that can give you an entire cruise for less than the cost of a flight alone to most vacation spots.
The best news? While there is no secret discount code or coupon that can give you a cruise for half price, the methods below can help you find those less expensive cruise — and you can learn how to hunt them down yourself in just a few minutes. So let's get started.
Be Flexible With Your Cruise Schedule
If you've ever looked for travel deals, then you know that being flexible is by far the most important aspect of what you'll pay. After all, it's a lot cheaper to go to New Orleans when it's not Mardi Gras or to Las Vegas sometime other than the Super Bowl. The exact same rule applies to cruises.
The mass-market cruise lines like Carnival and Royal Caribbean take on millions of passengers annually, and demand is highest when school is out. This is the time when families can sail and people are taking vacation time from work, leading to more people wanting to book. So times like summer, Spring Break, and Christmas see the highest prices.
If you want to sail dirt-cheap, be flexible and look for dates outside of these windows. Specific months with the lowest fares include January and February, as well as the time between Thanksgiving and Christmas.
Be Open to Any Cruise Line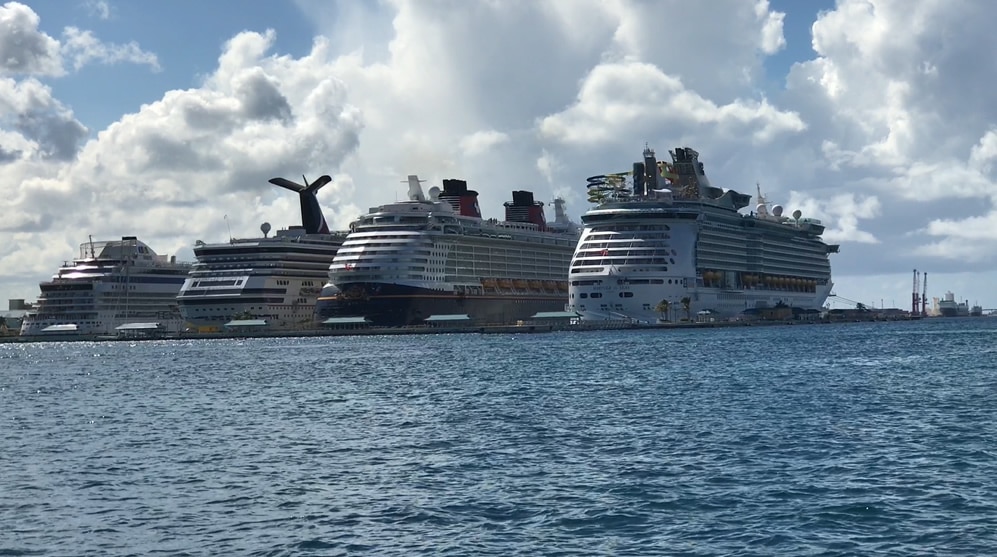 There are people that simply fall in love with one cruise line or they simply refuse to sail on a certain line. That can hurt your chances of finding dirt-cheap cruises. When you want cheap, you've got to have all the options on the table.
Truth is, after having sailed lots of different lines, I can tell you that yes, there are definite differences between them all. But in most cases the experience is much more similar than it is different.
After all, if one cruise line was just flat out bad, they wouldn't be in business very long. There's just too much competition.
On that note, I like to do my searching for cheap trips on aggregator sites. Places like Orbitz — they search all the lines at once and then allow you to filter by price. That way it's much easier to search across all lines for deals instead of going to a ton of different websites.
Don't Drive Yourself Crazy Searching Sites
Here's a tip to save a lot of time — for the vast majority of trips, the price you find on one website will be the same that you find anywhere else. There might be a few bucks difference occasionally, but it's not like a cruise will be $500 on one site and $420 on another.
What does that mean for your search? It means you can usually search one site and be done. Something I like to do is use a third-party search site to get an idea of what's out there. Once I find a cruise I like and want to book, then I usually do so directly on that cruise line website.
What I never bother with is going to one site, then another, then another, and another to make sure I have the lowest price possible. It's simply a waste of time in most cases.
(Note: Third-party cruise sellers can offer different booking incentives. I've found that Costco Travel tends to have the highest incentives if you're a member.)
Sail on Older Ships For Cheaper Deals
Cruise lines have been in an arms race for more than a decade to bring out newer, bigger, and better ships. And sailings on those ships are generally priced higher than you'll find on older ships.
For example, I priced a 7-day cruise aboard Symphony of the Seas for July 2022 from Miami. The price per person for an interior room was $1,363 at the time of my search. That means a couple traveling would pay about $2,800 to sail before port fees and gratuities are added on.
But a similar trip departing the same day and from the same port aboard the older Explorer of the Seas ran just $752 per person. And that cruise is for eight days. So not only do you sail cheaper, but you also get an extra day on the ship.
In other words, if you want to sail for cheap, then your best bet is to stick with those older ships. Since the older ships don't have all the buzz or amenities as new ships, they are priced lower to make sure they still sail full. They can give you largely the same cruise, but for hundreds less than you'll pay on newer vessels.
Last-Minute Cruise Deals… Aren't Really a Thing
If you're thinking about booking a dirt-cheap cruise, then it's likely come to mind to wait until the last minute. After all, if a ship is about to sail and a room is empty, not only does the cruise line not make money on the cruise fare, but they also don't make money from onboard spending on things like drinks, excursions, and gambling.
The truth is, however, that last-minute cruise deals aren't really a thing. Normally cruises sail completely full. During normal operations, the average cruise ship sails at about 105-107% occupancy (this figure comes from cruise company financial reports). That means every room has at least two people and some have three or more.
Cruise lines are experts at making sure ships sail full, and in our experience it's rare to see a drastically discounted rate right near the cruise date.
As well, cruise lines don't want to train passengers to wait until the last minute to book. Imagine if rates were always cut right near the cruise date. In that case, passengers would simply wait to save money and sail cheap. It would create tons of headaches in trying to plan for a sailing, as well as mean less revenue for the cruise line.
Don't Fall for Upgrade Offers
If you're wanting to sail as cheap as possible, then it's all about booking a bare-bones room. Even if you are wanting to sail more comfortably — such as in a balcony cabin — but not break the bank, you need to be careful about upgrade offers.
Whenever you're booking, you'll be asked about all sorts of upgrades. The costs of these offers adds up, but the amounts are small compared to the total cost of the cruise, so they may not seem like that much.
For instance, to move from an oceanview to a balcony cabin might be, say a hundred bucks. For some it's well worth it. But remember that price is usually per person, so you can double the amount you'll pay.
As well, even within the same cabin class there might be different prices for different decks or different locations on the ship.
In short, if you want to sail dirt-cheap, be careful of the upgrades.
Cruise Line Sales are a Dime-a-Dozen
If you want to spend less money, it makes sense to buy something when it's on sale right? In cruising, I've actually found that it doesn't really matter. That's because the sales offered by cruise lines run constantly. Even if you see a big timer counting down until the end of the sale on the cruise line website, don't worry — another sale will replace the one that's ending.
I've found that these sales don't really do much to the overall price. So one sail might be $300 off a second passenger while another is an across the board slash in rates — but they seem to come out to largely the same price. And often you'll see the same sales offered regularly.
One area that sales can help is with deposits. For example, Carnival occasionally offers $50 deposits, allowing you to reserve your cruise for less money down.
But if you're waiting on sales to book your trip, then you might be surprised the total price often doesn't change much.
Port Fees Can Add Hundreds to Your Trip
When you're booking a cruise, you no doubt look at the headline price. However, that's just the start of what you'll pay. Before you're done, you'll also have port fees and taxes.
While these figures are disclosed, at first it's usually in small print while the cruise fare is advertised in a much bigger font. To be sure, the extra fees are later shown in an itemized breakdown before you pay.
For most people these charges are an afterthought, but if you want to sail cheap, then they can make a big difference.
For example, I found one 8-day cruise on Carnival that had taxes, fees, and port expenses of about $115 per person. But other trips — including some that were shorter — had expenses of $164 per person. That's almost an extra $100 for a couple that's sailing together, so keep these charges in mind when searching.
Find a Rate You Like? Go Ahead and Book It Now
If you've ever agonized over whether to book now or wait and hope the price drops, you aren't alone. It's natural to want to get the best price and it feels pretty lousy to book and then see a lower price later.
On this front, there is some good news with cruising. If you book early enough, you can often (though not always) get your money back or onboard credit for the price difference. That's why if you find a price that you like, go ahead and book it now. Not only does booking early give you a chance to lock in a good price, but it will also give you the widest choice of cabins. Waiting until later can mean fewer options.
As well, cruise fares usually don't have wild swings like you find with airfare, but prices can change some. So when you book, you'll want to check back occasionally and see if the price has moved. If it has, call up the cruise line and see what they can do for you.
Bonus: Let the Cruise Line Pick Your Cabin
If you want to sail dirt-cheap, there's one more thing you should do — let the cruise line pick your cabin.
On many lines, during the booking process you'll have the option of selecting a cabin at one price, but you are offered a better deal by letting the cruise line select your room for you. This can save you a decent chunk of money.
But the worry is that you will be left with some crummy cabin right next to the elevator on the bottom deck? It's possible, sure.
In my personal experience, however, that's never been the case. In fact, one time I even ended up with an extended balcony cabin despite booking an interior room. Even when no upgrade happened, the cabins I've gotten have been perfectly suitable.
Use These Tips to Sail For Less Money
Cruising can be among the most affordable vacations you can take. Instead of spending money on flights, hotels, meals, entertainment and more, you can get most — if not everything — you need included with a cruise.
Still, it's possible to spend as much as you want on a cruise ship. But if you keep this list of things in mind — especially being flexible with your cruise dates — then you can sail for hundreds or even thousands of dollars less.