Major updates to private islands… no cruising until a vaccine is widely available… being able to buy a cruise with bitcoin?! These predictions and more make up our 10 guesses as to what we'll see in cruising in 2021. There's no guarantee they will come true, but we think they are possible.
Last year the cruising world flipped upside down with a global crisis that paused cruising starting in mid-March.
Over the months since, cruise lines have dealt with negative headlines, repatriating crew around the world, and a steady stream of cruise cancellations. Now that pause has stretched into nearly a year.
But there is a light at the end of the tunnel. While the virus continues to rage, vaccines are starting to roll out, and with them, the hope of some sort of return to normal.
So with a potential return to cruising on the horizon, we wanted to take a moment to predict what could happen with cruising in 2021…
#1. Cruises Don't Return Until a Vaccine Is Widely Available
We're all waiting for the return of cruises. What began in mid-March 2020 as a 30-day pause has turned into nearly a year. And more recently, cruise lines continue to push out their potential return dates. As of now, lines like Carnival and Norwegian don't plan to return sailing from the U.S. until April at the earliest.
Our prediction? Cruises won't actually return sailing from the United States until a vaccine is widely available.
The vaccine rollout so far has been slow and disjointed, but shots are getting out to the public. With effectiveness said to be close to 95%, the vaccine seems to be a game-changer when it comes to avoiding the virus.
Given that the anticipated schedule of the dose rollout is slated to take months and cruises aren't planned to return for months either, we think cruise lines –whether on their own or under pressure from the CDC — will continue their suspension until everyone is able to get the vaccine easily.
#2. Older Ships Will Continue to Leave Fleets
Cruise lines have taken the opportunity during the pause to unload older, smaller ships. Carnival Corporation alone — parent of Carnival, Princess, and others — have said they are disposing of 19 ships. Video of several being scrapped in Turkey has made the rounds online.
It's likely that the largest portion of ships have already left fleets, but we expect more liners to be removed in 2021. For instance, Royal Caribbean has laid up two older ships, including Rhapsody of the Seas, which is currently listed as for sale.
As cruises do return, lines have said it will be a phased-in approach over the course of months. We wouldn't be surprised if more of the older ships in fleets simply don't come back at all, instead being sold to other cruise lines or scrapped.
#3. Few Cheap Cruise Deals Will Be Available for 2021
Cruise prices are heavily dependent on basic economics — supply and demand. That's one reason you see high prices during the summer. During the summer it's easier for families to sail with kids out of school, meaning more demand and higher cruise prices.
Throughout this pandemic, cruise lines have said that demand for cruises has remained strong despite limited advertising and no trips sailing. At the same time, they've also said that the return to sailing will be phased-in — a few ships sailing at first, and gradually adding back more of the fleet. Furthermore, ships will have limited capacity starting back as the passenger count is reduced to allow for more distancing on the ship.
That's why we predict there will be few dirt-cheap cruises in 2021. The stage is set for strong demand compared to limited supply. It stands to reason that prices should rise — especially once cruises get back to sailing and signal that people don't have to worry about further suspensions.
#4. Carnival Mardi Gras Will Be the Biggest Hit of the Year
Last year was supposed to mark the arrival and sailing of Carnival's newest — and largest — ship: Mardi Gras. The vessel comes in at 182,000 tons, which is 35% larger than the next largest ship in Carnival's fleet. Meanwhile, it can carry more than 5,000 passengers on a typical cruise and even has the world's first roller coaster on a cruise ship.
Of course, the ship was delayed due to the fallout of the pandemic. It is now scheduled to debut in April 2021. While it has yet to be seen if that date will be kept, we do predict that the ship will be the biggest hit of the year.
It's not just that Mardi Gras is big. The ship is also a new direction for what's arguably the most popular cruise line in America. Mardi Gras looks completely different than any other ship in Carnival's fleet and includes new restaurants, activities, and more. In a year that will be about celebrating the return of cruises, Mardi Gras should stand out as one of the brightest spots.
#5. Tech Improvements Will Be Hugely Popular Among Passengers
Cruising has long been about lines. Wait in line at check-in. Wait in line to board. Wait in line for muster. Wait in line to eat. Wait in line to get off the ship.
Thanks to COVID — and tech improvements — cruising in 2021 will be drastically improved. Maybe not every line will go away, but many will, and that's a good thing.
For instance, Royal Caribbean has rolled out a new muster drill setup that can be done via phone or the stateroom TV instead of having to bunch together on the deck of the ship. And online check-in, which had already been in place for many lines, will be accelerated. Instead of waiting to meet with an agent, you'll simply check in online ahead of time and have your room keys waiting for you at your cabin door.
While the crisis has been terrible for cruising, this is one positive that will come out of it all.
#6. COVID Cases Will Be Found on a Ship — and Cause the Trip to End (With MASSIVE Headlines)
For all the steps being taken to prevent an outbreak on a cruise, even cruise line executives admit that there will be virus cases onboard. So much of what cruise lines and the CDC have worked on is what will happen when cases are found.
The CDC stated in their framework that if a "threshold of COVID-19" is found, then the cruise will be ended and return to port. Our prediction is even if vaccines are required before sailing, there will be an instance of a U.S.-based ship having a virus case on a cruise.
When that happens, expect to see major headlines from all major media outlets. Apart from cases involving high-profile celebrities or politicians, these cases may be the most talked-about COVID cases in the country.
#7. You'll Be Able to Buy a Cruise in Bitcoin
For many, cryptocurrency bitcoin is a complete novelty, but it is gaining more mainstream attention as the price has quadrupled in the past year.
While we don't think most people are quite ready to swap out their life savings for bitcoin, we do predict that at least one cruise line will make a bold move and accept the digital currency as payment for their trip. Doing so would garner instant attention and tons of media exposure.
For that reason, we'd guess Virgin Voyages would be the cruise line to break the mold and accept crypto for payment. While the cruise line has yet to sail (it was supposed to begin in early 2020), it has made big changes to cruising, with moves like having all food included, along with wi-fi, and tips, as well as being adults-only.
The cruise line is also marketing to appeal to younger cruise passengers. We think accepting bitcoin as payment would be a strong marketing pitch that would help illustrate just how different the cruise line is compared to others and make it stand out as the line finally begins sailing in 2021.
#8. A Major Private Island Overhaul Will Be Announced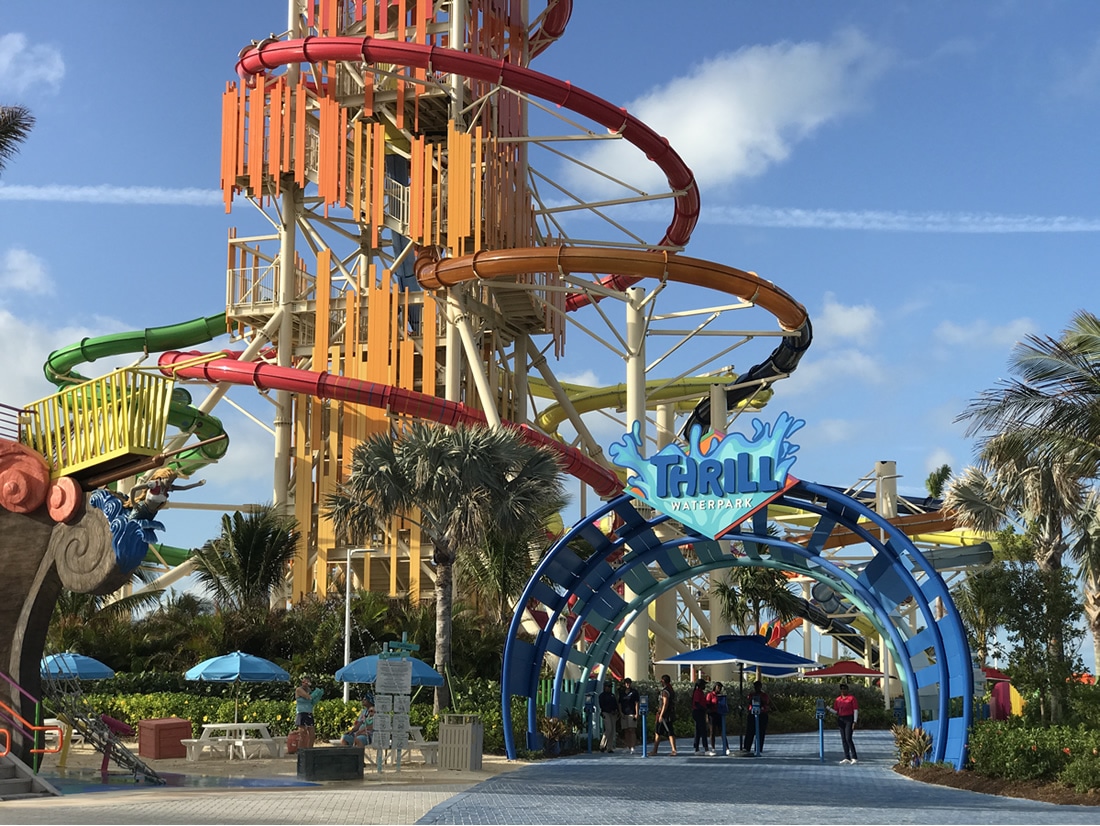 When it comes to private islands, the bar is set with Royal Caribbean's CocoCay. While other cruise line islands have nice beaches, maybe even pools, cabanas, and ziplines, CocoCay simply takes things to another level. The cruise line spent hundreds of millions to transform it into a destination with a waterpark, multiple beaches, eateries, and even over-the-water bungalows.
We predict that in 2021 there will be another cruise line that announces updates to one of their own private islands to put it on par with CocoCay.
For years cruise lines have competed with larger ships, but the cost of a new ship can be a billion dollars and take years to plan and build. Already cruise lines have pushed back the anticipated dates for new vessels.
While the cost of renovating an entire island isn't cheap, it is sharply lower than the cost of a new ship and offers something exciting for passengers to look forward to visiting. Further, cruise line islands offer better control over the environment in regards to health and safety — a major consideration post-COVID.
#9. Longer Cruises Will Be Allowed Again
The framework for sailing laid out by the CDC puts in place a number of new rules — including that trips of more than a week are not allowed. So those longer journeys simply won't be around for most of 2021.
We predict, however, that following the November 2021 expiration of the CDC framework, those cruises will be back on the table. By then, there should have been plenty of time for a complete vaccine rollout and cruises will have had lots of practice in keeping the virus at bay. That should give the CDC the confidence to allow longer journeys to return.
#10. The End of 2021 Will Look Completely Different Than End of 2020
The end of 2020 marked cruises still being suspended, virus cases at an all-time high, and lots of uncertainty in the travel industry as a whole. We predict that the end of 2021 will be the exact opposite.
After a slow start, we think cruises will ramp back up into the second half of the year. By the end of 2021, the vaccine should be widely available to anyone who wants it and virus cases sharply lower.
While many of the safeguards put in place will still be around, cruises will once again feel close to "normal." It won't be a return without some hurdles and hiccups, but moving from 2021 into 2022 will be drastically different than what we have right now. Expect restrictions to largely be lifted, the public eager to cruise, and lots of optimism toward the future of sailing.
Bonus Prediction for 2022: Cruises to Cuba Will Return
During the Obama Administration, there was a thawing of Cold War tensions between the United States and Cuba. One of the benefits was that cruises were allowed to sail to the island — something that was unimaginable just years earlier.
Cruises to Cuba, however, were short-lived. Under the Trump Administration trips were halted practically overnight, as new rules were put in place. The shift caused a major hit to the cruise industry as they scrambled to re-work itineraries and had to stop selling the lucrative vacations.
With the Biden Administration, we predict it will take time, but in 2022, we will see a reset on relations with Cuba that will lead to the return of sailings to the country, once again opening up the area to American tourists eager to visit the island.