Will a cruise sailing in 2021 be safe for you to travel? In normal times, cruising is among the safest vacations that you can take. But there are anything but normal times.
For almost a year, travel — and cruises in particular — have been turned upside down due to the pandemic. The initial pause in sailing was originally put in place back in March 2020 for only 30 days. Now it has been extended for months on end, with sailings not even tentatively scheduled from the United States until May for most cruise lines.
Rightly so, everyone has turned their attention to health and safety. Masks are now commonplace, social distancing is everywhere, and hand sanitizer is a must-have accessory.
But now with a vaccine introduced and a possible light at the end of the tunnel, many people are hoping to return back to some semblance of normal. That includes doing things that we've all missed, like eating in restaurants, having family get-together, and even going on vacation.
So when it comes to that vacation — in particular cruising — many are wondering if it will be safe to get back on the ship and out to sea this year. Here's what we know.
The Hurdles to Cruising Safely
Without a doubt, cruising is one of the hardest-hit sectors of this health crisis. While sporting events have returned with limited fans, restaurants offer outdoor dining, and even social-distanced concerts have resumed, cruise ships sailing from the U.S. continue to be paused.
While cruise lines are pulling out all the stops to return to sailing safely (more on this below), there are simply aspects of a cruise that make it more difficult to return to sea with passengers.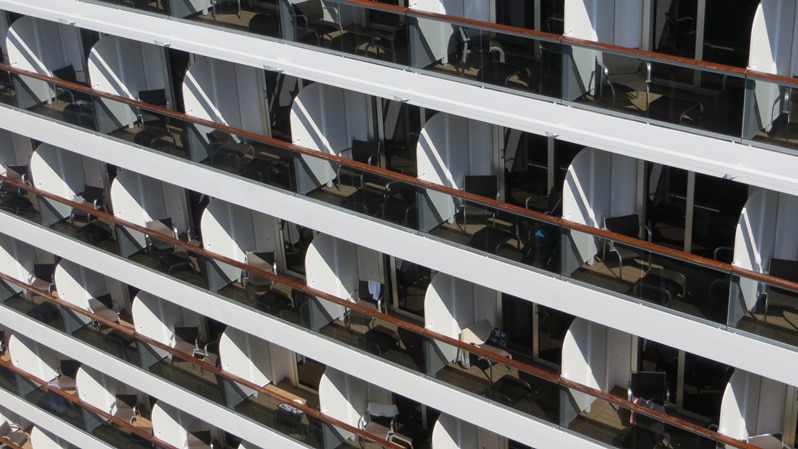 Cruise Ship Structure
First and foremost is the close quarters on a ship. From cabins tucked next to each other to large theaters, bars, restaurants, and casinos, it's hard to imagine a more perfect spot that puts people in close proximity to each other.
In fact, the CDC cited a study of the outbreak aboard Diamond Princess (which was quarantined as the virus spread) that found the reproduction rate of the virus to be 14.8 before the quarantine. That means each case on the ship was spread about approximately 15 people.
Cases on Land
Of course, thousands of cruises sail each year in normal circumstances with zero incidents. And while viruses do find their way onboard (norovirus is a regular threat), it's the widespread cases of COVID that make cruising more risky right now.
At this point nearly every country in the world has had major issues with the virus, but the United States is among the worst. To date there have been more than 26 million confirmed cases in the U.S., with an average of 170,000 new cases each day — and that's down from the peak. Even cruise line executives have said that with the spread of the virus, there will be cases on the ship.
Tests Alone Don't Work 100% of the Time
In the face of this pandemic, the cruise industry is planning to do something that no one else in the travel industry is doing — test everyone before they get on the ship.
Testing is a major tool to keeping COVID off cruise ships. By identifying any potential carriers of the virus before they board, it makes it more safe for everyone. The only problem is that testing is not 100% foolproof.
First there is always the potential for errors in tests. The big concern is that a false negative could mean that a passenger has the virus, but it's undetected when boarding. As a result, the person is able to get on the ship and potentially spread the illness to others.
In fact, this seems to have happened on at least one cruise in Europe. The good news? The cases seem to have been caught early and other protocols on the ship limited the spread.
Variants Cause Issues
In the past few weeks there have been plenty of headlines about variants of the virus. These variants can spread more easily and vaccines can potentially be less effective.
That could mean moves taken by cruise lines to limit any potential spread on the ship might still be overcome by a virus that can move from person to person more easily. Of course, this is a potential issue anywhere, but on cruise ships it stands to be a big worry.
How Cruise Lines Are Creating a Safer Environment
If anyone thinks that cruise lines are simply throwing up their hands and waiting for the pandemic to pass, think again. Between their own steps and mandates from health officials, the cruise lines are making unprecedented moves to make it safe to sail.
New Health Protocols
Of course, just like spots on land cruise ships are taking major steps to adjust the way we will all sail. This includes things like limiting capacity onboard, new airflow design and filtration to ensure fresh, clean air throughout the ship, more sanitization, and major changes to restaurants and other venues.
Truth is that the cruise experience is set to look very different. The poolside, casino, and theater will be more spaced out. Masks will be in use indoors and buffets will be transformed from self-serve to staff-served. There are also major changes and planning in place for if there are cases found on the ship, including plans for what happens if there is a case on the ship.
From check-in to the cruise to disembarkation, the entire process of sailing is being reconsidered with a mind on keeping passengers safe and healthy.
Universal Testing
Testing of all passengers and crew was mentioned earlier. As part of their return, cruise lines are putting in place testing policies before anyone is allowed to board. If you test positive for COVID, then you won't be allowed to set sail.
This is a major factor in how lines plan to keep passengers safe. By testing, the hope is to keep any potential cases off the ship before they make their way onboard and have the potential to spread to others.
If you think of a cruise line as a floating resort, it's rare (if not unheard of) for an entire resort to test every guest and staff member before they check-in. But that's what's happening, across not just a few ships, but the entire industry. That's among the most concrete steps the cruise lines can take to keep people safe.
Vaccine Requirements
Of course the issue with testing is that even giving everyone a test doesn't guarantee a case won't slip past. As we've seen, cases can appear days after contact with the virus. So there is some question as to whether cruise lines will require vaccination for passengers before they are able to sail.
Without a doubt vaccinations would act as an extra layer of precaution in cruising safely. CDC spokeswoman Caitlin Shockey told The Washington Post, "Vaccination, along with other preventive measures, including testing before and after travel, wearing a mask, social distancing, frequent handwashing, and cleaning and disinfecting frequently touched surfaces, will be another effective strategy available for reducing COVID-19 transmission associated with travel, including cruising."
As of now, the major cruise lines have held off on any decision about vaccinations.
It's still in doubt if a vaccine will be required to sail. That said, the recent extensions pushing any return until May at the earliest mean that possibly more than 100 million Americans could have a vaccine shot by then. In other words, even if cruise lines don't require a shot, many passengers could have already gotten one willingly.
So Will Cruises Be Safe?
One of the goals mentioned by cruise line executives is for your sailing to be safer than you would be out and about in your own hometown. Between the new protocols, testing, and the results seen so far in cruises that have restarted in Europe and elsewhere, that seems possible.
The issue is that as of now being out and about in even your own city seems risky given the widespread cases. But when it comes to safety, we know that everyone has a different impression of what is "safe."
For many, they are fine continuing about their normal life without changes at all despite the pandemic. Others only feel safe being isolated at home. So saying whether or not a cruise will be safe is difficult since there are so many opinions on what that actually means.
That said, we would think the average person would say that sailing during the middle of this crisis is not safe. In fact, the CDC says "that all people avoid travel on cruise ships, including river cruises, worldwide, because the risk of COVID-19 on cruise ships is very high."
Even so, while some cruises have returned (and later paused) in places like Europe and seen cases, the number of outbreaks seems to be low. With the distribution of vaccines that have shown to be effective against the virus, there is even more reason to be optimistic.
If the number of cases on land can be sharply lowered thanks to the vaccine, and then the rigorous new testing and onboard protocols are implemented, then we think the average person could feel safe in taking a cruise — especially if they have been vaccinated themselves.
As well, it should be reassuring that cruise lines will have to receive the blessing of the CDC (which has been critical of cruise travel) before sailing again, putting in another level of oversight in their return.
It is looking more and more that COVID will unfortunately be something that will be with us for time to come, but there are important steps that can be taken to reduce the risk of getting sick.
The combination of vaccines, universal testing, and new health protocols should make cruising as safe — if not safer — than other events with crowds such as sporting events and concerts.
Even so, that day still isn't quite here just yet.