Wondering how much you'll spend to take a cruise? We have specific estimates (using actual figures from the cruise lines!) below.
Before we get too far, however, you should know that just like buying a car, you can spend as much — or as little — as you want for your vacation.
For instance, are you happy with the lowest-cost interior cabin… or would you rather spend more for a balcony or a suite?
Or are you the sort of person who can only sail during the summer months (when prices are much higher), or can you sail during the off-season and save hundreds of dollars?
From room types to when you sail to the cruise line you pick, they all have an impact on what you'll spend.
That means tracking down the specific cost of a cruise for each person is difficult. But we can give you an idea of what a typical trip will cost based on averages and help you know better what you can plan to spend.
We get into all the details of how much a cruise costs — and exactly where you'll spend money — below.
Where You'll Spend Money on a Cruise
Think that the cost of a cruise is simply the fare that you pay to get on the ship? While that makes up the lion's share of your spending, there's a lot more that goes into the cost of your vacation.
Cruise Fare
Of course, when most people think of the cost of a cruise, they are thinking mainly of the price of the cruise fare. This fare is what the cruise line charges for you to sail on the ship. Cruise fare includes your cabin, most meals, entertainment on the ship, access to pools, lounges, and more.
What it doesn't include are the extras like alcoholic drinks, specialty restaurants, shore excursions, gambling and other things bought on board.
What you pay for your fare can vary widely. Factors that go into the price include the type of cabin you choose, length of cruise, when you sail, and even the ship and cruise line you sail.
Short cruises on budget cruise lines can run as little as a few hundred dollars, while long luxury trips can run well into the thousands — and even tens of thousands — of dollars per person.
Onboard Spending
Think you're done spending money after you buy your cruise fare? Think again. Once on the ship there are lots of extras that you will likely want to purchase that add to the cost of your cruise.
Onboard spending casts a wide net. It includes everything from money spent gambling in the casino to alcohol, specialty restaurants, cruise line shore excursions, and even the souvenirs you buy in the gift shop.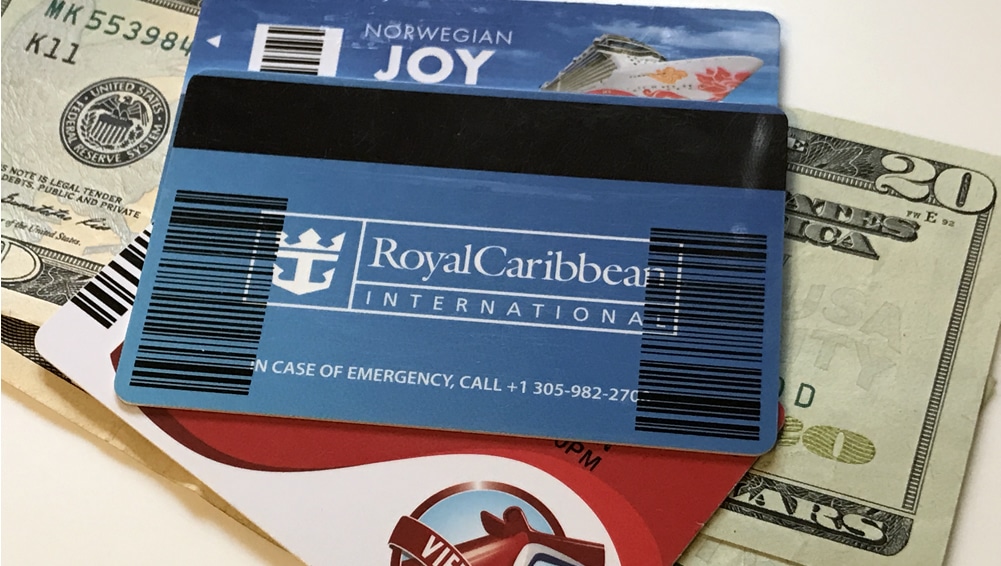 Just like with the cruise fare, different people will spend different amounts. We've personally been on cruises and spent nothing extra on the ship. Other times we've spent hundreds.
If you're frugal, you can get by with spending little. If you want to let loose and have fun, it will add hundreds (and maybe thousands) to your cruise fare. As a rule of thumb, expect to spend between 30-40% of your cruise fare in onboard spending. That's around what the cruise companies show as the amount earned in onboard spending in their financial reports.
Gratuities
If you've never sailed on a cruise before, you might be unsure of exactly what gratuities are and how they work.
These days gratuities are automatically charged to your account; everyone pays them. You can choose to prepay them when you buy your cruise, or have them charged to your onboard spending account and pay the balance at the end of your trip.
Rates vary across cruise lines, but are usually around $15 per person, per day. So a couple traveling on a seven-day cruise will pay about $200 in gratuities.
What do the charges go to? They are shared among the staff, with most going to your cabin steward. Waitstaff also receive a significant portion. (For more on gratuities, see our complete guide here.)
Getting to the Ship (Transportation, Parking, Hotel)
Whether you fly, ride, or drive to the port, you will have some more expenses that you have to consider for your budget.
Getting a ride to the port? Don't forget to factor in the cost of transportation to get to and from the cruise ship.
Driving to the port? If so, know that most ports charge around $20 per day to park (although some hotels and independent parking lots offer discounted rates).
If you fly in for your cruise, then you need to factor in your airfare. We also suggest anyone flying in to arrive the day before you sail and get a hotel room, just to avoid any delays that might cause you to miss your ship.
Spending in Port
Finally, the last part of your budget to consider is what you spend in port. Most of the time, this is actually relatively little as so much time is spent on the ship.
Excursions not booked through the cruise line would be in this section (those booked through the cruise line are onboard spending, mentioned above). Your port spending also includes things you do in port like catching a taxi to a beach, food and drink at a restaurant, or buying souvenirs.
One Note About Cruising in 2024
Of course the world has changed since the health crisis. Nowhere is that more the case than with cruising. The entire industry was shut down for almost all of 2020 and slowly made its return in 2021. After 2023, we can say that cruising is back with ships sailing at full capacity.
But just like on land, but there are bigger changes that could impact the cost of a cruise going forward.
Longer-Term Pricing
During the stop, the major cruise companies took on massive amounts of debt to survive. Now as cruising resumes, they are focused on improving their balance sheets. That has meant higher pricing, if the market allows. Cruise lines have said repeatedly that demand is strong and onboard spending is at considerably higher levels than before the pause.
As well, several cruise lines sold off a number older, smaller ships. In general, older ships offer lower pricing. Along with the removal of older ships, new ships have come onto the market such as Carnival Celebration and Jubilee, as well as Royal Caribbean's Icon of the Seas.
With more newer ships priced at a premium and a push to shore up balance sheets, longer term pricing seems likely to rise.
Inflation Pressures
The biggest economic story of 2022 was inflation, and it didn't stop at the water's edge. It's a worldwide issue that also impact cruise lines. Prices for many things, including services like wi-fi on cruise ships and gratuity charges have increased.
The good news is that following strong price increases since cruising returned, anecdotally it seems that the hikes have calmed for now. That said, don't be surprised if prices still climb some in the coming year.
Average Total Cost of a Cruise in 2024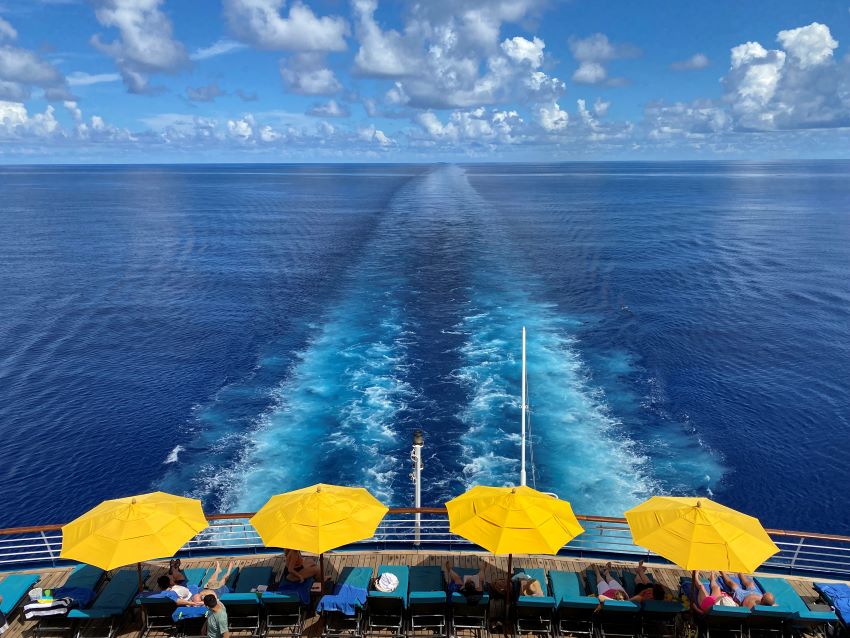 So with all these different things to spend money on, how much does it cost to take a cruise?
As we mentioned above, the cost of your specific cruise will vary. Those who want an interior cabin will spend less than those sailing a suite. And people who can sail during the spring or fall will save hundreds versus sailing in the summer.
But we have some estimates below to give you an idea of the cost of taking a cruise.
Cruise Fare ($150-$245 per day)
Obviously it's impossible to give you a specific cost of your cruise fare. There are so many different factors that go into what you'll pay, including:
Cruise line
Specific ship
Date of cruise
Cabin type
Trip length
That means the price you pay will see a wide range. Sailings can be less than $100 per person, per day, into several hundreds of dollars each day.
That said, we can get a good idea of what you'll spend. All the major cruise lines are public companies that publish annual figures for their revenue and passenger statistics.
From these public reports, we know that the average cost of cruise fare runs from about $150-$245 per person, per day (depending on cruise company).
For example, in the trailing 12 months (the latest data available publicly), Carnival Corporation — which owns several different lines including Carnival, Princess, Cunard, and others — took in $12.8 billion in ticket revenue, and sailed 86.0 million passenger days. That comes out to $149 per person, per day.
Royal Caribbean Group was slightly higher based on their last 12 months of financial reports, ($175 per person, per day), and Norwegian Cruise Line Holdings Ltd. came in at the top of our list ($245 per person, per day).
Of course, those figures are averages across the entire company. Specific cruises can be much lower… or much higher… depending on your specifics. For example, sailing an interior cabin is drastically cheaper than sailing in a balcony room. And cruises departing in January or February are less expensive than sailing at the height of summer.
Still, these figures should give you a good idea of the average cost of a cruise based on what others pay across different cruise companies.
Port Fees and Taxes (~$100-$200 per person)
Port fees and taxes aren't technically part of your cruise fare, but they are included in what you pay before you board.
So how much will you pay?
The amount varies depending on your specific route as different ports charge different fees. In our experience, for most cruises expect to spend between $100 and $200 per person on these fees and taxes. Some cruises with fewer ports will be less.
As a rule of thumb, the more ports of call, the higher these fees can be. On some cruises they can definitely be more than $200, but we've rarely seen them below $100 — except for some of the shortest trips with only one or two stops.
Onboard Spending (~$85-$120 per day)
By far the biggest expense of taking a cruise is the fare, but onboard spending can be a considerable chunk of change.
So how much will you spend? We dove into detail about spending on a cruise ship before. Cruise lines also break down how much cruise passengers spend in their financial reports. On average across cruise lines, the amount comes out to between $85-120 per person, per day.
Carnival Corporation and Royal Caribbean Group saw an average around $85 per person, per day in the last year. Norwegian Cruise Line Holdings Ltd. saw closer to $120 per person each day.
But you should know that this doesn't mean you'll be spending that much each day. With the accounting rules used by the cruise lines, sometimes money spent before you get on the ship is actually classified as "onboard and other" spending.
So if you buy a bundle package that includes your cruise fare and drink package, wi-fi, and other goodies (such as NCL's "Free at Sea" offer) all in one transaction, some of that is considered onboard spending and some is the cruise fare.
As well, keep in mind that this is simply an average across all cruise passengers and major cruise lines. What you spend could be drastically different. For instance, some people spend little or no money on the ship. Others purchase drink packages, gamble in the casino, and generally live it up the entire trip.
In fact, onboard spending is the area where you have the most control over what you'll spend.
Gratuities (~$16-20 per day)
Yes, you can adjust the amount of gratuities if your service is particularly poor. In reality, not many people do. Expect to spend about $16-20 per person, per day.
Gratuities may be slightly higher or lower depending on the cruise line. As well, suites have higher gratuity rates compared to lower-tier cabins. So while you might pay $16 per day for a normal cabin, that amount might be $18 per day (or more) if staying in a suite.
Note that this amount doesn't include gratuities charged for extras like alcoholic beverages on the ship. Those are extra in addition to the automatic gratuities charged to each passenger that go to the waitstaff and room steward.
Getting to the Ship/Parking/Hotel (Varies)
The amount that it will cost you to get to the ship, park, and/or a hotel stay will vary based on your needs.
Some people just get dropped off at the port by a friend or family member, so it costs them nothing. Others have to book a cross-country flight and a hotel stay the night before.
If you drive to the port, plan to spend around $20 per day for parking, depending on the port. Hotels in most port cities can be found for between $150-250 per night. Rides to the port using services like a taxi or Uber/Lyft can vary considerably depending on where you are coming from. Still, you don't want to forget these considerable expenses in cruising.
Spending in Port (~$50 per port)
What you spend in port can vary widely. Remember anything you eat or drink off the ship will come out of pocket and isn't included in your cruise fare. As well, things like taxis and souvenirs are also extra.
As a rule of thumb, we estimate a budget of about $50 per person, per port of call. For some ports that may be too much. For instance, cruise line private islands often have much of what you need already included. Other ports might include a stop at a restaurant, some souvenir shopping, and buying drinks.
Summing Up the Total Cost of a Cruise
So what's the grand total?
The chart below lays out the costs of taking a cruise, using the estimated amounts mentioned above. We've also laid out the estimates for both a shorter cruise (five days) and the traditional seven-day trip.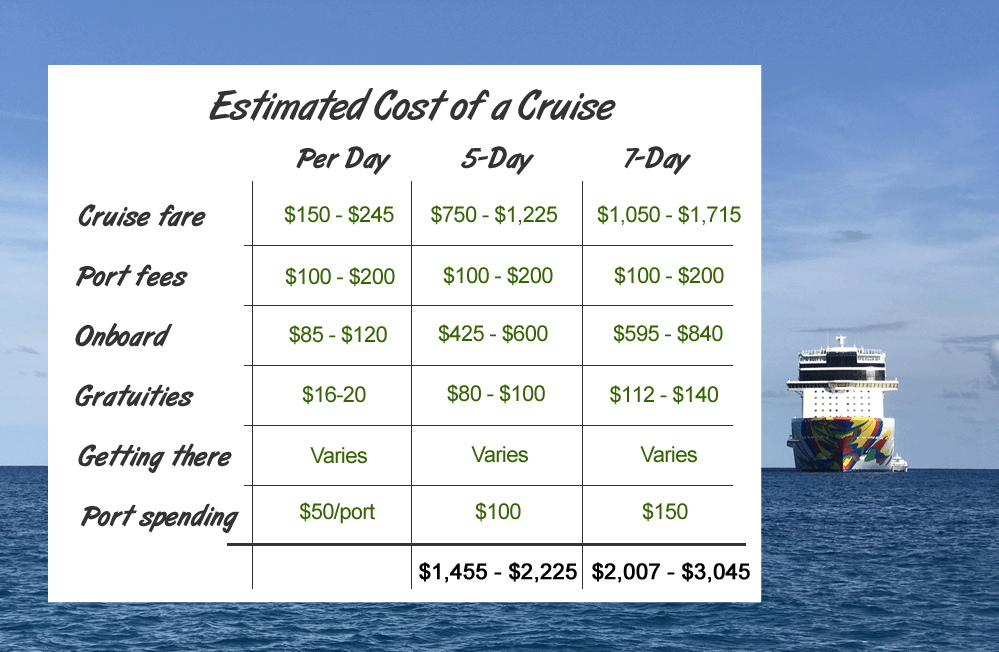 Keep in mind that these are just estimates, per person. A couple would expect to double these prices.
As well, remember that what you spend will vary widely based on any number of factors, including your own budgeting for the trip and how much you let loose on your vacation.
Sailing in the off-season like January or February? Then your cruise fare can be considerably less than average. Are you a big spender on the ship? Then your vacation will obviously end up costing more.
But as you can see, on a per-person basis the cost for a 7-day cruise can run around $2,000 when you factor in everything you'll spend. Shorter cruises will run around $1,500.
More on Budgeting for a Cruise: