If you're planning your first cruise, then you know how daunting a task that can be.
What seems simple — pick a cruise that sounds fun and book a ticket — turns into lots of second-guessing. That's because as a first-time cruiser you simply don't know exactly what to expect or what factors of the trip are important to the enjoyment of your trip. Do you find the newest ship? Do you pick a trip headed to ports that sound interesting? Do you pick the cruise line with the best reviews?
Meanwhile, there are lots of cruise lines all competing for your business. Between special promotions that say they will save you hundreds of dollars to extravagant new features on ships, it can trigger your fear of missing out by selecting the wrong cruise.
All of these options can combine to make it hard to select a first cruise confidently.
The good news? If you're the sort of person who stresses about finding the perfect cruise for your first trip, you can stop. The chances are that no matter which cruise you select — from any cruise line — you're going to have a good time.
Remember, the cruise lines are in the business of giving passengers a memorable vacation. They are pros are ensuring you will enjoy yourself. That said, in our opinion there is definitely one cruise line that is most appealing for first-timers.
So how can one company be better for your first trip? By focusing on the factors below, a cruise line can appeal to many of the things that are attractive for first-time cruisers. Keep reading to learn more… including our favorite line for first-time cruisers.
Factors to Consider in Your First Cruise
Affordability
An issue that many first-time cruise passengers face is the cost of taking their trip. It's not to say that cruising is expensive; it's actually extremely affordable for what you get — especially when compared to the price of a traditional vacation.
That said, it can be daunting to drop a bundle on a first cruise when you aren't even sure if you will enjoy it. According to our studies, the average cost of cruise fare runs between $1,000 and $1,400. That means an average couple taking a cruise will spend more than $2,000 before on their trip before they even step on board.
It's no wonder that looking toward the more affordable cruise lines is a smart move for first-time cruisers. There's no sense in spending hundreds or thousands of dollars more than you have to take a vacation that might or might not be right for you.
Number of Departures/Departure Ports
If you are like most Americans, then you likely have a limited number of days of vacation. That means trying to schedule a vacation can be nerve-wracking. And the last thing you want to do is use any more of your precious vacation days than you have to.
That's why we think the best cruise lines for first-timers are those offering a wide range of departures. By having dozens of monthly sailings, there will always be a trip that fits your schedule. Best of all, those offering trips that sail through a weekend allow you extra days of vacation without having to take time off of work.
It's also important to note which cruise lines offer departure ports near you. If you have to fly to your port of departure, no only does that add extra time to your trip, but it also adds the cost of airfare. We think that being able to sail from a port that you can drive to makes a cruise line much more appealing your first time.
Trip Length
If you are about to take your first cruise, then chances are that you're going to love it. However, cruising is not for everyone and it's unique from any other vacation. Once you are on the ship, there's no way to go out on your own unless you are in a port of call.
That's why it's a good idea for first-time cruisers to try a shorter trip first. Short trips give you a taste of cruising without being overwhelming. So if you love it, you can always book another cruise. If you decide it's not for you, then you aren't on the ship for an entire week. Trips of 4-5 days are perfect for first-timers and give you a feel for what cruising is all about.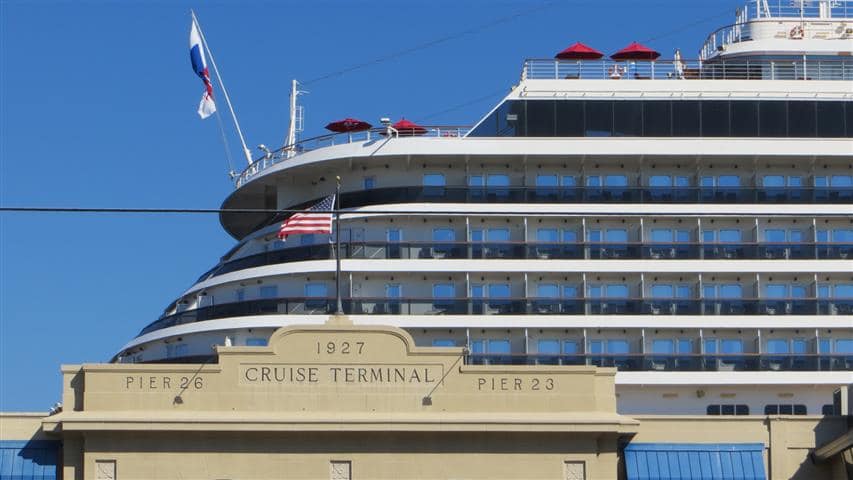 Atmosphere
There's no doubt that different cruise lines have different atmospheres, just like how different restaurants or different stores have different feels. That can be due to the cruise line's efforts, or simply the other passengers on the ship. In short, choosing a cruise line that has the sort of atmosphere that appeals to you goes a long way in having a good trip.
So how can you tell the atmosphere of the cruise line if you've never sailed before? It may seem simple, but look at the websites and marketing materials of the cruise lines to see if they appeal to you.
To be honest, every cruise line puts their best face forward on these marketing pieces — people in the photos appear attractive and successful, everyone smiles all the time, and only the best photos of the ships and ports are used.
But if you look past that, then you can tell who the cruise line caters to with its atmosphere. Are the colors, photos, and graphics fun and festive? If so, then you can get a feel that the cruise line will appeal to people looking for a good time in a relaxed, casual atmosphere. Or maybe the marketing materials put out a classy, elegant vibe like some higher-end cruise lines. In this case, you know that the line is geared toward luxury and passengers looking for a refined vacation.
(Want to know which cruise line is right for you? Take our quiz here to find out now)
Ships
Finally, first-time cruisers should consider the ship they sail on. Just like different hotel can have an impact on your vacation, different cruise ships also play a factor in how much you enjoy your trip.
At this point, the choices of cruise ships can be overwhelming. Ships continue to get larger, hold more people and have more and more things to do. There's no doubt that these mega ships are popular, however, they are often more expensive and crowded.
On the flipside, older, smaller ships usually don't have all the bells and whistles but have a slower pace and are usually cheaper to sail for your vacation. As well, you often find that these ships sail on shorter cruises.
In our opinion, we suggest most first-time cruisers opt toward newer ships (built in the last 5-8 years) but maybe not the newest ships. This gives a nice medium between a modern cruise ship without having the added expense of sailing on the newest ships. That said, if there are features on a new cruise ships that you especially want to experience, then by all means book a ship that you are excited about sailing.
Determining the Best Cruise Line for First-Time Cruisers
Truth be told, trying to juggle all of these factors can still be daunting in picking the best cruise line for your first trip. There's simply no substitute for experiencing several different cruise lines and trips to see what fits you best.
That said, we do think there is a definite standout that will be the best cruise line for many first-time cruisers. Based on the factors listed above, this line stands head and shoulders above the rest when it comes to taking your first trip…
And the Winner Is… Carnival Cruise Lines
In our opinion, the clear winner as the best cruise line for first timers is Carnival.
Let us be clear: In no way do we think you'll have a bad time on another cruise line. The great thing about cruising is that every line goes the extra mile to ensure you have a good vacation. That said, when you look at the factors that we think are important for first-timers, Carnival comes out as the favorite.
What makes Carnival stand out? For first-time passengers, the cruise line earns high marks in three important areas: Affordability, number of departures/departure ports and trip length.
First, Carnival has long been considered among the most affordable cruise lines. According to a study we completed last year, the average 5-day Carnival cruise cost $426 per person for an interior cabin. Compare that to $597 for an average cruise of the same length on Royal Caribbean.
That's not to say that you won't find cheaper cruise deals, but in general Carnival offers some of the most affordable rates we've seen. If you're a first-time cruiser who isn't quite sure if you're going to enjoy the trip, spending less on your vacation is a bonus.
Carnival also earns high marks for number of departures and departure ports. Over the past couple of decades the cruise line has expanded its reach significantly. Unlike smaller lines that may only sail from ports in South Florida, Carnival has departures from nearly every US port, including smaller cruise ports like New Orleans, Mobile, Baltimore, and Jacksonville. As a result, it offers sailing within driving distance for millions of passengers who would have to otherwise fly to get on to their cruise.
Meanwhile, as the largest cruise line in North America, Carnival also offers a continuous schedule of departures to meet any schedule. A quick search on Orbitz shows nearly 1,650 departures in 2019 alone — or nearly five sailings per day on average. For comparison, Norwegian Cruise Lines shows about 450 departures in 2019, or less than one third that amount.
In other words, if you want flexibility in your departure, then Carnival is tough to beat.
The cruise line also has a high number of shorter trips. If you want to have a week-long cruise, there is no shortage of trips you can take aboard the cruise line. But of the more than 1,500 cruises next year, a staggering 970+ are between 3-5 days. In other words, there are nearly 1,000 trips to choose from if you only want to take a trip for a few days to see if cruising is the right vacation for you. There is simply no other cruise line that offers this many short options for its passengers.
When it comes to atmosphere, we understand that what's perfect for one person may not be ideal for another. With that in mind, we think that Carnival's "Fun Ship" atmosphere has broad appeal. Life aboard the ships is casual and laid back with a festive feel.
Bright colors adorning the ship remind you of the tropics, with the ships looking right at home in a Caribbean port. In other words, when you board a Carnival ship, you know that you are on vacation. This sort of atmosphere may not be for everyone, but we think it holds broad appeal among most cruise passengers look to relax and have a sunny, warm vacation.
What about the ships themselves? There's not much argument that when it comes to cruise ships these days, Royal Caribbean takes the cake for having the biggest and most extravagant ships. And if you are someone who wants to cruise on the largest and most advanced ships, then Royal Caribbean might be for you.
That's not to say other cruise lines offer nothing. For instance, Norwegian recently the Norwegian Bliss, its largest ship to date that features a ton of new amenities, including a go-kart track.
Meanwhile, Carnival's ships run the gamut from older ships (usually sailing from smaller ports) to brand-new ships as it continues to update its fleet. For example, the Carnival Vista recently launched and the Carnival Horizon setting sail earlier this year. While these new ships may not be as large as some other new ships being launched by other lines, they can certainly hold their own when it comes to amenities and features.
Furthermore, as new ships come online it means repositionings for other ships currently in use, delivering newer vessels to more ports. So even if your nearest port doesn't get a brand new ship, it can still see an update as ships are moved around.
One Final Note: Don't Sell Other Cruise Lines Short
As we mentioned earlier, you are bound to have fun on any cruise line you sail — first time or not. That's why even though we believe Carnival offers the best combination for first-time cruisers, don't stress if you want to go with another cruise line.
If you find a cruise that excites you, then by all means book it! You're likely to have the most fun on a cruise that you're excited about rather than a trip you have to talk yourself into booking.
Want to know which cruise line is right for you? Take our quiz here.