Private destinations for cruise lines are nothing new. But what is new is that just like cruise ships themselves, cruise lines continue to go bigger and better with their private, passenger-only locales. Places like Royal Caribbean's CocoCay and NCL's Great Stirrup Cay continue to offer more for passengers.
Now it's Carnival's turn with their upcoming destination located on Grand Bahama, just about 100 miles from Miami.
The cruise line, which already has its own private spots for passengers, plans a flagship destination where Carnival's passengers can enjoy everything from "serene relaxation of the beach to high-adrenaline water and adventure amenities" while they visit.
This new destination will be groundbreaking for the cruise line in everything from size to amenities to capacity. And while the port destination isn't set to be ready for passengers for quite a while, there are some details we've uncovered… and some things we're still waiting to know.
Below, we cover everything we know so far about Carnival's upcoming private destination plan.
Location of Carnival's Grand Port Project
So where will the new port be located? As mentioned, it is being built on Grand Bahama — the home of Freeport. In fact, the location provided by Carnival is about 20 miles east of the cruise dock at Freeport. It's located on the southern side of the island in between the town of Freeport and Lucayan National Park.
This spot features a wide stretch of uninterrupted beach and is undeveloped, giving the cruise line a seemingly blank slate to build the new port of call.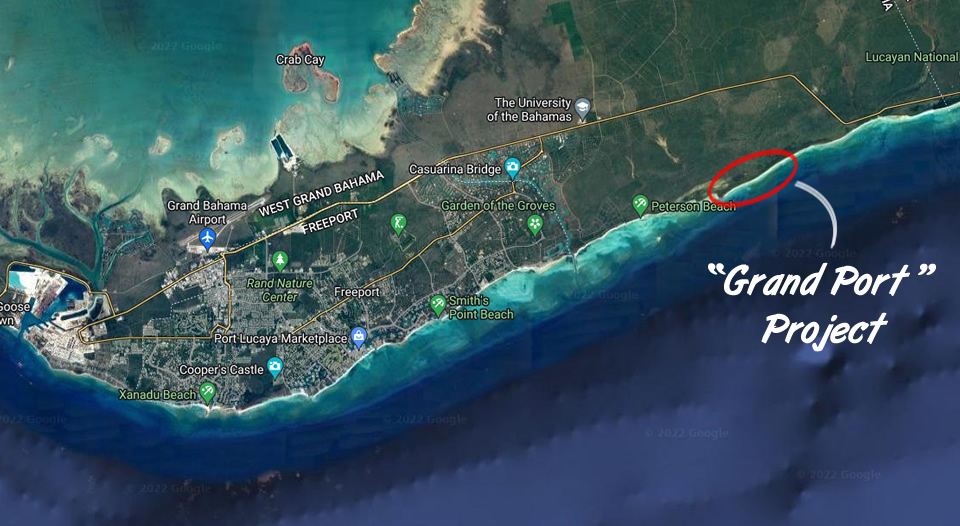 Carnival Hasn't Said What the Port Will Be Named
So far, Carnival has been mum on lots of details surrounding the island. But perhaps the biggest has been what it will even be called!
So far, Carnival has taken to calling it the "Grand Port" project — but that's not the official name. During a groundbreaking ceremony in May 2022, Carnival President Christine Duffy said that there will be more details about what the port will entail… and its name… in the months ahead.
"We decided that just the groundbreaking was a big enough moment for today! So I'm going to wait, and we're going to have another moment where we reveal not only the name, but a bit more about what people can expect from this project when she opens up at the end of 2024," Duffy shared before the start of the ceremony.
In other words, as for now, the official name is still a mystery.
The Port Will Be Able to Accommodate Two Excel-Class Ships at Once
Carnival's fleet is undergoing a big change as the company builds its largest ships ever with the Excel class. This includes ships like Mardi Gras, Carnival Celebration, and Carnival Jubilee.
These ships are big — they can hold about 6,000 passengers at full capacity. Meanwhile, Carnival wants to be able to dock two of them at once at the new port. All told, the cruise line says it will have a "daily onshore capacity" of 13,000 passengers and 4,000 crew, according to a Request for Qualifications letter posted on the destination's website.
The Port Area Will Measure More Than 300 Acres
No doubt that 13,000 passengers is a lot to handle at one time. But if you're worried about the new destination being too crowded, there should be plenty of space.
Carnival's destination will come in at more than 300 acres — 329 acres to be exact. For comparison, Royal Caribbean's CocoCay comes in at around 125 acres.
But that doesn't mean every inch will be dedicated to passengers. The cruise line's executives said during the groundbreaking that about one-third will be kept as a nature preserve.
No Opening Date… But an Opening Time Period
So when will the new port be opened for passengers? Carnival hasn't given a specific date or even a specific month.
However, Carnival says that construction will take about two years. It's given an anticipated opening date of "late 2024." In other words, while everyone is excited to see the new spot, it's going to be some time before it welcomes its first passengers.
There's a Big Focus on Bahamians
Carnival's new island is a big deal to its fans and millions of passengers. However, it might be an even bigger deal to the people that live and work in Grand Bahama.
The cruise line is putting a big emphasis on The Bahamas, with a focus on boosting the local economy. According to FAQ on the cruise line's website about the project, "85 to 90 percent of the employees at the port will be working with other companies. Carnival will only work with companies that have licenses from the Port Authority. With respect to employees that will be working directly for us, the vast majority will be Bahamians."
Between construction and operations, Carnival says about 2,300 people will work on the project.
Furthermore, it says "the economic impact that will be created by the new port will provide tremendous opportunities for businesses in Grand Bahama, not only during the pre-construction and construction periods, but throughout the period when the port will be fully operational. Only existing and newly created Bahamian retail and food & beverage brands will be allowed to operate the destination."
Night Operations Are Being Considered
Everyone knows that the big draw to visiting The Bahamas is spending the day at the beach. However, these days many lines are looking into longer stays that stretch into the evening and even overnight.
While it's not definite, Carnival has said they are looking into nighttime operations. In a request for applicants to cover food service at the destination, the posting stated:
Carnival Expects About 1 Million Guests in the First Year
Just how popular of a destination will the new project actually be? Carnival is planning big. In fact, in the same request that mentioned night operations, the cruise company also says that is plans to see 1 million guests to visit the place in its first full year of operation.
That comes out to about 2,700 passengers per day averaged across the year. That's roughly the passenger capacity of a mid-sized Carnival ship visiting each day.
But remember that Carnival's fleet continues to grow in capacity with ships like Mardi Gras, Celebration, and Jubilee. It's not out of question that the figure grows even larger.
There Will Be Plenty of Food Options
Cruises are known for having lots to eat. Expect the same when it comes to the new destination. In a proposal request posted on Carnival's website about the project, it listed all the following food options:
Up to three High-volume dining and bar operations
Multiple supporting quick serve and bar operations
Dedicated crew dining area(s)
Small specialty food outlets as well as "Grab and Go" services
Delivery service, where guests, using an app, can order food for delivery to their location
on site, i.e. to their beach chair
Note that the specific restaurants or even cuisine aren't mentioned. Just that guests can assume there will be lots of options to choose from.
Notably, the request also says "Guests will be charged for all F&B [food and beverage] purchases. Grand Port will work jointly with Operators to ensure competitive menu pricing."
While it's not entirely clear, that may point to not having free options to dine like on the ship.
The Initial Renderings Don't Offer Many Details About What Will Be There for Passengers
So what can passengers expect once they arrive to the port? As of now, the shared plans aren't too revealing. We've seen two different renderings — one from a couple of years ago that's posted on Carnival's website for the port and another found in a request for vendors that's featured above.
Neither offers much detail apart from a few items:
Both show large water areas running through the middle. On one rendering if looks like large swimming pool. The other shows a large river-like feature.
Both renderings show a central "village" area with a number of buildings, which we presume to be things like shops and restaurants.
Both feature large pathways that extend from the main port area, which seem to possibly be nature trails. On one rendering it looks like a boardwalk. The other looks more like a walking path.
Both also feature prominent staging areas for excursions to other parts of the island. Unlike other private destinations, it seems that Carnival is putting an emphasis on making the port project a place to head to other parts of The Bahamas — not just to keep passengers in the immediate area.
Both also site along a long stretch of beach, with what seem to be cabanas dotting the shore.
Here's what we do know from what Carnival has said:
"We'll have a mile of beautiful Bahamian beach for people to enjoy. We'll have a waterpark area, large pools, food and beverage, places for people to just really enjoy what they imagine being on a ship and arriving in Grand Bahama."

Christine Duffy, President of Carnival Cruise Line
In other words, we know it's going to be a a must-visit destination, but the full details aren't released just yet. We'll continue to keep readers updated as we hear more.
More About the "Grand Port" Project: